The door to the small Gretzinger's Christmas Tree Lot office opened. Debbie Gretzinger Frost smiled. It was her son, Elliott, and he wanted to warm up between customers.
On the wall behind her — hanging near the original building permit issued by the City of Kenosha in 1961 — is a picture of a young and smiling Elliott Rezny, clad in overalls, baseball hat askew, standing in the fields of the family's former tree farm in Shawano. On this day, more than 20 years later, he was back home in Kenosha, taking a week off from his job as a Madison-based computer programmer to help with the fourth-generation family business.
For Gretzinger Frost, this is as merry as Christmases get — a reminder of her family's life in Christmas trees, of the traditions that play out every November and December at 2710 75th St.
"I love having my kids around, and I could cry when I think of my parents," she said this week, choking back tears when thinking of her four sons, all raised in Kenosha. "I have sold trees since I was 11 years old. My husband and I have said, as long as they want to help us, we'll keep going."
And the family wants to keep going.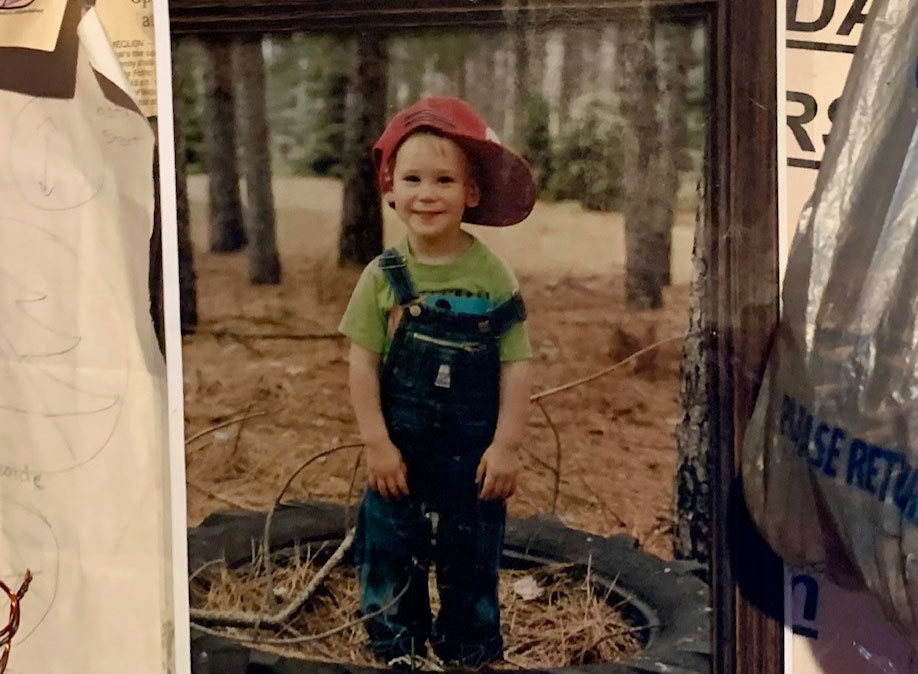 "I have two little brothers that are both into it, and I enjoy coming back," Rezny said during that warmup break. "It's helping the family. Also, I get to say 'Merry Christmas' about 100 times a day, and that feels really good.
"I feel like it's the most productive work that I really have access to."
And, the Christmas memories!
"It's funny how the little knowledge stacks up over time — it's like muscle memory being out here," Rezny said. "Running around through the balsams when I was a little kid, when it seemed like a forest … and I remember these trees just being stacked what seemed like forever."
Those stacks remain, albeit smaller than decades ago, as lots like Gretzinger's endure in a changing industry where now less than 20 percent of Christmas trees sold in the U.S. are real.
Even so, Gretzinger's will sell about 1,000 trees in just a few weeks at their longstanding lot — a labor of love made stronger by family bonds and a love of Christmas traditions.
Four generations of change
While the lot is officially celebrating its 82nd year of sales this year, the fourth-generation business dates back nearly 100 years. It was started by Gretzinger Frost's grandfather, who emigrated from Germany in 1907 and soon began farming in Crandon.
"He and a group of farmers would cut wild trees out of the woods and bring them to Milwaukee by railcar," Gretzinger Frost said. "Back in the '20s, they sold them right out of the railyard. Times were tough then. These farmers all went together to do this, to make some extra income. My dad was a kid and then a teenager, and he used to go with them to Milwaukee."
And a family business was born.
Gretzinger Frost's father continued the tradition as the family moved to Kenosha before World War II. After renting lots around town, the Gretzingers settled on their current space in the late-1940s, renting it for a few years before buying it around 1950.
The office came a decade later. "My dad built it in the backyard. I thought he had made us a playhouse, but he brought it out there," Gretzinger Frost said, laughing.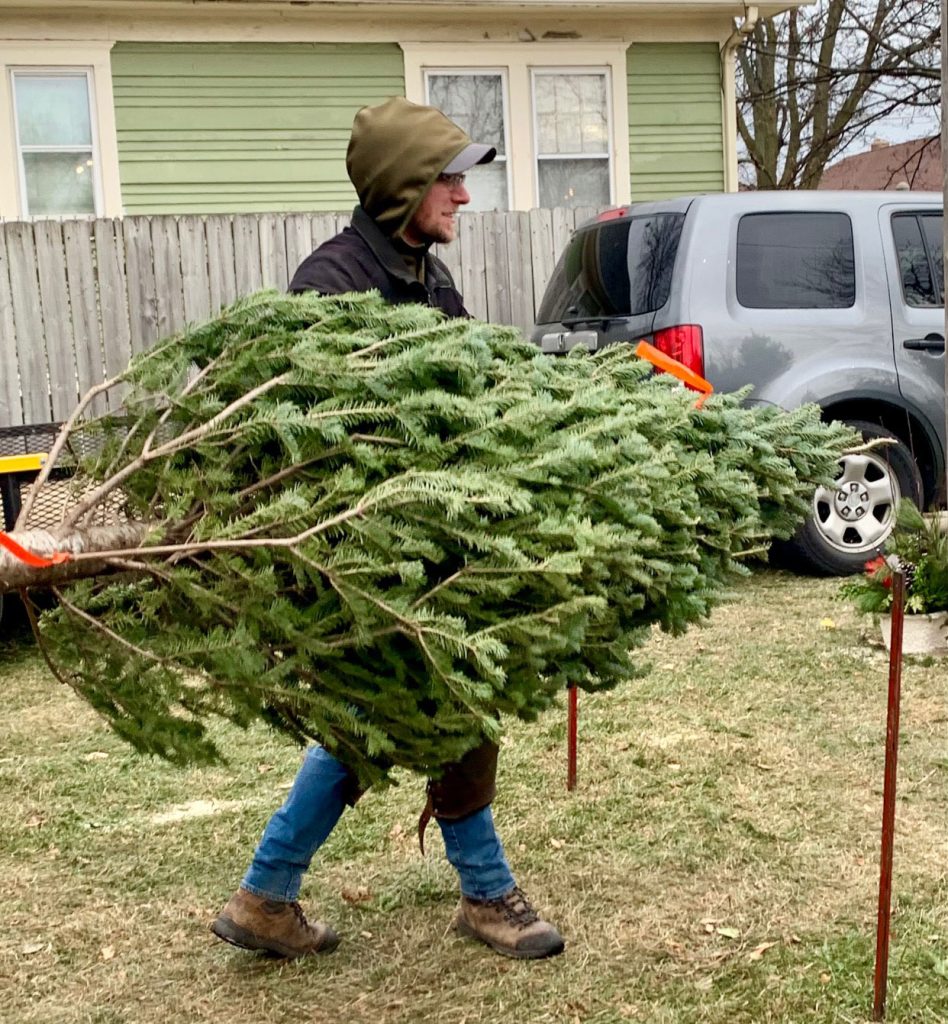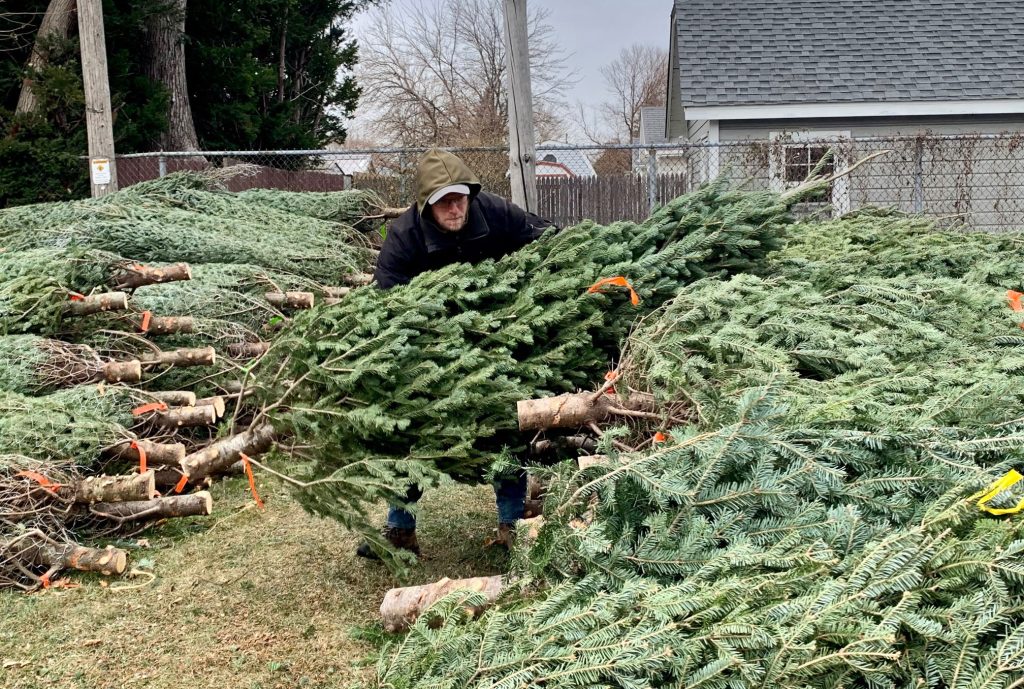 Gretzinger Frost, was born in 1956.
"I have great memories of being here with my parents and my brothers and my sister," she said. "We all learned a good work ethic and a good family ethic, and I feel like my boys … have learned that too."
In the late-1950s, the family began "plantation growing" trees on 140 acres in Shawano, joining other relatives doing the same thing in the area.
"We pretty much stayed Up North in the summer, my brothers and I," Gretzinger Frost said. "We brought other kids from Kenosha up there. There are just a lot of things you have to do."
The family would eventually give up the farm, and today the Gretzinger trees come from other longstanding farmers they came to know in Central Wisconsin. "I've been working with the same grower for quite a long time," she said. "We only sell premium trees, and they are fresh cut, to maintain the same quality we always had when we grew our own trees."
Tree farming and sales were a secondary, "hobby" business for the family. Gretzinger Frost said she used the business to help pay for her sons' college education.
Gretzinger Frost is a longtime registered nurse at Froedtert South Hospital, and works at Gateway Technical College in training future nurses. Her father worked at American Motors in Kenosha, in addition to the tree business.
Debbie and her husband, John Frost, have four sons — Bryce, Barrett, Elliott and Nicholas — all from Kenosha, ages 25 to 38 — and three of them remain active in the business. Their son-in-law, Eric Ellis, Elliott's husband, also helps out.
'They're not all the same'
The family support was apparent earlier this week.
The lot opens the Friday after Thanksgiving, and business usually builds during the short three- to four-week selling window, with peak sales days in early December. But in 2020, Gretzinger's had a huge opening weekend and sold out by Dec. 13, its earliest ever.
"Our business has been increasing," Gretzinger Frost said. "I feel proud that we're still going with a business that has essentially diminished (overall)."
Indeed, the industry has seen some significant shifts during the life of the family business, with competition coming from artificial tree sales and an increasing number of retailers of the real variety. At one point in the 1960s, Gretzinger's sold more than 5,000 trees annually, before the advent of artificial trees. Now, they expect to sell a fifth of that.
Still, 100 million U.S. households celebrate Christmas with a tree, according to 2019 data from the American Christmas Tree Association. And Wisconsin loves its real trees. The state ranks fifth in both number of trees cut and real tree sales, with more than 700,000 trees sold annually, according to the Wisconsin Christmas Tree Producers Association. Real tree sales are an $18 million industry in Wisconsin.
"To me, it's sad when you have a young couple come in and get their first tree and one of the couple never had a real tree in their life," Gretzinger Frost said. "I can understand that people like a pre-lit tree. But I had a lady tell me yesterday, 'We're getting a real one. We've had three fake trees where the lights have lasted two years, the last six years. Forget it.'"
That's why the family has made quality a big selling point for the lot. It starts with the trees themselves.
"They're not all the same," Gretzinger Frost said. "The premiums are maybe cut (every) two years, three years out of the field. Then whatever is left is totally field cut. Those trees are cut first because they know they are cutting the whole field down. It's not like they have to walk through and pick out the (Premium) ones. There really is a difference."
Also, she said, "We know what we're doing — we take really good care of our trees."
In bad weather, for instance, the family will cover the trees or bring them into the garage, so they don't get snowy and icy. The family gives each tree a fresh cut before they tie it on the buyers' vehicle.
Customers appreciate the service — and have for generations.
"We saw someone even earlier today who was here as a kid," Rezny said.
Added Gretzinger Frost: "When you get a person in here, 80 or 90, buying their own tree … every single year, they are living with a purpose, and I feel really sad when some of these people don't come back. This one lady came in a couple years ago and she said, 'I have bought my tree here for 37 years, but I'm moving up to Minnesota, by my son.'
"It really is tradition — people need to hang on to something like that."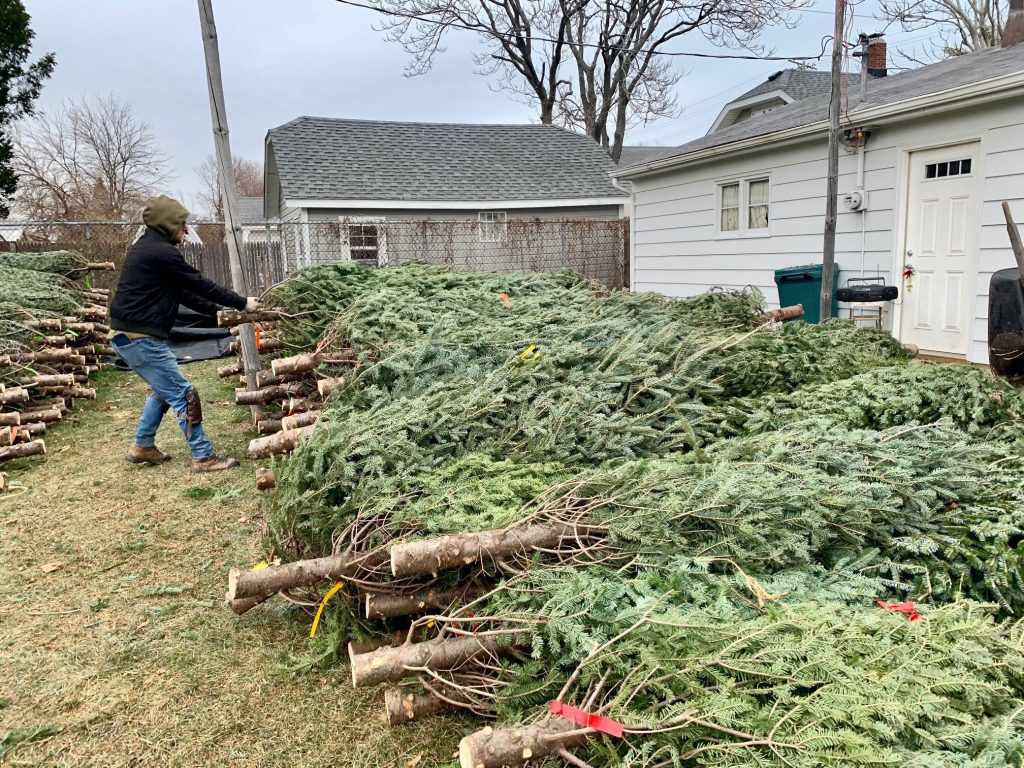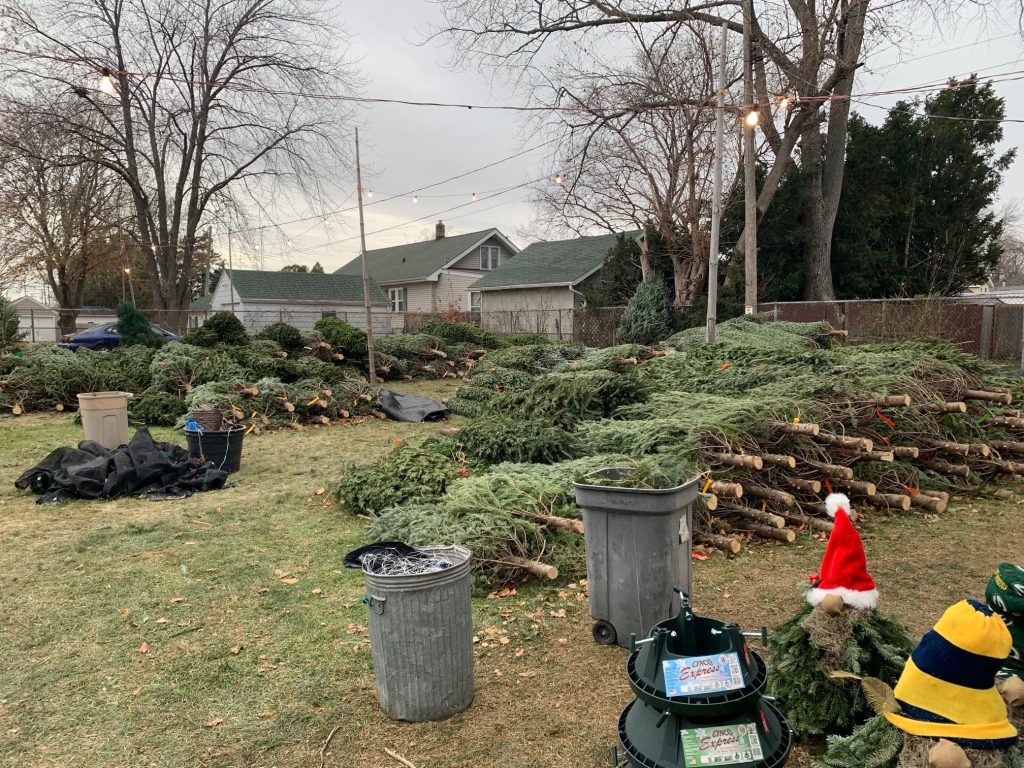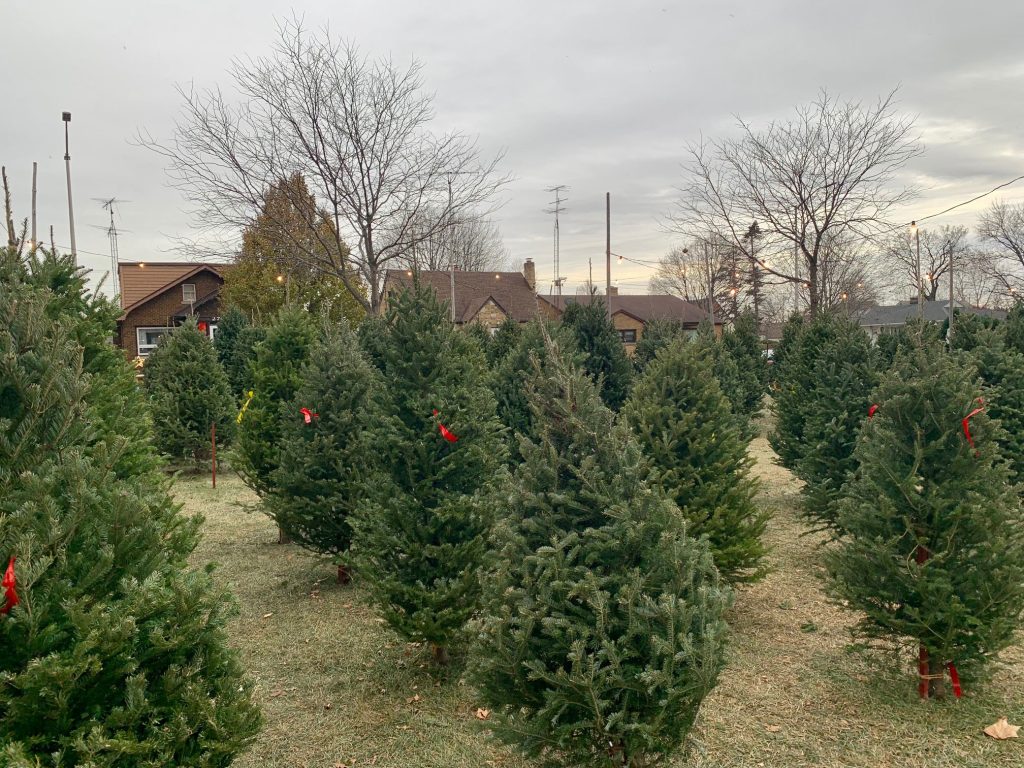 Of course, traditions have changed over time. The industry has moved from almost exclusively "wild trees" in the 1950s to sheared and thick Scotch Pine and white pine, to go along with balsams and now frasier firs — "the Cadillac Christmas tree," as Gretzinger Frost put it.
"It holds its needles really long," she said. "They are a little more expensive."
Gretzinger's sells balsams, frasier firs and white pines, and also offer a few more natural-looking (not sheared) frasier firs. "We call that a Victorian-style," Gretzinger Frost said. "That's what an old-fashioned Christmas tree was like. I usually do put up a tree like that. We just set one up this morning at Strawberry Creek, in their dining room."
The balsams sell for $10 per foot, the frasier first sell for $12 per foot, and the long-needled pine sell for $6.50 per foot. They also sell bundled greens, wreaths and more.
"My son-in-law's mom is a retired florist, so she came this year and last year, and she made all the nice planters out there," Gretzinger Frost said, pointing out another family connection.
Word of mouth
The Gretzingers do minimal marketing. The lot doesn't have a website, but is active on Facebook and has a Google business page.
"All of that word of mouth has really blossomed with Google," Gretzinger Frost said.
See for yourself. Type "Kenosha Christmas tree' into Google, and there it is: Gretzinger's is at the top of the list, with 49 reviews averaging 4.9 stars out of five, and reviews like … "a beautiful selection of Christmas trees … great trees … excellent quality and great people."
"Now all of a sudden people are coming in from Illinois saying, 'What makes your trees the best trees?'" Rezny said. "With Facebook, people are posting photos of the tree and tagging the tree lot. It's a big word of mouth, more than word of mouth ever used to contribute."
"I'll show you," Rezny's mother added, holding up her phone. "Look at that. Chad, he sent a picture of his tree to me this morning."
"Thank you for the tree," the message said, showing a 17-footer in their Illinois living room.
"It takes three people to load that tree onto a car," Rezny said.
Gretzinger Frost is just happy it was her family who did it.
"I originally thought I would maybe do this for 20, 30, 40, or 50 (years), but here I still am," said Gretzinger Frost, now 65.
And if she wasn't? "I don't know what I would do with myself."