On this date (Nov. 27) in 2004, Carthage upended The College of Wooster, 14-7, in the second round of the NCAA Division III football playoffs in Wooster, Ohio.
Carthage prevailed despite averaging less than one yard per snap in what was just the latest "biggest game in the history of the program" for this team.
For the span of eight consecutive weeks, coach Tim Rucks' crew was playing "must-win" games.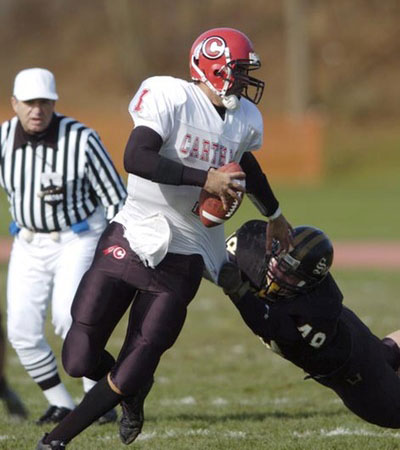 For about half of those weeks, no one really knew the gravity of those contests.
One more loss after the then-named Redmen fell to Augustana 35-0 in Week 5 would have kept the team out of the NCAA Division III playoffs.
Instead, Carthage bounced back with wins over North Central, North Park, Wheaton, Illinois Wesleyan and Elmhurst to capture the College Conference of Illinois and Wisconsin title.
Carthage's first league crown since 1973 under legendary coach Art Keller gave the school the conference's automatic bid to the Division III playoffs for the first time. Prior to 2004, Carthage's last postseason berth was a 14-7 loss at Glenville State in an NAIA Division II semifinal in Ripley, W. Va., on Nov. 24, 1973.
After Keller retired after the 1982 season, Carthage's football fortunes waned. The program had just one winning season (none in the CCIW) until Rucks, who played for Keller, was named coach in 1995.
Rucks, who died in 2015, was left with an overwhelming rebuilding project. He inherited a program that was 2-25 overall and 2-19 in the CCIW over the prior three seasons.
Rucks' impact was immediate.
Carthage was instantly competitive, winning three games — something it had not done in three seasons — in each of his first two campaigns. Following four winning seasons in five years, Carthage hit a little bit of a bump heading into 2004, going a combined 7-13 overall and 4-10 in the CCIW in 2002 and 2003.
This group, though, had talent and lots of it.
The most notable player was running back Dante Washington, who set a school record with 1,990 yards rushing in earning a bevy of All-America and conference awards.
Others earning honors that season were linebackers Brandon Fox and Mike Pelkowski, defensive backs Donovan Moore and Brett Barnes, defensive linemen Jason Kalinowski and Marco Mayne, and offensive linemen Jon Binish, Jason Gonzalez and Kyle Malmborg. Freshman kicker Matt Denny didn't receive any recognition that season but he was at the outset of a career which would have become the school's all-time leader in points, field goals and extra points.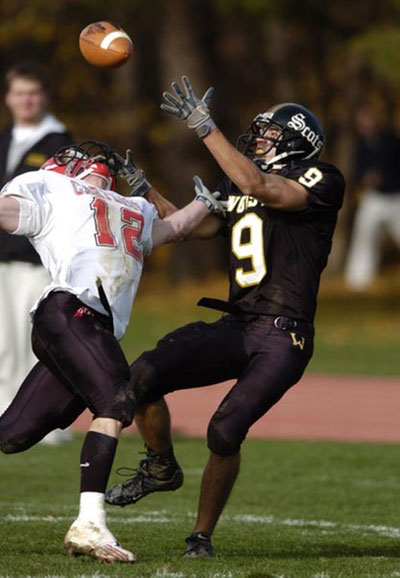 In addition, Rucks was named Coach of the Year by the CCIW and by the American Football Coaches Association (North Region).
As for the game 17 years ago on Nov. 27, it was an unbelievable defensive struggle with No. 16 Carthage gaining a meager 60 yards while running 65 plays. Washington was held to 77 yards. The sixth-ranked and undefeated Scots didn't fare much better with 211 yards of total offense.
The difference was special teams and turnovers.
Carthage opened the game with a special teams explosion thanks to a 94-yard kickoff return for a touchdown by Luke Thompson.
This wasn't the only special teams highlight for the Redmen. Moore averaged 41.5 yards on his 11 punts while Carthage coverage teams gave up just 22 return yards.
The first of the seven turnovers Carthage came up with turned into a pivotal score.
In the second quarter, Carthage grabbed a 14-0 lead after Jim Cichon recovered a fumble forced by Fox and returned it 11 yards for a touchdown — the club's 10th defensive TD of the season.
Wooster pulled to within 14-7 on a 4-yard run by Justin Schafer with 18 seconds left in the first half.
Carthage had plenty of chances to add to its lead in the second half — including a drive starting at the Wooster 6 — but could not convert.
In hindsight there was no need for another score because the Redmen were the beneficiary of four turnovers in the second half. The last of which was an interception by Moore with 1:07 to go that put the game away.
With the victory, the Redmen advanced to the quarterfinal round where they lost at Mount Union 38-20 in Alliance, Ohio, the following week. Mount Union had won six of the previous eight national championships.
Note: Direct comments and suggestions on this column to dmarran359@aol.com