A viral plea to help fund sports physicals for Reuther Central High School student-athletes has opened the door to a partnership between two downtown Kenosha neighbors.
The end result? The upcoming Reuther boys' and girls' basketball seasons are secure, and players and other athletes can now get free physicals at Herzing University. 
"It takes all of the logistics out of my hands to coordinate. We literally just have to walk down the block. You couldn't make it any easier," Reuther Athletic Director Nick Myers said. "For them to be so flexible and so open has been really telling as to what kind of program they are running, and what their values and beliefs are."
The story begins with a problem — a lack of available appointments at area doctors for sports physicals, and the cost ($40 or more) of getting those physicals at other urgent care clinics. Both have proven to be barriers to Reuther families who need to fulfill the physical requirement to play, with practice now underway for both teams.
So Myers opened a GoFundMe campaign last month, stating "it is important now more than ever to get kids engaged in physical activity and basketball is a great outlet for our Reuther students."
"We have a high demand of interest this year to have students participate in basketball, but the biggest deterrent is obtaining a physical," according to the post. "Please consider donating to this cause to help fund our underprivileged students so that they can obtain a physical exam to participate in basketball."
Myers set the goal at $300, and he linked it from his personal Facebook page.
"I got some interest," he said. "My grandma was donating every day because she thought it was a cool idea. I said, 'Hey grandma, I'm taking it down. It got to $450. That's perfect. That's a great start.'"
He took down the post.
"Then I got a text and a phone call from TMJ4 — they wanted to do a story. And it took off from there," Myers said. "I had to open it back up. And Friday morning I woke up to … 18 email notifications. $50, $100, $200. It was insane, and it just kept going."
And going, and going — with 37 donors giving $2,740 as of Monday night, thanks in large part to the TMJ4 story that promoted the effort. One gave $1,000.
Providers also began to reach out to help. Herzing — located at 5800 Seventh Ave., less than two blocks from Reuther — sent a message via GoFundMe, and a partnership was born. Physicals began last week, and about 10 students have taken part, five on Monday. Myers said around 40 student-athletes have requested information packets. His goal is to have more than 30 boys and girls get their physicals this way. 
"This kind of fell in our lap," Myers said. "I can't physically force someone to go to the doctor. This is cutting out the middle man. During school I'm going to find you, we're going to walk down and you're going to get your physical, we're going to come back, and it's going to be done."
Giving back
For Herzing, it is the latest example of stepping up to support its neighbors, putting its nursing students and staff to work to advance community health. The university recently held a flu clinic on campus and was a COVID-19 vaccination site.
"We all as human beings want to make the world a better place," Herzing Region President Jeff Hill said. "We're just really passionate about serving our community, and anytime we find an opportunity to lend our resources and our talent to positively impact a group or individuals, we kind of leap at that."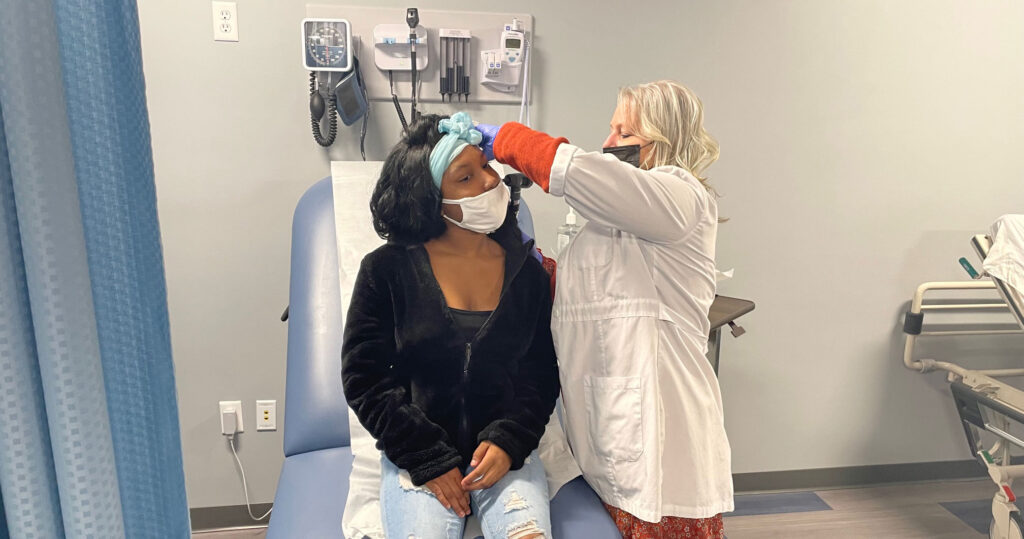 Hill specifically credited Academic Dean Beth Gilbertson, who read about the GoFundMe effort and brought the idea to the Herzing leadership team.
"She could have just as easily said 'that's interesting' and continued on," Hill said. "But it resonated with her. We have a culture on our campus where we identify opportunities, we step up and say, 'What can we do?' It's part of our mission."
Myers hopes partnership discussions continue with Herzing, perhaps around a broader health clinic or providing opportunities for Reuther students at Herzing.
Indeed, said Hill: "The hope is this is one of the many things we can collaborate on."