Dozens of military veterans were honored for their service and sacrifice Friday morning.
The men and women were celebrated by hundreds of area residents at Christian Life School's 16th annual Veterans Day Celebration at Journey Church, 10700 75th St.
The event opened with a presentation of the military flags carried by Christian Life students and a performance of the "Star-Spangled Banner."
The school's concert band, orchestra and choir then offered a medley of each military branch's service song: "The Army Goes Rolling Along," "The Marines' Hymn," the Navy's "Anchors Aweigh," the Coast Guard's "Semper Paratus" and "The U.S. Air Force Song."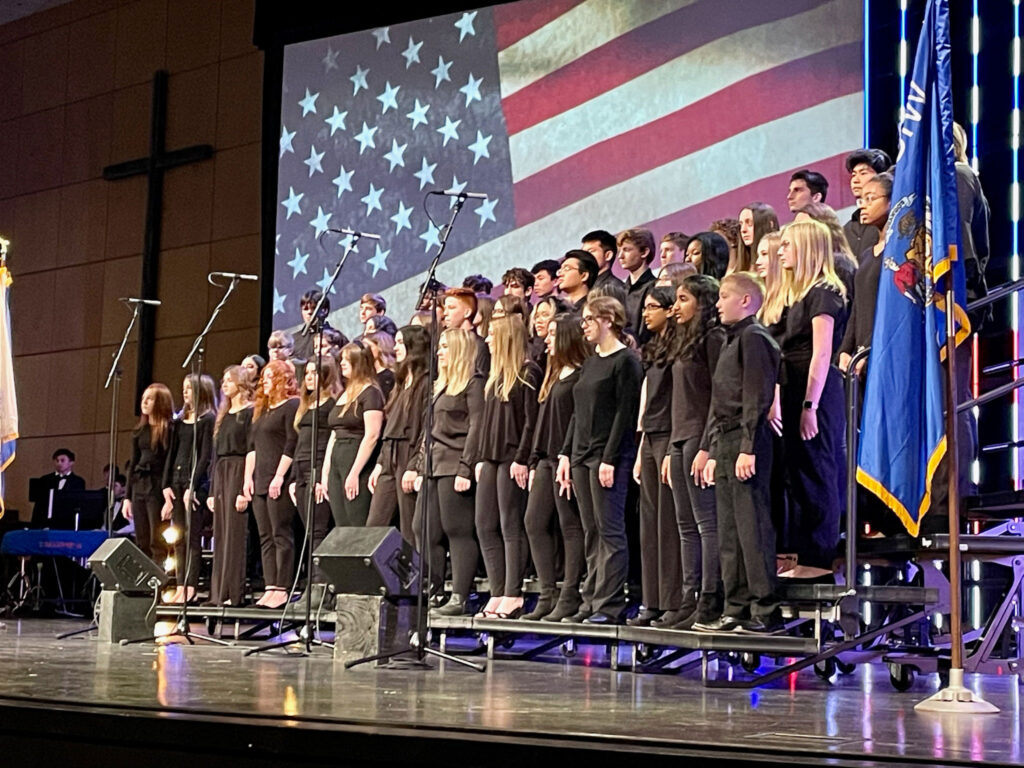 "Heavenly Father, we thank you first and foremost for the men and women of this country who have served it so faithfully, who have sacrificed, who have given their blood, sweat and tears to provide and maintain the freedoms that we enjoy here in America," offered Christian Life's head of school Jeff Bogaczyk in his opening prayer.
Politicians in attendance included State Reps. Samantha Kerkman and Tod Ohnstad, Kenosha Mayor John Antaramian and former Gov. Scott Walker.
"You think about not only Memorial Day and Veterans Day, but then you think about the Fourth of July, and sadly, for each of those days, too many of our fellow Americans think of those as days to celebrate — to go cook some brats, go watch fireworks and be in parades and do ceremonies or have a day off to go spend with the family — those are all nice things to do, but it's really important to remember not only what each day stands for but how it's all tied together," Walker said in his speech. "Honoring our veterans should be something we do 365 days of the year."
Walker said every courageous veteran has "been a part of ensuring the freedoms that we celebrate on the Fourth of July."
Ret. Navy Hull Technician Chief Rob Roberts, a 20-year Navy firefighter who was deployed six times during the Gulf War, served as the keynote speaker. He serves as vice president of VFW Riders Group Post 1865 in Kenosha.
Roberts focused on the veterans who died — whether it be from war, age or disease.
"Every year, close to 7,000 veterans or veterans' families are buried at Arlington (National Cemetery)," Roberts said. "Kenosha, Mr. Mayor, you can attest to this, is about 100,000 people in population. Currently at Arlington, there are 300,000 people buried there. That's three times the size of Kenosha. That's a lot of veterans."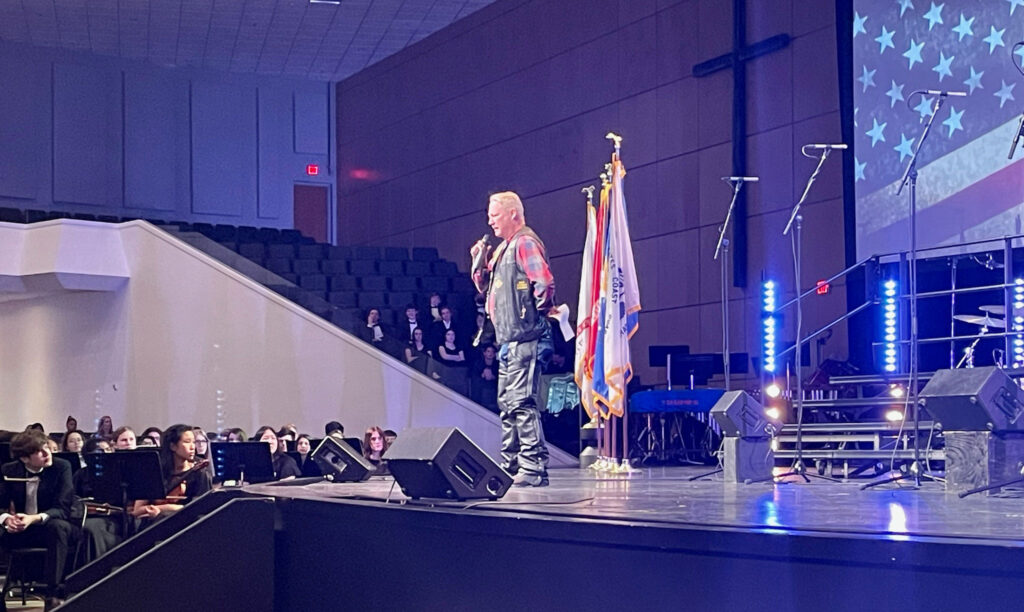 He also highlighted Gen. Colin Powell. Powell, a former United States Army officer who served as the 65th United States Secretary of State, recently died from complications associated with COVID-19.
"There is, in my opinion, probably one of the greatest generals to ever live being buried in Arlington today," he said. "That's Gen. Colin Powell. If you want to know what you can become in your life, look at what that man did in his life."
Near the end of the event each veteran in attendance was asked to gather on the stage. They were serenaded by the school's elementary students who sang "Proud of Our Veterans."
Attendees dined on pastries and coffee outside the auditorium after the event.
Beirut veteran Randy Lund was grateful for the recognition.
"The best part about it is the kids being involved," Lund said. "When you are up on the stage and they are singing to you, that chokes you up."