The Restaurant:
Twisted Cuisine, 7546 Sheridan Road, is one of the first restaurants in Kenosha to focus on an eclectic, ever-changing menu. After almost 15 years, they are still staying creative and delighting guests with non-traditional flavor.
The Featured Dish:
Brussels Sprout Pizza — Cauliflower & mozzarella crust topped with roasted Brussels sprouts, caramelized onions, bacon, fresh mozzarella and garlic sauce.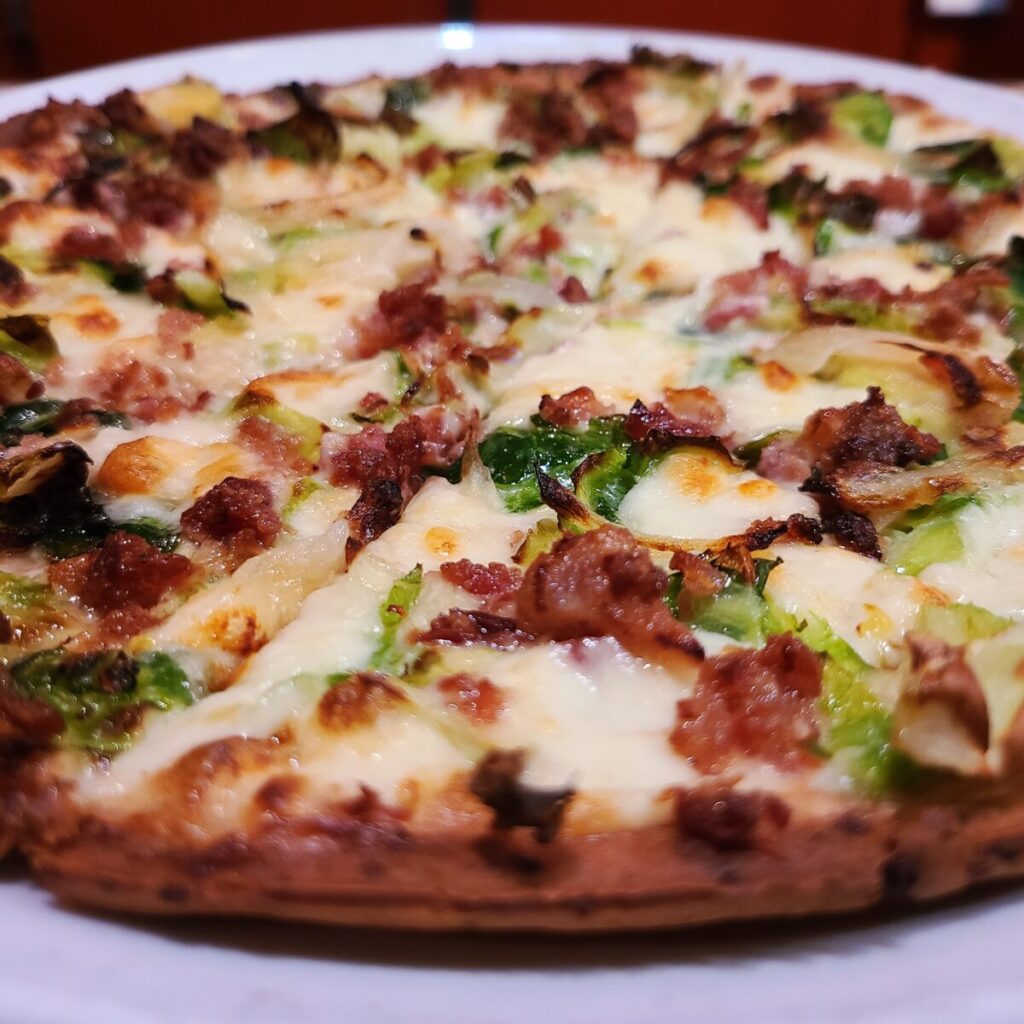 The Flavor and The Story:
Yes, there are a lot of healthy-sounding ingredients in this dish. Don't let that fool you into thinking it's not one of the most approachable and flavorful bites you can enjoy in Kenosha.
The pizza is listed in the sharable section of the menu, but no one will judge you if you want to have it all to yourself.
The cauliflower and mozzarella crust is baked to crispy perfection and breaks with the perfect balance between crunch and chew. Up top, there is the perfect harmony of creamy fresh mozzarella, sweet caramelized onions, savory roasted Brussels sprouts, crispy bacon, and a garlic forward housemade alfredo.
The menu at Twisted changes quarterly, yet the Brussels Sprout Pizza's popularity has kept it on the menu for over two and a half years. Chef Erica Buskirk said she's unlikely to take it off the menu any time soon.
"I've had a couple people tell me they would take extreme measures if it came off now," she said.
Beyond the food, Twisted Cuisine has been serving family atmosphere and lifelong friendships for 15 years. Owner, Rhonda Bell is always present and never seems to stop smiling whenever the restaurant is open.
This "daily joy" as Bell puts it, "comes from finding purpose in serving happiness to guests, staff, and all of the extended family that come along with them."
"I truly love my crazy little Twisted Cuisine, and I'm glad it shows," she said
The Brussels Sprout Pizza is available every night for $13.
Twisted Cuisine is currently open for dine-in with socially distant seating and also accepts carryout/curbside orders. You can view this dish and the entire menu at TwistedCuisine.com.