The Restaurant:
El Fuego Gyros, 2828 75th St., is more than just gyros. From fish fry to tacos, the crew at El Fuego knows no limits when it comes to serving delicious, approachable food.
The Featured Dish:
El Fuego Special Burger — Three quarter-pound patties of custom-blended, hormone-free beef, American cheese, gyro meat, bacon, grilled onions and Jack Daniels BBQ sauce. "The works" includes lettuce, tomato, ketchup, mustard, mayo and pickles.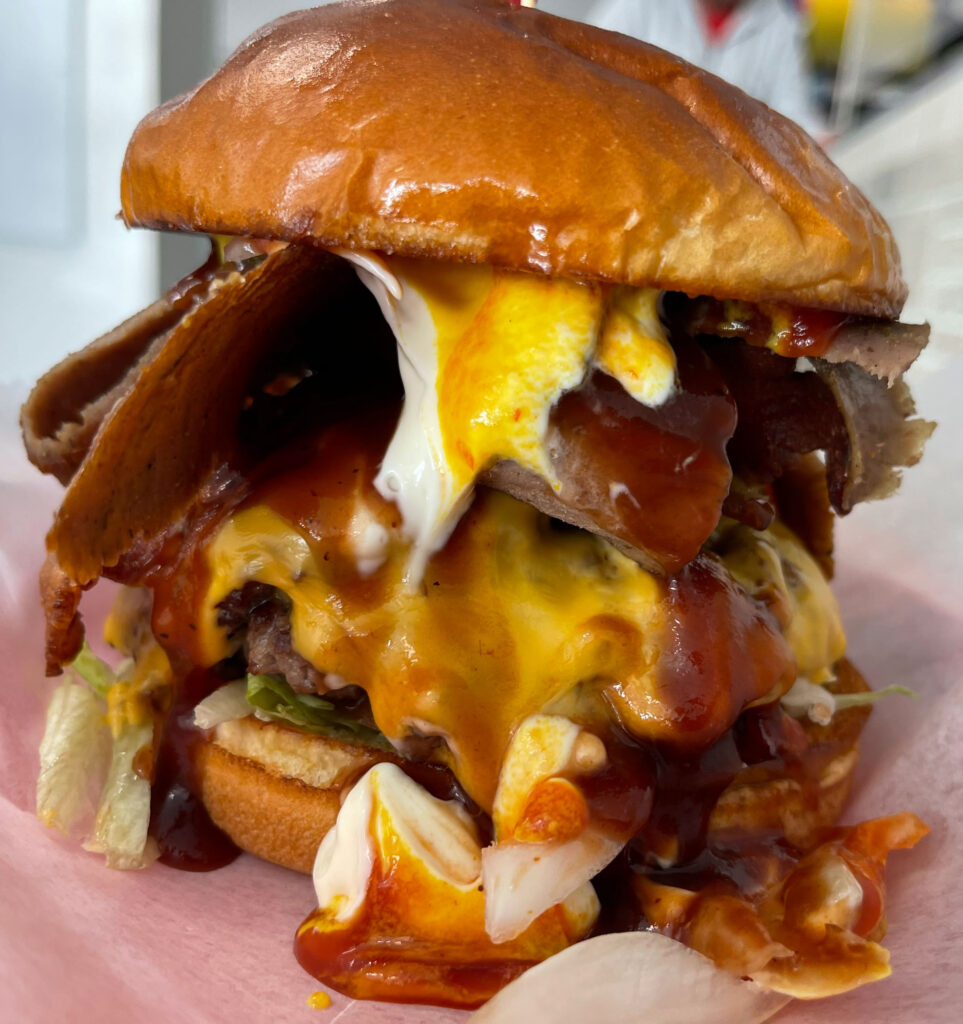 The Flavor and The Story:
El Fuego Gyros is the definition of a local hidden gem. Based solely on their location inside the American Gas convenience store, you may have driven past it and never even known what you were missing.
Clearly, their most famous item is in the title — their high-quality, spit-roasted gyros. You can read a detailed review of that decadent dish in Steve Marovich's recent hunt for the best gyros in Kenosha on Kenosha.com.
Despite it being the home of one of the best gyros in the city, the rest of the menu is equally delicious, including their custom-blended beef burgers. So, when trying to decide which one to eat, why not get both with the El Fuego Special Burger?
I have to start this off with a warning. I ordered this dish based solely on the idea that it was a signature item that combined two things they do incredibly well at this location. What I didn't do was actually read the description completely to realize that it is absolutely massive.
The first few numbers in the menu description seem to have initially eluded me. The math didn't add up for me that the first ingredient was almost an entire pound of beef until this towering monument of meat was placed before me.
I'm positive they later laughed at the sheer panic that was clearly visible on my face.
Let's start with the beef. It is a high-quality blend that they take great pride in. Every bite of burger was moist, flavorful and well seasoned.
Next up is a generous helping of perfectly cooked bacon topped with the famous El Fuego gyro meat. The bacon is crispy and delicious while the gyro is amazingly moist and flavorful. While many eateries offering a gyro on their menu use a frozen, pre-packaged product, the gyro meat at El Fuego is sliced fresh off a spit-roasted cone and is an absolute delicacy.
To balance out this meaty mountain, grilled onions and BBQ sauce are added for texture and sweetness. I highly recommend opting for all the fixins. While the flavors on this sandwich are incredible, adding some pickle and tomato breaks up the flavor of heavy proteins with fresh and acidic notes.
While there are plenty of side options available on the menu, unless you've recruited some help, the burger alone will be plenty to fill you up.
I highly recommend this dish to anyone hungry enough to tackle it. Just make sure you get extra napkins. You're going to be a disaster of sauces and flavor, but it's worth every moment you'll spend cleaning up afterward.
The El Fuego Special Burger is available every day for $9.99.
El Fuego Gyros is currently open for dine-in and also offers carryout. The full menu, including this burger, can be viewed online at ElFuegoGyros.com.