PLEASANT PRAIRIE — Change starts from within.
That's true personally and socially, according to Jahmal Cole, founder and CEO of My Block, My Hood, My City, an award-winning Chicago education and volunteer program for young people.
Cole, 38, gave an emotional and energetic speech Friday afternoon at the Kenosha Area Business Alliance's Inspire 2021 leadership development event at Journey Church, 10700 75th St.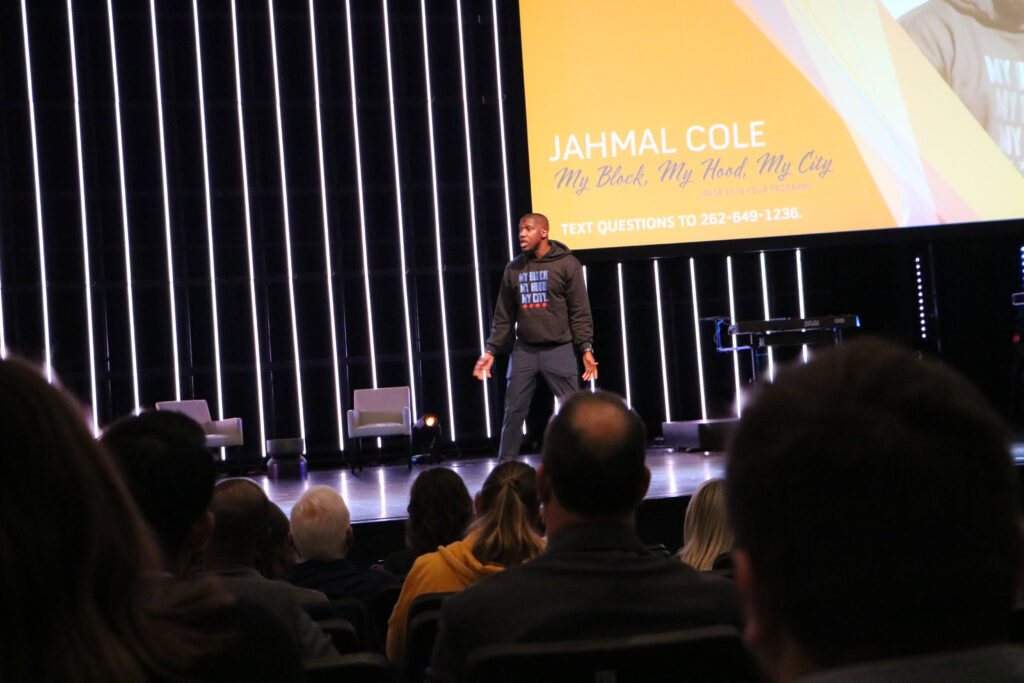 The Kenosha native and Reuther High School graduate spoke about growing up in poverty in the city's Uptown neighborhood, being the first person in his family to graduate from college and later working to combat the "deficit of hope" throughout the nation's underprivileged communities.
When Cole first began studying at Wayne State College in Nebraska in 2001, he didn't have money for books or even own a pair of athletic shorts. He had hopes of eventually playing in the NBA and didn't focus on his education.
When Cole's basketball coach approached him about his 1.7 GPA six months into his freshman year, Cole told him bluntly: "It's cold out here, I don't have no money, I hate the food, it smells like manure, you all treat me racist. I'm having a hard time adjusting, coach!"
His coach replied: "Jahmal, you know what's missing from your list? Your name's not on it. The highest level of maturity is taking full responsibility for your actions."
The next day the coach gave him a $500 scholarship for books. Cole went to the store and bought some of the books he needed. In one semester he went from a 1.7 GPA to 3.5 GPA.
Cole repeated his coach's comments multiple times during his hour-long speech to ensure it sunk into attendees' heads.
In the years after graduation, Cole moved to Chicago and wrote "Athletes and Emcees" and "50 Excuses to not Follow Your Dreams." He began selling his second book on the street in downtown Chicago outside a Foot Locker.
"Everybody was laughing at me, I got made fun of every day. … I wanted to quit every day," he said. "I stayed out there for six months and (one day) a representative from Toyota came by. They were like, 'Hey, man, we love that you're a hustler and think you can be the entrepreneur of the year.' They flew me out to Santa Monica, I went to Toyota and won entrepreneur of the year."
Cole recommends every entrepreneur "stand guard to the doors of your thoughts" in the face of adversity and rejection.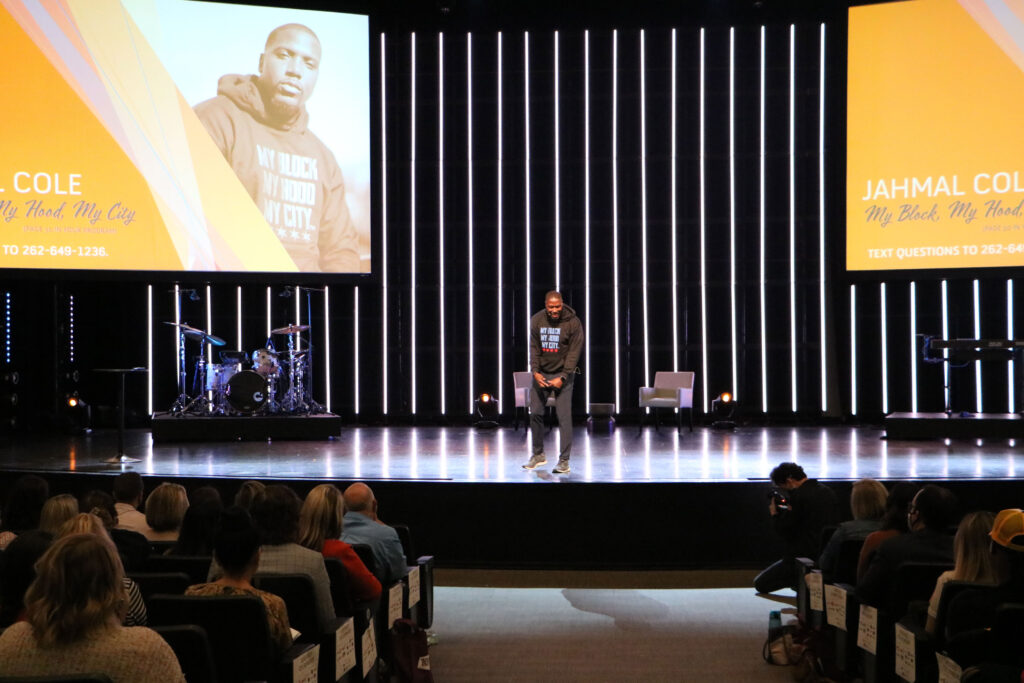 "It's not about what happens, it's about what you do about it," he said.
The social justice advocate is aiming to help create a more "interconnected Chicago on the pillars of service and education" with his fast-growing organization. Cole was recently named one of the 25 Most Powerful Chicagoans by Crain's Magazine and Chicagoan of the Year by Chicago Magazine.
"I work in school districts where kids get shot at almost every other day walking to school," he said. "A lot of kids in some Chicago communities have never been downtown, have never been to Kenosha, have never waved for a taxi, have never been to the lake."
To combat that, Cole's organization "takes students from these under-resourced communities where there's all these shootings."
"We take them on educational field trips and expose them to different cultures, different professions, different cuisines," he said.
He works with 150 students from 10 Chicago high schools.
Event a success
Todd Battle, president of the Kenosha Area Business Alliance, said Friday's Inspire conference was a success. He said about 550 people registered for the event.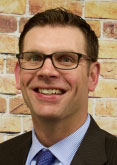 "We started this with the idea to celebrate, inspire and promote leadership," he said. "It's been a while — a year-and-a-half, two years — since we've been able to bring people together in a space like this safely. There's great leadership development going on, there's great learning going on. But we also have the ability to connect with the community and network again. It's important for people, and we're excited to be back at an event like this."
Brandon Morris, manager of community engagement/college and career readiness with Building Our Future, and Willie Jude II, University of Wisconsin-Parkside vice chancellor for advancement, emceed the event.
Other speakers included Dan Heath, best-selling author of "Upstream: The Quest to Solve Problems Before They Happen"; Bina Martin, author of "Radical Candor: Creating a Culture of Feedback"; and Ayesha Ahmed, general counsel of Nexus Pharmaceuticals.
More with Jahmal Cole
Q: How does it feel being back in Kenosha?
A: I can't wait to go to The Spot and get some jalapeño poppers.
Q: Your speech focused on the fact that you can't fix the world until you fix yourself. What does that mean?
A: You have got to rely on yourself. Self-discipline.
In high school I wasn't self-disciplined. I was making excuses — my community's messed up, my parents didn't do this. That didn't mean nothing. I could look inside and see what's something simple I could do to change that, and that's what I did.
Q: Kenosha had a rough time following the historic city unrest in August 2020. How can the community come together?
A: Locally, I love hearing about the block parties that are starting. If there are 16 houses on that side of the street and 19 houses on that side of the street, (you) can make Facebook groups to stay connected, and start sharing books together. The more connected you are, the safer you are. Get out and meet your neighbors.
Q: You spoke about your love of reading and said, "You can get five years of information from a good book." A lot of people don't read anymore.
A: When it's that easy to do, it's just that easy not to do.