Cheese Curd Day may be a national holiday on Friday, Oct. 15, but there's nowhere you can celebrate it better than Wisconsin.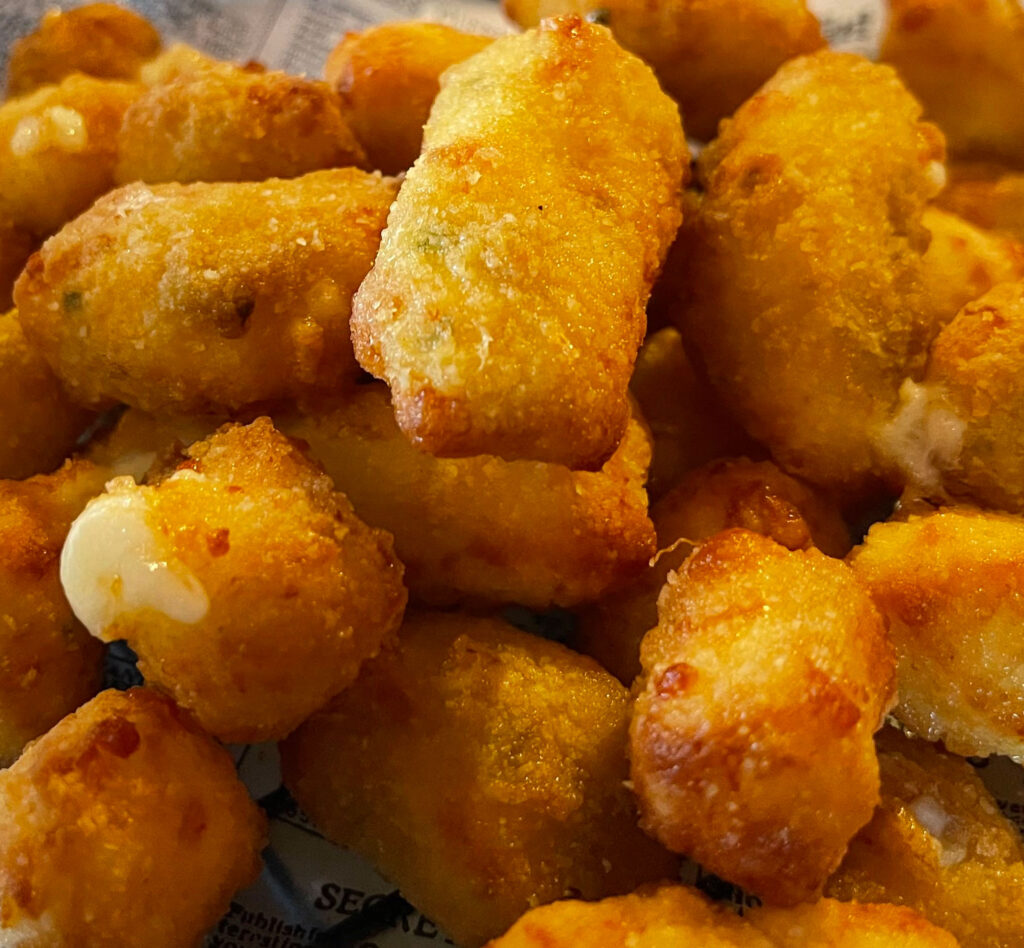 While these tasty nuggets are popular throughout the midwest and Canada, Wisconsinites have always taken them to another level.
These little cheesy squeakers may be a delicacy already as a raw product, but in the land of Cheeseheads, we know that everything is better when battered and deep fried.
Despite the huge number and variety of restaurants in Kenosha, you can still find an order of cheese curds almost anywhere, which has led to heated debates about which are the best. And, lucky for us, it has inspired creative chefs to come up with new ways to serve this simple snack.
It would be gosh-darn impossible to sample every curd in town (although we encourage you to try), so we've tasted two of the newer offerings to the area that do things a little differently.
The Restaurant: Boathouse Pub & Eatery
The curd: Hand cut & breaded with a pretzel beer crust and served with marinara. 
Chef Mary Radigan has outdone herself with her take on this staple dish. These somehow perfectly shaped cubes forego the traditional breading for a pretzel-based coating that is salty and savory and creates a thin, crispy shell of deliciousness.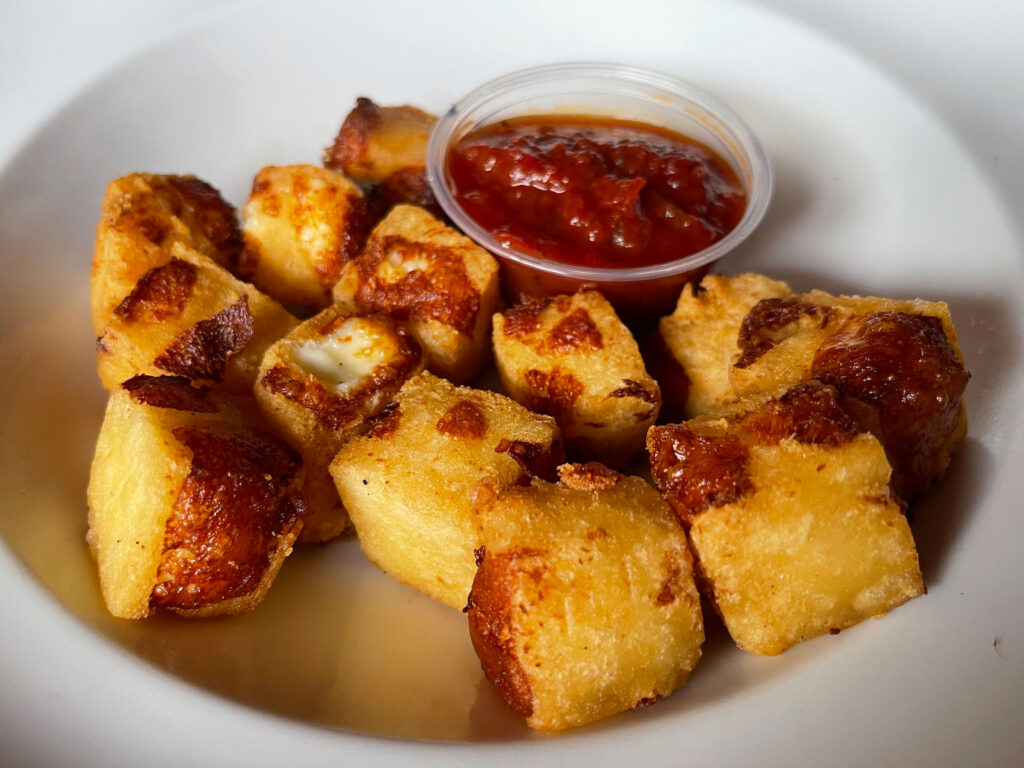 The curds inside are melty and ooze out of their pretzel shell to give creamy balance to the breading. When dipped in the house-made marinara, the tomato acidity rounds out the bite for an absolutely wonderful experience.
I've never had a curd quite like this one, but I can assure you that I will again soon.
The Restaurant: PUBLIC Craft Brewing

The curd: Fresh Wisconsin curds in PUBLIC's house-made tempura beer batter.
I'm noticing a theme here. It turns out that beer may not only be the way to a Wisconsinite's heart, but also the perfect addition to cheese curd batter.
The culinary team at PUBLIC also creates their own unique take on breading.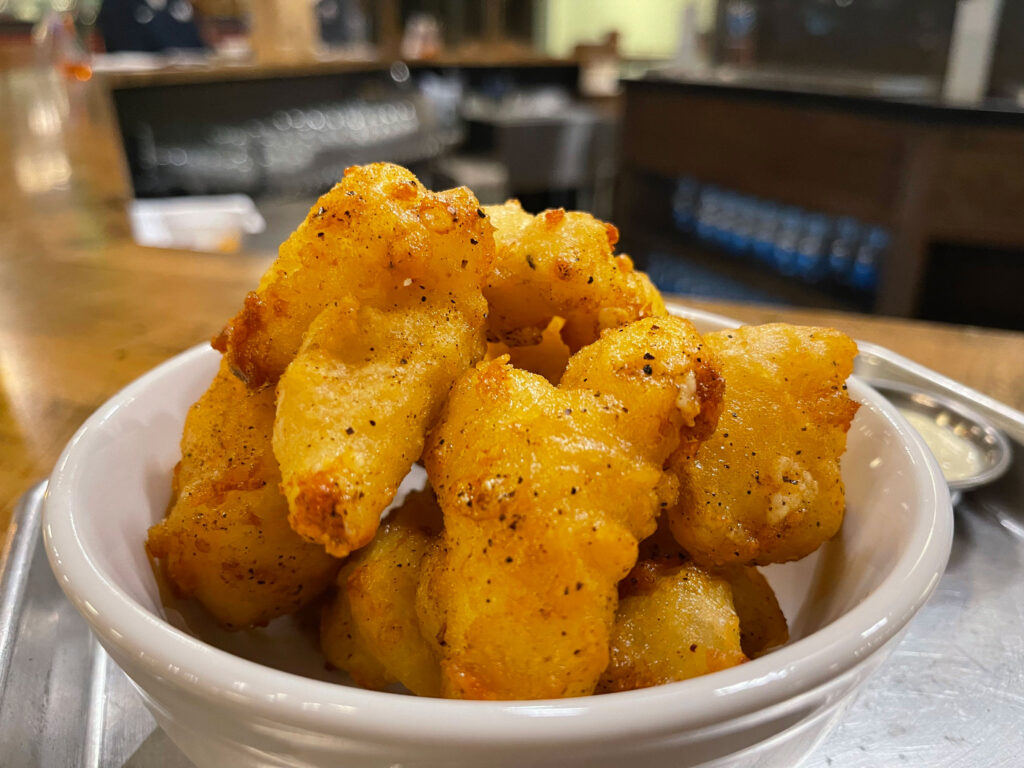 Rather than a traditional heavy and bready coating, they opt for a light and crispy tempura made using PUBLIC's own craft brew.
The first thing I have to say is that these things are absolutely massive. More often than not, fried cheese curds are a one-biter, or even something to be eaten a handful at a time. At PUBLIC, you'd regret trying to shove one of these melty monsters into your mouth all at once. 
The sheer size provides a unique experience which is the opportunity to see just how stringy and creamy the cheese can be. I had quite a few moments of almost arm-length cheese bridges connecting my hand to my mouth before the stretchy mozzarella finally gave way.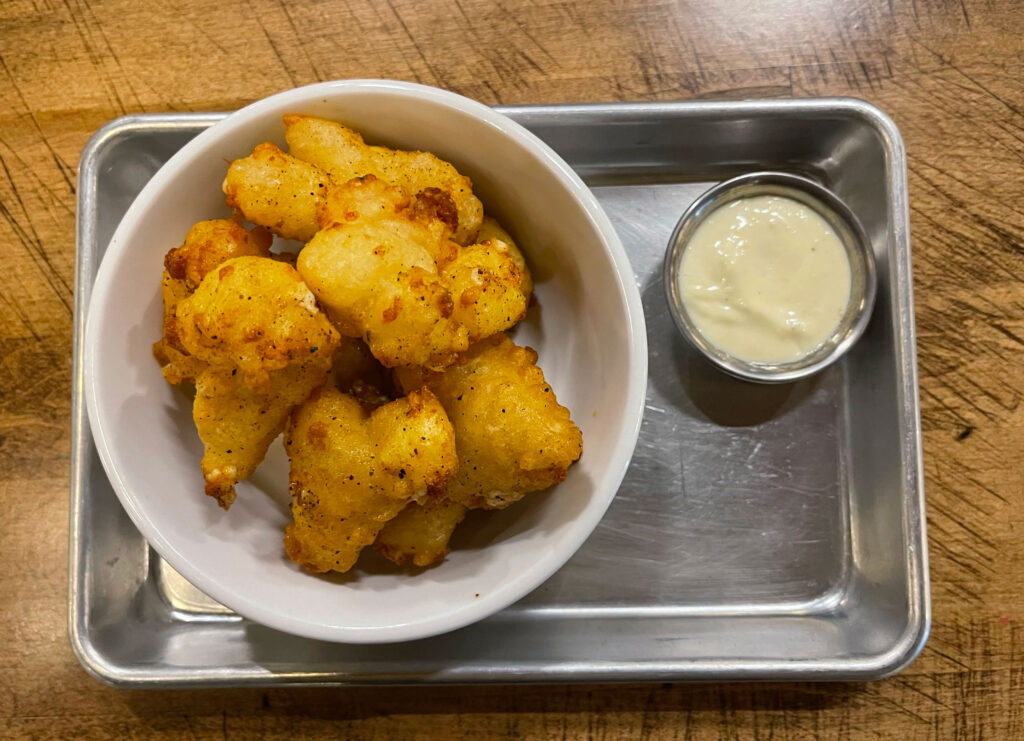 Beyond the size, the breading is wonderful. It's light, crispy, and perfectly seasoned. The tempura absorbs far less grease giving it the full deep-fried effect without being served in a puddle that turns your wax paper clear.
PUBLIC is truly flexing their flavor muscles here and I highly recommend trying their take on this hometown classic.
While these two handmade and creative versions of the cheese curd are amazing, they only scratch the surface of how many ways you can celebrate National Cheese Curd Day on Friday.
Here are some other great options:
Captain Mikes: Hand-breaded white cheddar, and jalapeño cheddar cheese curds, fried to perfection.
Culver's: This regional chain actually created National Cheese Curd Day. They will be serving the "Curdburger," a hamburger topped with a giant fried cheese curd. Available for one day only!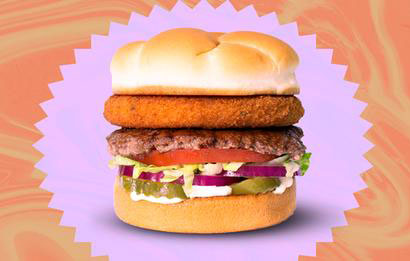 Mars Cheese Castle: The self proclaimed, and locally supported "World's best cheese curd."
Milwaukee Burger Company: This place takes curds so seriously that they have four signature varieties.
Waterfront Warehouse: Melty, breaded white American cheese curds served with your choice of sriracha, ranch, honey mustard, or a signature BBQ dipping.
Ope! Don't go thinking these are the only options we love and support. Kenosha is filled to the brim with the best food in the world. Get on out there and celebrate this distinctly Wisconsin-flavored holiday at one of these great locations, or your favorite cheese curd corner.
Just remember to celebrate by shopping local. We can only keep our midwestern identity alive by continuing to support it, don'tcha know?