University of Wisconsin-Parkside Athletics Director Andrew Gavin stopped in the hallway of the Sports & Activity Center, as women's basketball player Alyssa Nelson walked past.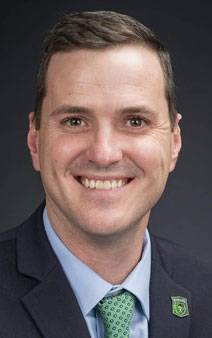 "You got a game today?" Gavin asked.
"No, just pictures. I wish," Nelson said.
"Take some good ones — they are going to be really large on that video board! No pressure," Gavin said, smiling.
You can forgive Gavin for enjoying the state of affairs with Parkside athletics these days, and for taking a little pride in the new video board coming to De Simone Gymnasium.
The scoreboard is visual proof of the millions of dollars in upgrades Gavin, his team and community partners have helped deliver since he joined the department in 2017 — an athletics facility buildout unprecedented in the university's 53-year history.
For Gavin, it is also evidence of how he and his team are delivering on the "three Rs" — recruiting, retention, revenue — while also building pride in Ranger athletics for his staff, student-athletes, and the community through the enhanced facilities.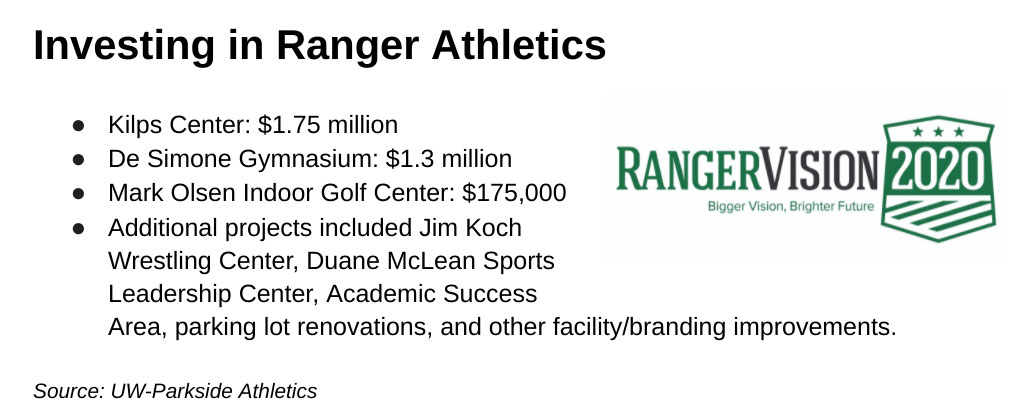 "We waited a long time to get to this point … and what we have now is going to be something special for our student-athletes, the people on campus and the people in our community," Rangers men's basketball coach Luke Reigel said. "The transformation has been incredible. Over the past four years we've gone from, quite honestly, a rundown high school gym to what now feels like a college basketball arena.
"It's hard to wrap your head around."
Parkside isn't done yet — and it's about more than the arena.
As the university prepares to evolve its RangerVision 2020 facilities campaign to one focused on "Experience the Vision" — check out a previous Kenosha.com story to see how the university is looking to get student-athletes, recruits, the community and other stakeholders to see firsthand the progress it has made — the university's recent and ongoing upgrades have touched or will touch most of the school's athletic programs.
Highlights include the …
Rick Kilps Center. Formally unveiled in September, the project has turned a mothballed and outdated pool into a $1.5 million, 6,300 square-foot multipurpose turf center for baseball, softball, men's soccer and women's soccer, as well as campus and community users looking for flexible, multipurpose, indoor space.
De Simone Gymnasium. Work continues on the complete renovation of the home of Ranger basketball, volleyball and wrestling – as well as the university's commencement ceremonies – including new bleachers, VIP seating areas, state-of-the-art video boards and scorers' tables.
Mark Olsen Indoor Golf Center. Already opened and in use by the men's golf team, this facility, with its Foresight Simulators, has given Ranger golfers a chance to practice year-round – which Gavin credits as contributing to the team's 19-stroke improvement in team scoring average this season.
Jim Koch Wrestling Center. Opened in 2018, the Parkside wrestling facility saw major improvements to the subfloor and mat, along with updated branding and equipment. Displays recognize the long and storied program history, including national champions, All-Americans, Academic All-Americans, and team success.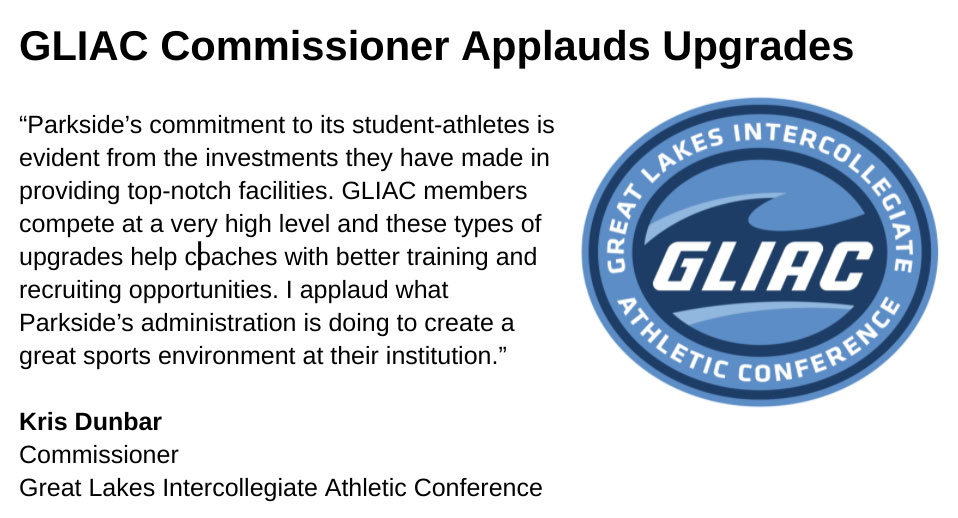 Starting small
But those are the big-ticket projects. The upgrades started small, after Gavin noted something on his job interview almost five years ago.
"When I met with our student-athletes and coaches, I could feel pride," he said. "You could see pride in the record books. You could feel it from our people. But you couldn't visually see it or feel it."
That bore itself out when Gavin officially took the job.
"When I got here, we had really good facilities as it related to quantity, not necessarily quality," he said. "They were really lacking in pride, collegial atmosphere. I used to say I could blindfold somebody and put them into this building and they wouldn't know where they were. They may not even know they were in an athletics facility. They wouldn't have known they were at UW-Parkside."
To change that, you'd be surprised how much difference green paint and logos can make, as the foundation for the bigger upgrades to come. That's where Gavin and his team began — establishing a sense of place for those using Ranger facilities.
"Those didn't cost all that much money," he said. "We redid our Hall of Fame, we put up digital signage, some graphics in the hallways, some images of our student-athletes and green paint."
"There is still some stuff we want to get done. Now this bothers me, these are old carpets," he said, pointing to the floor. "But in general, now when you walk in here — between digital signage and some of our facility projects and the work our really awesome creative team does — there is no mistaking where you are."
"On par with the best"
That is certainly the case in DeSimone Gymnasium.
Basketball fans will get a look at the renovated arena soon, with the Parkside women opening their home schedule on Nov. 18 with Minnesota-Duluth. The Ranger men play their first home games on Nov. 19-20 with the HARIBO Invitational.
As of last week, work continued on the two new De Simone VIP seating areas — the Educators Credit Union Suite and The Bear Club, which Gavin is pushing to have completed for the start of the season.
Those and the other upgrades will take the De Simone Gymnasium from a "high-schoolish" facility to "being on par with the best facilities in Division II," Reigel said.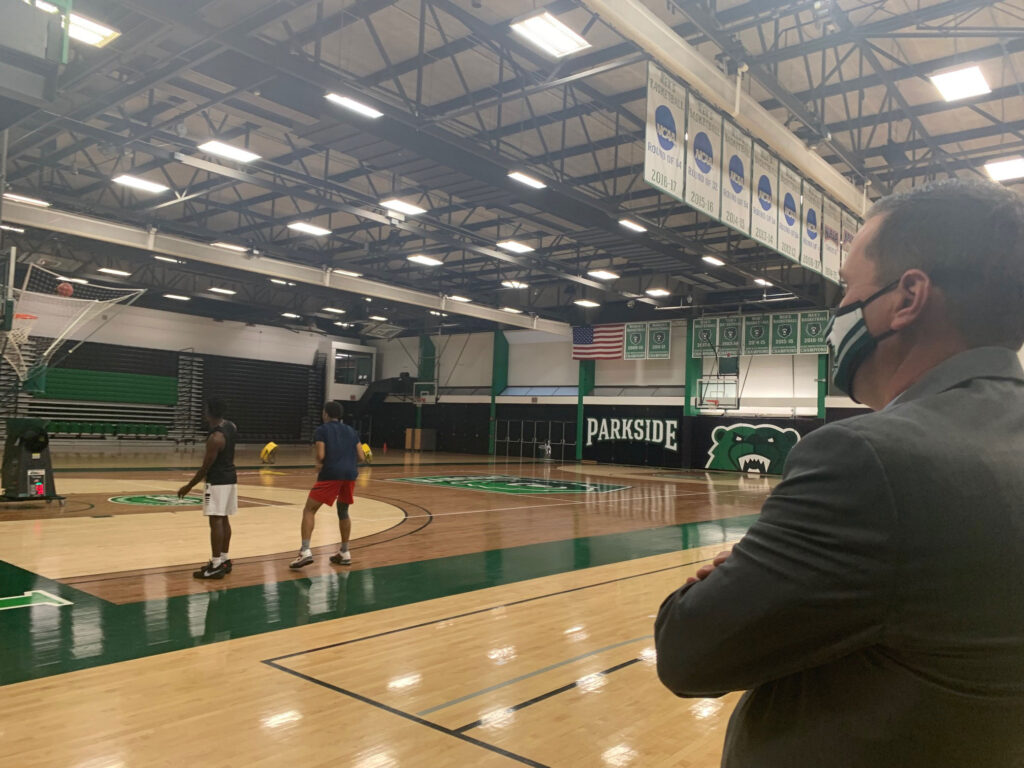 "In the beginning it was difficult to … convince recruits to come to Parkside if they were being recruited by other teams in our own league. The facilities difference was night and day," said Reigel, hired in 2003. "We had wood bleachers from the 1970s. The walls were gray cinder block, and the doors along each baseline looked like you were in a wood cabin. There wasn't much green, black or white anywhere in the gym."
That has all changed.
"When you bring a recruit on campus you want to have something that is a 'Wow' factor," Reigel said. "Now when we walk them into the De Simone arena, their eyes light up, and more importantly they can picture themselves playing on that facility."
From "hole in the ground" to special space
The Kilps Center is another "Wow." Last week's unveiling was the last step for a project more than five years in the making.
Parkside closed its pool in 2016 — then more than 45 years old and in need of repairs — because it reportedly did not meet modern competition requirements.
When Gavin arrived, he saw an opportunity … yet admitted it wasn't always easy to walk past the "hole in the ground" for so many years.
"At times it was embarrassing," Gavin said. "It was one of those things that our coaches had to avoid on recruiting visits. My job was as quickly as possible to try and turn that into a positive. 'Yeah, it's an empty pool today, but what could it become, what would it become?' Then it starts to become a fun conversation on a recruiting visit to say, 'Hey, look at this hole in the ground, and look at the rendering of what it is going to be.'"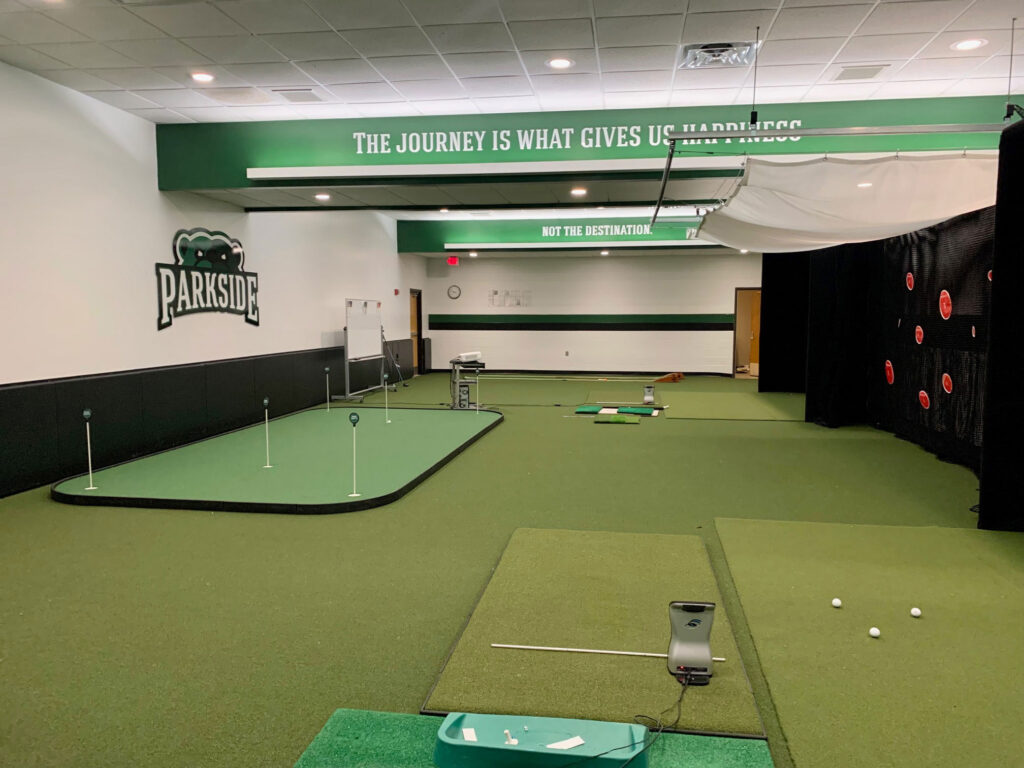 Now, the project — named for the iconic Rangers' head men's soccer coach — is a reality. In addition to the turf field, it includes batting cages, locker rooms and offices.
Gavin expects and hopes the center, like the pool before it, will see its share of use by the community and Parkside students. But its biggest immediate win is its use as a practice home for Ranger athletes in outdoor sports.
The women's softball team, for instance, previously had to drive 20 to 40 minutes to get to off-campus facilities for indoor work, or practice in the Petretti Fieldhouse, which it shared with other teams also looking to get out of the elements. Its gym floor ruled out the use of traditional softballs.
"Although I'm sure the track team will miss dodging the softballs as they run around our practices, the opportunity to have more space for all the athletes to be with our team is such an advantage over our competition," senior Parkside softball pitcher Kiley Akey said at the Kilps Center unveiling. "This turf center will create a more realistic environment to help us prepare for our season and make us a more competitive team and athletic program as a whole."
Safety and heritage
Improved safety goes beyond reducing the number of softballs flying around an open gymnasium. It was also a key consideration for the Koch Wrestling Center.
For Coach Nick Becker, a three-time wrestling national champion at Parkside (2016, 2017, 2018), the Jim Koch Center was about safety first — and celebrating the storied history of the program.
The Koch Center includes a $10,000 subfloor, where the wrestling mats ride on 15,000 foam blocks and plywood, to provide extra cushion. It's a state-of-the art approach that helps prevent injury. Add in the new room's historical branding — including team photos and graphics celebrating the program's 16 national champions — and the Koch Center is something unique in the state and beyond, Becker said.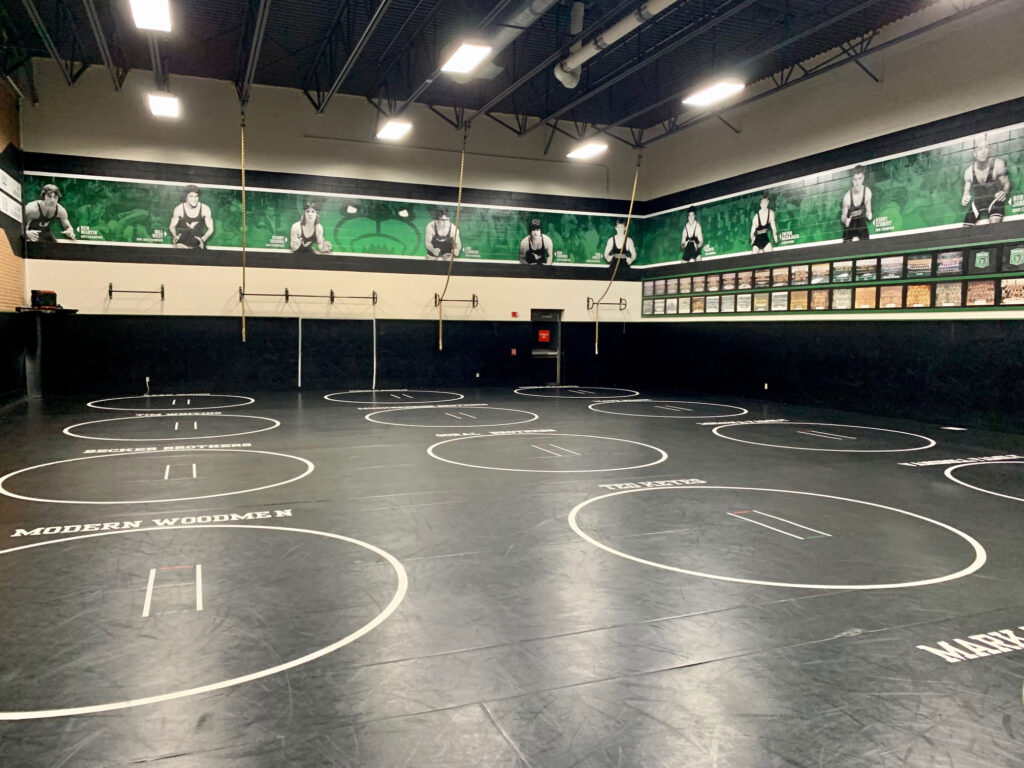 "I don't think there is another wrestling room in the state of Wisconsin that has (the floor system)," Becker said. "And being able to show the history of our program, the All-Americans, the Academic All-American, the national champs, that helps."
Recruits and student-athletes "walk in the room and they see it," Becker said. "No other wrestling college in the state I think has the branding we do."
And it's only getting better. "Back in 2015, 2016, it was what we were dealt with," he said. "We got by with what we could." Now, Becker said, "it's still changing really by the week around here. Something new is always going up."
Powered by partnerships
Gavin is quick to point out none of this could be done alone.
The department's fundraising push under Gavin includes Community Champions — those who have contributed $25,000 or more to RangerVision 2020 over the course of the partnership. They include HARIBO, Educators Credit Union, Bear Realty Group, Nexus Pharmaceuticals, Festival Foods, Gateway Mortgage Corporation, Vonco Products, BMO Harris, Partners In Design, and the UW-Parkside Foundation — companies and organizations that have combined put forth close to $1 million in financial support for the facilities program.
In addition, Parkside's Athletics Partners program features more than 30 companies and organizations, including Texas Roadhouse added last week. Jockey International recently signed an agreement to outfit Ranger athletes.
"The external partnerships have been a huge drive," Gavin said. "That was one of the things I was sold on when I came here — the development in the region, not only new companies coming to town, but also the longstanding companies like Jockey and CNH and Snap-on and others that are here.
"It's really important to me our partners see value in us, and it's not just us being out there with our hand out. Let's meet in the middle in a way that's mutually beneficial."
More local companies are doing just that.
"They are asking, 'How can I be a part of it?'" Reigel said. "If you're a business owner, you are not going to invest your money in something you don't believe will be successful. People just don't have those types of funds laying around. You want to make sure it's money well spent. That's easy to see right now.
"They see what direction we're headed in. It's a great time to be a part of it."
What's next?
The facilities upgrades are far from over.
"We're going to keep getting better," Reigel said. "It's not like this is the end of it. We are right in the middle of the growth, and that's exciting."
Said Gavin: "Now it's about our outdoor facilities and what the vision is there — creating a more unified complex with lights and turf and public restrooms. That's more longer term. But that's the shift."
Indeed, no outdoor Parkside athletics facility has lights, restrooms or turf.
"Before the Kilps Center was built we didn't have an inch of turf on this campus, and in our climate that's challenging. We need the same outdoors. We also don't have any lit facilities outdoors. That's important for when we play our games. We had a soccer team that was ranked 14th in the country and played at noon on a Friday. That game should be played under the lights. That game should be an opportunity for people in the community to come, for people getting off work on a Friday afternoon to come watch."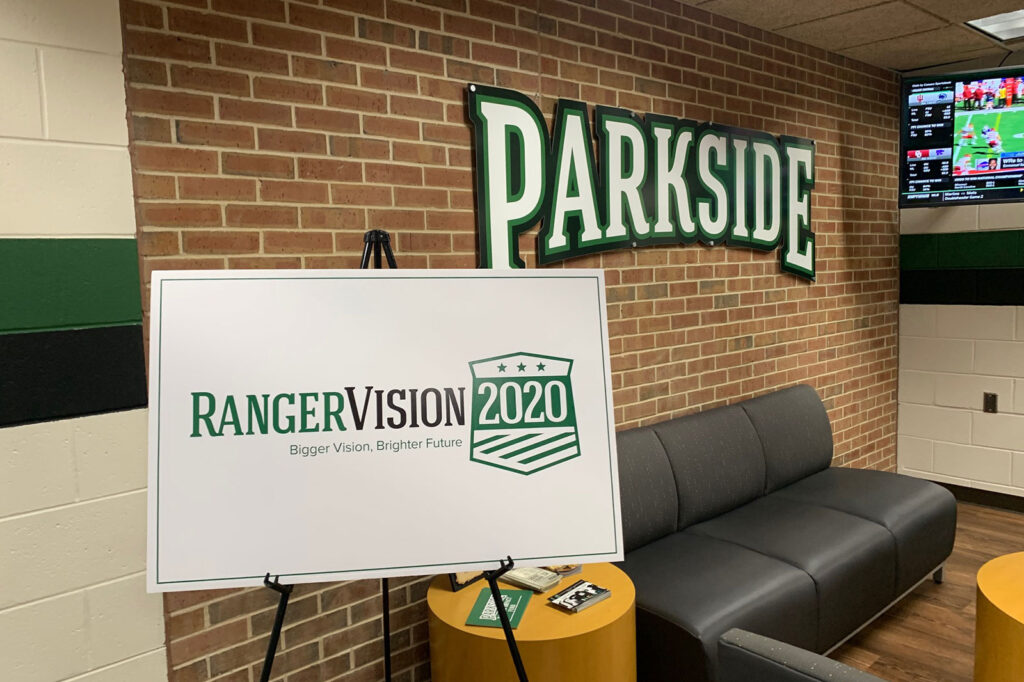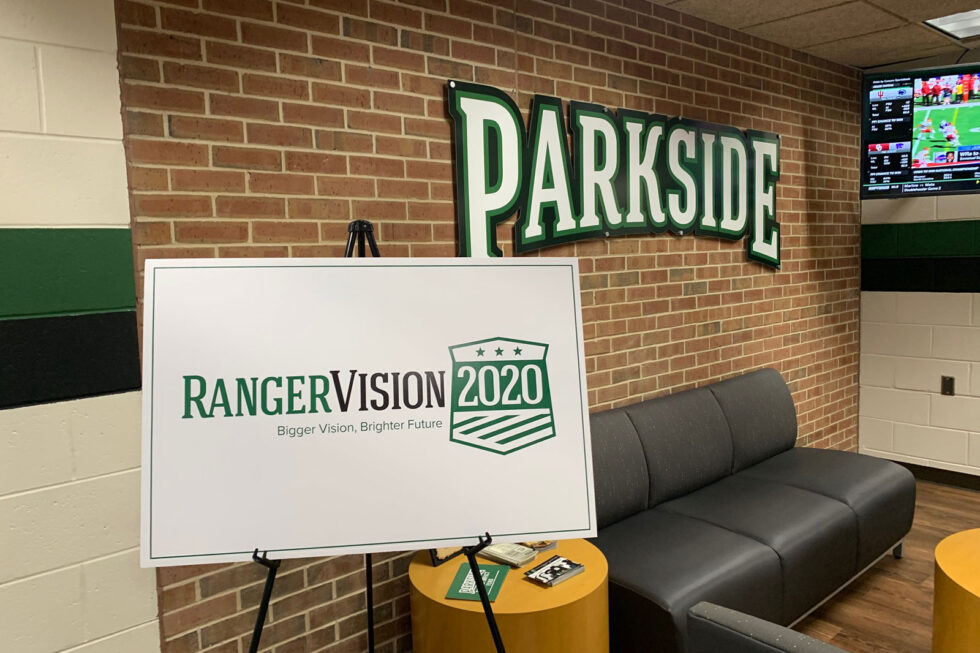 Gavin said Parkside is also considering improvements to the Wayne E. Dannehl National Cross Country Course. The course has hosted dozens of major national and regional meets since Dannehl, as athletics director, led its design and development in 1976. It is hosting the NCAA Division II Regionals in 2022 and the Division II National Meet in 2025 — the first time it has been held at Parkside since 1997.
Coming investments could include adding public restrooms, concessions, and Internet capacity to stream the national championship, Gavin said.
UW-Parkside and the Root-Pike Watershed Initiative Network have also partnered to develop a land enhancement plan called the Pollinator Patch Program. The goal is to create more habitat for the Rusty Patched Bumble Bee and in doing so rehabilitate and enhance the approximately 210 acres of forest and open space between county highways JR and E, and state Highway 31.
Yes, investment in athletics can take lots of forms. Wildlife and people included.
"It's about progress for me, about growth for me," Gavin said. "And more important than any facility we've built is the staff we've built here. That's the foundational piece that matters more than anything."
Kilps would agree, and add another reason for the facilities progress: Gavin.
"For some reason, this guy is magic," Kilps said. "How is he doing this? The stuff he's bringing in, the corporations, the Jockey thing he just did. He has an eye for marketing. This building, and what he's done, it's phenomenal. This guy has a passion."