SOMERS — Complete with a speech from the man of the hour, University of Wisconsin-Parkside unveiled the Rick Kilps Center on Saturday (Sept. 25) with a touching dedication ceremony.
The 6,300-square-foot indoor facility offers a state-of-the-art practice field for the Ranger men's and women's soccer, baseball and softball teams in addition to serving Parkside staff, students and the community.
When it came time to think of a name for the shiny new facility, university leaders wasted little time reaching a consensus.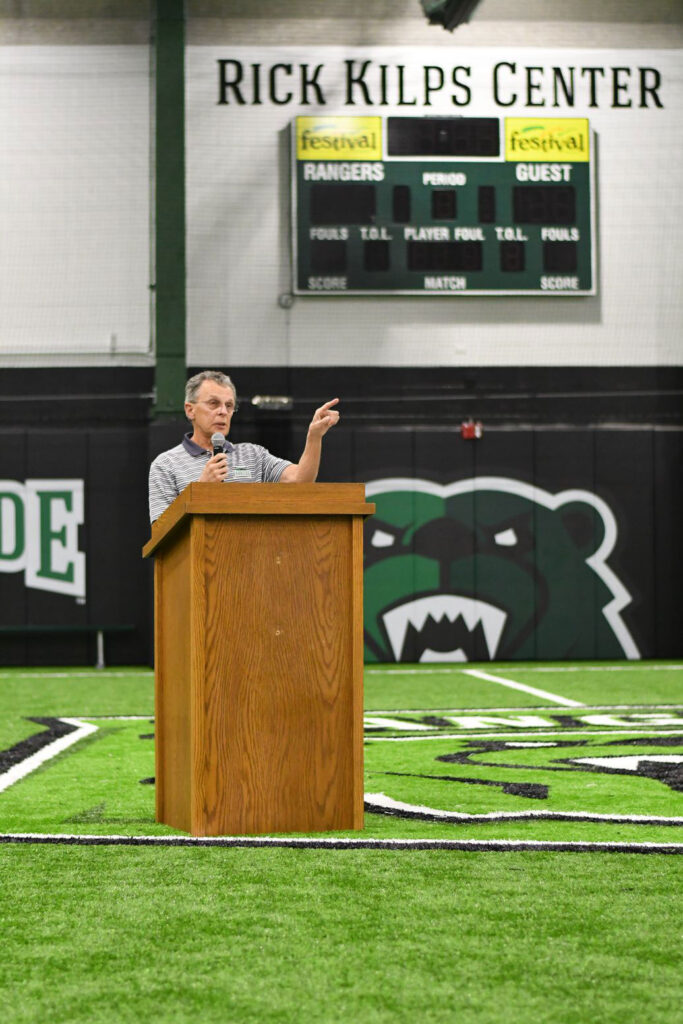 "It took less than a second," said Rocky Donovan, vice president of the UW-Parkside Foundation Board and chair of the RangerVision 2020 steering committee. "Coach Kilps was a very obvious choice."
Parkside's all-time winningest coach in any sport, Kilps compiled a 363-137-40 record in 27 seasons with the Rangers. The 1975 Parkside graduate put together 26 consecutive winning seasons behind the performance of 37 National Soccer Coaches Association of America All-Americans. 
Kilps had 113 players named to the Great Lakes Valley Conference All-Academic team, five GLVC Academic All-Americans and three GLVC All-Academic Player of the Year recipients.
The Milwaukee native is remembered fondly for his time at Parkside as a tireless worker who wore many hats. For many years, Kilps served as an associate professor and was in charge of the Rangers' athletic training room.
Saturday's ceremony was attended by a number of Kilps' former players — including seven from the Rangers' outstanding tradition of goalkeepers — university leaders, student-athletes, alumni and members of the community.
The tears arrived early as Kilps took the podium.
"It's hard not to be emotional about this because it meant so much to me," Kilps said. "All those years. All those kids. All those seasons."
Kilps said he never envisioned someday having a facility named in his honor.
"Absolutely not," Kilps said. "How can anyone believe that there will be a building named after you?
"I came to work every day and worked hard. I did it to the best of my ability. All those hours I spent recruiting, traveling, talking on the phone, fundraising, grading tests, reading papers, preparing lectures. I taught exercise physiology, kinesiology and body mechanics. I wasn't teaching racquetball and tennis. I had to be on top of things."
Kilps immediately sang the praises of Parkside Athletic Director Andrew Gavin, who has been instrumental in Parkside's impressive facilities overhaul.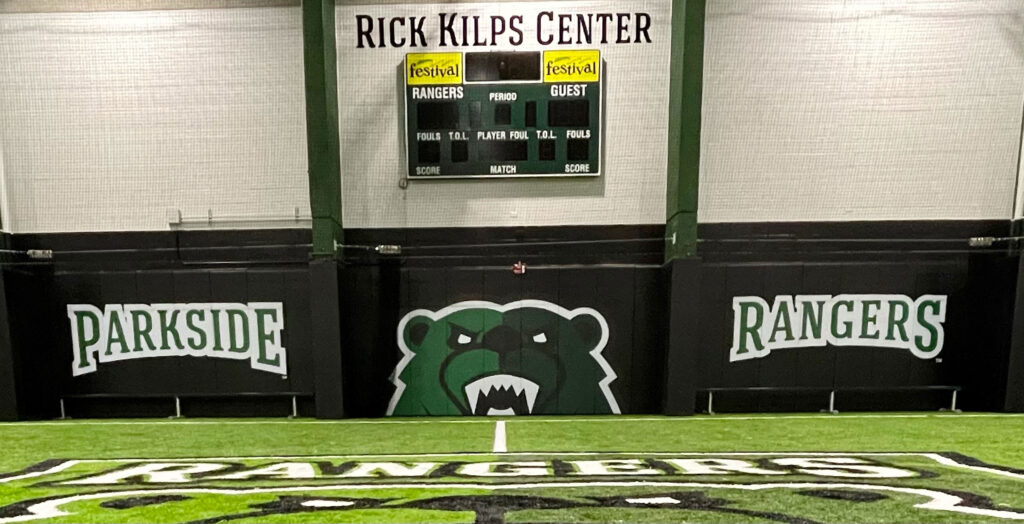 The Rick Kilps Center replaced the Parkside pool, which served the community for decades until it became inoperable and sat empty for years.
"It was critical we quickly turned this challenge into a positive opportunity for progress," Gavin said. "We heard about how this space could become a wrestling-only facility, the best golf facility in Division II, a volleyball-only arena and even an Esports facility.
"Most of those options were pretty fun to talk about and pretty fun to dream about. The most obvious and impactful option from the start was to create this facility, a multipurpose, indoor, turf center that, like the pool, could welcome thousands of young people and community members to our campus and transform the day-to-day training experience for our people."
Under Gavin's leadership, the Rangers have unveiled the Jim Koch Wrestling Center, Duane McLean Sports Leadership Center, Mark Olsen Golf Center and now the Rick Kilps Center.
"As we have worked to make progress around here over the last few years, it's been a goal to do so in a way that connects our current student-athletes and our future students-athletes to our past," Gavin said. "We've been able to do that."