If you've recently visited the city's south side you may have seen what some are calling Kenosha's unofficial mascot.
A wild turkey has been spotted by numerous area residents in the area surrounding Pershing Blvd. The turkey, which residents have named Carl, has a fan following. He's a frequent topic of discussion on local Facebook pages (and even has a page of his own — Carl the Kenosha Turkey) and folks can be seen taking photos of him while on their morning walks or commutes.
Bonnie Smith saw the bird near her son's home in the area about a month ago.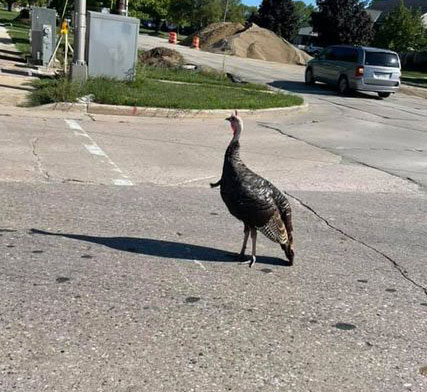 "I just thought this can't be right, no one is going to believe this!" Smith said. "I hear he's been around the area for about a year. … My grandbaby is two and I'm sure she'd love to see it in her front yard."
Paul Merklein, who resides in the Southport neighborhood, recently saw the animal north of 52nd Street and between 39th Avenue and Green Bay Road.
"I deliver for a popular delivery service, so I drive around town a lot. I was delivering to an address and I saw this big turkey walking around," he said. "I thought, 'What the hell is this?' It was a slow day, so I started following him around. I could get quite close to him without spooking him."
Merklein took a photo of the animal and posted it on Facebook. Area residents told him Carl doesn't attack anyone but only lets you "get so close before running away."
"It's like seeing a grizzly bear or flamingo walking around," he said. "It's not something you see every day in Kenosha. Obviously, you're going to see peoples' dogs and cats and squirrels but you're not going to see a turkey."
Merklein said he heard the animal resides in someone's backyard at night.
"I saw him casually walk across several peoples' lawns and go up to some doors as if he was expecting someone to meet him," he said.
He hopes no one harms Carl, who has been selected as the Kenosha.com Kenoshan of the Week.
"He has so many fans I think people are looking out for him," he added. "It's like having a mascot. … He could be the mascot of Kenosha."
A woman who wished to keep her last name private saw Carl a few weeks ago on her way to work near Pershing Blvd. She's also seen it in the Forest Park area.
"I have never seen a turkey in Kenosha just walking around casually," she said. "It's been such a crazy time and some people think it's a spiritual sign. It's weird but good. I think seeing how a turkey can fit in a city as well as it does is actually pretty cool."
The Kenosha Police Department's wildlife control unit could not be reached for comment.
NOTE: To nominate a Kenoshan of the Week click here or email Andrew@Kenosha.com.