Hey, everyone! Welcome back to another installment of "Finding Fitness." I am glad to see you have made it here today. This week, I will be going over the tracking methods for my different seasons of fitness.
It's important to plug your own info into the links provided so you can get your personal recommendation.
For my personal goals, I would try to stick to around 2,700 calories for bulking, 2,300 for maintenance and 1,900/2,000 for cutting. Use this calculator to find out where your macros should be: https://legionathletics.com/macronutrient-calculator/.
Macros are an important aspect to getting healthy because they are the building blocks of your body. Other than water, vitamins and minerals, macros should be a staple in your healthy lifestyle. I also use the myfitnesspal app when I really want to hit my goals. You can set macro goals in there and log your food throughout the day until you get a sense for what helps you meet your goals.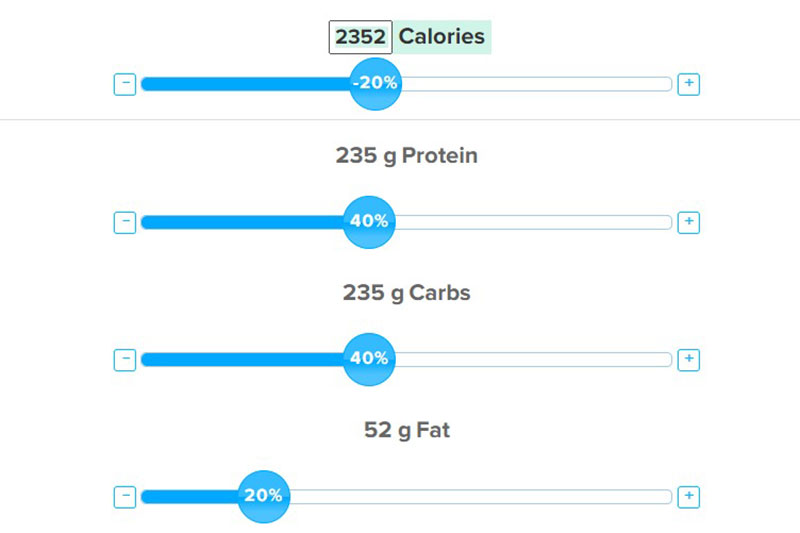 Example:
As you can see above, the numbers can easily differ between genders and body types.
Try not to compare meals and macros with others because everyone is different. An easy way to ensure you hit your macros is making the right choices at the grocery store and on the go.
For daily food choices, I always go lean like chicken/poultry and fish. I also try to fill my plate with vegetables to fill myself up. Vegetables are high in fiber which absorbs the water in your stomach and expands, making you feel fuller longer. I also try to stay away from sugar as much as possible as well as saturated fats. But, of course, I do indulge every once and while. Who doesn't love ice cream and pizza?
So, just try to stay consistent and you will do great.
That wraps up this week's "Finding Fitness." Looking at a calculator can be daunting, but I promise if you try it out for a couple weeks, you will start to enjoy the process. I hope you can use these new numbers to smash some personal goals. Next week we will look at some good upper body recovery.
If you are looking for extra workout motivation, please feel free to follow my Instagram (@evouzumaki) and don't be afraid to message me. I am always willing to help. Have a great week everyone and never give up!