The Kenosha Kingfish are bringing back one of the most memorable events in Northwoods League history — complete with a star-studded cast — to the Kenosha lakefront next weekend.
Wisconsin sports legends Paul Molitor, Rollie Fingers, Geoff Jenkins, Bill Hall, Mike McKenzie and Montee Ball will be joined by legendary slugger Jose Canseco and others for a Celebrity Home Run Derby on Friday, Aug. 27 at the Kenosha Harbor.
The Derby kicks off the first-ever Legends Weekend for the Kingfish. The two-day event culminates with a Celebrity Softball Game on Saturday, Aug. 28 at Simmons Field.
Tickets are still available at KenoshaKingfish.com.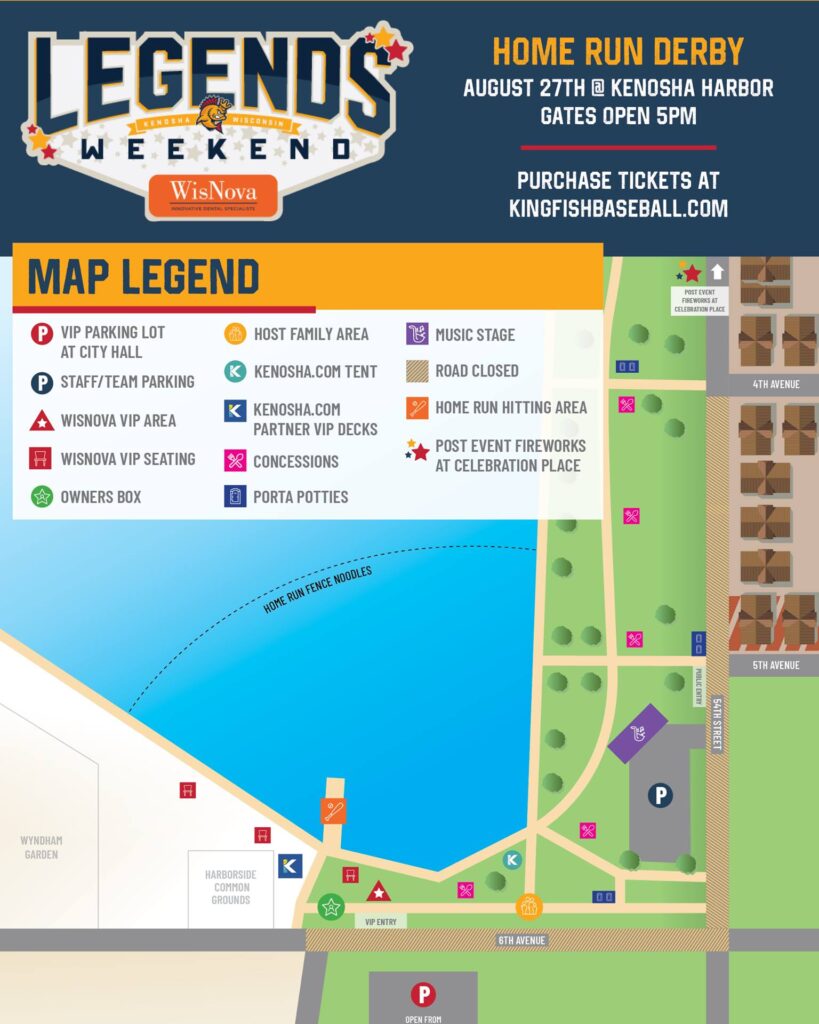 Here is a closer look at the event's special guests:
Montee Ball: A running back, Ball finished his career at Wisconsin in 2012 with an NCAA record 83 touchdowns. … The Missouri native finished fourth in the Heisman Trophy voting as a junior after he set the Big Ten/NCAA record with 39 touchdowns in 2011. … Drafted by Denver in the second round (56th overall choice) in the 2013 draft and played two years for the Broncos.
Willie Banks: Right-hander pitched for the Kenosha Twins of the Class-A Midwest League in 1988 after being taken by Minnesota with the third overall pick of the 1986 draft behind Ken Griffey Jr. (Mariners) and Mark Merchant (Pirates). … A product of St. Anthony's High School in Jersey City, N.J., the same school where Bobby and Danny Hurley played basketball for their dad, Bob Hurley. … Went 10-10 with a 3.72 ERA and 113 strikeouts in 125.2 innings in 24 games (all starts) under rookie manager Ron Gardenhire for the 1988 K-Twins. … Made his big-league debut with two innings of relief (two unearned runs) for Minnesota in Yankee Stadium on July 31, 1991. … Best game was a four-hit shutout of the host Los Angeles Dodgers for the Cubs on May 24, 1994. … Went 33-39 with a 4.75 ERA in nine seasons for the Twins, Cubs, Dodgers, Marlins, Yankees, Diamondbacks and Red Sox between 1991 and 1995 and from 1997 to 2002.
Jose Canseco: Native of Cuba played in the major leagues from 1985 to 2001. … American League Rookie of the Year for Oakland in 1985, A.L. MVP for Oakland in 1988, a six-time All-Star and a four-time Silver Slugger Award winner. … Second career home run was a roofshot at Comiskey Park on Sept. 22, 1985. … Hit .262 with 462 homers and 1,407 RBI for Oakland, Texas, Boston, Toronto, Tampa Bay and the Yankees from 1985 to 2001. … Played in various independent leagues until 2018.
Jeff Cirillo: USC product was a Brewers mainstay hitting .307 with 73 homers and 418 RBI between 1994 and 1999. … The Brewers last American League All-Star (0-for-1 in 1997 in Cleveland). … Also an All-Star for Colorado in 2000. … Collected the Brewers first National League hit with a single off Greg Maddux on March 31, 1998 in Atlanta. … Hit .296 with 112 homers and 797 RBI in 1,617 games for the Brewers, Rockies, Padres, Twins, Mariners and Diamondbacks between 1994 and 2007.
Rollie Fingers: Hall-of-Famer established himself as one of the greatest relievers of all-time by saving 341 games for the A's, Padres and Brewers between 1968 and 1985. … Anchored the A's' bullpens for their 1972, 1973 and 1974 World Series championship teams. … Saved two games and won one in being voted MVP of the 1974 World Series. … American League Cy Young and MVP winner for the 1981 Brewers. … Member of the Brewers' 1982 pennant winner but did not pitch in the postseason because of injury. … His No. 34 is retired by the Brewers. … Seven-time All-Star and four-time Reliever of the Year winner. … Hit two homers, the last of which came off Kenosha native Dick Bosman on June 27, 1972.
Bill Hall: Infielder-outfielder hit .253 with 102 homers and 367 RBI in an 11-year big league career which started with the Brewers in 2002. … His most memorable moment with the Brewers was a walk-off home run on Mother's Day 2006 with his mom in attendance at Miller Park. … Hit a career-high 35 home runs for the Brewers in 2006, which was the ninth-highest total in team history at the time. … Hit .250 (2-for-8) with a walk in the Brewers' loss to the Phillies in the 2008 National League Division Series. … Also played for the Mariners, Red Sox, Astros, Giants and Orioles.
Geoff Jenkins: Played for the Brewers from 1998 to 2007 after being drafted in the first round by the team (ninth overall pick) out of USC in 1995. … Represented the Brewers at the 2003 All-Star Game at U.S. Cellular Field in Chicago (did not play). … Reached double figures in homers in each season from 1999 to 2007. Hit a career-high 34 homers in 2000. … Fourth in Brewers history with 212 home runs. … Joins Ryan Braun, Robin Yount and Prince Fielder as the only Brewers with 200 home runs. … Finished his 11-year career with the World Series champion Phillies in 2008. Doubled and scored in the sixth inning of the Phillies' decisive win in Game 6. … Hit .275 with 221 home runs and 733 RBI in 1,349 big-league games.
Pat Mahomes Sr.: Father of Kansas City Chiefs quarterback Patrick Mahones, who won the league and Super Bowl MVP in 2018. … Pat Sr. pitched professionally from 1988 to 2009. … His second stop as an 18-year-old starting pitcher was in Kenosha where he was 13-7 with a 3.28 ERA in 25 games. The right-hander fashioned five complete games, one shutout and 167 strikeouts in 156.1 innings for manager Steve Liddle. … Went 42-39 with a 5.47 ERA, five saves and 452 strikeouts in 308 appearances (63 starts) for the Twins, Red Sox, Mets, Rangers, Cubs and Pirates from 1992 to 2003. … Best season was 1999 when he went 8-0 with a 3.68 ERA for the 1999 Mets. … Also played in Japan and ended his career at age 38 for Sioux Falls of the independent American Association in 2009.
Mike McKenzie: Defensive back played for the Green Bay Packers from 1999 to 2004 after being drafted in the third round by the team out of Memphis. … Played 70 games and recorded 15 interceptions, one fumble recovery and one sack for the Packers. … A 90-yard interception return for a touchdown on Dec. 7, 2003 against the Bears' Kordell Stewart is tied for the fifth-longest in Packers' history. … Finished his career with six seasons in New Orleans. While he was no longer on the roster when the Saints won their only Super Bowl, the team gave him a ring for his contributions in 2009, which included five games (two starts), 11 tackles and an interception.
Paul Molitor: First ballot Hall-of-Famer recorded 3,319 hits as part of a 21-year career which included three 200-hit seasons, a World Series MVP Award for the 1993 Blue Jays, seven All-Star berths and four Silver Slugger Awards. … His No. 4 is retired by the Brewers. … Joins Ty Cobb, Honus Wagner, Eddie Collins and Ichiro Suzuki as the only players with 3,000 hits and a .300 average. He is the only player to do that with 200 home runs. … Hit .355 with three RBI, including a 5-hit effort in the opening contest, for the Brewers in the 1982 World Series. … Captivated the nation with his 39-game hitting streak for the 1987 Brewers. The streak stands as the fifth-longest in baseball history. … Only player in history to record his 3,000th hit via a triple. … Managed his hometown Minnesota Twins from 2015 to 2018, earning the American League's Manager of the Year Award in 2017.
Jamie Ogden: First baseman-outfielder was the Minnesota Twins' third round pick in the June 1990 draft out of White Bear Lake (Minn.) High School. … Spent his third professional season in 1992 in Kenosha with the Twins of the Class-A Midwest League. … Playing for manager Jim Dwyer, the lefty hit .245 with three home runs and 51 RBI in the franchise's final season in Kenosha. … Played professionally through 1998, playing his final three seasons for Triple-A Salt Lake of the Pacific Coast League.