The third and final Pike River Benefit Concert of 2021 will feature Milwaukee's Sweet Sheiks 6 p.m. Friday (Aug. 13) at Hawthorn Hollow Nature Sanctuary and Arboretum, 880 Green Bay Road.
Tickets are available at the door for $10 (cash only).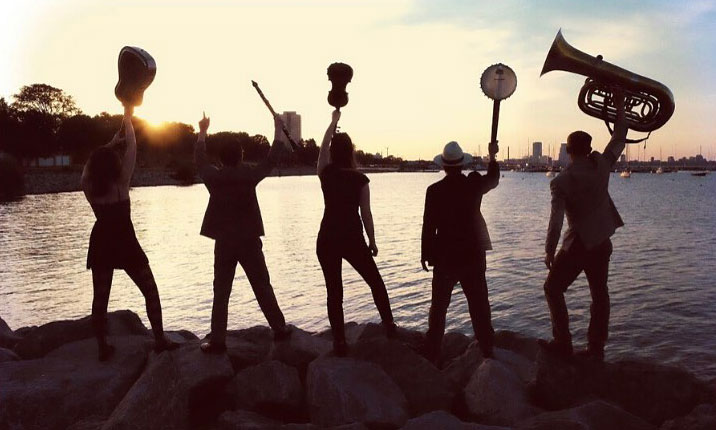 Bringing a little bit of the Big Easy to the Brew City, Sweet Sheiks is a toe-tapping fivesome inspired by the popular music of the teens, 20s and 30s.
Led by the soulful vocals of Jen Müttin-Schrank (guitar/saw/washboard), this violin (Ousia Lydian), banjo (Garrett Burton), clarinet (Andrew Spadafora), tuba (Aaron Johnson) lineup brings a modern flair to early jazz, blues, and Americana classics. Sweet Sheiks' acoustic stylings are compelling, diverting, and are best summed up in two words, "refreshingly vintage."
Over the years, the Pike Creek Concert Series has become a popular local event, showcasing local music while supporting Hawthorn Hollow. Unfortunately, the 2020 concert series was interrupted and eventually cancelled to comply with COVID guidelines.
Food and beverages will be available for purchase. All proceeds go toward Hawthorn Hollow's educational programming.
Hawthorn Hollow Nature Sanctuary and Arboretum is a 50+ preserve that is free to the public. Since it opened over 50 years ago, Hawthorn Hollow has focused on education, offering field trip opportunities to local schools as well as classes in a wide variety of disciplines, from crafting to cooking. Hawthorn Hollow's sister property, the Ozanne Outpost, has also become a popular event venue and conference center. 
Visit Hawthornhollow.org for more information.