Near the end of her overnight shift on Saturday, April 10, Kenosha Police officer Cassandra Botica responded to a call at 5:51 a.m. of a male having a cardiac event in the 7900 block of 20th Ave.
Upon arriving at the scene, the male's wife (a retired nurse) was performing CPR and reported that her husband was unconscious and not breathing.
Botica, who will be celebrating two years with the Kenosha Police Department on Aug. 5, began performing CPR until the Kenosha Fire Department arrived.
KFD personnel administered an automated external defibrillator and transported the male to Froedtert South where he made a recovery.
"The training is very important because oftentimes our officers are the first ones on the scene prior to rescue because we're always patrolling," Interim Police Chief Eric Larsen said.
For her life-saving role and "her excellence in the performance of her duties," Botica was recognized by Dr. Jessica Lancaster, the Kenosha County EMS Medical Director, and the staff at Froedtert South with a special commendation, which was presented to her on July 4.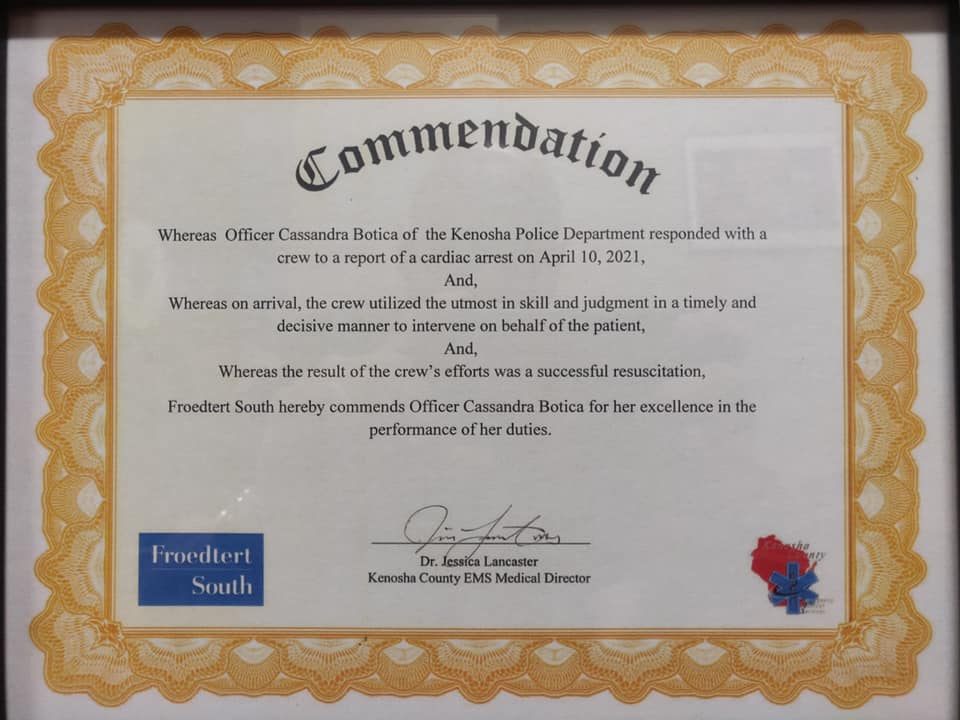 As a result of her job well done, Botica has been named the Kenosha.com Kenoshan of the Week.
"It was a team effort, and I was just a small part of that team among the man's wife, KFD, and the hospital staff," Botica said. "Everyone involved did a great job in recognizing the danger and acting quickly. I am so honored to be recognized for my efforts, and I am happy that I was able to help save a man's life."
If it wasn't for Froedtert South's special commendation, there's a good chance that April 10 would've been just another day at the office for officer Botica.
"We tend to find out about calls like these later because of how humble many of them are," Larsen said. "We ourselves didn't know about this one until she actually got the award because there's no reports, no documentation. She went in, she did her job and went on to the next call."
NOTE: To nominate a Kenoshan of the Week click here or email Andrew@Kenosha.com.