The Restaurant:
Tenuta's Delicatessen, 3203 52nd St., is not only Kenosha's No. 1 destination for Italian specialty groceries, but during summer months it also operates an outdoor grill, serving ready-to-eat meals.
The Featured Dish:
Grilled Italian Sausage – Fresh-made Italian sausage link grilled outdoors over flame, served in a fresh Paielli's bomber bun with your choice of specialty toppings.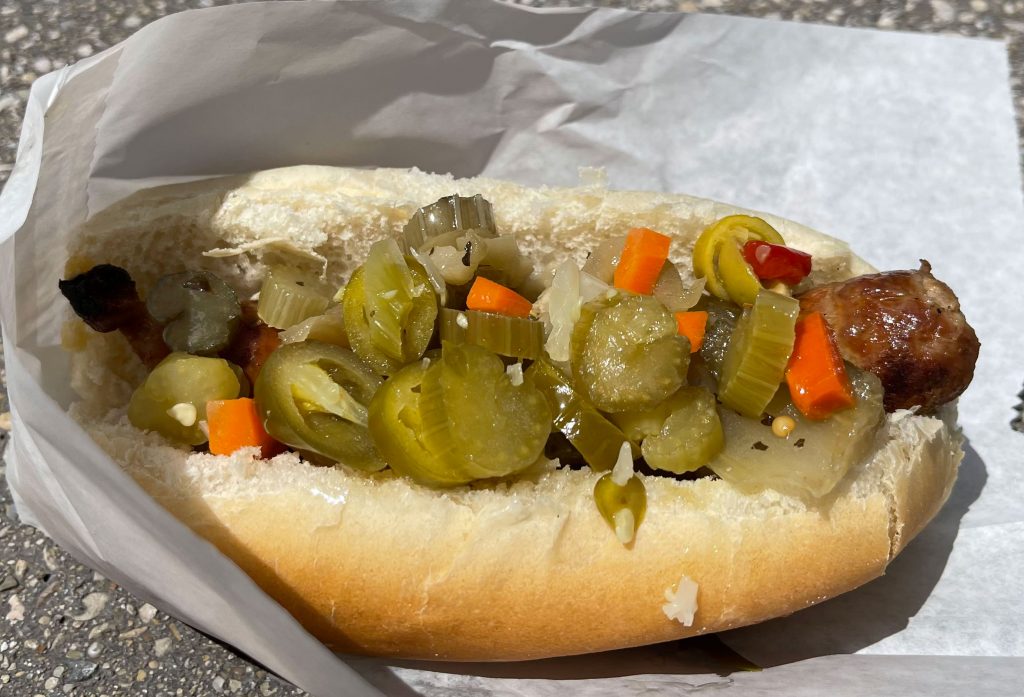 The Flavor and The Story:
Tenuta's Deli is my happy place. Between one of the best beer, wine and spirits selections in the state and their amazing ability to stock all of my favorite flavors and brands from Italy, I end up shopping there at least weekly.
A full novel could be written about the wonders of this store. In fact, our own Steve Marovich got close with this "love letter" to the store itself. So I'll just say that if you've never been, you should read Steve's article to get acquainted, or better yet, just drive there. Right now. Go there, smell the smells, and leave with something amazing.

As of last weekend, you can make that "something amazing" a fresh, hot, incredible snack fresh off the grill right in front of the store.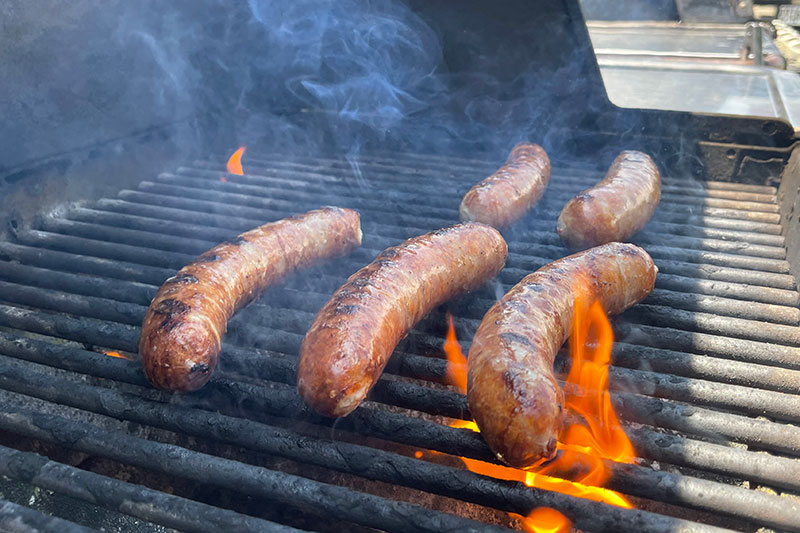 The Tenuta's grill is possibly the perfect sign of summertime in Kenosha, and after a year hiatus, the sight and smell of this small eatery being open this weekend almost made my heart explode with joy.
The grill is simple. Great sausages and hot dogs served from a small window on a cement patio on 52nd Street. However, there is something intangible about it that attracts everyone from any walk of life to simply sit, and enjoy a great meal in the shade of trees that have overlooked lunches for generations.
My personal favorite offering is the Italian sausage. While the other items are selected from the best quality offerings available, the Italians are made in-house and are simply one of a kind.
Made from an original recipe imported from Cosenza, Italy, along with the Tenuta family, these links are absolutely packed with flavor. And, something about them being kissed by flame on an open grill brings out pure magic.
The texture is incredible. The slight char from the grill creates a crispness to the casing that perfectly complements the hot and juicy blend of spices and fresh pork inside the sausage.
As if this dish couldn't become a better example of old-school Kenosha flavor, it's set upon a fresh Paielli's bomber bun that presents the sausage like a first-place trophy on a pedestal of pillowy goodness.
There is also an almost infinite number of unique toppings available for you to make your meal your own. I highly recommend Tenuta's special hot giardiniera and some pickled eggplant for an extra kick and some vinegar to cut the rich flavors of the sausage.
However you decide to top it, sit for a moment to enjoy the perfect simplicity of a great meal grilled fresh and served the same way it has always been. At some point before you finish your sausage, the sun will hit you just right and you'll know that summer is here and life is good.
That moment, when the smile comes across your face, is the legacy of the Tenuta family and a gift given to us and our city by those who cherished it before us.
Saluti!
The Italian sausage is available every day for $4.99. Tenuta's outdoor grill is currently open for dine-in and also accepts carryout orders. The menu isn't online, you'll just have to pop by and check it out.