Local artist/entrepreneur Katy Wallner threw an idea at the wall, and it stuck.
Wallner is the creative force behind the recently opened Hot Mess Studios LLC, 624 57th St., a downtown venue that allows visitors to get in touch with their artistic side, their inner child, or maybe just their desire to make a mess and not have to clean it up.
The process could be described as "Jackson Pollock meets play time," inviting patrons to throw paint at a canvas. The studio offers a slew of different ways to do that, but the common denominator is creative, controlled chaos.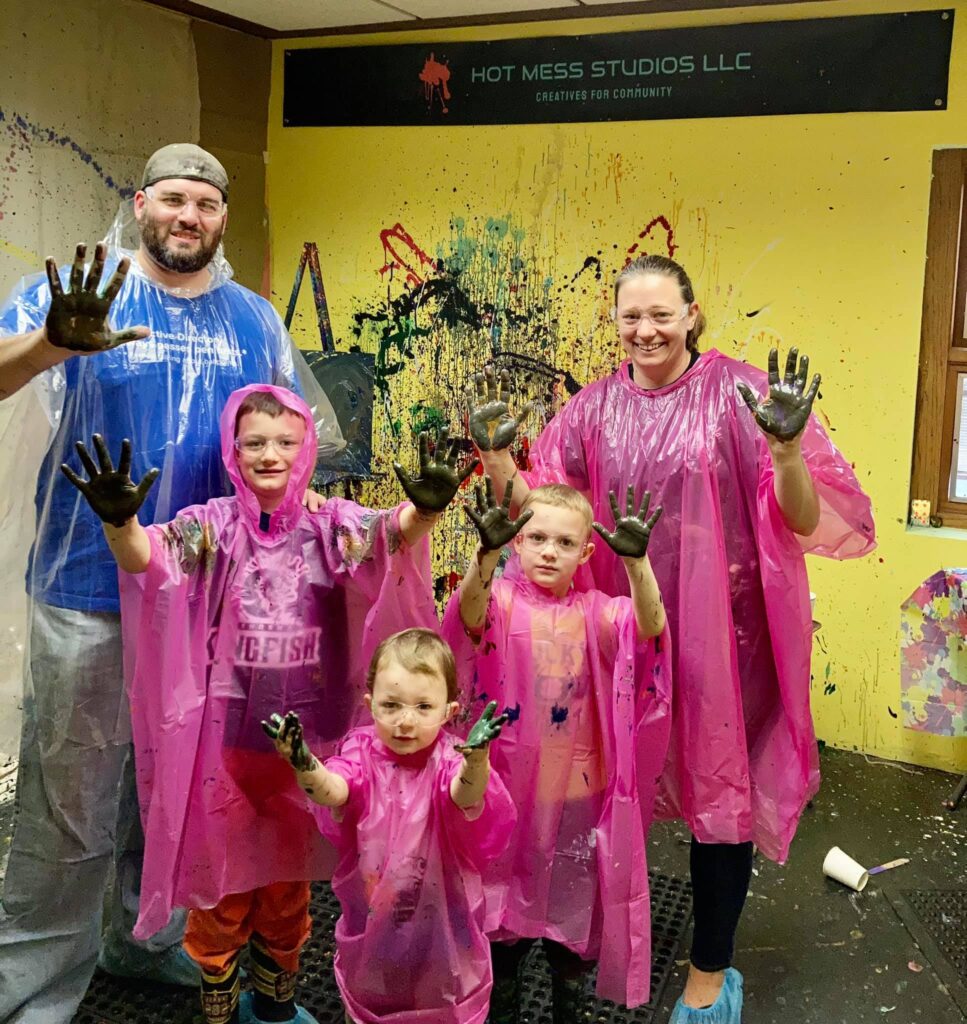 The philosophy of Hot Mess Studios resonates regardless of where people fall on the artistic scale: "Life can get messy sometimes, doesn't mean it can't be beautiful."
"For me, the art and the style is just a way for those who are artists to explore different things, but if you're not an artist it's a way to come in and have some fun, use some color, and before you know it you're like, 'Hey, I actually made that look pretty good,'" Wallner said. "It uplifts yourself and gives yourself a bit of confidence."
The studio began as a way to support another of Wallner's initiatives, Creatives for Community, a platform to support local artists and crafters, give them an online place to sell their work and/or list services. The organization also gives back through donations to local nonprofits including Grace Welcome Center and support for foster youth.
The Creatives for Community website was donated by the designer for the first year, but then Wallner needed to find a way to keep it going. Wallner came up with the concept of bringing this paint technique to the public as both a way to fund the website and connect with the community.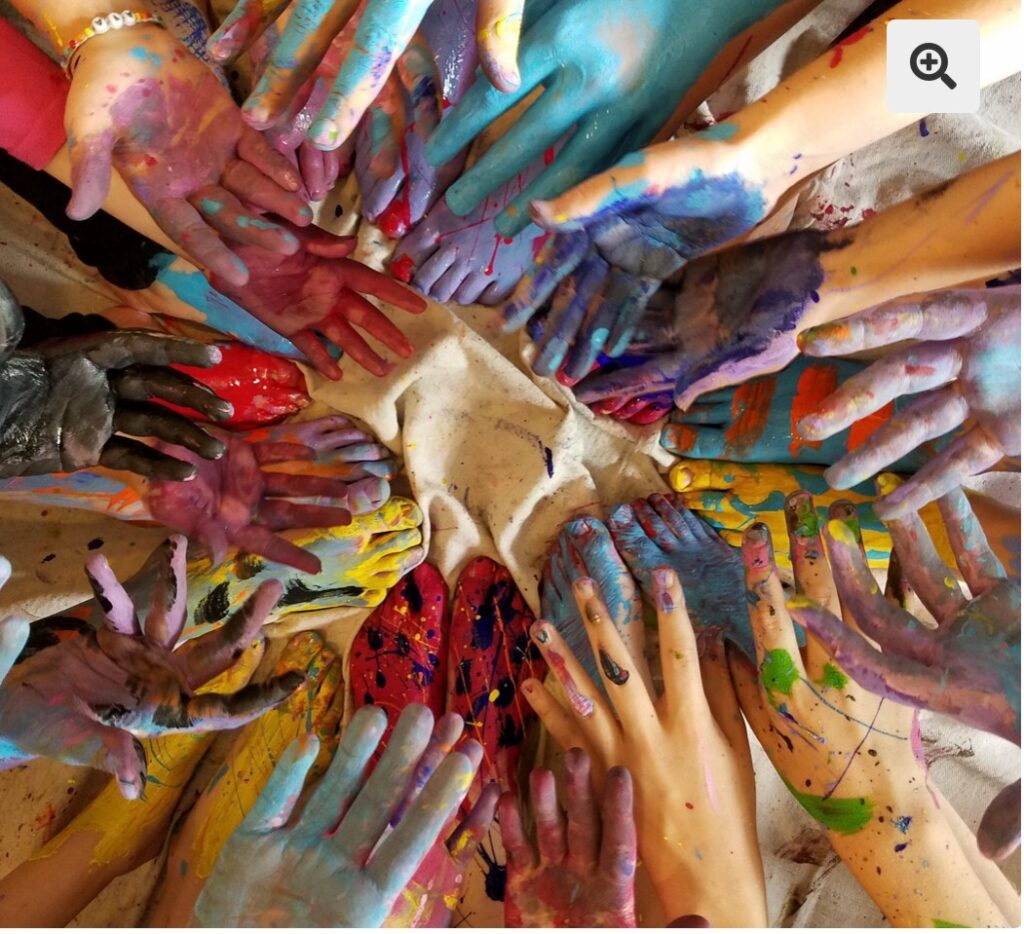 Wallner's original idea came from painting for fun in the backyard with her son. She recalled "I just rolled out a big canvas, that was really fun, so I figured why not make it a thing?"
That idea eventually became Hot Mess Studios starting with a 10×10 pop-up tent, which is still part of the menu. Wallner didn't think a brick-and-mortar studio was possible, but as happens so often in our community, Kenosha Creative Space director Francisco Loyola had a vision and an open door.
Wallner took that opportunity to heart, pouring herself into the project and her new space. The studio above Kenosha Creative Space is exploding with ideas and, naturally, color. New ideas are quickly taking root there, with a merchandise area for local artists' wares and Hot Mess Studios T-shirts.
The studio's ever-growing offerings include standard 30-minute canvas painting sessions, family sessions, couples/date night, darts with a twist, create with spare paint sessions, and the mobile Hot Mess Express. While all those options have unique features, a typical paint session includes a single 8×10 canvas board, choice of four colors, a squirt bottle or paint launcher, syringes, paint brushes and other materials to make creations unique.
"Honestly, you don't have to buy a canvas," Wallner said. "If you just want to throw paint around, that's also another option."
Art is for everyone, but paint everywhere may not be. Mindful of safety and "mess tolerance," the studio provides eyewear, ponchos and shoe covers. Bluetooth availability allows painters to be inspired by their own personal soundtrack.
The result is a Kenosha original, with nothing quite like it within a reasonable drive. What truly makes Hot Mess Studios belong to Kenosha is Wallner's commitment to the community.
"I think with what was going on with Uptown, there's always been such a divide," Wallner said. "People are ready to see some real changes and really figure out how we can start coming together to make our city better.
"You have to give that opportunity for people to talk, to put down your weapons a little bit and just give someone a second chance to communicate and maybe we can work things out. It seems to be happening that way, which is great to see."
Wallner walks that walk. At Easter she took the Hot Mess Express to Uptown and joined with Arnetta Griffin who runs God's Kitchen. As Griffin served free holiday dinner to all who came by, Wallner circulated and chatted, asking visitors if they'd like to throw some paint. In keeping with the theme, Wallner had egg shells filled with paint to throw at canvas.
"It was a lot of fun, people left with smiles," Wallner said. "Some people were kind of iffy about it, I just gave them a poncho and said 'give it a try!' Then we ended up talking and it opened up a way for more communication and relationship."
The Hot Mess Express will likely be seen around town this summer, Wallner said. She does community, corporate and private events, including anyone who just wants to throw paint around in their backyard.
Looking back, Wallner reflects on how Hot Mess Studios blossomed at a crucial time for our community, and for her personally.
"All within the same year I just learned of my birth story, got out of a 10-year toxic relationship, the terrible death of George Floyd happened and I watched the fires take over my old neighborhood in uptown Kenosha," Wallner recalled.
Her initial response to the overwhelming events was to move away, but this time something felt different.
"My usual response to dealing with trauma was to run, ignore and start over like nothing happened," she said. "This time I had a strong pull to stay and do something. If I had any voice at all I had to start using it."
Wallner found her voice when she nervously joined in an Uptown arts and crafts fair at the urging of a friend who had organized similar events. She brought her street-art style paintings to the fair uncertain if anyone would be interested. Not only were people interested, she sold all but one of her pieces.
Wallner's journey also includes living in foster care, adoption, moving out at 18, joining the military, which is why she plans to do an event for vets in the near future. Now she works full time as a medical assistant at an outpatient facility.
" I never really asked for help because you don't know where to go, you're embarrassed about asking for help, I learned that there are a lot of things offered in the community that I could have used that I didn't know about and I could have suffered a lot less and not learned so many things the hard way like I did," Wallner said.
"So here I am working with what I've been through and what I know to try to uplift and inspire someone. There is something everyone of us can do to make life a little better for someone else, big or small because we are all in this together and you don't have to do it alone."
From promoting healing in Uptown to doing a virtual art event with KAC to planning to hold an event for veterans, the threads of providing opportunity, giving back, and working for change are woven through Wallner's various projects.
That's the vision that drives Wallner's plan for the immediate future and beyond.
"Since this all happened so quickly, my main goal (is) just to be established, to get the idea of what Hot Mess Studios is all about," Wallner said. "Eventually I'd like to turn it into a DIY workshop where we can offer different arts and crafts classes by those in the community, and just keep connecting and networking with service providers and just keep using the studio and this fun experience as a way to have that safe place to feel comfortable to talk about other things."
***
To book a session or for more information, go to Hot Mess Studios' Facebook Page or find them on the Creatives for Community website.