If you've never stopped into the Kenosha Creative Space, now is the perfect time to check it out. With a full lineup of things to do, see, hear and create, there's a little bit of something for everyone.
Located at 624 57th Ave. in downtown Kenosha, KCS serves Kenosha and its residents by providing an open space for art exhibitions, classes, workshops, open mic nights, jam sessions and a whole variety of events — and everyone is welcome.
A main theme of the KCS vision is to involve the community as much as possible.
"We collaborate with all the educational institutions, independent artists, art and community organizations," executive director Francisco Loyola said. "We believe that as the creative community becomes more important to Kenosha's economic and cultural development, artists and creatives require a place of their own to gather and exchange ideas. Kenosha Creative Space is that place."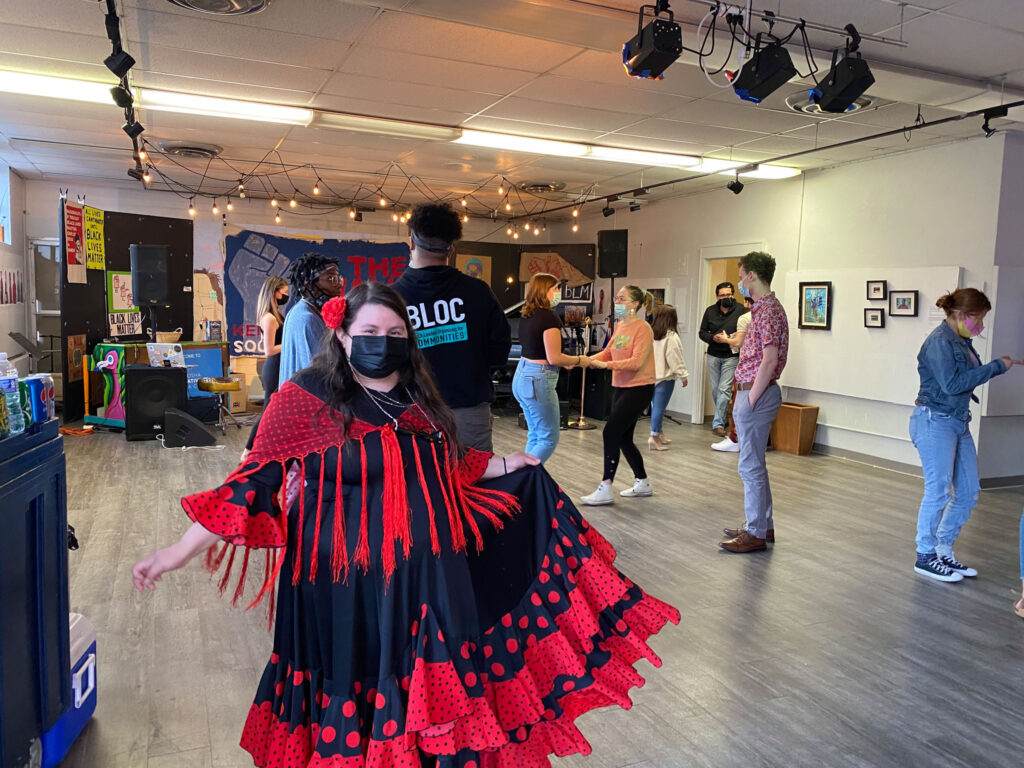 Some examples of the events at KCS include traveling and local artist exhibits, community-based art programs including pop-up exhibits and music events, and indoor and outdoor concerts. Recently, KCS hosted a rooftop concert featuring local band Lunde.
Every Thursday from 6 to 11 p.m., everyone is welcome to come to Create @ The Space, a weekly open art studio, open mic, and open jam session. Anyone interested in working on their own art projects is welcome to come set up their own space to paint, draw, do collage work, whatever they're interested in. The open mic is set up for spoken word, poetry slams, or open dialogue. The jam sessions are host to local talent on acoustic guitars, keyboards and even full band setups. It changes every week so the variety is constantly rotating.
For the earlier crowd, there is an open painting studio every Saturday from 10 a.m. to 2 p.m. Participants are welcome to bring their own materials, but a small selection of supplies are also provided. Anyone wishing to use the space to experiment and fine-tune their existing skills may drop in at any time during open studio hours.
In addition to the ongoing weekly events, upcoming events are also planned for the summer with more being added gradually.
First up is Make Music Day, to be held on Monday, June 21. KCS will be participating in the global music celebration that takes place on the summer solstice each year. The overall event brings people of all ages and skill levels together to make music for a 24-hour period.
Following on Saturday, July 17 is Creative Space Fest, a festival celebrating the creativity and talent of the community featuring art projects and creation, music, food, drinks and plenty of family-friendly activities.
"After a long forced break, this is our first large outdoor event," Loyola said. "If you have attended some of our previous outdoor events, you already have a good idea of what you're going to find. If this is your first time, we are sure you will not be disappointed."
The goal of the KCS is to be a hub to grow the local creative economy, supporting artists and other entrepreneurs to leverage a community of learning and collaboration. By offering membership-based co-working spaces for creative and social entrepreneurs, it gives individuals access to local resources to start and grow their businesses, art-based or otherwise.
Classrooms are available for workshops, company team-building and for almost any other reasonable idea. Included in the rooms are A/V setups for broadcasting presentations and screen sharing, hosting interviews and teaching classes. The space upstairs is very versatile and can be used for a wide variety of functions. Anyone interested should inquire by calling KCS or reaching out via the website or social media platforms listed below.
Outside of the space, a major project in the works is a street art and mural festival. KCS needs the financial support of the community through local businesses, donations and corporate sponsorships. On June 1, KCS will be launching its 2021 fundraising campaign and anyone able to donate is highly encouraged to come forward.
Corporate sponsorships have enabled the program opportunities to expand, while offering businesses a way to impact a diverse community that closely follows and attends KCS events.
"We are always looking to partner with other organizations to extend the reach of our programs and activities, as well as looking for new opportunities to collaborate in order to benefit the whole community," Loyola said.
Anyone interested in volunteering or getting involved with the behind-the-scenes prep work is highly encouraged to drop by or call.
"We need help and there is always something to do at the Space," Loyola said. "After one year of slowing down, we are getting busy and we are ready to get busier. You can help by donating your time and talents to help us grow and fulfill our mission, and at the same time you can meet new people and collaborate creatively."
For any questions, ideas, or suggestions, please call (262) 945-9411 or visit KenoshaCreativeSpace.com.