The public is invited to a virtual event in celebration of National Healthcare Decisions Day from 10 to 11 a.m. Friday (April 16).
Held on that date each year, National Healthcare Decisions Day is an opportunity for Americans to make their future healthcare decisions known to family, friends and healthcare providers, through the establishment of advance directives such as a living will or a power of attorney for healthcare.
During Kenosha County's event this year, to be held via Zoom, a panel of community leaders will share what completing an advance directive means to them.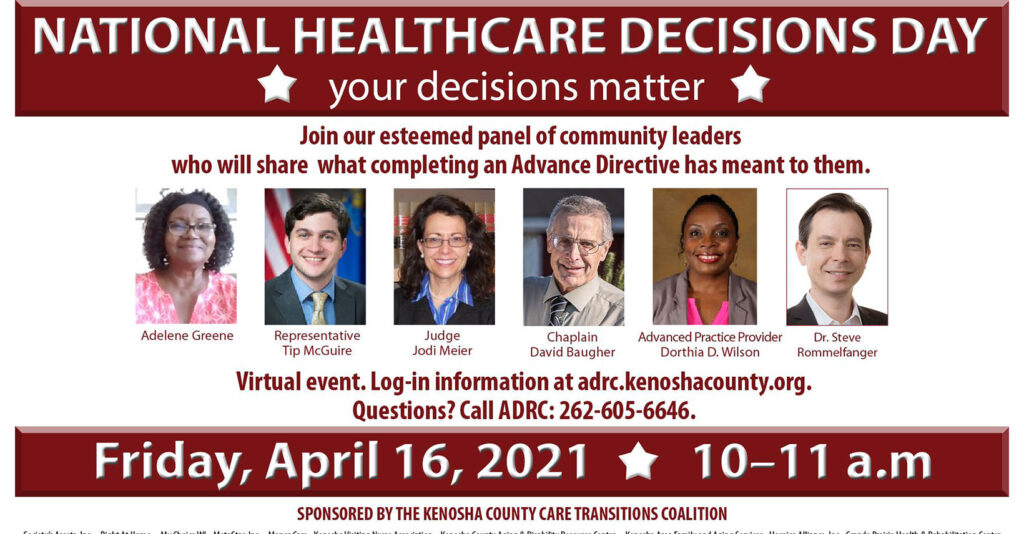 The panel includes retired Kenosha County Workforce Development Director and Kenosha Coalition for Dismantling Racism leader Adelene Greene, state Rep. Tip McGuire, Kenosha County Circuit Judge Jodi Meier, Chaplain David Baugher, advanced practice provider Dorthia D. Wilson and Dr. Steve Rommelfanger from Advocate Aurora.
"Endings matter. 2020 has shown that to us over and over again," said Helen Sampson, quality coordinator with the Kenosha County Aging & Disability Resource Center and facilitator with the Kenosha County Care Transitions Coalition. "Not only are we ensuring that our wishes, whatever they may be, will be understood and respected, completing an advance directive is one of the greatest gifts we can give our families. If it should ever be needed, the conversations we've had and documented will remove the painful burden of guessing."
No registration is needed to attend the presentation. Those wishing to watch need only log in before 10 a.m. on Friday at https://bit.ly/3snCvSZ, password "AdvDirect." Attendees can also join by phone at 312-626-6799, webinar ID 966 2121 7167, passcode 0445409.
People with questions about the event may call the Kenosha County Aging & Disability Resource Center at 262-605-6646.
The event is sponsored by the Kenosha County Care Transitions Coalition, which includes Society's Assets Inc., Right At Home, My Choice WI, MetaStar Inc., Manor Care, the Kenosha Visiting Nurse Association, the Kenosha County Aging & Disability Resource Center, Kenosha Area Family and Aging Services Inc., Hospice Alliance Inc., Grande Prairie Health & Rehabilitation Center, Good Value Pharmacy, Froedtert South, Crossroads Care Center, Community Care Inc., Brookside Care Center and Aurora Health Center.