It's not every day a press conference includes cannonballs and gummy bears.
Carthage College and HARIBO of America Inc., announced a multi-year partnership on Thursday that will establish the HARIBO Scholars Fund, providing financial support and educational opportunities for Carthage students from Wisconsin and Illinois.
The press conference was held on the deck of Carthage's new HARIBO Pool. The event kicked off with a series of dives — forward, back, flips and other acrobatic leaps — from members of the Carthage men's and women's swim and dive teams.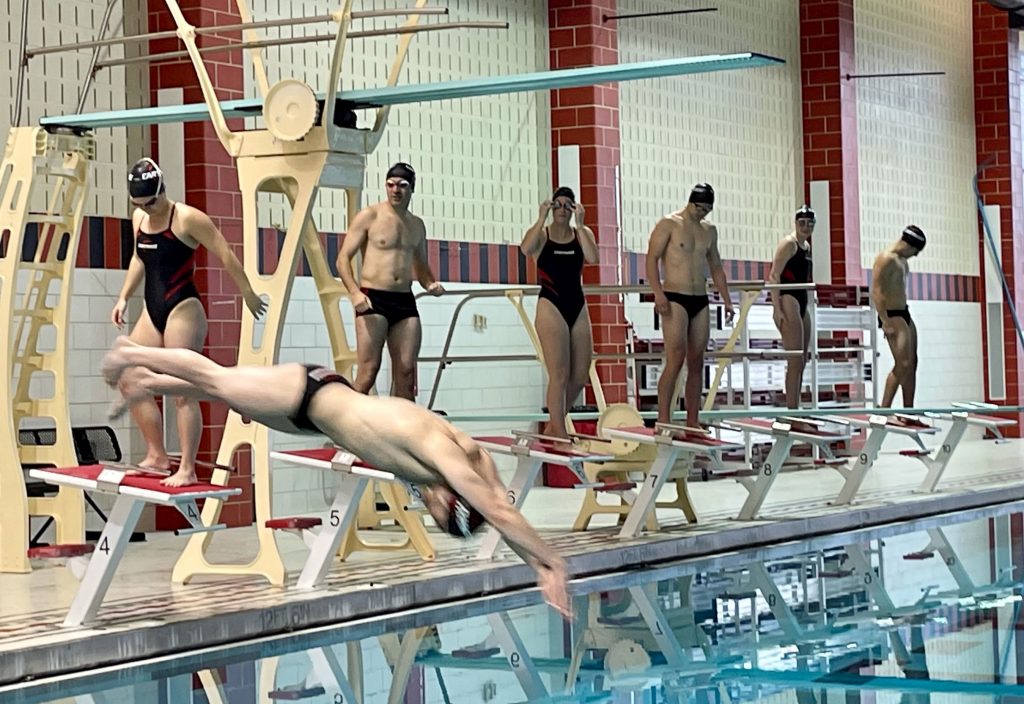 "We're always interested in doing new things here at Carthage and being creative," Carthage president John Swallow said. "We're glad to be beginning this partnership with HARIBO and to do it in the spirit of childlike fun and having a good time. It's their brand. It's what they're all about."
HARIBO, the original inventor of the gummi bear and maker of the classic "Goldbears," has made a $250,000 gift to Carthage earmarked for annual scholarships for students who need financial assistance.
Swallow opened the event before giving way to several speakers including Carthage Athletic Director Nate Stewart, Carthage senior Emily Benitez, HARIBO Chief Financial Officer Wes Saber and HARIBO Chief Operating Officer Rick LaBerge.
Benitez, a 2017 St. Joseph Catholic Academy graduate, was the first recipient of the HARIBO Scholars Fund.
"Scholarships have helped me so much and taken so much weight off of my shoulders," said Benitez, a neuroscience major. "I've had to work multiple jobs in order to pay for semesters. Scholarships, like this, have allowed me to pull back on that and really focus on my schooling."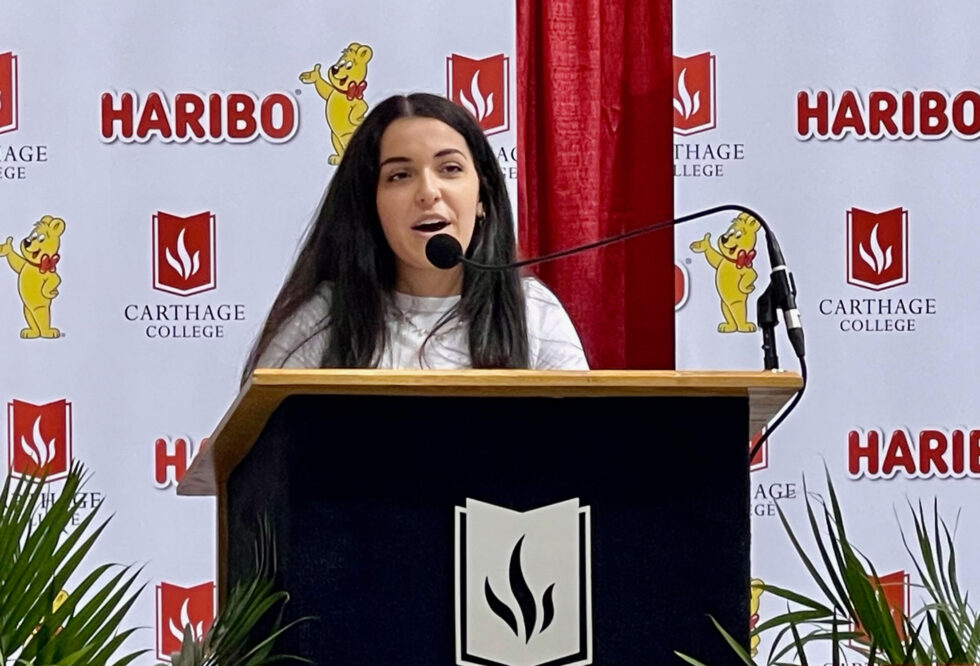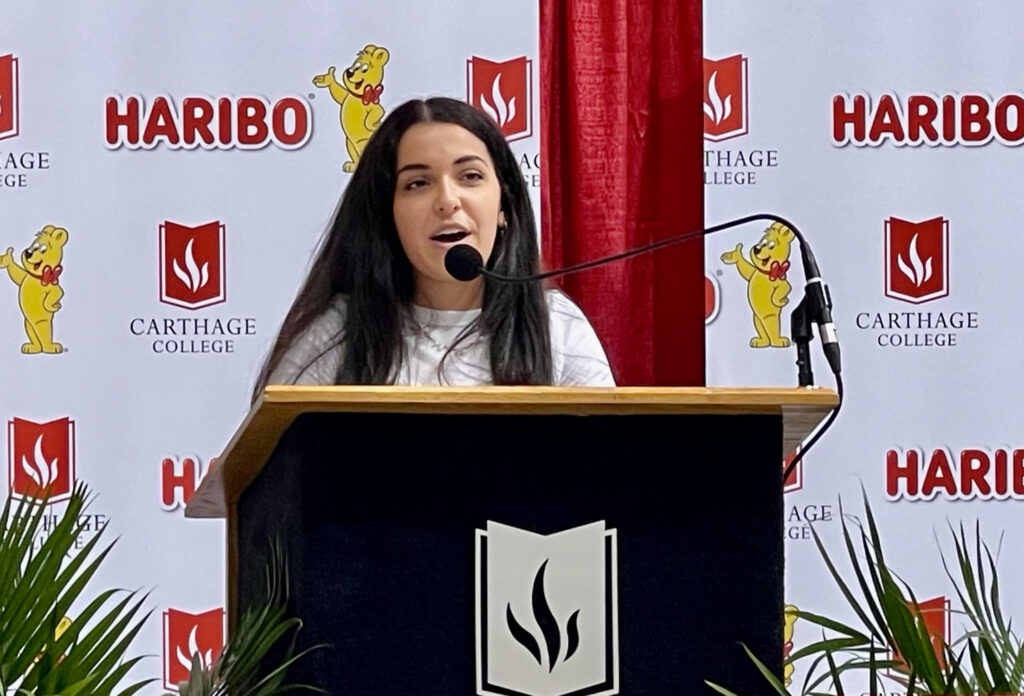 HARIBO, the fastest growing confectionary brand in the United States, officially broke ground in December on its 500,000-square-foot manufacturing plant in Pleasant Prairie. It will be one of the largest candy manufacturing sites in the United States.
Stewart told the entertaining story of how he and Saber were tasked by HARIBO's Hans Riegel of Bonn, the grandson of HARIBO founder Hans Riegel Sr., to find a site for the manufacturing facility within close proximity to HARIBO's U.S. headquarters in Rosemont, Ill.
After touring multiple locations in Illinois, Indiana and Wisconsin, Pleasant Prairie was presented as the Germany company's top option.
"We looked at over 100 sites between three states," LaBerge said. "I had all these spreadsheets and PowerPoint presentations. I said, "Mr. Riegel, I think we really want to recommend Kenosha, Wisconsin, as our new home. I have some great data to show you."
Riegel wanted nothing to do with paperwork. Instead, he embarked on a six-hour tour through Kenosha.
"He said, 'I want to see the community," LaBerge said. "Let's get in the car and start driving."
The group drove to the nearby RecPlex, stopped at the Brat Stop and eventually wound up near the lakefront at Carthage College.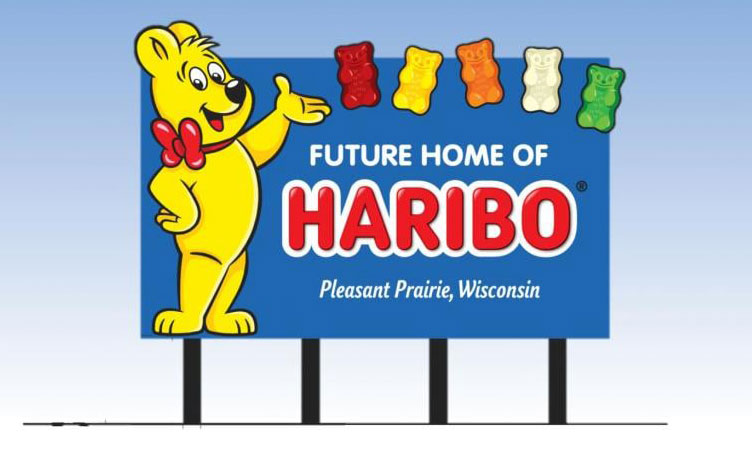 "I kept saying, 'Why are we doing this?,'" LaBerge said. "(Riegel) said, 'I'm not building a factory, I'm becoming a part of the community.' "
HARIBO has since become one of the most active members of the community with contributions and partnerships with numerous local organizations, businesses and universities.
HARIBO's commitment to the region includes over $300 million — one of the largest direct investments by an international company in the state's history — and a pledge to bring up to 385 jobs to the area with its first phase of construction.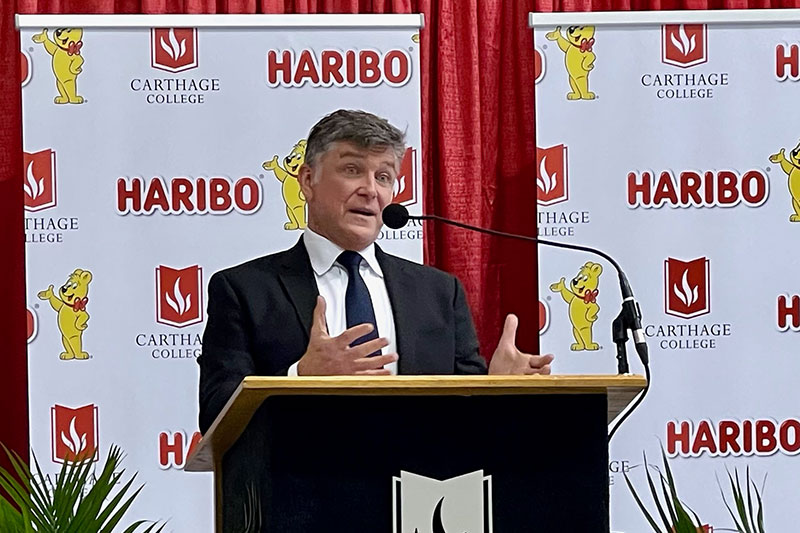 "The community is exactly what drew us," said Lauren Triffler, HARIBO Head of Corporate Communications. "For us, giving back to the community where we live and work, that's part of our DNA. It's been that way for 100 years. It's that way in Germany. We wanted to have that same belief here."
HARIBO is the acronym that comprises the founder's name and the city in which the company was born (Bonn, Germany): HAns RIegel BOnn. The company is headquartered in Grafschaft, Germany.