Statistically, there wasn't a better player on the floor when Kenosha's Nick Van Exel and his Cincinnati Bearcats battled Michigan at the Final Four on this date (April 4) in 1992.
Not Jalen Rose.
Not Juwan Howard
Not Chris Webber.
It was 1989 St. Joseph graduate Nick Van Exel.
Unfortunately for the upstart Bearcats, it wasn't enough to overcome Michigan's "Fab Five," one of the most fabled teams in college basketball history.
The Wolverines overcame a seven-point second-half deficit in downing the Bearcats, 76-72, in a national semifinal before 50,739 at the Metrodome in Minneapolis. Michigan advanced to the title game against Duke two nights later and lost by 20. Michigan later forfeited the victory as the result of a 2002 federal investigation.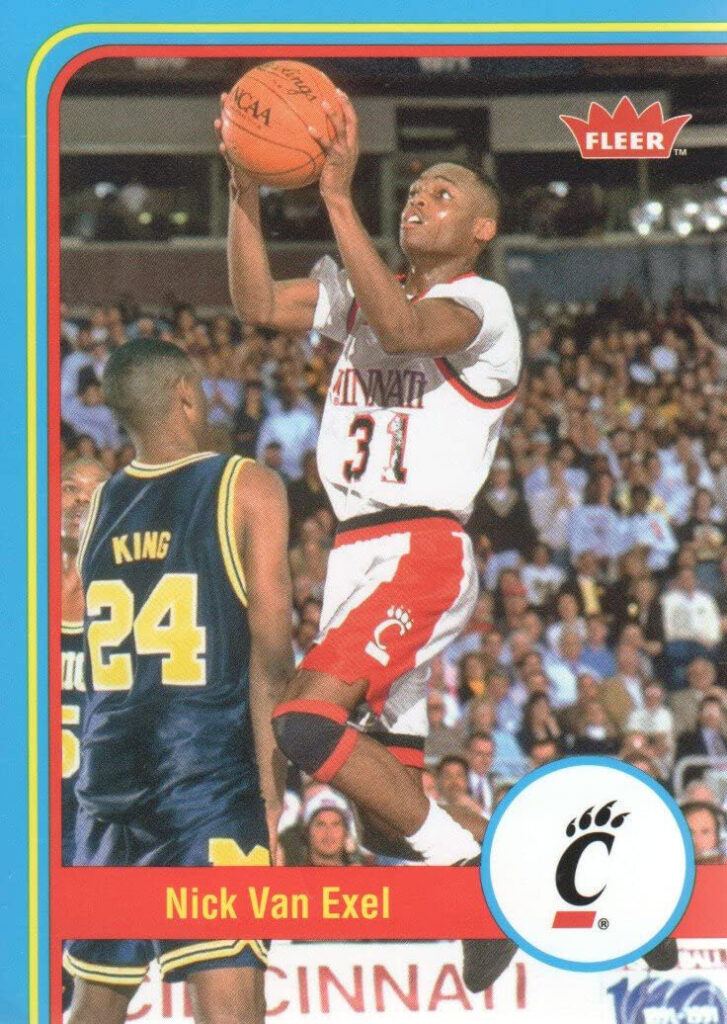 In Cincinnati's first Final Four appearance since 1963, Van Exel recorded game highs with 21 points, five assists and four steals while logging team highs in minutes (37) and field goals (7). The left-handed point guard was 7-of-15 from the field, 2-of-7 on 3-pointers and 5-of-10 from the free-throw line.
Van Exel was the first Kenoshan to appear in the Final Four since Bradford graduate Gene Englund led Wisconsin to the 1941 championship. Van Exel and Englund are the only Kenosha products to appear in the Final Four.
Van Exel, a junior, played a big role in putting Cincinnati in charge, albeit temporarily.
In addition to his scoring and assists, "Nick the Quick" was part of a trapping defense and fastbreak attack that flustered Michigan well into the second half.
The Bearcats led by three at halftime and it was a frenetic start to the second half, led by Van Exel, that got Cincinnati a seven-point lead.
Michigan was able to get back into the game thanks to a substantial height advantage. The Wolverines outrebounded the Bearcats 45-27.
Compounding that was the foul trouble Cincinnati's big men dealt with throughout the game.
"I remember that two of our big men got in foul trouble kind of early and it put us behind the eight ball a little bit," Van Exel told The Athletic in 2018. "I think we were right there competing with them, had a little lead at halftime, but our big men getting in foul trouble early kind of hurt us."
The Final Four appearance was part of a spectacular two-year career at Cincinnati which Van Exel parlayed into a lengthy and lucrative NBA career.
After joining the Bearcats following a stint in junior college, Van Exel averaged 12.3 points per game as a junior. He was phenomenal in Cincinnati's "Elite Eight" wipeout of Memphis State. In 34 minutes, the future Bearcat Hall of Famer scored 22 points while going 4-for-5 from 3-point range in an 88-57 triumph at Kemper Arena in Kansas City.
As a senior, Van Exel averaged 18.3 points and 4.5 assists per game to earn third-team All-America honors. He was also named a finalist for the John Wooden Award as the nation's top player.
"I tell everybody to this day, this was the best two years of my life, hands down," Van Exel said of his Cincinnati days in The Athletic.
Van Exel was the 37th overall pick by the Los Angeles Lakers in the 1993 NBA Draft. He played 13 seasons in the NBA and was an All-Star for the Lakers in 1998. He is currently a pro personnel scout for the Dallas Mavericks.
For a recap of Van Exel's NBA All-Star appearance, click here.
Direct suggestions, comments, and questions about this feature to dmarran359@aol.com