A brewery is bringing live entertainment back downtown.
PUBLIC Craft Brewing Co., 628 58th St., is offering Open Mic Night every Thursday in their newly renovated facility from 8 p.m. to close. The Platform at PUBLIC, its newly dedicated music space, boasts a stage, custom lighting and sound system. 
"I've been heavily involved with Open Mics for the last seven years starting with Sazzy B's, then Fusion and the Creative Space. We had a general circulation of musicians that were always involved and I kept tabs on them," said Open Mic organizer Pat Willis.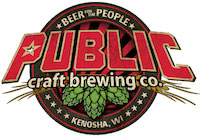 Willis said anyone hoping to perform should contact him to set up a time. Walk-ins are also welcome if time permits. The fourth Thursday of each month will highlight covers of mainstream singers and bands.
PUBLIC moved to its spacious new location in the old Barden building in the fall. It's just a block east of its former, much smaller location, 716 58th. Along with the Platform, PUBLIC is now about four times as large and includes a full kitchen, large bar area and brewery.
"We definitely had Open Mic Night once a month at the last place, but now we're doing it weekly," Willis said. "There's definitely a huge draw right now because of the year we've all had. We all want to have community again. I feel like a lot of people in this neighborhood are doing all they can to make us get back to where we used to be."
Owner Matt Geary said the effort is "exciting." The first Open Mic Night was held last Thursday and was a resounding success.
"Almost every musician who went up there and performed was just so grateful to play and see their friends again," Geary said. "A lot of them said they hadn't played for a year. … Everyone was happy to be happy."
He said some 50 people attended to watch about a dozen artists and musicians perform last Thursday.
"The vibe was excitement," Willis said. "We sat people immediately, and all the musicians were getting the rust off just playing for the first time. They were just excited to play again. To see the faces of pure enjoyment, it was just really rewarding."
Willis said performers can bring their own instruments if they wish. But to help limit the amount of set-up time, PUBLIC is working to acquire its own house instruments that anyone can use.
The Platform at PUBLIC will also be used for weekend concerts and private events in the coming weeks and months.
On April 30, noted comedian Tammy Pescatelli will perform a stand-up show. Tickets are on sale now. 
Hopeful for summer
As Kenoshans continue to get COVID-19 vaccines and feel more comfortable venturing out for leisure, both Willis and Geary said they expect a surge of foot traffic. Until herd immunity is reached, PUBLIC also works to ensure folks have the ability to social-distance in their large space.
"We definitely want to be a location for everybody to feel safe and secure," Willis said. "As everything transitions back to normal, I feel like the space that we have can make peoples' comfort level much better."
Geary expressed similar sentiments.
"With the venue space, we can divide off. So people can still come in and have a drink at the bar and talk or they can come into the music space," he said. "At our old space, when there was music it was like right on top of the bar. So one of the big things with designing this place was having (separate) spaces."
Geary said PUBLIC will be a draw for tourists across the region and benefit downtown.
"It's a destination spot," he said. "It's a big, beautiful historic building. The outside is completely renovated and the quality of experience we're putting together here could be in Milwaukee or Chicago. Craft beer people travel a lot from brewery to brewery, Beer tourism is a real thing. It can draw more people downtown. … Craft beer is good at doing that."