The National Endowment for the Arts Big Read is back, and the timing couldn't be better.
After much of last year's schedule had to be scrapped due to the COVID-19 pandemic, the 2021 Big Read kicks off Monday with a full slate of virtual and in-person events through the Kenosha Public Library. The lineup celebrates a wonderfully down-to-earth selection and a much-needed opportunity to connect with others through the shared experience of reading.
This year's Big Read title, "Lab Girl" by Hope Jahren, is a memoir that weaves the author's deep love of living things with the coming-of-age story of how a small-town Midwestern girl became an award-winning scientist. Jahren has built laboratories, conducted research trips around the globe and bonded with an unconventional lab partner along the way.
Jahren finds beauty and wonder in everyday things we take for granted. Did you know that corn grows so fast it actually makes a sound?
"At its peak, sweet corn grows a whole inch every single day, and as the layers of husk shift slightly to accommodate this expansion, you can hear it as a low continuous rustle if you stand inside the rows of a cornfield on a perfectly still August day," she writes.
"Lab Girl" isn't only for readers who gravitate toward science. The memoir is a personal story about discovering one's strengths, exposing weaknesses and chasing dreams. The book will tug at the memory of anyone who recalls the wonder of simply playing outside in the grass.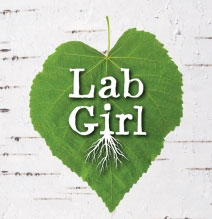 Those shared memories made it a great choice for the Big Read, which is sponsored by the National Endowment for the Arts.
"During the NEA Big Read, we have a ton of events encouraging us to take a deep breath outside," organizers said in the Kenosha Public Library Big Read blog. "We can take part in a collective natural experience while also helping contribute to community science."
The Big Read kickoff/keynote address, "The Power of Curiosity," is set for 6-7 p.m. Monday, March 1. The virtual event features keynote speaker Emily Grasslie, who may just have the coolest job description ever. Grasslie is Chief Curiosity Correspondent for the Field Museum in Chicago, as well as host and writer of The Brain Scoop, an educational YouTube channel with 200+ episodes about natural history that have been viewed more than 32 million times. In 2020 Grasslie made her broadcast television debut on PBS as executive producer, writer and host of "Prehistoric Road Trip," a new series by WTTW Chicago about paleontology and geology in the Dakotas, Montana and Wyoming. To register, visit the KPL event registration page.
That's just one of the many "Lab Girl" themed events that KPL has planned for the community. The lineup includes everything from making macrame plant hangers, to weekly story times, to hearing top scientists discuss the role of women in STEM fields.
When organizers say "all ages," they mean it. Some KPL Kids-to-Go nature-based events start at ages 0-5. Other events, like the NEA Big Read Special Brews at local breweries including, R'Noggin, Rustic Road, PUBLIC Craft Brewing, and Kenosha Brewing Company are of course for the 21-and-over crowd.
Some events run through the entire month, including the iNaturalist Bio Blitz, which gives participants the opportunity to get outdoors and be a part of creating a community-driven catalog of plants and animals in Kenosha.
Another month-long event is the Lab Girl Poetry Contest. Entrants may submit a poem inspired by "Lab Girl." Entries are due March 20 and winners will be announced on March 30, selected by age group.
Here is a sampling of Big Read events throughout March. While most are virtual, some have material pickup or in-person events. Please see the KPL Calendar for a full list of selections, registration details and more information. The entire slate is available on the Kenosha Public Library website, as well as in their digital brochure.
Book discussions
Call in Book Club, Lab Girl Discussion, March 9, 2-3 p.m.
NEA Big Read Book Discussion, March 10, Noon-1 p.m.
Afternoon Coffee Break Book Club, March 17, 2-3 p.m.
Artistic expression
Watercolor Succulent Paintings, March 8. Pre-recorded class will be available for one week.
Nature Mobiles, March 12, 9 a.m.-5 p.m. (Required registration opens March 6).
In the Making: Recycled Botanical Art Shrines, March 25, 5-6 p.m. (Required registration opens March 15).
Teen activities
Grab and Gather: Rock Cacti, March 11 (Required registration now open, space is limited, material pickup required).
Little sprouts
KPL Kids to Go: Worms, March 6, 3:15-4:15 p.m., ages 0-5 (Required registration is now open).
Pokemon Club: Bug Out, March 11, 4-5 p.m., ages 5-12 (Required registration opens March 4).
KPL Kids-to-Go, Seed Art, March 20, 3:15-4:15 p.m., ages 0-5 (Required registration opens March 13).
For the whole family
Family Storytime, Saturdays, 10:30-11 a.m.
Introduction to Letterboxing, March 3, Noon-12:30 p.m. (Virtual with in-person extension activities).
KPL Family Night: Enchanted Forest, March 27, 6:45-7:30 p.m. for families with children. (Required registration opens March 20).
Science talks and tours
"No Place for a Lady," March 5, Noon-1 p.m. The virtual lecture looks at the bravery and devotion of the first women to enter the nursing field.
"Trees, Seeds and Soil: An Outdoor UW-Parkside Campus Tour," March 21, 1-3 p.m.
"Climate Changes, Can People? A Virtual Badger Talk with Professor Ankur R. Desai. March 23, 6-7:30 p.m.
Books are available at all Kenosha Public Library branches, as well as the Salem and Twin Lakes Community Libraries and the Civil War Museum. Only one copy is available per person, cannot be reserved, and are given out on a first-come, first-served basis.