In any town or city, nothing fires up a debate like a pizza oven.
Kenosha loves its pizza. By my count, Kenoshans support around 18 local pizzerias, and each one of them has its devotees.
Many of these places were, and some still are, neighborhood joints.
With the exceptions of cauliflower crusts and certain franchise operations, I'm from the school of thought that there are no bad pizzas. Some are just better than others.
So, Kenosha.com devoted December, January and early-February to dedicated pizza research (tough work, I know). With the able assistance of fellow-writer Riki Tagliapietra, we tried only local Kenosha pizzas.
No chains, unless you count Oakfire Pizzeria and the Antioch Pizza Shop (see explanations in those reviews). For the sake of transparency, I had both culinary and editorial assistance from my wife, Melissa Marovich, who shares my love of pizza and many other things.
We stuck with thin crust, although Kenosha thin crust is all over the map. It can be as thin as a cracker crust and as thick as hand-tossed. No two Kenosha "thin crusts" seem to be alike. All of our sampled pizzas were pepperoni. While we didn't rate the topping, we have offered our opinions.
After all, who doesn't have an opinion about pepperoni?
We used a commonly accepted five-star rating system as a basis and then doubled the point total into a 10-point scale for a possible score of 30 points. In some cases, we also awarded a few bonus points for good-to-excellent balance of flavors.
The basic rating system is from writer Nathan Grant's article, "What to Look for in Your Pizza."
Crust
1 — Way too mushy, too soft, must be cooked more.
2 — A little mushy, could be cooked a little more.
3 — Average. Not too soft. A little crunchy or way too crunchy.
4 — Very good. Not too soft. The crust is burnt all over, top and bottom.
5 — Perfect! The crust is neither too soft nor too crunchy. It is burnt at the top but not all over the bottom.
Notes: A good pizza crust should bend but never break. It should be tender on the inside with some browned or blackened char spots, which provide a smoky flavor, but not burnt on the bottom.
Cheese
1 — Hardly any cheese on the pizza.
2 — Not enough cheese.
3 — Average. There could be more cheese.
4 — Perfect amount of cheese, and the cheese tastes good.
5 — Perfect amount of cheese with an excellent, creamy taste.
Notes: The best mozzarella is creamy, wet and quite oily when it melts. It should have long, stringy tails when taken from the box or pan. The pizza must not be stingy with the cheese.
Sauce
1 — Not enough sauce or too salty or bitter.
2 — There could be more sauce or too sweet.
3 — Average amount of sauce. A little sweet or a little salty.
4 — Perfect amount of good sauce.
5 — Perfect amount of excellent sauce.
Notes: Most pizza sauces are made with uncooked canned tomatoes, from either Italy or California. Seasonings typically include garlic, oregano and sometimes a little sugar. There should be enough sauce to cover the interior circle of the pizza, but no more than that.
While we did not rate any non-pizza offerings, we have noted in our reviews what else each operation offers on its menu. Here are the results in reverse order:
3931 45th St., 14.5 points
Not much char on the top crust with a light char on the bottom. Crust had a decent chew but nothing out of the ordinary. 4 points.
The mozzarella was average-tasting and not as stringy as I would have liked to see. More-than-adequate cheese coverage. 6.5 points.
The sauce was sweeter than a lot I've tasted, which got in the way of the balance that you like to see between crust, cheese and sauce. Definitely could have used more sauce, as well. 4 points.
The pepperoni, which is not part of the rating system, was average-tasting and not very spicy.
The full menu includes four or five Italian specialties, about five seafood dishes, Henny Penny chicken and barbecue ribs.
24730 75th St., Paddock Lake, 18.5 points
We tried to stay away from franchise pizza, and Antioch is a bit of a franchise operation with Illinois locations in Antioch, Fox Lake, Lindenhurst and Woodstock and Wisconsin sites in both Paddock Lake and Burlington.
I wasn't aware that this was a franchise operation until after I reviewed the pizza.
The bottom crust was light brown with a few char spots, while the top edges had a minimal char. There was a little bit of crunch and chew. Some nice air pockets on the edges, but the middle was pretty flat and uninspiring. 5.5 points.
The cheese was tasty, and there was plenty of it. 9.5 points.
The pizza was just barely sauced, and the sauce was pretty bland. 3.5 points.
The pepperoni was excellent and plentiful, with the just the right amount of kick. I was also pleasantly surprised to find most of the pepperoni under a blanket of cheese, with a few more pieces on top as sort of a garnish.
The problems with the sauce sort of knocked the whole pizza out of balance. With the generous layering of cheese and pepperoni, that's what you taste. The pie really needed a boost of flavorful sauce to balance out the other ingredients.
I also have to note that my online order checked a box to not cut or portion the pizza, which they did anyway.
Antioch offers five different pizza crusts, breakfast pizza, 14 appetizers, wings, three salads, two entrées, nine sandwiches and three desserts.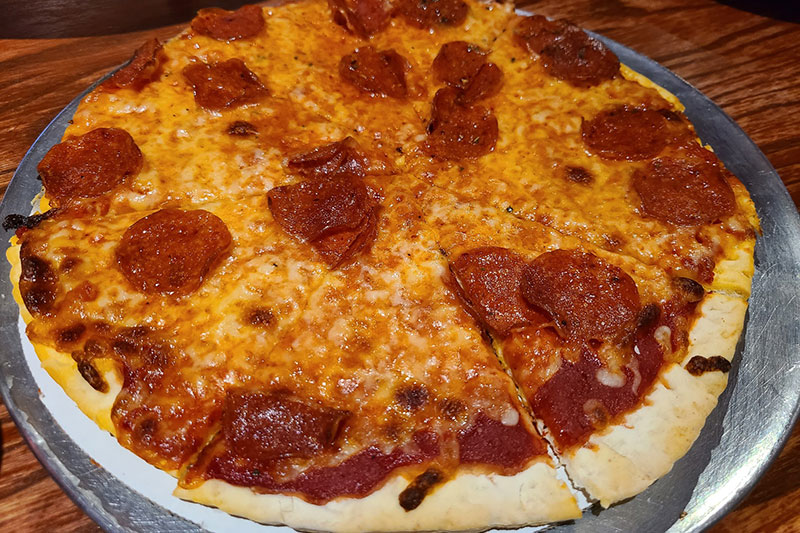 510 57th St., 20 points
The crust had no burn on top or bottom, was easily bendable and a bit too soft. Flavor was nice, however, it faded into the background of toppings. More of a vessel for the rest of the ingredients than the foundation of flavor and experience. 6 points.
The cheese was truly the standout here. It extended all the way to about a quarter-inch from the edge of the crust. The flavor was creamy and interesting due to their special cheese blend. It was also the perfect amount, with total coverage, great pull-apart strings and no bites that were overwhelming. 10 points.
The sauce was good but a bit salty and with rather poor coverage. A greater amount of a less-salty and more acidic sauce would have better complimented the cheese. 4 points.
This could have been an outlier. I generally love Kaiser's pizza, but the sampled pie was simply not their best work. We also had a Kaiser's Special that night that was significantly better prepared.
While Kaiser's specializes in thin-crust pizza, they also have a pan pizza, along with about a dozen appetizers, five salads, multiple stuffed baked potatoes, 17 sandwiches or wraps and a couple of desserts.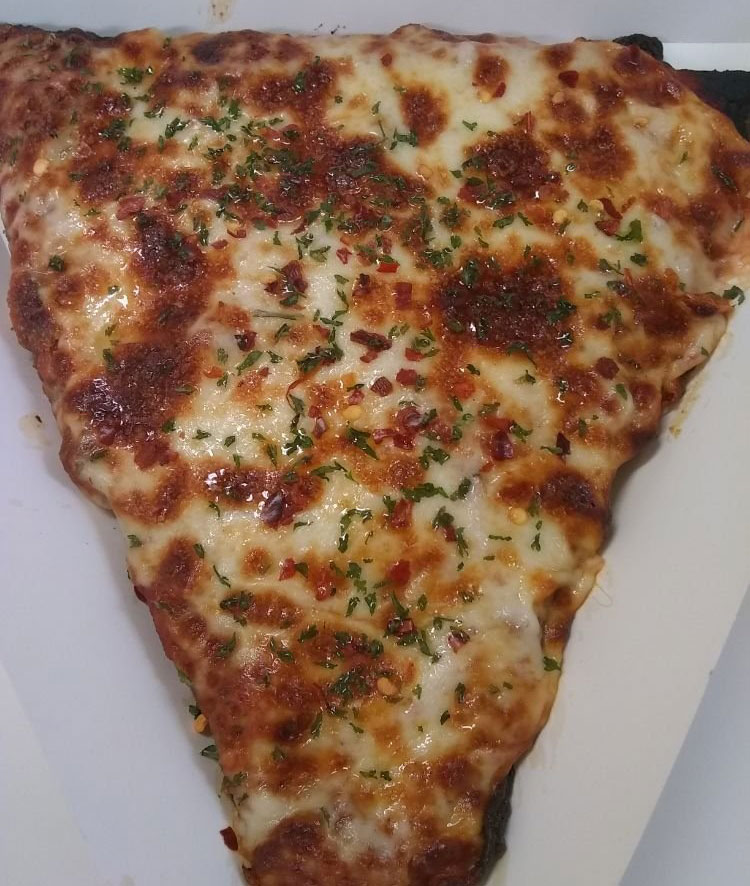 3915 52nd St., 20.5 points
Crackers' crust is little different from most thin-crust pizzas in that they use a cracker-style dough construction (no real crackers are involved) that's sort of soft with a lot of air pockets.
My sample had some nice char on the edges with a blond bottom crust that I thought could have used just a few more minutes in the oven. Like a lot of thin crust pizza, the crust had sort of cardboard-like texture when hot that transitioned into a nice chewy consistency as it cooled. The end result was a good, not great, crust. 5.5 points.
The mozzarella was nice and stringy and flavorful with more-than-adequate coverage. 9 points.
The sauce was pizza-average, and the coverage was very, very light. 4 points.
In this collection of reviews, I have sometimes awarded bonus points for pizzas with really good balance, even if the individual components were nothing special. I could do the same with Crackers if the sauce was more assertive and if there was more of it. As it stands, two bonus points for effort.
While the toppings neither add nor subtract from our ratings, if you want a pepperoni pizza, Crackers has you covered, and I mean covered. My sample came with wall-to-wall pepperoni that was medium spicy and very flavorful.
Crackers' menu also includes Chicago-style hot dogs.
Pa's Pizza
5621 22nd Ave., 21 points
Pa's has been in the Columbus Park neighborhood since 1965 and is tied with Valeo's Pizza as the fourth-oldest pizzeria in Kenosha.
Only one type of crust is available, and it's a true thin crust. Mine had a medium-brown edge and the same coloration on the bottom, which means it could have used a few more minutes in the oven. The crust was a little cardboardy, but it had a nice flavor and an interesting bottom texture due to the use of what looks to be pebbled pizza pans. The non-flat bottom surface gave the crust a slightly-toasty flavor from the air circulating around the pebbles. 7 points.
The cheese and the sauce coverage was adequate, but it could have used a little more sauce.
The cheese was only slightly stringy and average tasting. 7 points.
The sauce was fine, not too sweet or not too salty but not particularly distinctive. 6 points.
The pepperoni was mildly spicy.
Twenty points total plus one bonus point for good balance earned Pa's 21 points.
Also on Pa's menu are about 10 appetizers, fried chicken, a couple of fried fish dishes, ribs and three sandwiches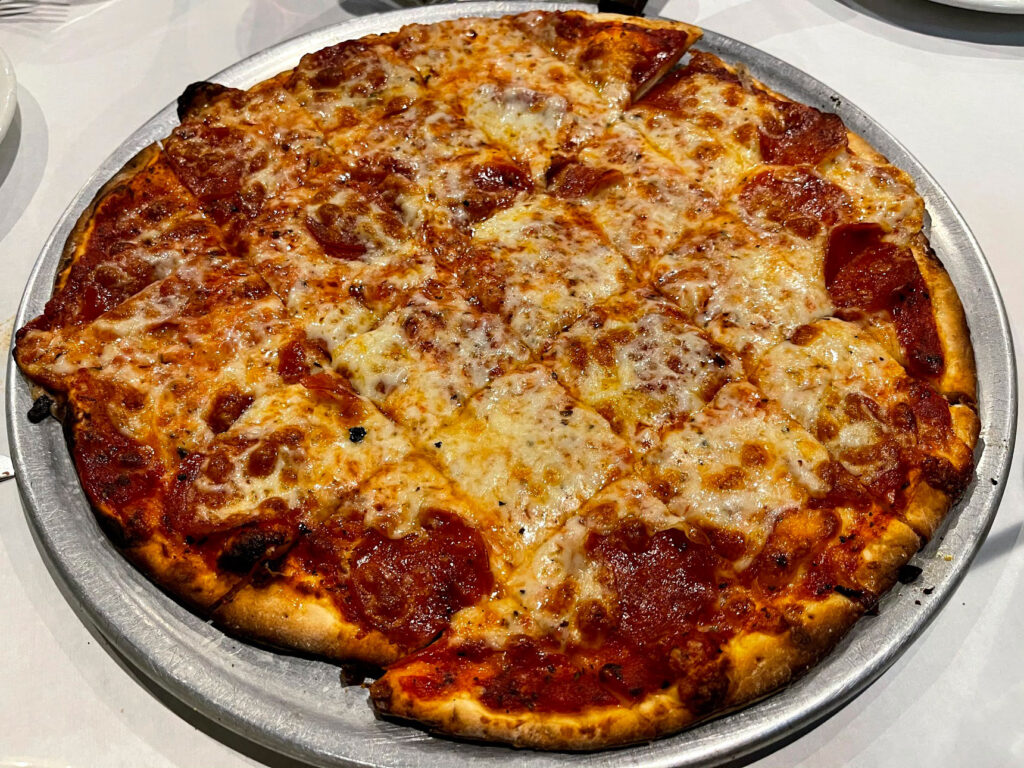 7321 60th Ave., 21 points
Quite a bit of burn on both the top and the bottom of the crust. Overall, the crust was crunchy and broke rather than bent. There was very little bread flavor to the crust, and it came off a bit flat. 6 points.
There was great cheese coverage and flavor, but it was unbalanced with very little cheese on pieces near the edge and far too much in the center. The flavor was wonderful and just slightly skewed towards the salty end of the flavor spectrum. 8 points.
The sauce was wonderful and full flavored with a nice touch of fresh basil. It had good coverage but a little more sauce would have helped balance out the heavy amount and flavor of the cheese. 7 points.
Tenuta's sells both thin crust and a pan pizza, along with 10 appetizers, a couple of soups, six salads, fried chicken, about seven pastas and 11 entrées. There is also a Paddock Lake location.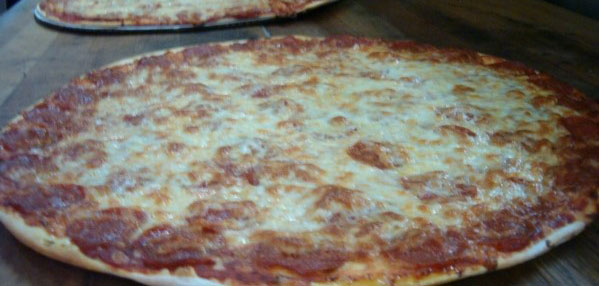 2135 31st St., 22 points
Crust had a modest char around the edges but golden brown with little visible char on the bottom. The hand-tossed dough was tender and puffy with nice air pockets on the inside and crispy on the outside. A little undercooked and a little doughy. 6.5 points.
Adequate amount of fresh tasting and stringy mozzarella but a little light on the sauce, which was fine, if not very distinctive or flavorful. 9 points for the cheese and 6.5 points for the sauce.
Light sprinkling of pepperoni (could have been more generous). The pepperoni was a little mild tasting. Other Kenosha pizza restaurants use a more assertive product.
DeRango's offers a large menu with about 16 appetizers, pizza with five different crust choices (house, pan, stuffed, thin and Italian sheet-pan), seven pastas, five Italian specialties, five fried seafood offerings, five fried chicken choices, pork chops, pot roast, over 30 sandwiches and a couple of desserts.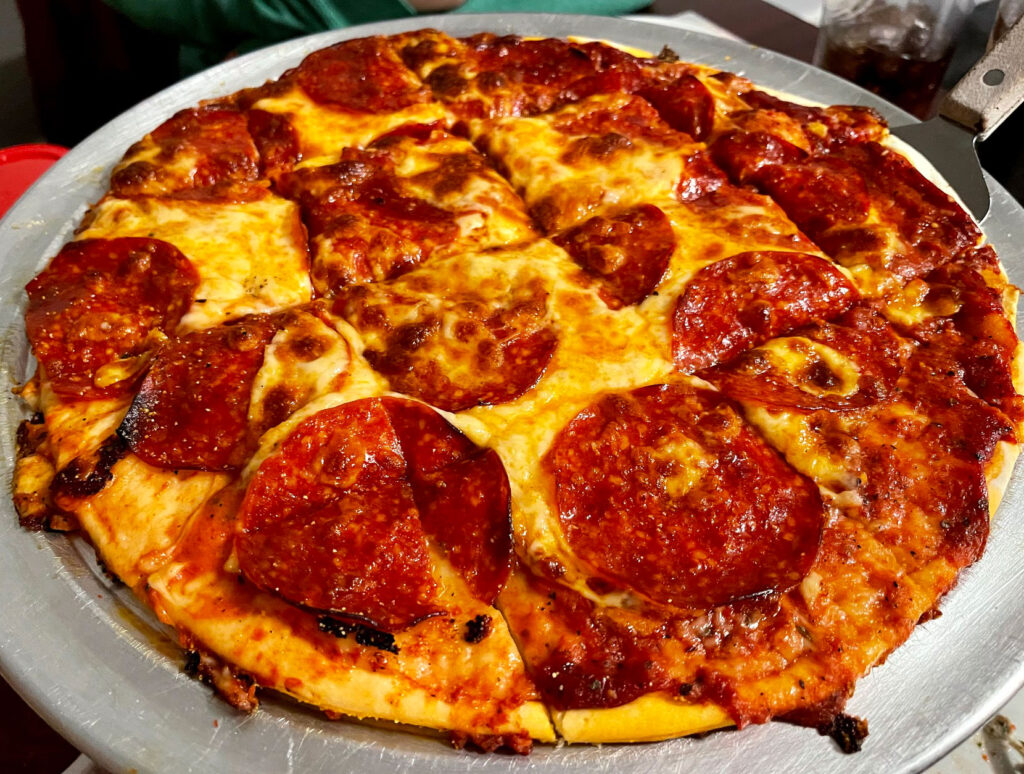 6806 317th Ave., 22 points
There was no real crust burn, and the texture was pretty soft. Not doughy, since it was cooked all the way through, but chewy with no crisp or crunch. 6 points.
There was tons of cheese in the center but the coverage didn't extend close enough to the outer edge, leaving many pieces off balance. The cheese flavor was good, but the texture was a little rubbery and despite the large amount, left no strings when pulled apart. 7 points.
The sauce covered all the way to the edge and had a good flavor. It was slightly too acidic and skewed towards salty, but the overall flavor was very nice. 8 points.
Twenty-one points plus a bonus point for the unique large-format pepperoni slices, which are very good.
Luisa's offers both thin crust and pan pizza, along with calzones, 14 appetizers, wings, five salads, 14 Italian entrées, four other entrées, eight seafood dishes, a couple of sandwiches and three desserts.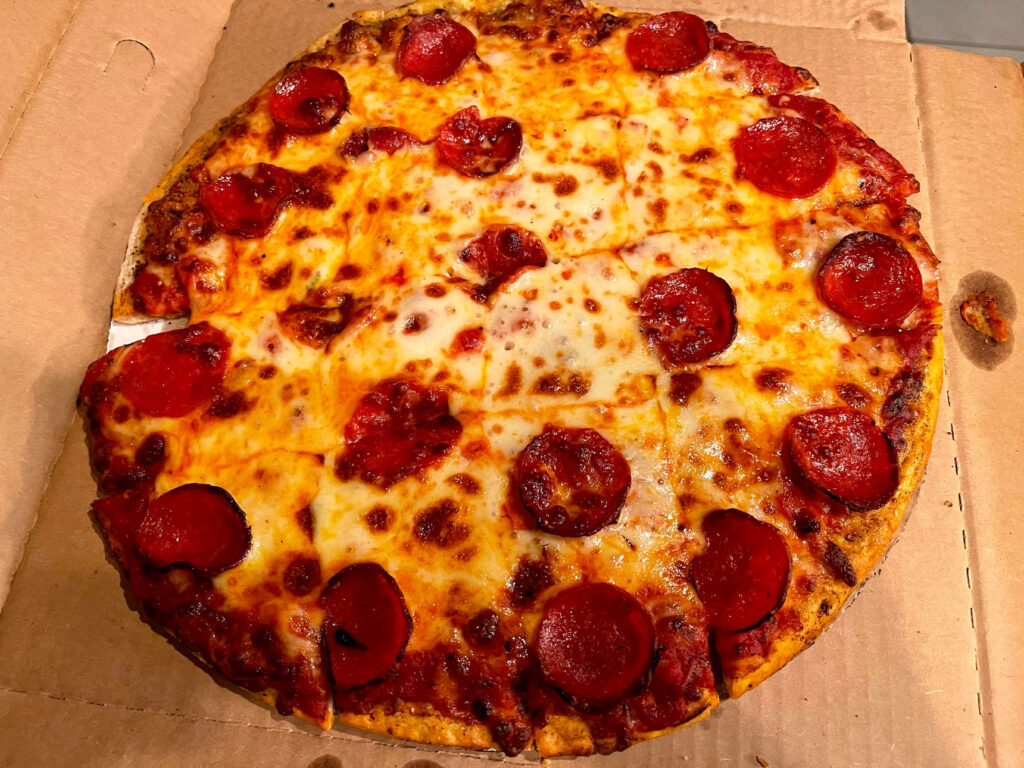 7531 39th Ave., 23 points
Open since 1963, now 58 years, Luigi's is Kenosha's third-oldest pizzeria.
Crust had a slight burn on top and bottom with a really great flavor and even great hint of smoke, making it taste almost grilled. There was a slight crunch, but overall it was a bit too doughy. 7 points.
The cheese had a great flavor but there was so much of it that it overwhelmed the rest of the pizza. It was near-impossible to cut or pick up a piece without losing all the toppings due to the large amount of cheese. 7 points.
The sauce coverage was complete to the edge of the pizza and had a fresh tomato taste with good seasoning that wasn't too sweet or salty. 8 points.
Luigi's also offers calzones, 11 appetizers, wings, a salad, three sandwiches, eight pasta entrées and three other entrées.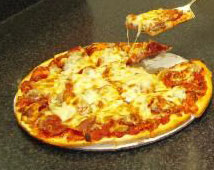 2820 52nd St., 24 points
Crust had a nice top char around the edges but had extensive burned areas on the bottom which contributed to a somewhat cardboardy crust that was slightly bitter. The crust was sort of dense and flat, without a lot of air pockets. On the other hand, it held its shape well and did not bend. 6.5 points.
The perfect amount of cheese and sauce. The sauce was well balanced with garlic and oregano overtones. The mozzarella and pepperoni topping was tasty. 9 points for the cheese and 8.5 points for the sauce.
Renzo's also features stuffed pizza, Roman style pizza (very flat and crunchy with mozzarella, fresh tomato, garlic, olive oil and oregano), pizza turnover (calzone) and a stromboli (shell of fresh dough stuffed with mozzarella, fresh ricotta and spinach and covered with sauce). Also on the menu are a few appetizers, two salads, about a dozen Italian dinners and a half dozen or so sandwiches.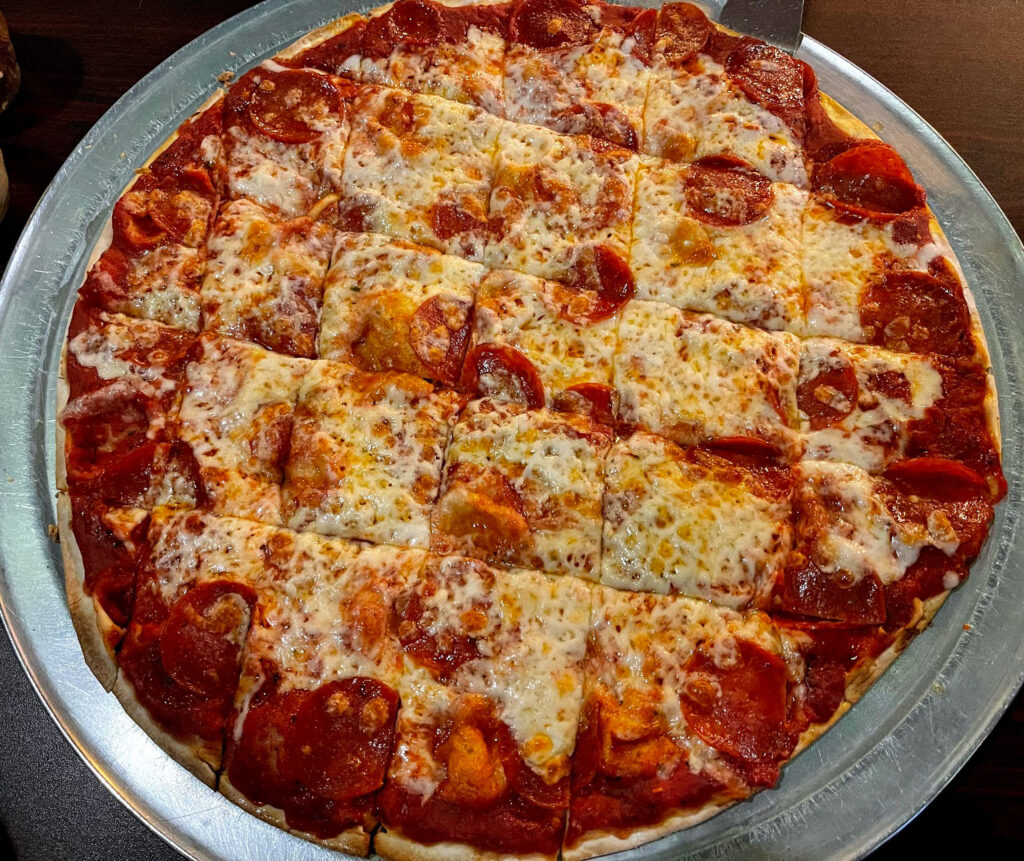 Frankie D's Vino & Pizzeria
6316 52nd St., 24.5 points
The crust almost had a great burn on both the top and bottom, but it fell a little short with just a hint of browning. The texture, however, was very good. Crispy and crackery with good flavor. 8 points.
There was full cheese coverage without being overwhelming. Good flavor to the cheese. 7.5 points.
The sauce extended to the very edge and had the perfect amount to balance the cheese. The sauce was bright and fresh with a great salt-sweet balance. 9 points.
Frankie D's sells both pan or hand-tossed pizza, along with calzones, 16 appetizers, a soup, four salads, 17 pasta dinners, six other entrées and 10 sandwiches.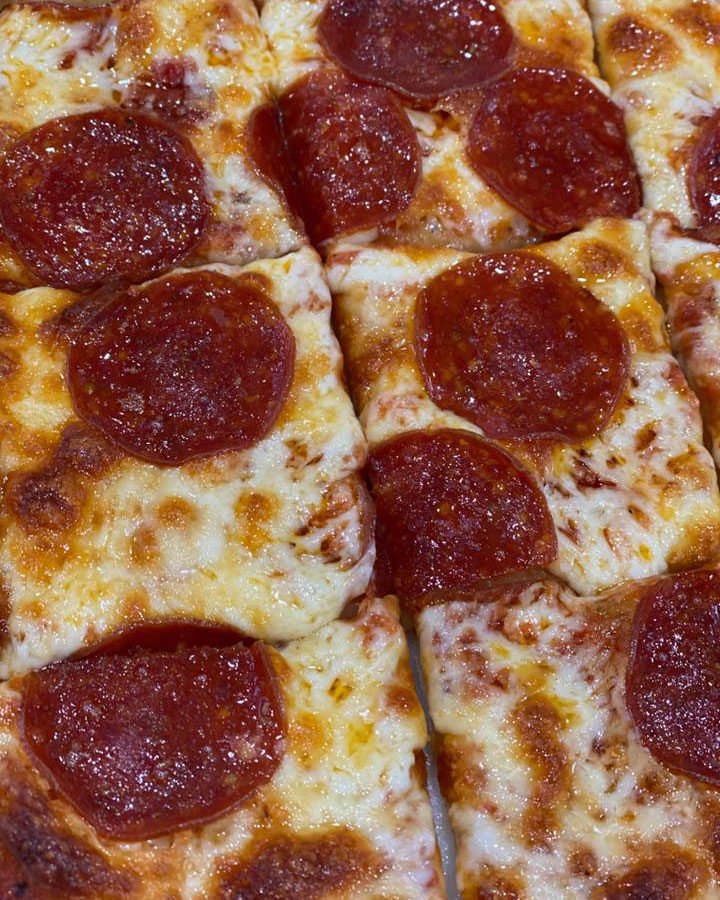 5021 30th Ave., 24.5 points
Valeo's is one of the five-oldest pizzerias in Kenosha, dating to 1965 and tied for fourth place with Pa's Pizza on the vintage list.
Crust had a light char on the top edges and a medium, sort of marbleized bottom crust that was not at all burnt. The crust tasted a little cardboardy at first but it developed a nice chew as it cooled. It also had a nice crunch at the crispy edges. 7.5 points.
It had the perfect amount of cheese and sauce. The sauce was slightly sweet, but the mozzarella was not as stringy as other sampled pizzas. The pepperoni was mild and not as spicy as others, although the quantity was very generous, and the baking gave it a nice curl.
In conclusion, the sauce is understated to the point that the cheese and pepperoni take the starring role.
While I might find fault with its individual components, overall, the pizza was very well balanced. 6 points for the cheese, 6.5 points for the sauce, and 4.5 bonus points for the balanced flavor.
The full menu also includes about 10 appetizers, six salads and four sandwiches.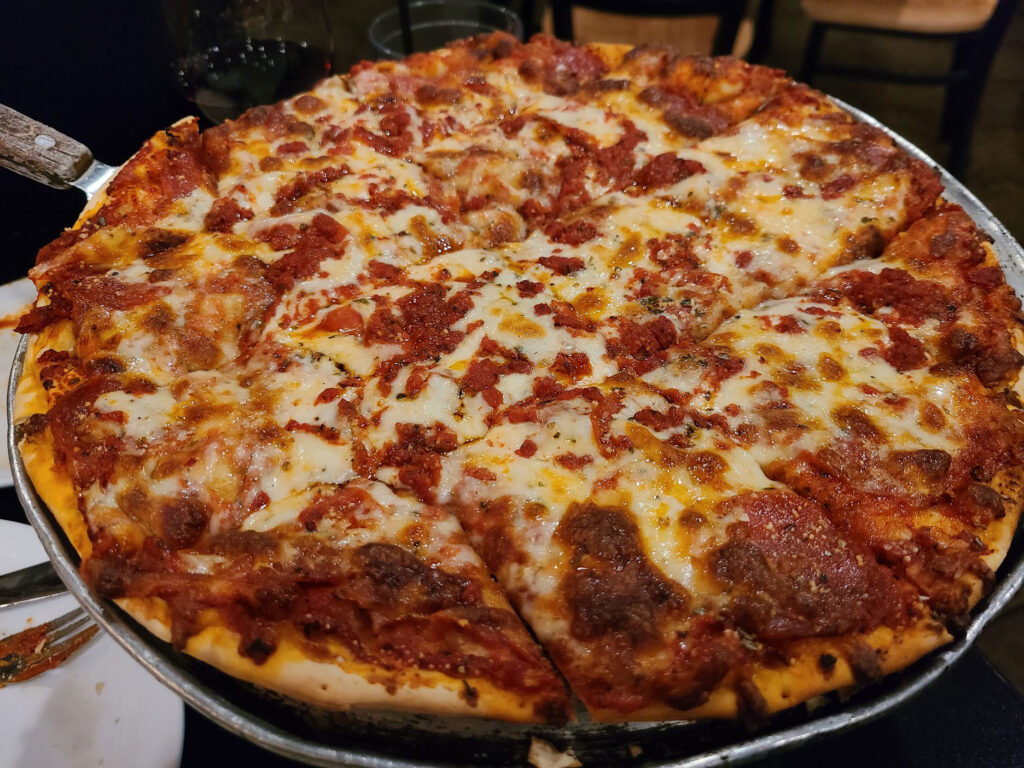 6800 39th Ave., 26 points
Crust had very little burn on the bottom but some browning on top edges, as well as crispy cheese. It provided just a bit of crunch. A bit too soft to stand up to the toppings but overall a good experience. 7 points.
The cheese was incredibly flavorful with coverage near the edge of the pizza. There was a large amount, but the cheese blend used never became a single, uncuttable mass. Even in the thickest, cheesiest areas, the flavor balance was wonderful and the pizza pulled apart with great strings stretching in between. 9 points.
The sauce was perfect. Complete coverage and wonderful flavor. There is more seasoning than many places but it is a subtle accent to strong, fresh tomato and great sweet-salty balance.
The flavor profiles of the Infusino's sauce and its cheese blend complement each other and elevate the overall flavor of both. 10 points.
Infusino's has a large menu including five different pizza crusts, calzones, 13 appetizers, wings, a soup, seven salads, about 24 sandwiches, wraps or paninis, 24 pasta dinners, 16 other entrées and three desserts.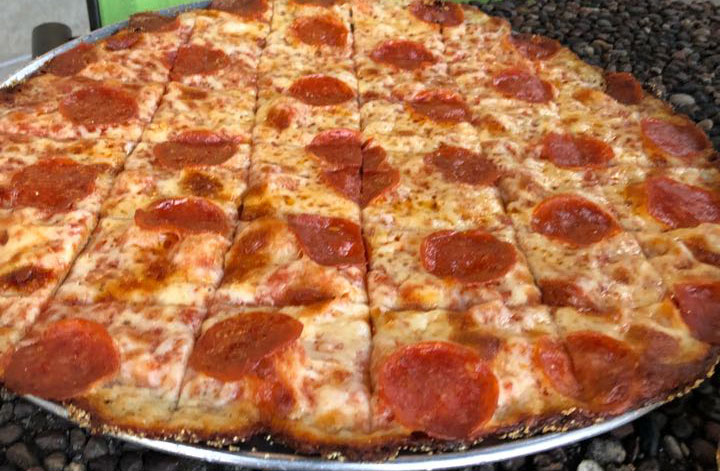 5140 6th Ave., 26.5 points
Kenosha's oldest pizza operation at 64 years, Villa D' Carlo dates itself to 1957 when Carl Ruffalo opened his first Carl's Pizza in the Columbus Park neighborhood.
Villa D' Carlo has been located on Sixth Avenue since 1962. A west-side location was open from 1993 to 2016.
Villa D' Carlo makes a true thin crust pizza. The dough was tasty, crusty, a little crispy and a little chewy. What's not to like about that?
Well, it could have used a bit more char on both the top and the bottom, but I quibble. The dough seems to have some kind of flavor enhancer that I couldn't identify. It could be Italian "00" flour. Could be a little extra salt. Could be malt, or it could be some kind of commercial flavor enhancer.
Whatever it is, Villa D' Carlo's crust is more flavorful than almost all of its competition. 8.5 points.
The cheese and sauce coverage was adequate. The sauce is flavorful with hints of herbs. It was a little sweeter than some but not cloying. The cheese was not as stringy as I like, but it was flavorful. 7 points for the sauce and 8 points for the cheese.
The amount of pepperoni was adequate and the pepperoni was average or slightly better than average tasting.
Overall, I gave the pizza 23.5 points with three bonus points for excellent balance. There is something about this pizza that makes it slightly addictive. It could be the mystery ingredient in the dough, or it could be the slightly-sweet sauce, but I thought this pizza was better than the sum of its parts.
I'll admit it's always been a neighborhood favorite of mine since moving downtown in 2003, and it will remain so.
The full menu at Villa D'Carlo includes about 18 appetizers, a couple of salads, a steak or two, prime rib on weekends, barbecue ribs, pork chops, about 16 Italian specialties, six seafood dishes and about 10 sandwiches.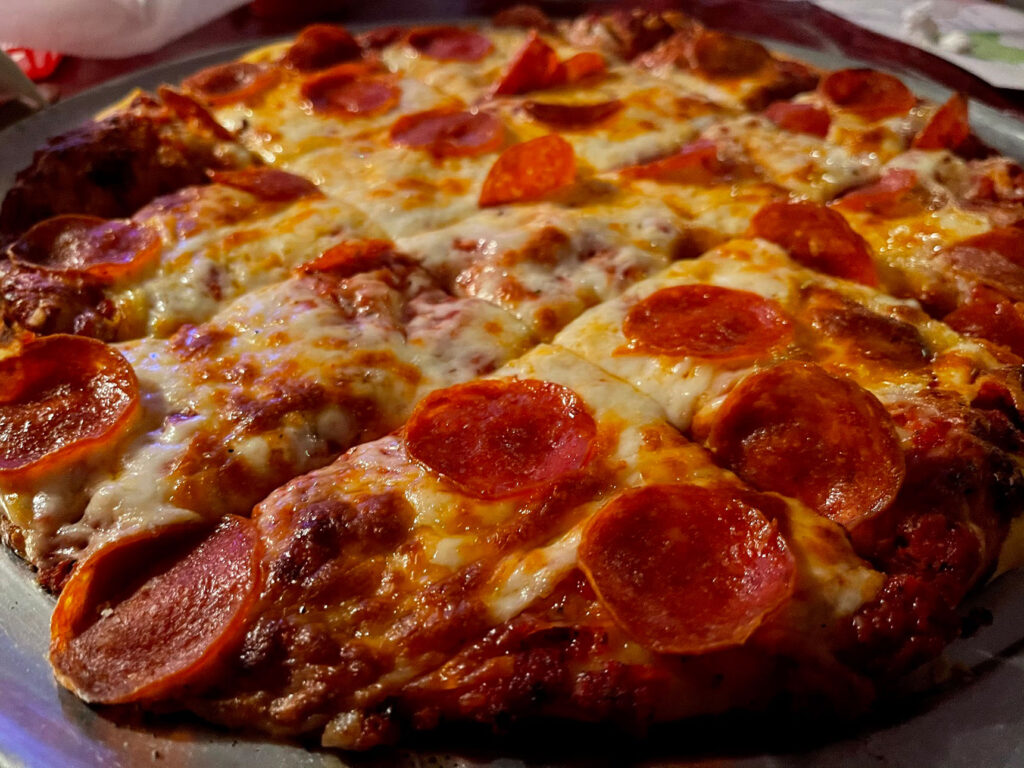 1543 22nd Ave., 27 points
Crust had a good burn on the bottom, and the top edges had a nice char. Crispy but not crunchy, wonderful texture with a great distribution of air bubbles. This crust was clearly scratch-made with great care. 9 points.
Perfect cheese coverage and consistent amounts across the entirety of the pizza. Every bite was exactly the same and filled with creamy, cheesy goodness. The cheese was high quality and distributed well. 9 points.
The sauce was near-perfect with bright fresh flavors of tomato and a wonderful sweet-salty balance that was able to stand up to and complement the cheese and pepperoni. As with the cheese, the distribution was even and created a consistent bite across the entire pie. 9 points.
Sturino's sells both hand-tossed and deep-dish crusts, along with five appetizers, a soup, a couple of salads, six Italian entrées, four seafood dinners and six sandwiches.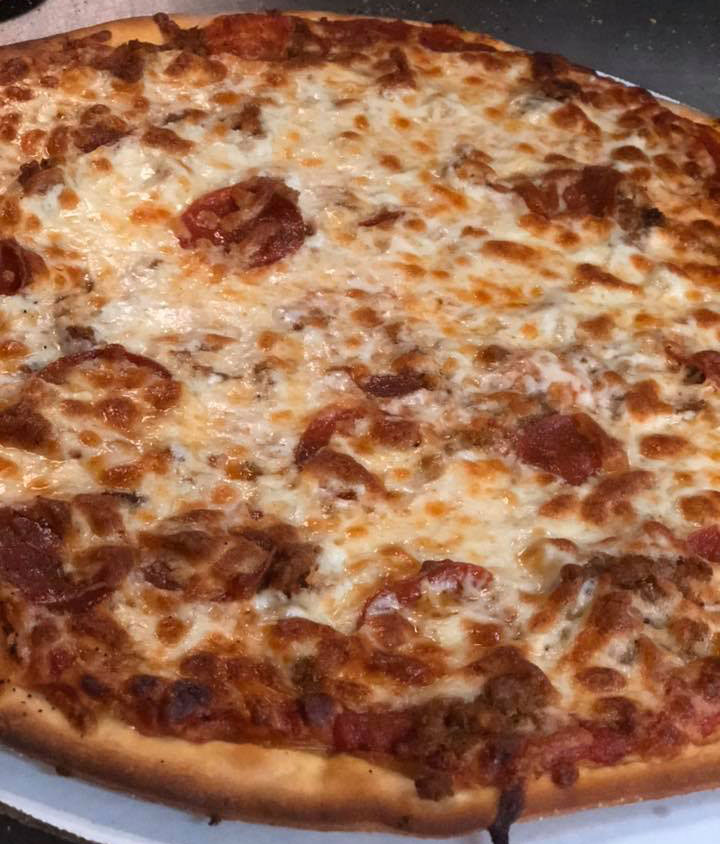 7623 Sheridan Road, 27.5 points
Sal's crust has somewhat cracker-like layers that came out puffy and crunchy with crispy, golden brown edges. The bottom crust, with a light cornmeal dusting, was medium-brown with a few, scattered dark char marks.
Overall, the crust had a very nice chew, and I thought it was one of the best crusts I had tasted among the Kenosha pizzas. 9 points.
There was an average amount of both sauce and cheese. The sauce was savory with herb and garlic flavor and not too sweet. The cheese, while not as stringy as I would like to see, was flavorful. I gave the sauce 9 points, the cheese 7.5 points and awarded two bonus points for overall balance.
The pepperoni was slightly spicy and tucked under the cheese. Sal's could be a little more generous with their toppings.
A total of 27.5 total points and one of Kenosha's pizza gems, in my view. I also need to compliment Sal's on their calzones. While not part of the judging process, I ordered an Italian beef calzone that was fabulous.
The flaky, layered dough really shines in this setting, and the Italian beef tasted like real-deal homemade. I'm going back for more. The full menu also includes a couple of sandwiches and four salads.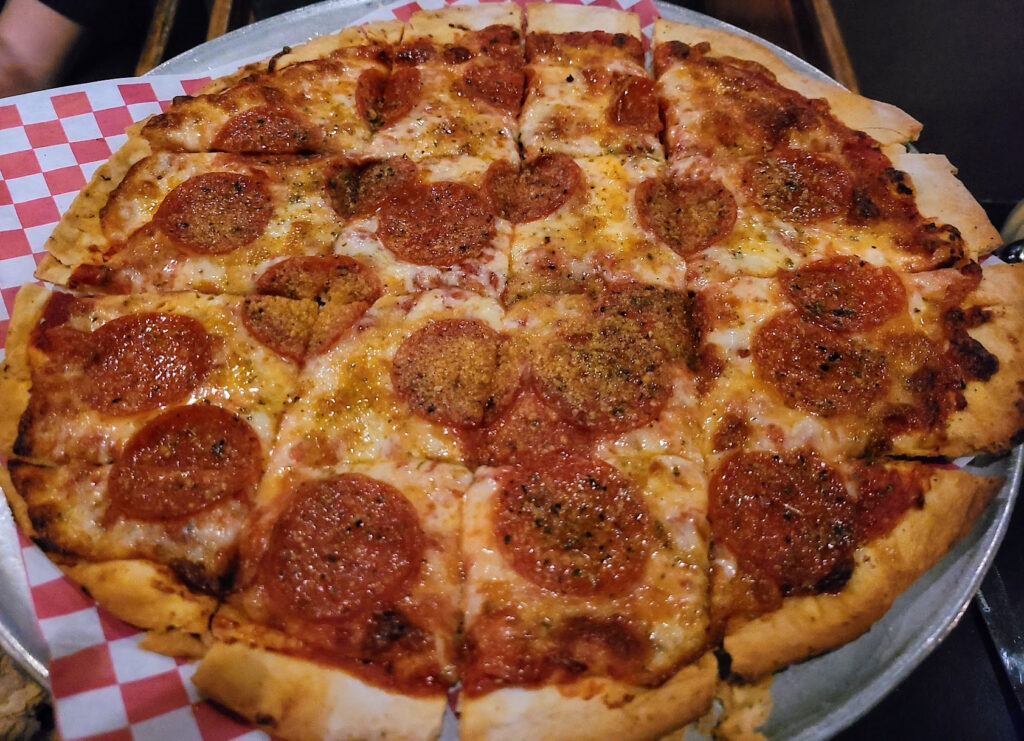 2129 Birch Road, 28 points
Stella's Casa Capri, open since 1961, is Kenosha's second-oldest pizzeria after Villa D'Carlo. It's original location was on Sheridan Road at 82nd Street.
One of the better crusts that we tasted. Great bread flavor from an impossibly thin crust. Crispy, crunchy and truly a cracker-crust experience that still maintains a bendable support structure that never breaks.
It simply flakes and crunches. Great flavor and great texture. For the style we sampled, it's the perfect crust and an excellent representation. 10 points.
The pizza had great sauce coverage to the edge of the pizza and was very flavorful. It wasn't over-seasoned and relied on the fresh tomato flavor. Good sweet/salt balance. 8 points.
Great cheese coverage with creamy flavor and nice strands. In addition to the mozzarella, the pizza is topped with flavorful parmesan and some extra seasoning to really round out the bite. 10 points.
Twenty-eight total points and one of Kenosha's best pies.
Casa Capri also offers 18 appetizers, four salads, 20 pasta dinners, nine other entrées and three sandwiches.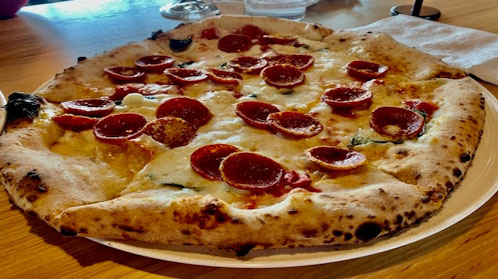 3552 Market Lane, Somers, 35 points (deserved more)
I wasn't prepared to be blown away like this.
This was not only the best Kenosha pizza I tasted, but it was one of the best pizzas I've ever had anywhere. Everything about it screams high end.
Oakfire's original Lake Geneva location, opened in 2015, was a remodeled house dating to the 1850s. That building was subsequently torn down and replaced by a new structure at 831 Wrigley Drive overlooking Geneva Lake.
The Kenosha location, on an outlot in front of Walmart on Green Bay Road and Washington Road, opened in December 2020.
Oakfire makes genuine Neapolitan, or Naples-style pizzas. In Naples, strict guidelines govern what can be called a Neapolitan pizza. Those guidelines cover the type of dough and what kind of oven is used, as well as the nature of the toppings.
Oakfire owner David Scotney studied this style of pizza making with a master pizza maker who worked in Naples.
The heart and soul of a Neapolitan pizza, or any great pizza for that matter, is the dough.
Traditional Neapolitan pizza dough has just four ingredients: flour (traditionally Italian "00"), yeast, salt and water.
Oakfire pizzas are wood-fired at 1,000 degrees in an imported Stefano Ferrara oven and come out of the oven in three or four minutes. When cooked, the crust is both pillowy and chewy. It's soft and elastic in the middle with a large, crusty lip on the edges.
My pizza came out with a perfectly top-charred lip and a by-the-book scattering of black-specked char marks on the bottom. The result was a crust with all kinds of air pockets that was both soft in the middle and chewy on the edges and very, very flavorful.
Simply put, there is no other pizza crust in Kenosha like this one or as good as this one. I find myself running out of superlatives when I try to describe it. I make my own bread and pizza at home, so eating Oakfire's pizza was almost an out-of-body experience for me. 10 points for the crust, and I'd give it more if I could.
Oakfire pizzas come in a 12-inch size only and either Rossa (red) or Bianca (white). The red is not tomato sauce but chunks of what are presumably imported-Italian San Marzano tomatoes. By definition, the tomatoes on a Neapolitan pizza can be only tomatoes and salt, and I'm pretty sure that's all I got.
New York-style pizza sauce, which is common all over the United States, including most Kenosha pizzas, includes a dash of sugar, chopped garlic, and herbs such as oregano and red pepper flakes. 10 points for the tomatoes, which by the definition above is "a perfect amount of excellent sauce."
I realize that I'm judging Oakfire for a sauce that isn't really a sauce, but I would point out that they are being true to a culinary style and should not be penalized for an honest representation of that style.
The offered toppings are different, depending on your choice of red or white. Some of the pie options include spicy salami, sausage and cremini mushroom, imported Italian-baked ham with mushrooms, black olives and artichokes.
The really interesting toppings are on the no-tomato list and include chorizo sausage with white cheddar, roasted corn and red onion, portabella mushroom with roasted garlic pesto and caramelized onions, one with sausage, caramelized onions and pesto that I'll try next time. One has three cheeses, prosciutto and arugula that I'll try the time after that.
The mozzarella was stringy and excellent. Another 10 points.
The pepperoni was thick cut, spicy, extremely flavorful and delicious, and there was plenty of it. The pie was garnished with a few leaves of fresh basil, which would have been a lot better if I could have eaten the pie hot in the restaurant, instead of reheated at home.
Maybe I should start garnishing my takeout pizzas. I should also add that the helpful telephone staff asks you if you want the takeout pizza left whole, which is actually a great idea if you intend to reheat it at home.
Bonus points for balance? Oh God, yes. Five bonus points. I'd go higher, but you already know how much I loved this pizza. Total of 35 points and the hands-down winner in this Kenosha.com competition.
Everybody else in town is fighting for second place.
When a restaurant is so clearly making craft, artisan, scratch-made food like this, you want to try everything. I'll need at least 10 more trips to do that. Everything on the menu is made with locally-sourced or imported Italian ingredients. You can't help but notice the work and the thought that goes into this food.
The rest of the menu includes eight appetizers, four salads, one soup, four sandwiches and four pastas including a buttermilk fried chicken parmesan with rigatoni that I really want to try.
Six dessert choices include espresso poured over a scoop of Italian bean gelato with toasted almonds. That could be breakfast if they opened before 11 a.m.
Oakfire also carries a large array of craft beers on tap.
Well done, Oakfire. As Guy Fieri would say, you knocked it out of the park.