Sometimes blind dates don't always go as planned. Just ask Robert Noel.
The longtime Kenosha resident was 58 years old, recently divorced and enjoying a nice meal at a former, local Korean restaurant when the owner asked Noel if he'd be interested in meeting one of her single friends.
"I knew the owner well and when she found out I was divorced, she said 'I have somebody I'd like you to meet. Come on over (to my place) and I'll introduce you to her,' " Noel said.
Slightly reluctant, Noel agreed.
"I went over there," Noel said. "It was (my date), her girlfriend and a woman from the restaurant. We started talking for a while and then all of the sudden the three of them started talking in Korean.
"I looked at all three of them and figured it was time for me to go. After I left, (my date) told the owner of the restaurant she didn't want to go out with me because I was too quiet. I said, 'I don't speak Korean!' "
As it turned out, the woman gave Noel another chance. The rest is history.
The couple began dating in 1997, got married in 1998 and opened Soon's Sushi Cafe, 2100 54th St., on March 15, 2004.
Robert and Soon Noel, both 82 years young, are one of many dynamic duos in town who excel at mixing their personal and professional lives.
As we celebrate Valentine's Day, Kenosha.com wanted to recognize all of the local power couples out there.
We asked a few of them to share a few tips and their secrets to success. What we discovered is not only are they husband and wife, but also each other's biggest fan.
Here are a few other local, savvy sweethearts and their stories:
Patrick and Alicia Patterson
Iguana Wana Mexican Restaurant, 9080 76th St.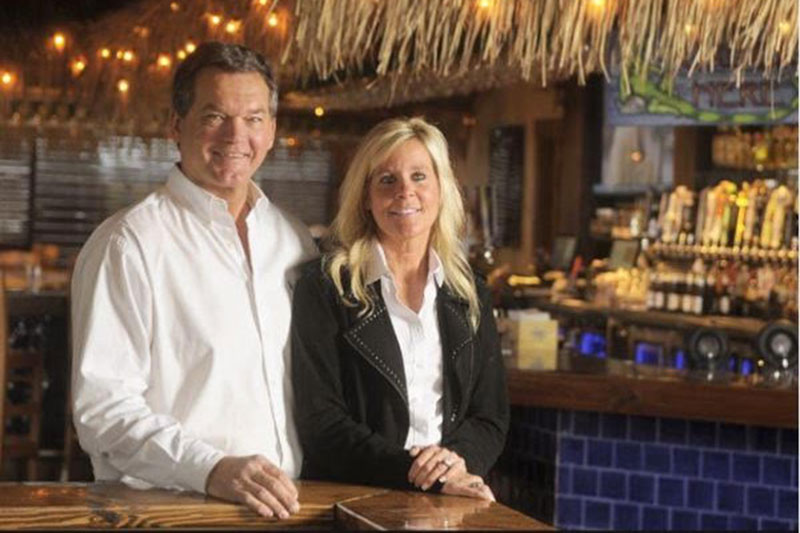 A husband-wife business team for over 26 years, Patrick and Alicia opened Iguana Wana three years ago in Pleasant Prairie.
The couple said operating a business during a pandemic has been one of the biggest obstacles they've ever faced.
"We definitely have grown closer together throughout the years, facing challenges together and enjoying the feeling of overcoming the challenges together," Patrick Patterson said. "I think it is most important for a husband and wife team to handle different responsibilities of the business but still share each other's ideas with one another."
When indoor dining was shut down due to COVID-19, Alicia came up with the idea of having customers tailgate in the Iguana Wana parking lot.
"We really wanted our customers to enjoy our food fresh off the grill and also figure out a way to help families get out of the house safely," Patrick Patterson said. "Within a few days of advertising on social media, we had many people tailgating every day from our parking lot. We even gave out tablecloths to everyone who was tailgating.
"It ended up being a great success. Families were getting out safely and our customers were eating our food fresh off the grill. This will always be one of the most memorable ideas that my wife (my partner) came up with."
Rich and Angie Covelli
Auto Medix, 4500 Sheridan Road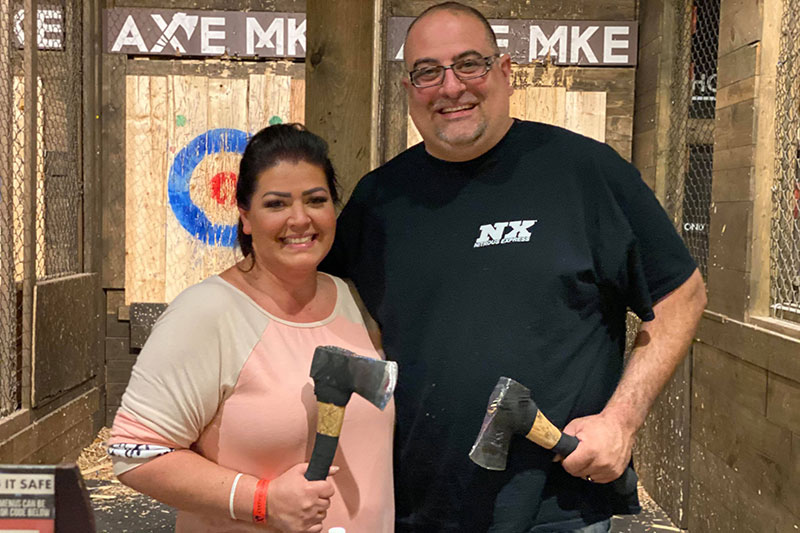 The high school sweethearts started dating when Angie asked one of her brother's friends (Rich Covelli) if she could hitch a ride during the Bradford High School lunch hour.
Rich Covelli, of course, was ecstatic because he had a major crush on Angie. What started as a fast-food trip soon became a weekday routine.
"(Rich) was my brother's friend and I never liked him," said Angie Covelli, despite his sweet, white Monte Carlo. "I sucked it up and asked him if I could go to lunch with him. He drove and I didn't have my license yet. How else was I going to go to lunch?
"We eventually started dating when I was 15 and we have been together ever since."
Angie said the key to their work relationship is a door that divides the service area from the reception desk. Also, a little humor doesn't hurt either.
"He diagnoses the cars and I look up parts and put estimates together to get authorization from our customers," she said. "It's kind of funny at times. We have customers that may not have been here before and ask to talk to my dad.
"I can't help but walk in the back and call to him, 'Dad, someone would like to talk to you in the office.' We laugh and joke about it because it is funny."
John and Jennifer Hogan
Dooley & Associates, 600 52nd St., #200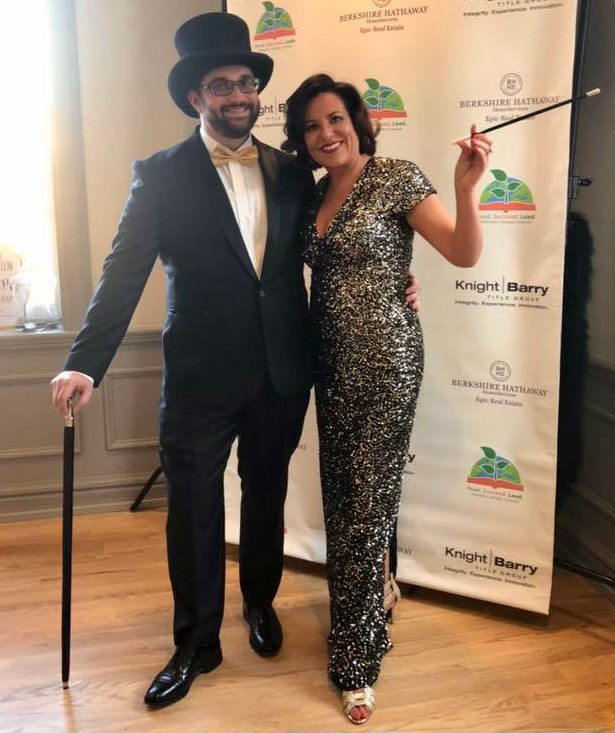 Focused on complementing each other's strengths and weaknesses and giving back to the community, John Hogan and Jennifer Dooley-Hogan are the driving force behind Kenosha's top marketing team.
"Work and marriage share many similarities: A need for compromise; the ability to recognize your own weaknesses and the strengths of your counterpart(s); and, most importantly, to take joy in the journey and cherish the successes you have together," said John Hogan, Director of Digital Media at Dooley & Associates.
"I'm not sure it is for everyone, but I can tell you that my life is made all the more rewarding having my wife as my closest colleague."
The couple has co-sponsored the Kenosha Literacy Council Spelling Bee for the past six years.
"I'd say giving back is something we're very committed to together," Dooley-Hogan said. "We want to leave our corner of the world better than we found it for our employees to the community we call home."
The Dooley & Associates crew is actively involved with numerous local organizations including Kenosha Area Business Alliance, Downtown Kenosha Inc., Kenosha Area Chamber of Commerce, Boys & Girls Club of Kenosha, God's Kitchen, Kenosha Literacy Council, St. Joseph Catholic Academy and many special events.
Steve and Stephanie Domin
Carthage College, 2001 Alford Park Dr.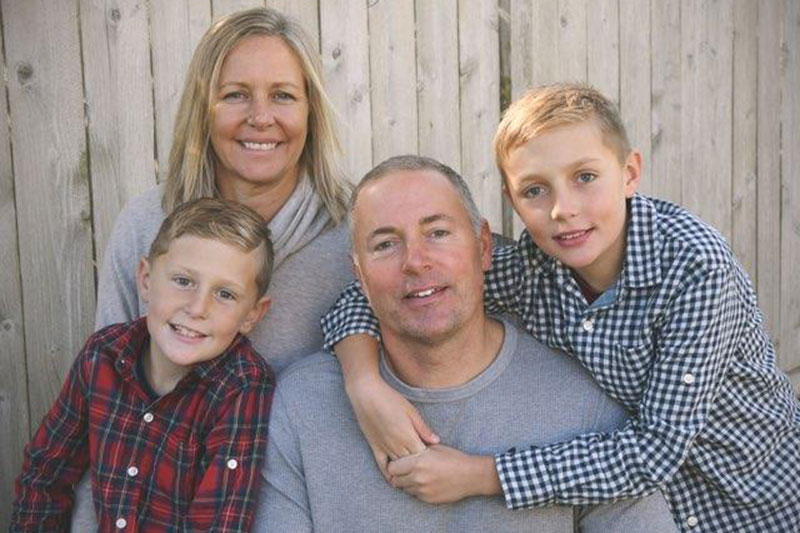 As two former collegiate athletes, Carthage College coaches Steve and Stephanie Domin channel their inner-competitiveness into teamwork both on and off the field.
Steve Domin has worked at Carthage for over 30 years — serving in a variety of roles including residence life, athletics and teaching — and is currently the school's Director of Soccer Operations.
"It is really nice coordinating logistics of a home and personal life," said Steve Domin, the school's longtime men's soccer coach and former Carthage baseball standout.
"I often take for granted, we will be in the same spaces for things that could pop up for any family during the day. Can you get the boys? Will you drop this off for me? Could you do this or that? She's a list maker."
Stephanie Domin, a former standout distance runner at the University of Rhode Island, is in her 21st year as Carthage's head women's cross country coach and 18th year as the head women's track and field coach.
"She is really good at her job, and very few people know that or get to see that on the outside," Steve Domin said. "Steph is very, very successful and humble. In an industry where folks are out for themselves, it's inspiring to watch her work."
Michael and Jeanette Kelly
Captain Mike's, 5118 Sixth Ave.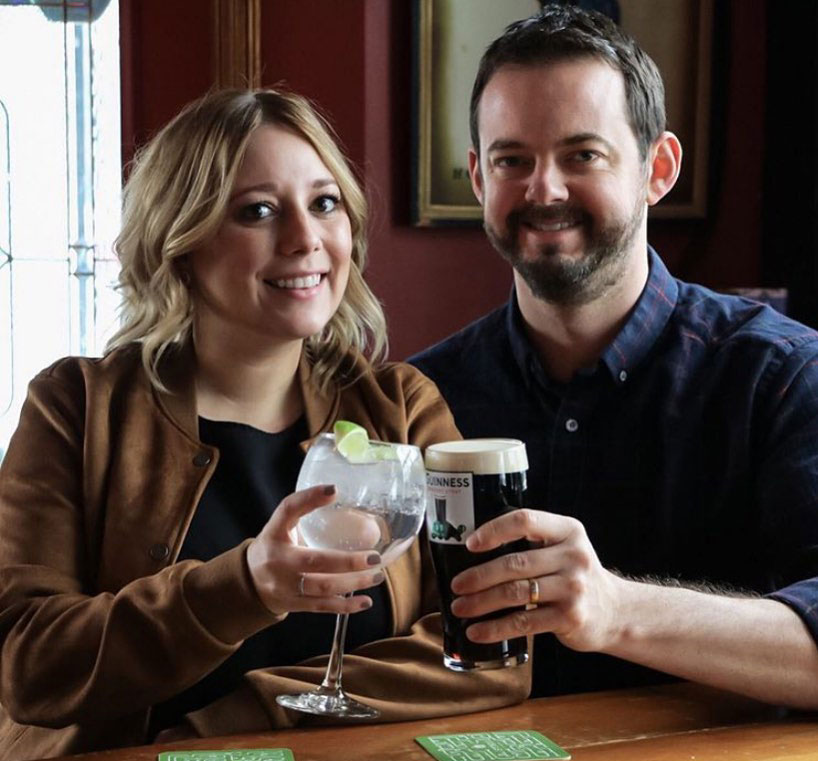 Michael Kelly has a simple philosophy for running a smooth, successful operation — along with his wife Jeanette — at one of Kenosha's favorite burger bars.
"So long as I don't get in her way, things tend to run pretty smoothly," Michael said. "She's definitely the brains behind the front of the house while I do bookwork, so it's a great balance."
The couple took ownership of the longtime Kenosha establishment in July 2019, just eight months before COVID-19 stifled small businesses everywhere.
"It's definitely been a roller coaster, but we've gotten through it together," Michael said. "I remember the day that we closed on the bar, Jeanette said to me that she would never want to go into business with anyone else. I definitely feel the same way."
The couple added an exciting addition to their family last fall: A 27-foot food truck named "Galley."