Imagine being a young theater student and finding an educator committed to getting to know the roots, interests, and hopes of every young person she teaches.
Then imagine that teacher lovingly selecting theatrical productions tailored to those students.
Impressive, right?
The National Society of High School Scholars (NSHSS) Claes Nobel Educator of the Year awards committee certainly thought so.
After first selecting KUSD theater and choral teacher Kristen Singer as a finalist, NSHSS recently named her their Educator of the Year winner and recipient of the accompanying $5,000 grant.
As featured previously on Kenosha.com, Singer was initially nominated by a former student and chosen one of 10 finalists from across the country. Finalists then submitted essays, vying for the top honor.
Singer's essay stood out as a model for all educators, and was chosen as the best of the year.
"I teach students to bring music to life," Singer wrote. "We tell stories, we evoke emotions, we explore different cultures and musical styles. I choose pieces and productions that students will connect to and be excited about.
My role is to educate students about other cultures so that they learn to see the world through different eyes and can appreciate other ways of thinking. I get my ideas from who they are as people, where they come from, and then challenge them with things they might not know they were capable of."
Singer found out she was named the overall NSHSS Educator of the Year via email. It took it a while to sink in, she said.
"I didn't necessarily know when the winners were going to be selected," Singer recalled. "I even had to call the (NSHSS) office to make sure it was real. It was!"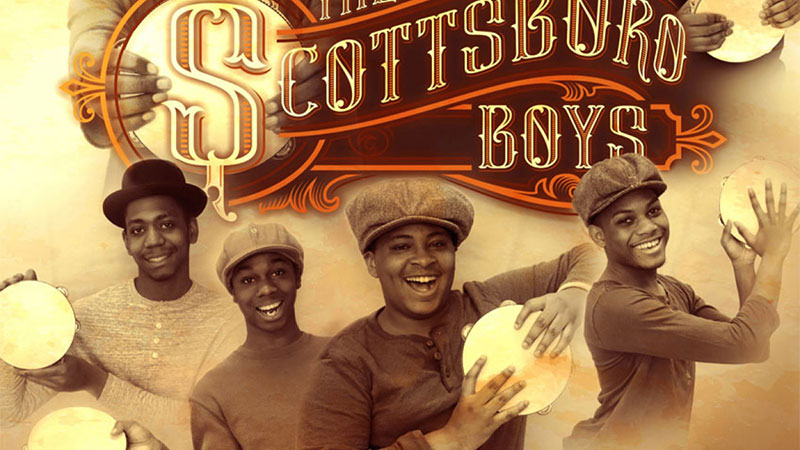 For her winning essay, Singer drew inspiration from her own experience of broadening her world through the fine arts. A decade ago, she attended the Broadway production of The Scottsboro Boys, the moving story of young Black men in Arkansas falsely accused of a heinous crime.
The unique ability of theater to express the human condition stayed with Singer. Recently she brought it to life for Kenosha students, and related that experience in her essay.
"In the summer of 2019, I had the honor and privilege of conducting the first ever high school production of The Scottsboro Boys. Almost ten years prior, in November 2010, I saw the Broadway production and left the theatre full of emotions I couldn't place and overwhelmed by the mastery of storytelling I had just witnessed.
"To work on the piece was an unexpected joy. To witness the students performing it for our community was meaningful. To watch the growth and development of the young cast, led by three professional actors, two of whom were alumni of the program, was fulfilling."
The experience of the student production was also deeply emotional for Singer.
Kenosha performers took The Scottsboro Boys on the road to a prestigious student theater showcase in Lincoln, Nebraska in summer 2019, where Singer truly felt the impact of their work.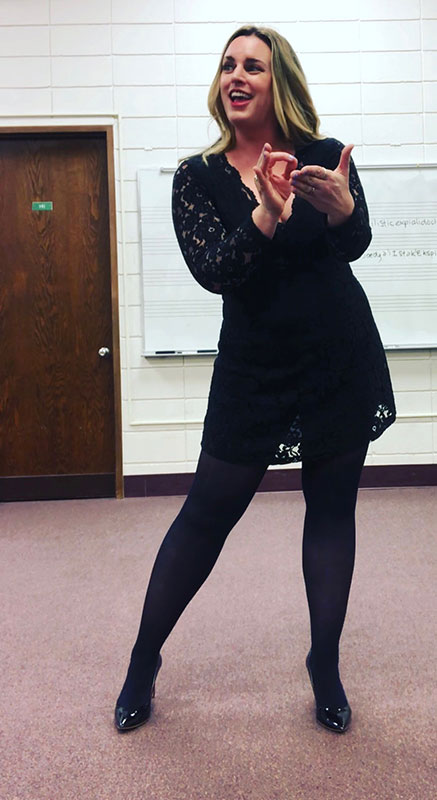 Word had spread about the production, and by showtime there was a line stretching down the sidewalk around the side of the theater.
"Looking at the long line of young people, I stood for a moment to capture my feelings before I entered the stage door," she wrote. "In two hours' time, this young audience would all leave knowing the names of those wronged young men. They would see a cast of African American high school boys from Wisconsin telling this important story."
While the big moments such as that production are well documented, the everyday routine of teaching is just as important, Singer wrote.
"In teaching there are big moments like the one I just mentioned, these are momentous occasions where there's a lot of press, a lot of accolades, a lot of attention, and a lot of hard work to get there," she wrote.
"These moments are special and meaningful for all involved, but there is just as much joy in the everyday; teaching beginning students, advanced, and all those in between while creating memories on a day to day basis in the classroom can be just as momentous. I teach students to bring music to life."
The NSHSS Claes Nobel Educator of the Year Award is presented annually to exemplary educators who have demonstrated an outstanding commitment to preparing students for success in college and in life.
The organization stated that awardees model best practices in teaching or administration inside and outside of the classroom, are peer role models, and demonstrate outstanding leadership and excellence in education.