While many local residents remained locked inside their homes — living in fear and uncertainty over rioting, social unrest and a pandemic — Kenosha natives Marie Goff and Charles Heide were perfectly at ease on the steps of old Kenosha High School.
It was time to celebrate the 80th reunion of two diehard Kenosha High School Class of 1940 graduates and reminisce about the days when "life was good."
"We have two classes, 1940 and 1941, that always get together at least once or twice a year," said Randy Vaccaro, president of the Kenosha Bradford Alumni Association. "These people, their minds are sharp as a tack. They remember everything about growing up back then and the hard times during the depression and their school days. They have such interesting stories to tell."
Goff, 98, described herself as "a lean machine" back then from riding her bicycle back and forth to school and home for lunch breaks. At that time, the school did not have a cafeteria.
"She'd ride her bike everywhere and, of course, always in a dress," said Goff's granddaughter Simone Fletcher. "She said they weren't involved in any clubs or choir because there wasn't time for that. There was always plenty to do."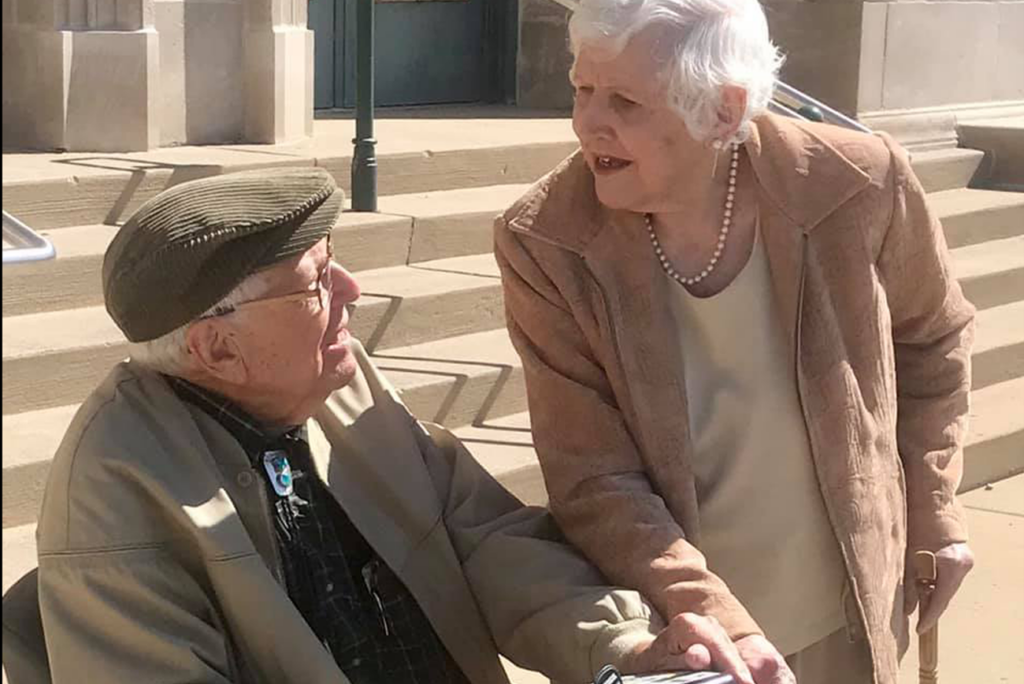 Heide, 97, also pedaled off as soon as the school bell rang. He lived in Somers and had to catch a ride home with his father, a factory worker who was employed at nearby Nash Motors.
Fletcher said the reunion was a special moment for the former classmates and lifelong Kenoshans. Goff lost her husband, Allan Goff, of 74 years on Aug. 29 and hasn't been out of her home since then.
Blessed with a wonderful personality and charming sense of humor, Goff told Heide they "better hurry up" if they want to celebrate their 80th reunion.
On Sept. 19, it finally happened.
"My grandma is able to walk for a very limited amount of time," Fletcher said. "Ultimately, it's a big day out for her. She lives alone in a senior apartment and my grandfather took care of her. She was very excited getting out of the house and having something to look forward to."
There are five remaining members of Kenosha High School's Class of 1940, according to Vaccaro. Members unable to attend the reunion were Emil Tenuta, Nell Bosman and Betty Speaker.
Lucelia Roberts-Pollock, 103, was the oldest member of the Kenosha Bradford High School Alumni Association before passing away on Sept. 13. She was a graduate of the Class of 1935.
Henrietta Postman Peterson, 102, graduated from Kenosha High School in 1935. Peterson resides in Arvada, Colorado.
"The stories they have are fascinating," said Vaccaro, a Class of 1973 graduate. "A woman who graduated in 1941 lived on a dairy farm out by Bristol Oaks. The only way she could get to school was to ride with her dad when he'd have milk to deliver into town. Then she'd have to find her own way home."
For more information on the alumni association, visit www.kenoshabradfordalumni.com.