Erin Ginn has reached a lofty position as Senior Director of Admissions at Herzing University, working out of the institution's downtown Kenosha campus and overseeing admissions at all three of its Wisconsin campuses, Kenosha, Madison and Brookfield.
It's a position that Ginn, a Kenosha native and St. Joseph Catholic Academy graduate, has held since 2019 after beginning her career with Herzing in 2017 as Associate Director of Admissions.
But to this day, Ginn still can't resist a good-natured ribbing of her boss, Dr. Jeff Hill. Because apparently, Ginn was once Hill's second option.
As Ginn relates the story, after she first applied for the Associate Director of Admissions position at Herzing from an outside organization, Hill – then President of Herzing's Kenosha campus and now Regional President of Herzing's Wisconsin campuses – decided to go with an internal candidate instead.
Looking back, Ginn recalls that initial decision with good humor.
"I'm actually a 'B-team' hire," she said with a laugh during an interview last week at her office on Herzing's downtown Kenosha campus, at 5800 Seventh Ave.
"That's what I always tell Jeff: 'You picked the internal candidate over me.'"
Fortunately for Ginn – and for Hill and Herzing – that first choice didn't work out. It wasn't long before Ginn was indeed working at Herzing.
"Two months later, (Hill) was like, 'Hey, what are you doing? Are you still interested in this position?'" Ginn recalled. "And I was like, 'Isn't that the one I interviewed for that I didn't get?' And he's like, 'Uh, yeah.'"
Proving that things have a way of working out for the best, even if it takes a hiccup or two to get there, Ginn has obviously been the right choice for Herzing.
Today, Ginn oversees all admissions functions at Herzing's Wisconsin campuses and is also involved in an impressive array of other community organizations in Kenosha. Ginn sits on the Board of Directors for the Kenosha Community Health Center/Pilar Health and Shalom Center, is involved with Habitat for Humanity and Sleep in Heavenly Peace and sits on the committee that plans events in downtown Kenosha.
For all her hard work at Herzing and for her many contributions throughout the community, Erin Ginn has been named this week's Kenosha.com Kenoshan of the Week.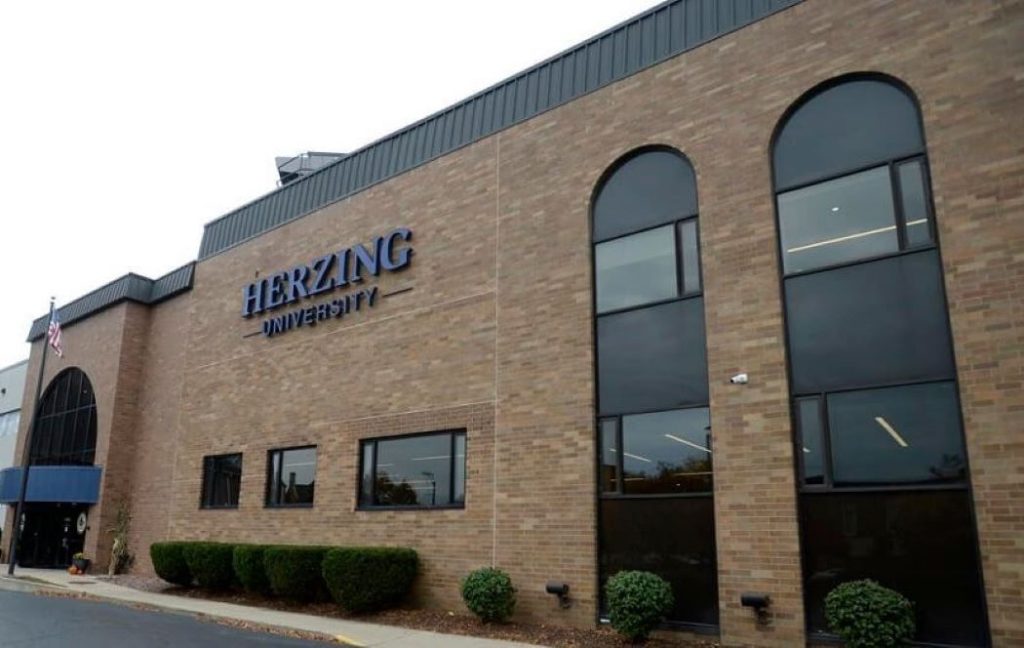 'Non-traditional' population
Herzing is not like a traditional college or university, which typically targets students coming straight out of high school. Herzing's students are more commonly adult learners, people who may have decided to pursue higher education at a later age or who are seeking a career change.
"We're a career-oriented school," Ginn said. "We actually cater to what higher-ed refers to as a 'non-traditional population.'
"Do we have students coming to us straight out of high school? Definitely. But our main population is that adult learner."
And one reason Ginn is well-suited to oversee admissions for such students is because she was once in that very same situation herself.
Growing up in Kenosha, Ginn – whose maiden name is Arneson – attended St. Peter's Elementary through sixth grade and then St. Joseph from seventh through 12th grade, graduating in 2000.
Immediately, her father, Bill, and her grandfather, Jim, had young Erin swinging golf clubs. Or, when it was cold outside, tossing bowling balls.
"Five years old is the minimum age you had to be to take golf lessons at Kenosha Country Club. And I was in them," Ginn recalled. "I don't recall a time I didn't golf or kind of live on the golf course.
"In the winter, I remember Saturdays, I was in Sheridan Lanes, because my dad was a bowler. I was either on a golf course or in a bowling alley."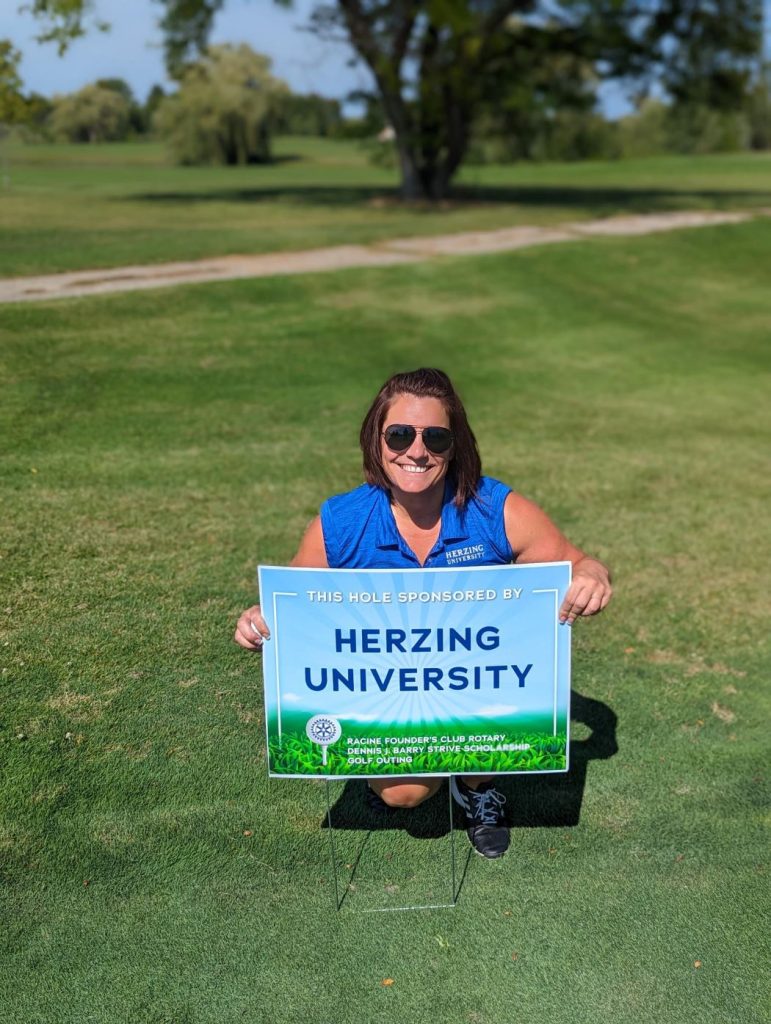 Ginn competed on the boys golf team at St. Joseph, since the Lancers don't have a girls team, and was good enough to be recruited to play golf in college. She decided on Carthage College, but attending a diversity course inspired Ginn to change her major, so she transferred to UW-Parkside and received her bachelor's degree in criminal justice.
Ginn said she knew she didn't want to go into law enforcement after graduation, but she was able to apply her degree in a different manner.
"I did my internship with Probation and Parole in Kenosha," Ginn said. "I did it with high-risk adult sex offenders, which is incredibly interesting. Never a boring day. Very amazing to see that side of things and to be able to use my education toward that."
This led Ginn into the foster care system, where she worked as a case manager in Lake County, Ill., helping parents to get reunited with their children or helping to complete adoptions. She moved into the recruitment and licensing of foster homes, but that program was discontinued due to downsizing.
"I remember, oh my gosh, 25, 27 years old, being like, 'What am I doing now?'" Ginn recalls.
She landed on her feet with a position at Robert Morris University in Chicago, working as a part-time high school recruiter in the Lake County area. That quickly transitioned into a full-time position at RMU as an athletic recruiter.
"I worked with all of the athletes that came into our programming and worked with the coaches to get them accepted, and then also worked through their NAIA (National Association of Intercollegiate Athletics) certifications to get them eligible for athletics," Ginn says of that role.
She then became a director for RMU's campus in Waukegan, Ill. However, Ginn said job stability wasn't always solid at RMU, which in 2020 was acquired by Roosevelt University.
Ginn avoided layoffs, but she was prompted to seek employment elsewhere, which is how she ended up being hired by Hill to work at Herzing.
Education for a busy life
While she was working in foster care, in order to advance in the profession, Ginn acquired her master's degree in psychology, with a concentration in organizational leadership.
This gave Ginn first-hand experience with the challenge of trying to attain higher education while simultaneously handling a busy "adult life," a challenge Herzing students typically face.
Ginn completed her master's degree online. Her oldest child was one at the time, and she and her husband, Matt, soon had another on the way.
"When I enrolled to get my Master's, I found out I was pregnant with my second child," Ginn said.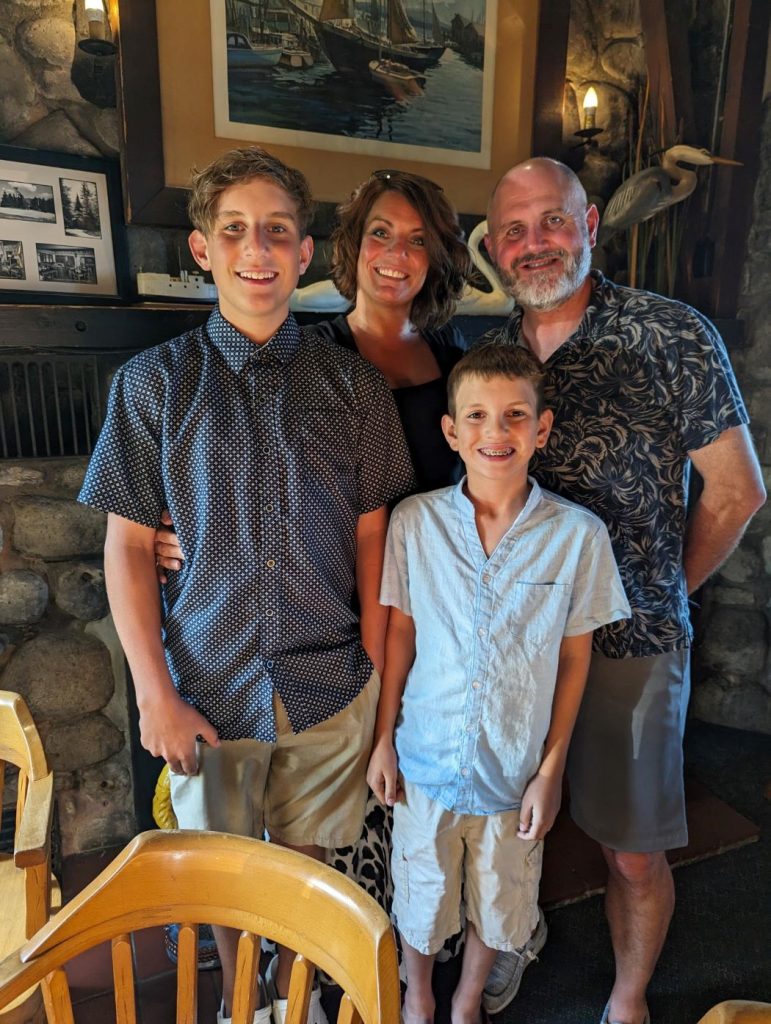 "… My school at the time didn't believe childbirth was a reason you needed to be removed from courses or to take a break. I remember vividly doing homework in the hospital after giving birth to my second child because I had assignments due."
So Ginn knows exactly what current and prospective Herzing students might be dealing with.
"I'm like, 'Look, I get it,'" she said. "Two young kids, trying to finish up my master's degree, having a bunch of 'mom guilt,' like, 'Oh my gosh, what if they remember this? What if I'm not spending enough time with them? What if, what if, what if?'"
Ginn shares these feelings and experiences in her current role at Herzing every day now.
"I think it's really important that we always remember that piece, that we are working with people every day, and our students have a life," she said. "Some of them have kids, some of them are spouses, most of them work full-time.
"… 'Where does this fit in my life?' Our interview process is very different. Sixty percent of it's just getting to know the student and where they're at, and where they want to go, and what's going on, and who their support is. We're very hands-on, because we have an adult learner. … We're here to help. We're here to hold hands if we need to, but really support our students and meet them where they're at."
When asked what she likes most about working with "non-traditional" students, Ginn had a quick answer.
"Everything," she said. "… I absolutely love what I do. Because I believe that what we do actually has a measurable impact, in that we get to help change peoples' lives every day. Through that, we help the community, we help the workforce.
"… I tell my team all the time, like, it's really easy to get lost in numbers in admissions. There's a lot of measurables, and there's a lot of metrics. But we start talking about impact, like, 'What's our impact going to be?' When they're here for their (employment) anniversaries, I send out (a note): 'Do you know that so far you've impacted 322 lives since you started working at Herzing? You've helped change 322 peoples' lives since you've been here.'"
In August 2020, Herzing moved into its current Kenosha campus in the downtown building that formerly housed Kenosha News. Students attend that campus, which houses all of Herzing's on-site nursing programs, as well as some of its IT, business and criminal justice courses.
But given the busy lives of its student body, Herzing obviously must utilize a flexible curriculum that fits into their schedules.
"We know who we service," Ginn said. "… We can't be a five-day-a-week program. They just can't be here five days a week. So our full-time nursing students are here one to two days a week. … We've been doing online (classes) since before it was cool.
"… We try to build stackable degrees. So if people want to take little steps and get those measurables to take that next step in their career, they can do that faster. They can work from a diploma through an Associate's to a Bachelor's to a Master's, if they really want to go that far."
Ginn also helps to organize Herzing's annual BASH (Building a Stronger Herzing) Gala, which in 2024 will be held on April 12 at The Stella Hotel & Ballroom.
Baseball and community
Ginn still very much leads a busy life today. Her and Matt's two sons, William (14) and Weston (12), are big into baseball. Conveniently, they play for the Kenosha Captains, who practice right across the street from Herzing at Lakefront Dugout.
"I'm either at baseball practice, on a baseball diamond or doing something for Herzing," Ginn said with a laugh.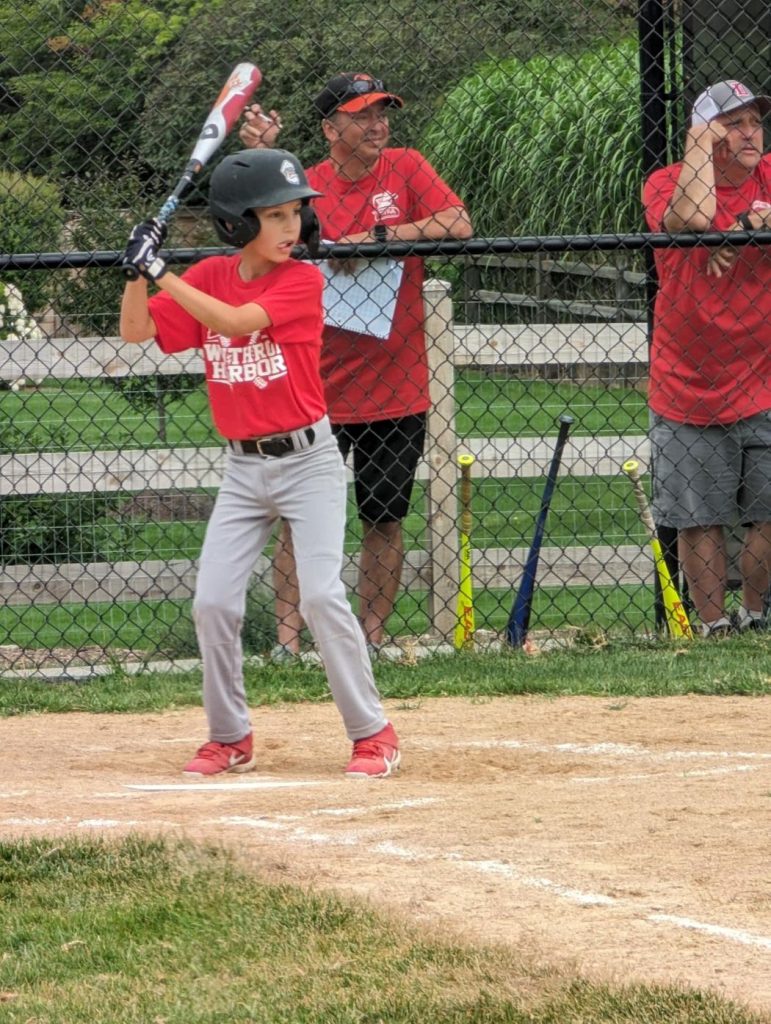 She's also gotten involved with many other community organizations, which is something Ginn says she loves about how Kenosha operates.
"I think that's probably one of the glorious things about Kenosha," she said. "If you meet people around, no one is like, 'Well, these are my contacts, and you can't have them.' I feel like we are a really amazing community, where if I have something that can help you – if I have a strength, or if I have a resource, or whatever it is – if I know you need it, we share it.
"I know dozens and dozens of people that we work with regularly in the community that operate the exact same way. And it's amazing. Because it's not like that in other communities. Having to work in three different areas in the state, Kenosha spoils you."
As an example, Ginn cites her relationship with Tamarra Coleman, Executive Director of Shalom Center and also recently named a Kenosha.com Kenoshan of the Week. Ginn says she got to know Coleman through Leadership Kenosha, a professional development program facilitated by the Kenosha Area Chamber of Commerce.
"Through that experience, she asked me to sit on her board (for Shalom Center) and help with fundraising," Ginn said. "That's been absolutely amazing. If I didn't have children and a family, Shalom Center would probably get all of my time."
Kenosha's ability to share community people and resources, Ginn says, also extends to the higher education sector. With Herzing, Carthage, Parkside and Gateway Technical College, the county has no shortage of higher education options.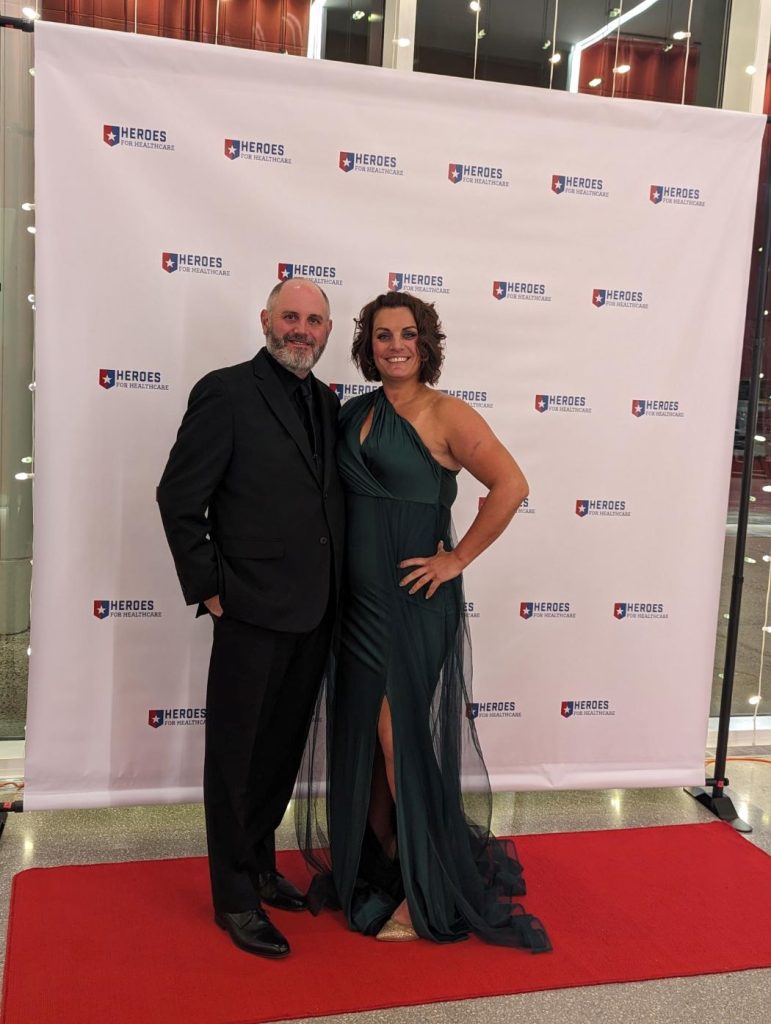 But Ginn says "there's no bad blood between us." They work together to make sure students get the best education possible, no matter their age or their stage in life.
"We may not always be the best fit for everybody," Ginn said. "We do a lot of building relationships with each other, so that we have some knowledge to be like, 'Look, it might be better if you went to Gateway and did some of these courses first, and then we'll see you in a year-and-a-half.' Or, 'Hey, we don't offer that, but Parkside does.' Or we talk to the dean of nursing over at Carthage, because we're probably experiencing the same struggles.
"… That's also very strange in a community. Usually it's like, 'I want that student,' and you're competing for these students. That's just not how it is here. I value that more than anything, that we are able to connect and share resources and just be that resource for everybody."