If you need an easy way to gauge whether someone has lived in Kenosha for a few years, you might ask them the following question:
Have you ever attended an event at the Italian American Club?
If the answer is yes, then they've probably been around Kenosha for a little bit. If the answer is no, well, then you may want to show them around, because they're probably new.
Anecdotes aside, the Italian American Club is one of those places that's literally an institution in the town it resides. In the case of Kenosha – whether you're actually Italian or not – just about everybody can recall attending a wedding, an anniversary party, a funeral, a banquet or some other memorable event at the Italian American, or just stopping by for dinner and cocktails at the recognizable old building on the corner of 52nd St. and 22nd Ave.
After all, when something's been around for 100 years, it must be a popular place.
That's the milestone the Italian American Club has celebrated throughout 2023, with a big anniversary party scheduled for Sunday, Nov. 12. The Italian American Society of Kenosha was officially established on Nov. 14, 1923, and it's still going strong a century later.
The 100th anniversary celebration on Nov. 12 will run from 11 a.m to 3 p.m. at the Italian American Club, 2217 52nd St. Tickets can be purchased at the door and are $10 for Italian American members and $15 for non-members.
To celebrate the club's 100th anniversary, the Italian American is asking for people to submit photos and memories from the club's history, which will be displayed during the event. These can be sent to current Italian American President Ben Gentile at IA100years@gmail.com.
The 100th anniversary celebration will run in conjunction with the Italian American's traditional mostaccioli fundraiser.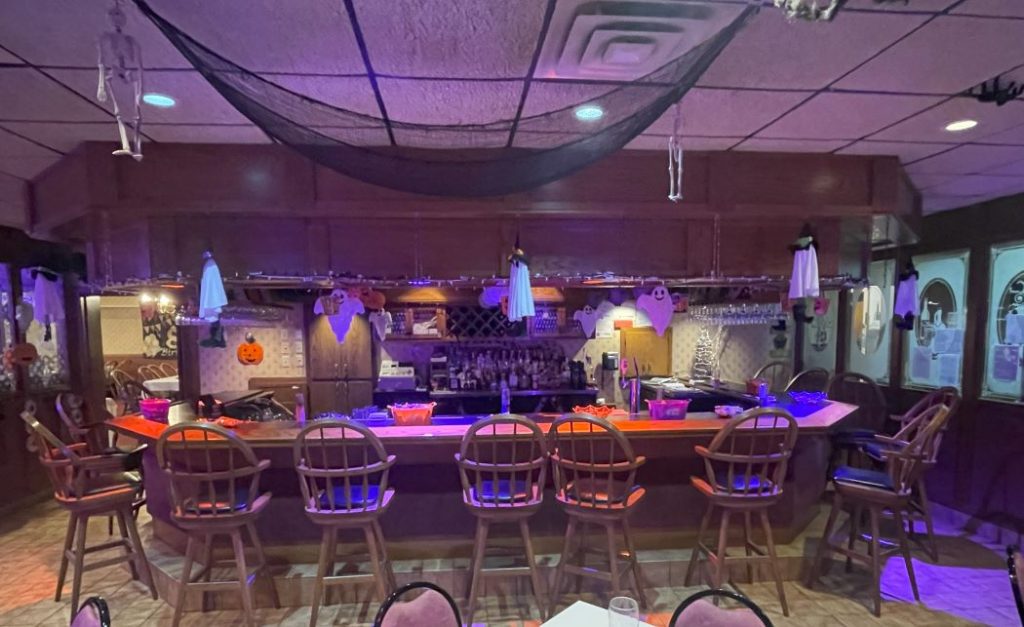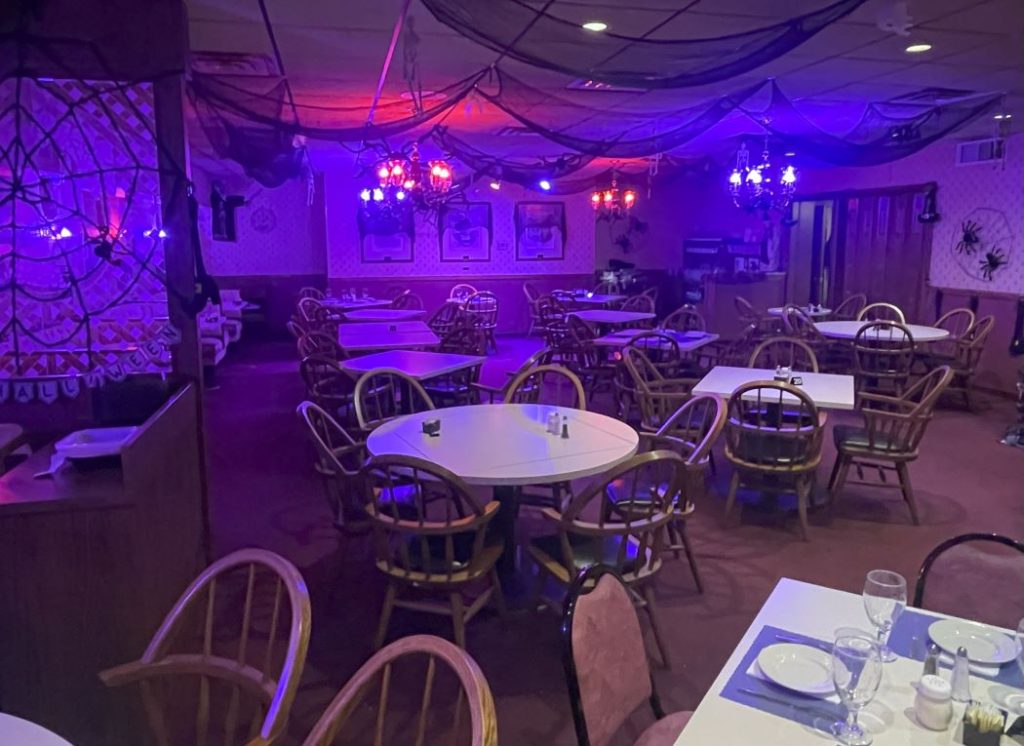 "We want people to be submitting and sending in photographs of their families, their parents, their grandparents, their aunts and uncles," Gentile said in a recent interview at the club. "Any of the parties, any of the anniversary parties and any of the weddings, that have been held here – baptisms, things like that – we're going to put them on poster boards and then put them around the hall or on easels, or have them stand up so we can share it … and see all the history."
For sure, that's a lot of history. And while the Italian American has obviously been a community cornerstone for multiple generations of Kenosha's proud and prominent Italian community, it's also been a place where thousands of Kenoshans from all lineages and backgrounds have gathered to celebrate special events for 100 years.
"What really touches the public and what really touches the people are their families' memories here," Gentile said.
"… We're not only celebrating the membership, but we're celebrating the memories that we've brought to this community. … There's always somebody that's going to have something here, whether it's a school event, whether it's somebody's wedding – unfortunately, if it's their funeral – bridal showers, baby showers. We're with the community from the cradle to the grave."
Club history
At the turn of the 20th century, America was being inundated with a huge influx of European immigrants. That, of course, included Italians, many of which would come to settle in Kenosha.
According to the Italian American website, the newly arrived Italian contingent in Kenosha quickly organized into mutual aid groups. The G. Garibaldi Society was founded in 1903, followed by the S. Francesco Society in 1907, the S. Michele Society in 1910 and the Maria SS Della Schiava in 1911.
Eventually, as such groups grew in number, consideration was given to combining them all into one large society. Thus, members from each group met for discussions, laying the foundation for the Italian American Society of Kenosha.
On Nov. 14, 1923, Leonardo Montemurro, Raffaele Molinaro and Gastano Garrupa put their signatures on the Articles of Organization for the Italian American Society of Kenosha. Montemurro became the organization's first president, serving in that role until 1927.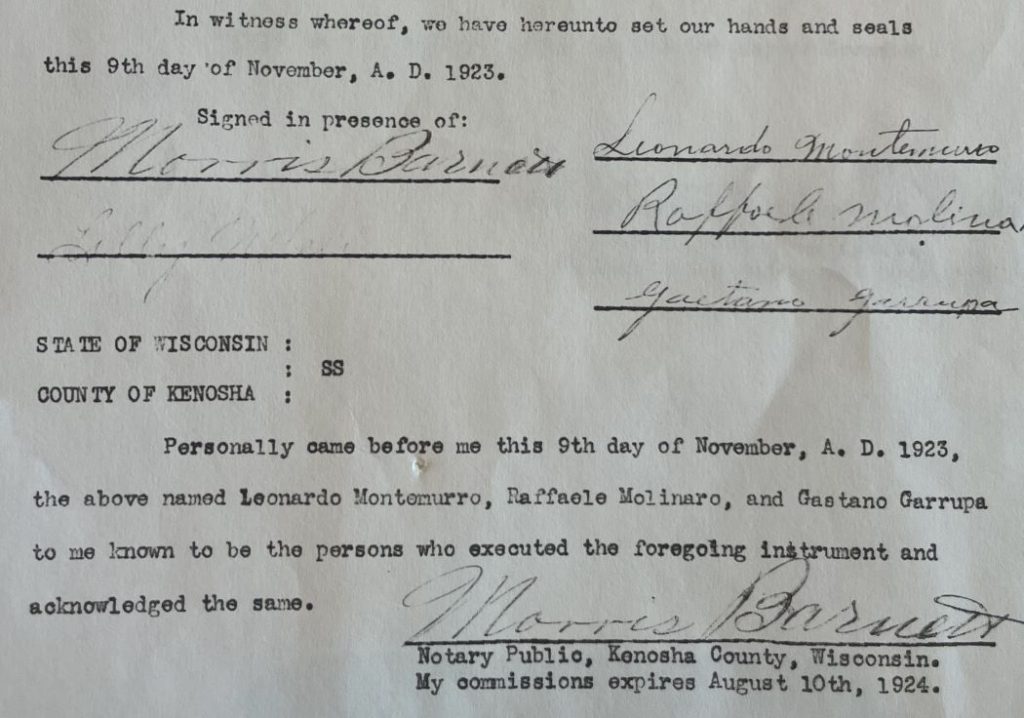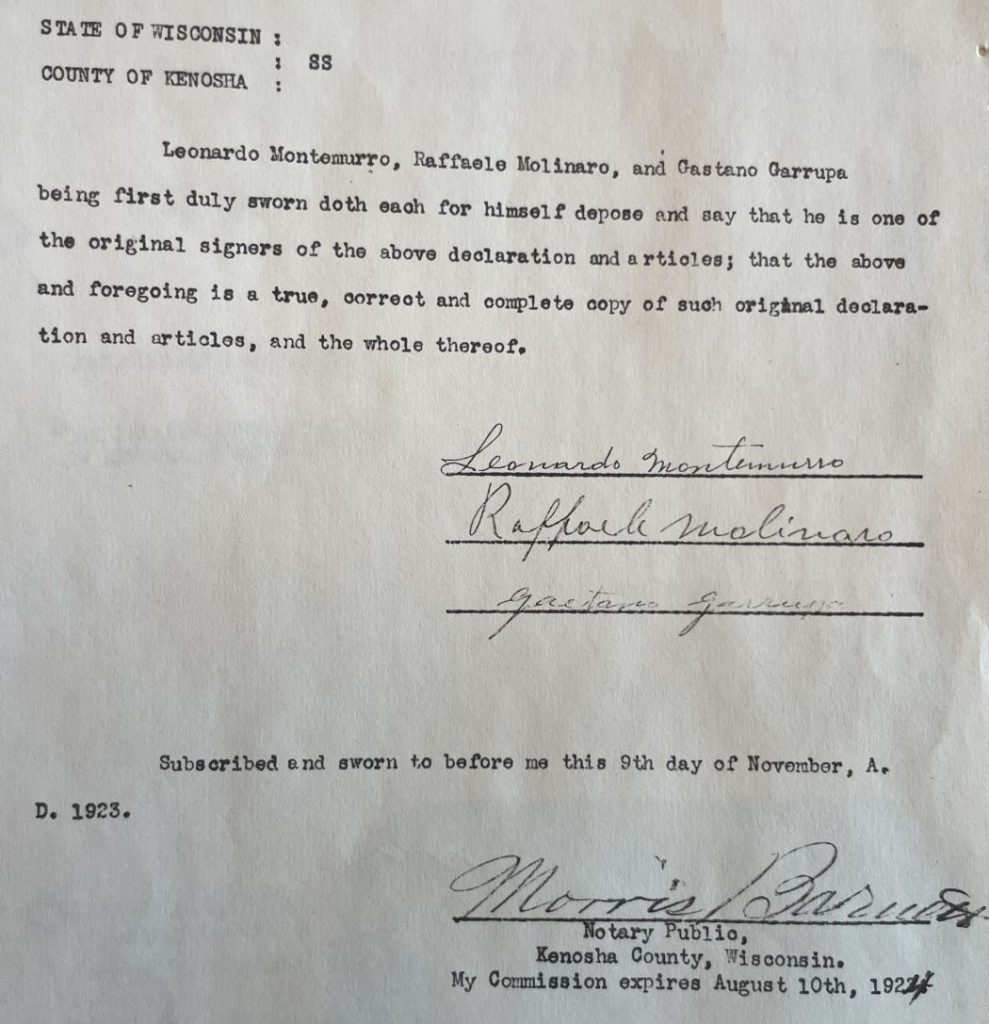 "We had a leader, he was really born way ahead of his time," said Steve Torcaso, Italian American President for 32 years from 1988 to 2020, of Montemurro.
Now, 100 years later, Kenosha's Italian American population is well-established in town. Most are just native Kenoshans. But in the 1920s, Italian immigrants often needed assistance to get their lives going in a new country.
That's what the Italian American could provide. The cornerstone for the building that's still home to the Italian American today was laid down in November of 1926. So the clubhouse became a huge hub of activity and assistance for Italian Americans new to the country at that time.
"A lot of the Italian community lived in this neighborhood, and this – when this clubhouse was done – was their safe haven," Torcaso said. "This is where they came and got assistance. Some of them couldn't speak English. They would need help with papers. We could get a translator for them. They'd connect into the consulate in Chicago.
"So it was really a mutual aid society. They had sick benefits, they had benefits for someone who couldn't work, funeral benefits. And what sounds like peanuts today was an enormous amount of money back then."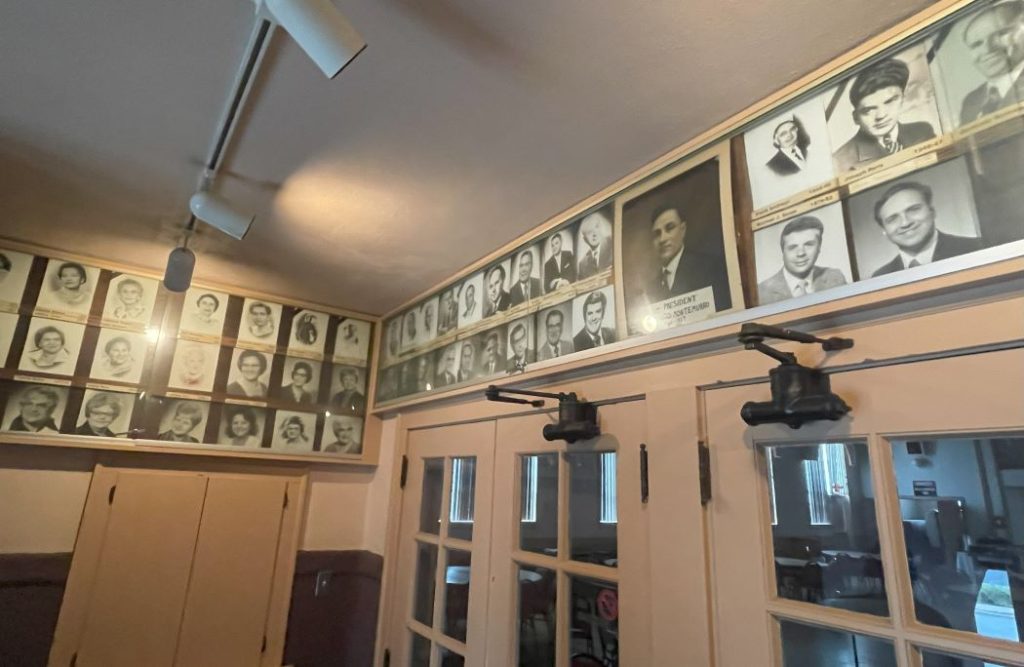 In the early days, the club was literally built by its own members, who often provided their services for free.
"When the place was built, we had to put a water line in," noted Mike Serpe, who served as Italian American President from 1976-80 and again from 1984-88. "The water line went from 23rd Ave. to the back of the building in the alley.
"This man, by himself, every day came over to the club and hand-dug an 8-foot trench from the back of the club to 23rd Ave. so we could have that lead pipe come into the club."
As the Italian American population continued to swell in Kenosha, so did club membership. Torcaso and Serpe noted that Italian American membership once grew to 700 or 800 at one point, and many of those members became business leaders and fixtures in the Kenosha community.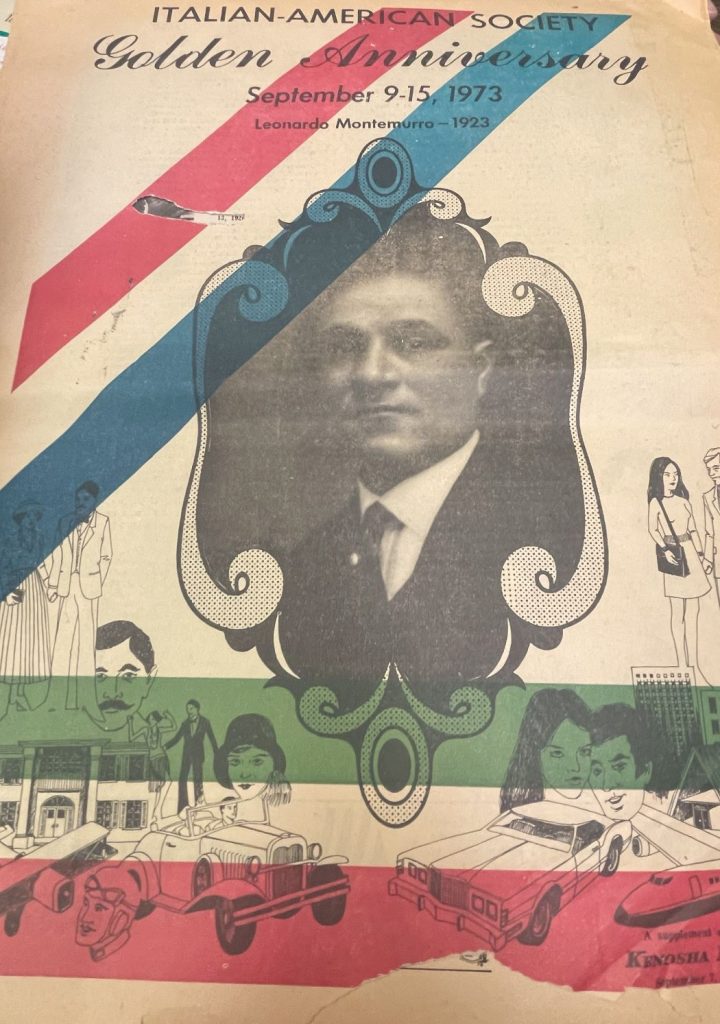 However, despite the growth and success of the Italian American community, ugly stereotypes still existed for years. Notably, the club received unwarranted associations with the Mafia, no doubt because people thought what they saw in too many mob movies was actually real life.
That stereotype didn't sit well with Serpe, among others. He, for one, always wanted to make sure the Italian American was noticed for having a positive impact on the community. The club has always been proud of doing whatever it can to help its neighbors.
"When I became president (in 1976), the Italians for years were looked upon as something not to be trusted," Serpe recalled. "That kind of troubled me my whole life, because I experienced that in high school, I experienced that in certain places that I went into in the city. I figured, 'You know what? I think we're a proud nationality. We'd like to show that to the public.' 
"We did things that made a positive effect on the community. We had events, we had special fundraisers for people in need, we had fundraisers for organizations in the club. And we kind of elevated our presence in the community, I think to the point of respect. That's what we wanted."
Generations after Italians began arriving in Kenosha and long since they've been successful here in many endeavors, it's hard to believe in 2023 that Italian Americans were discriminated against a century ago.
But they were, and they still remember. That's why the Italian American is cognizant of helping any groups that may be struggling to assimilate here as Italian Americans once did.
"We don't discriminate against anyone," Torcaso says proudly. "We were discriminated against, but we don't discriminate."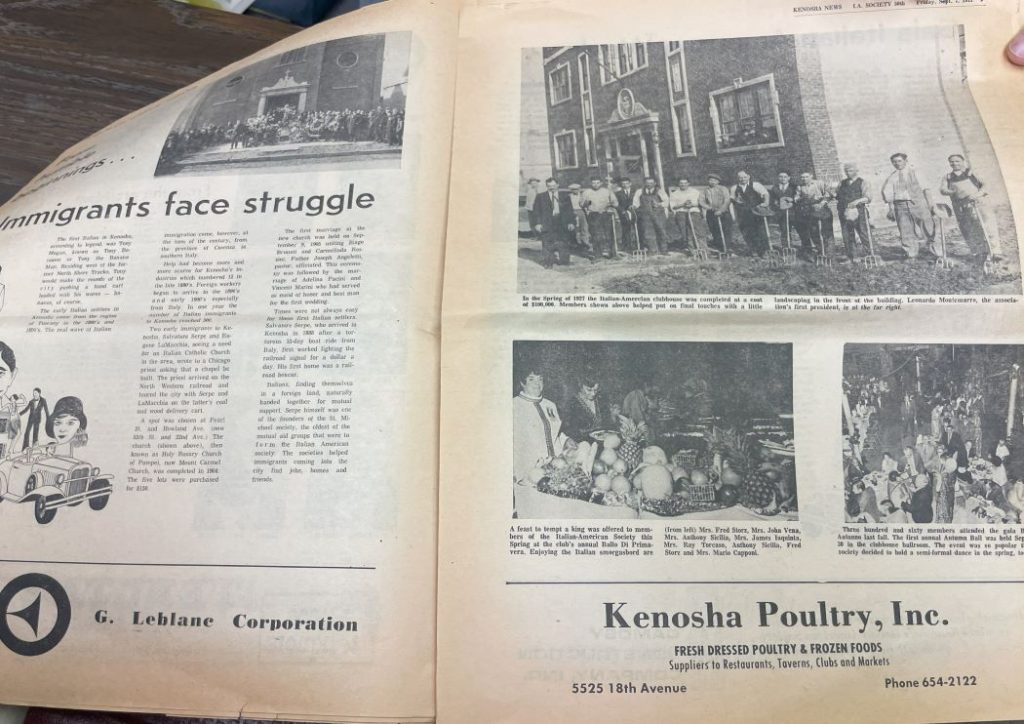 Changes in membership
Now, one Italian stereotype you can bank on being accurate is that meetings at the Italian American have often been characterized by – well, let's call it passion and emotion.
"Some of our membership meetings that we would have were not always calm and collected," Serpe said with a laugh.
"… We always had a marshal who was supposed to keep peace during the meeting. Well, sometimes this marshal would get on the side of the disturbing members, to the point where we had to eliminate that position."
At first, membership rules to join the Italian American were very strict. To become a member, Torcaso noted, you not only had to be Italian, but you also had to have an Italian last name.
"In other words, if your father was German and your mother was Italian, their son couldn't join the club," Torcaso said.
As it evolved, of course, the Italian American needed to relax its membership rules in order to keep growing, because as any immigrant group spreads into its new society and spawns more generations, the ethnic blood will naturally become mixed.
As you may expect, changes to membership rules have met strong resistance from more old-school Italian American members. This was the source of a big battle among the Board of Directors when Serpe became president in 1976.
"When a vote came to allow a new member in, it only took one black-ball to keep that person (out)," he recalled. "I'm not going to mention any names, but we had one that applied for membership, and he was black-balled by one member. And that one member that black-balled him was his friend.
"But (the membership applicant) didn't have an Italian last name, even though he was half Italian. Well, they came around a second time. He reapplied, and he was passed. Well, this member went up to the one that black-balled him and said a few nice words to him, and that was over."
The rules were changed to allow anyone with Italian heritage to join, regardless of last name. And there were more membership battles to ensue.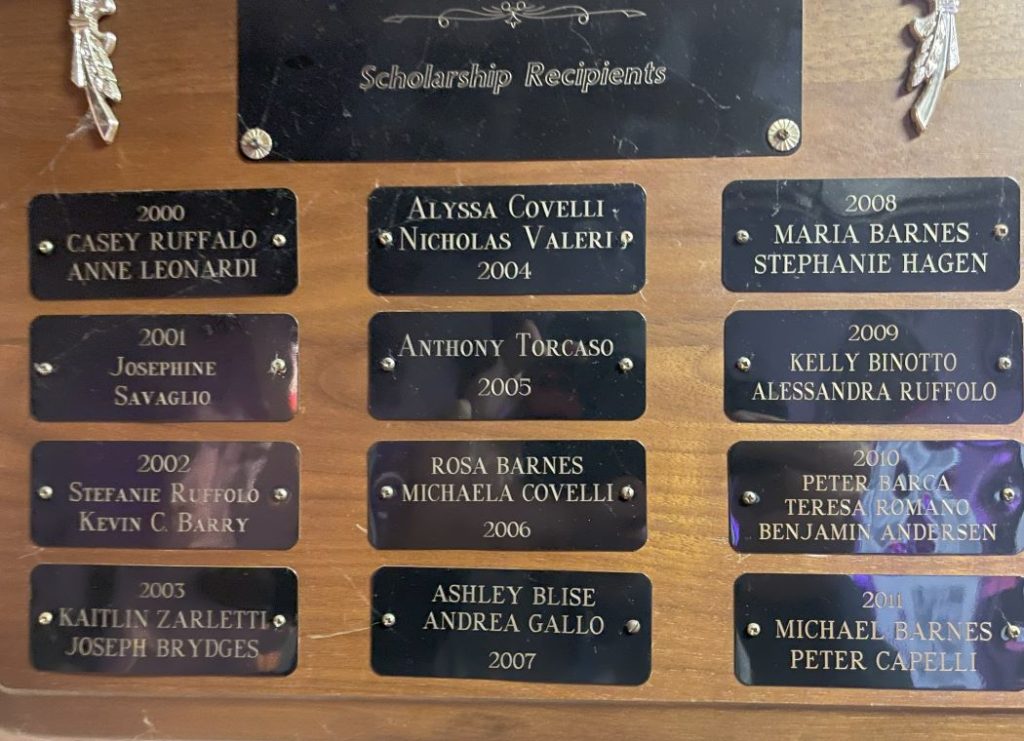 "That was a big battle when Mike was president," Torcaso said. "Then the next battle I had was (when) we finally opened it up to people married to an Italian. So your son could join, and now you could join, even though you didn't have Italian in you.
"But some day, I think it's going to have to be further opened up, in the interest of the Italian culture. But that's someone else's battle."
Into the future
In many regards, Gentile is an ideal person to lead the Italian American into its next 100 years.
Gentile became president in 2022, succeeding Joe Torcaso, Steve's son, who followed his father as president in 2020 and served until 2022.
(Side note: Steve and Joe Torcaso were the second father-son combo to serve as presidents of the Italian American. The first was the Serpes. Mike's father, Anthony, served as president in the mid-1940s).
Born in Kenosha, Gentile has Italian heritage, but he actually didn't grow up participating in the Italian American. He didn't become a member until 2005.
Even though the sign outside the building says "Open to the Public," Gentile didn't realize growing up what that actually meant. Like perhaps many Kenoshans who don't have Italian heritage or whose parents weren't Italian American members, Gentile wasn't sure he could even go into the club.
So he wants to make sure that perception doesn't persist.
"Our family was not that involved in the club," Gentile said. "My grandfather was and some of his sons were, but I wasn't really aware that you could be open to the public. It's on our sign, but what does that really mean? You could just come here off the street and have a meal. But I think the misconception is, you have to be a member to enjoy the food, or to come in, or to book a party. And that's not the case.
"… We are a full-service restaurant and banquet hall. We're open four or five days a week, private parties, open to the public. Anyone can come, book a party, come into the restaurant. We have everything from your traditional Italian wedding or funeral to quinceaneras and other parties and events – wedding anniversaries, corporate events, things like that. The restaurant is open for business."
Today, Gentile says the Italian American's membership is about 200. Yes, that's down from its peak, but at a time when Kenosha's once-vibrant community of ethnic organizations is a thing of bygone days, the Italian American is still going strong into another century.
In some ways, it's even gaining a new popularity among a generation that's far removed from the days of Italian immigrants first arriving in Kenosha.
"We've kind of had a resurgence of young people joining our club and taking an interest in the heritage, young guys like Ben, my son Joe," Steve Torcaso said. "One of the biggest draws is the bocce courts outside.
"We have three nights of men's bocce out there. There's more people that want to play bocce than what they can accommodate. And there's one night of ladies' bocce."
To spread the popularity of bocce, the Italian American held a Bocce Night this year for kids ages 4-15, teaching the game and serving pizza. That's one of several special events the club has held throughout 2023 to mark its 100th anniversary.
"I don't know the reason that other ethnic organizations fell to the wayside, but we're still doing well," Serpe said. "And I think it's because we expanded the membership base."
Reaching 100 years is an even more remarkable milestone for an organization like the Italian American in the wake of the COVID-19 pandemic. Like many organizations, the Italian American wasn't sure if it could survive the lockdowns. Not only was the restaurant closed, but all sorts of banquets and events had to be canceled and refunded.
The idea of making it to 100 years helped keep the club going during those tough days.
"Making sure that we got to 100 years was a big priority during the COVID shutdowns," Gentile said. "Doing whatever it would take to make sure that we got over that hump. We were so close. We had some pretty shrewd leadership. We had a lot of volunteer hours. Employees were working for free or working for tips to stay open.
"Members came in, myself included, and just worked on those weekends to try and turn as many orders outside as we could when you couldn't eat inside, all the to-gos and everything we could do at that point."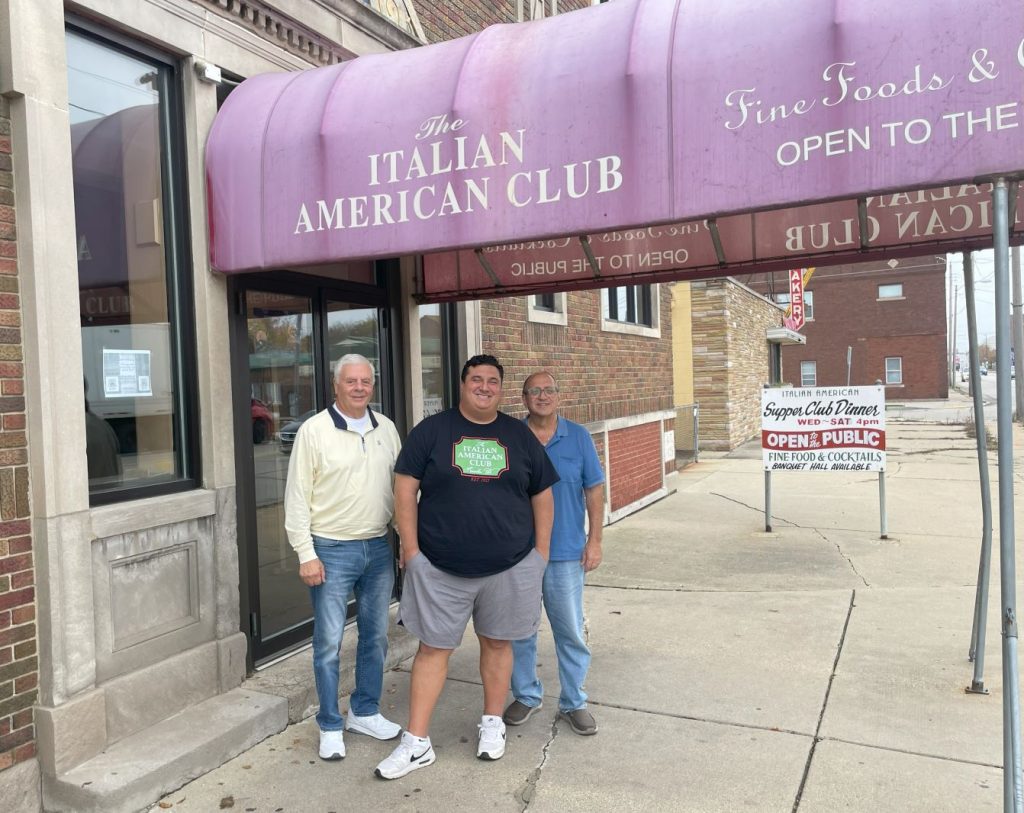 Like it has conquered other challenges, the Italian American survived that one to celebrate its 100th anniversary.
A century on, as it celebrates that 100-year milestone on Nov. 12, perhaps the most significant meaning of the Italian American is simply in those two words alone. It's really an encapsulation of this country: A group of people who cross the ocean, make their way in a new country and establish generations of success and community bedrock.
It's a dual heritage, and they celebrate both sides of it: Italian and American.
"We start every meeting with the Pledge of Allegiance," Serpe says. "We're Americans of Italian descent, and we're proud of that."