Restaurant
Blast from the Past Pizza, 5414 13th Ave, is an 80's & 90's themed pizzeria and bar located inside the Kenosha Metra Station.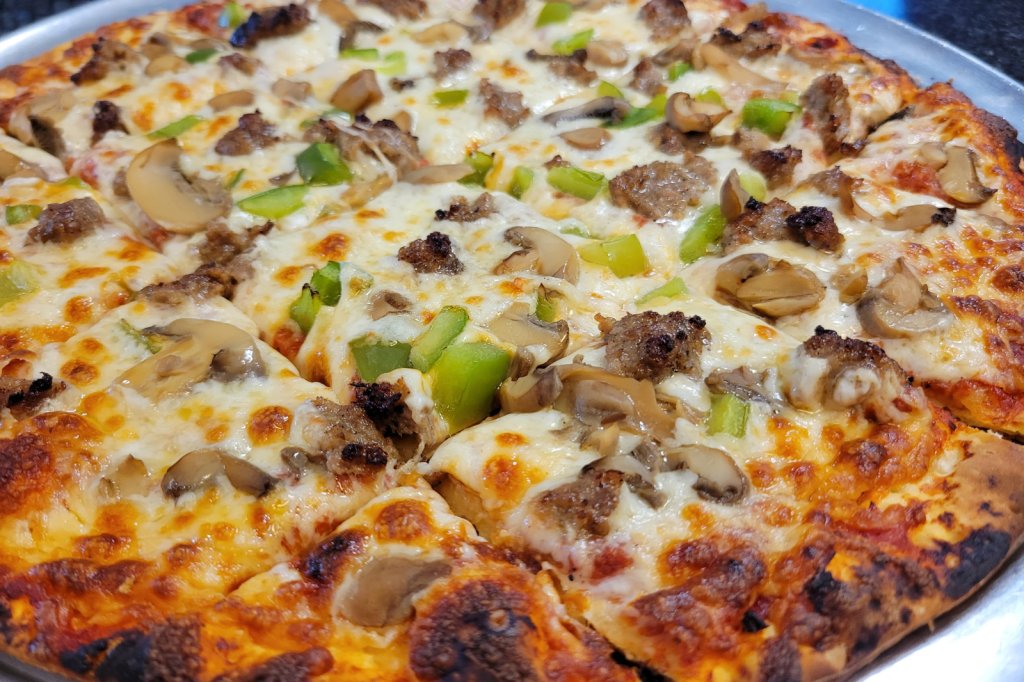 Featured Dish
Build Your Own Pizza — We went with a thin crust topped with sausage, green peppers, and mushrooms… A Kenosha staple combination.
The Flavor and The Story
Previously located in Salem Lakes, Blast from the Past Pizza has brought their collection of nostalgia as well as their pizza to Downtown Kenosha.
While the occupy the former space of Choo Choo Charlies, the new decor makes this restaurant hardly recognizable from its predecessor.
The bright blue walls make hundreds of colorful movie posters pop off the wall, invoking constant conversations about TV and movies from days gone by.
The perfect food for childhood reminiscence? Pizza of course.
All pizzas at Blast from the past are chosen by size and crust thickness (they offer a thin and thick option) and built to order just the way you like them.
The thin crust was wonderfully crispy and fits well into the Kenosha pub-style pizza market and the toppings were all delicious and plentiful as well.
What sets this particular place apart however is the almost museum quantity of pre 2000's artifacts.
It's near impossible to turn your head and not be thrust back into a childhood memory you've long forgotten.
My personal favorite items are the life size Slimer from Ghostbusters and the authentic Back to the Future Hoverboard.
In addition to pizzas the menu includes all your favorite fried bar snacks as well as a selection of adult beverages… you can even win a seltzer from the White Claw claw machine.
Blast from the Past Pizza is open Wednesday through Sunday and offers delivery through Doordash. Their menu and hours can be views at BlastFromThePastPizza.com