PLEASANT PRAIRIE, WI (OCTOBER 2023) – All are invited to join the magic of what has quickly become a beloved festive family tradition – the Pleasant Prairie Halloween Lights Tour and Contest!

Earlier this month, Village residents submitted their decorated and lighted-up properties. A selection of those made it onto the official tour map for drive-by enjoyment as tour-goers vote on their favorite homes from October 17 – 31. Both the map and voting can be found on the Visit Pleasant Prairie Halloween Lights Tour webpage.

New this year, every individual who votes will be entered for the chance to win a $100 gift card to a local business and a Visit Pleasant Prairie prize package! The top five voted homes and giveaway winners will be announced on November 1.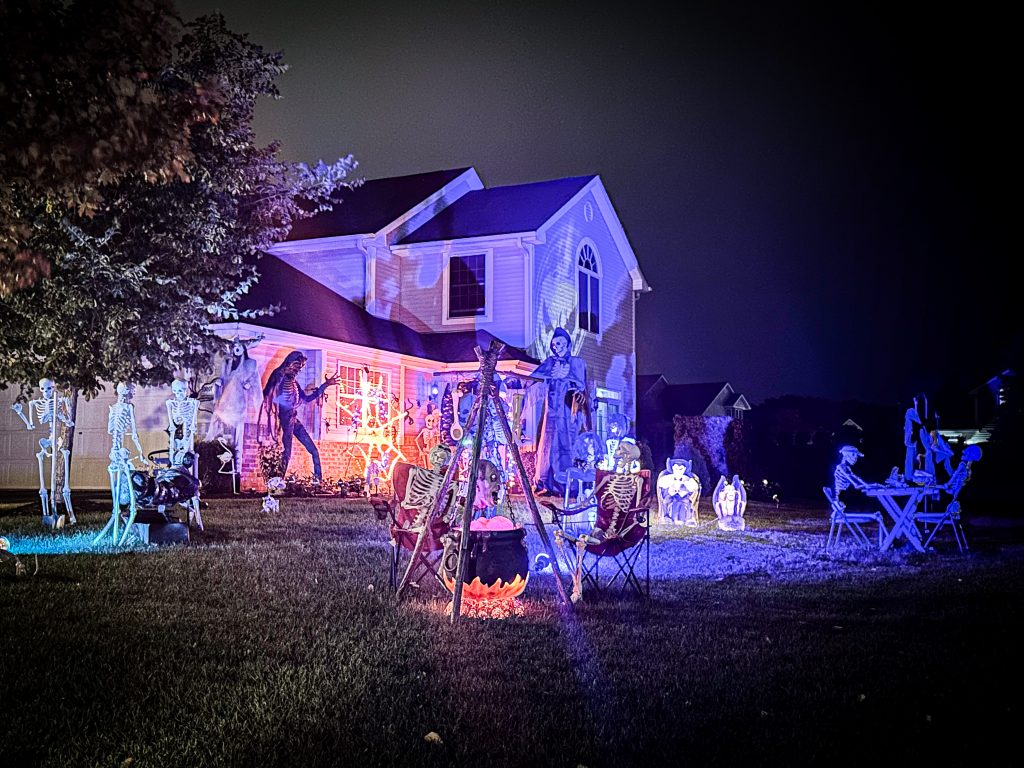 TOUR HIGHLIGHTS
This year's homes are teeming with an abundance of pumpkins, skeletons, werewolves, and other ghouls and ghosts that become even more of a thrill when night falls. Halloween film enthusiasts will enjoy a Beetlejuice-inspired decorated home, complete with
synchronized movie audio to go along with the film projected from the home's window. Others may get a thrill from a Michael Jackson-themed home, or one of the large-scale zombie and skeleton cemetery displays.

On Wednesday and Thursday nights, tour-goers are also encouraged to visit local businesses from 4-8 PM offering complimentary treats with pointed stops at: Shelby Campbell's Eatery and Bar with hot cocoa, DoubleTree by Hilton with a cookie for each tour participant, and Fairfield Inn & Suites by Marriott with hot apple cider.

Photo op spots are also available at Pleasant Prairie RecPlex, Iguana Wana Mexican Grill and Tequila Bar, and Stiles Farm – stop by and capture the memories along the Pleasant Prairie Halloween Lights Tour!

"Our residents raised the bar again and continue to make this annual event an iconic one! Twelve out of our 20 tour stops feature completely reimagined décor from homes that participated in our 2022 inaugural year. The remaining homes are first-time entries," says Howard. "Just like last year, hours were spent curating the tour, ensuring there were opportunities for tour-goers to be entertained from start to finish."

The tour is approximately 60 minutes, and it is highly recommended to follow the curated list in order.
For more information about the Halloween Lights Tour, visit
www.visitpleasantprairie.com/halloween-lights-tour.