"My Fellowship experience and background in developing surgical techniques and procedures in the laboratory have equipped me with the advanced training to tackle tough sports procedures," said Dr. Anthony Zacharias, Froedtert South Orthopedic Surgeon- Sports Medicine. "I am passionately dedicated to the advancement of this field of medicine. It means so much to me to help patients recover from traumatic injuries, reduce their daily pain, and reclaim function they had lost."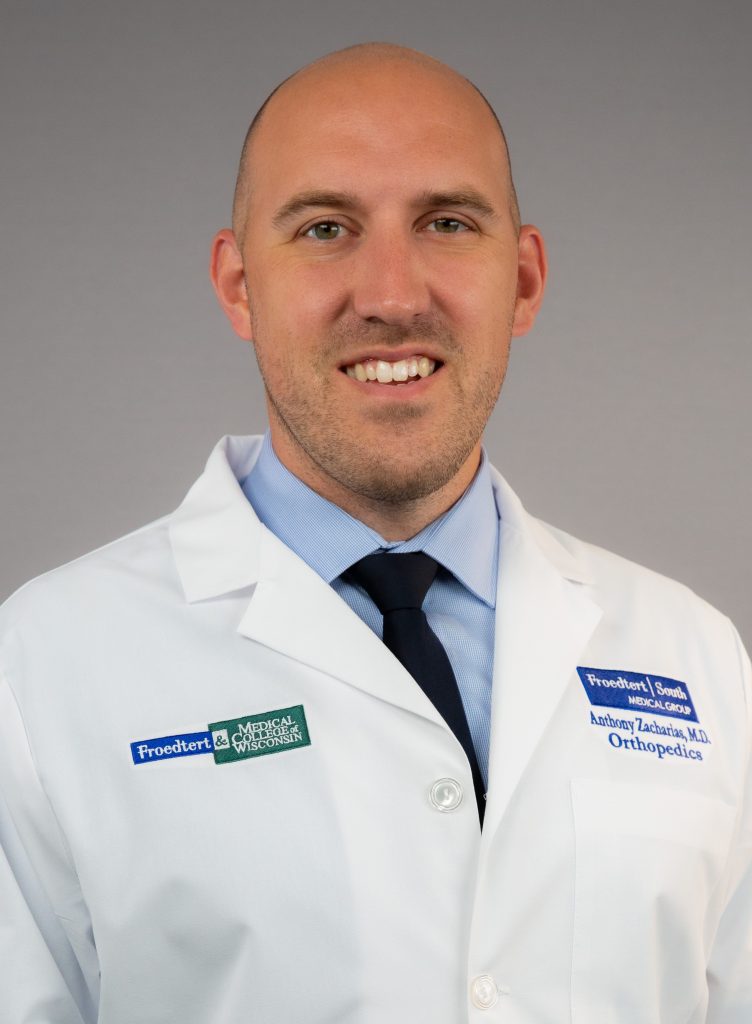 WORLDWIDE COLLABORATION FOR A PROCEDURE IN PLEASANT PRAIRIE, WISCONSIN
"I came to Dr. Zacharias for a second opinion on my third ACL surgery," said Joseph Centeno. "I wish I would have found him sooner!"
After two ACL surgeries out-of-state, Joseph was still experiencing constant pain. His right knee was swollen, he was not healing, and he could not work or do the activities he enjoyed. He was desperate to find a solution so he could once again be active and live a pain-free life. Joseph took a chance on a referral just north of the Illinois border in Wisconsin where he met the orthopedic surgeon who would collaborate across the globe to return his quality of life- Dr. Zacharias.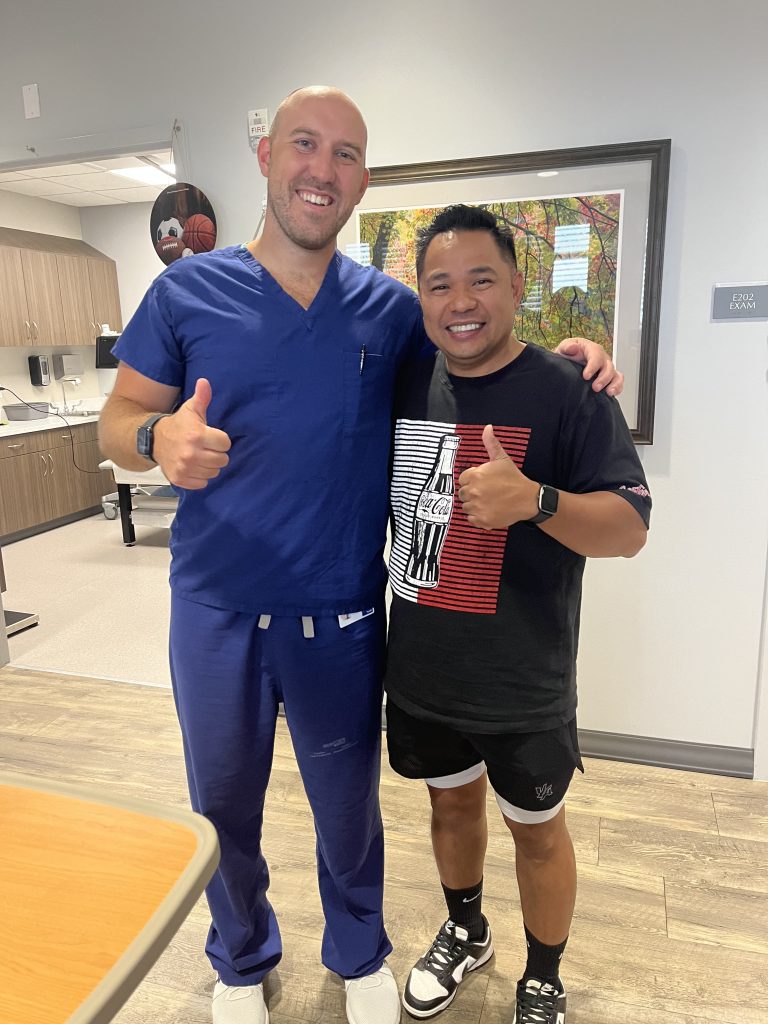 "Joseph's ACL was intact, but he had no meniscus. Beyond that, his leg needed to be realigned to take pressure off the meniscus we were planning to transplant into his knee. No part of this was going to be simple, but I knew with my team we could tackle this tricky procedure and help Joseph," said Dr. Zacharias. "I had to break Joseph's tibia to realign his leg. In addition to this, during the same procedure, I planned to transplant an entire meniscus to replace the one that was removed during his prior surgeries. Lining up his leg needed to be precise, so we used a custom plate. This plate, 3D printed in Germany, is an astounding feat of medical advancements and collaborative talents."
"Dr. Zacharias explained everything to me step by step," said Joseph. "His professionalism was calming, and I trusted that he was finally going to fully fix my knee where others had fallen short."
Dr. Zacharias and Liza Jervis, Registered Nurse- Orthopedic Clinic, met with the German-based team several times to specify the plate. "I needed to correct the alignment of Joseph's leg in two different planes, so the screw trajectory had to be aligned perfectly. I enjoyed working with the engineering team to create Joseph's custom plate. We were able to essentially run through the surgery and leg alignment correction before even getting to the operating room, something not otherwise possible with current technology. We accomplished this because of my team, administrative support, and especially Liza who coordinated with companies across the world and different time zones," said Dr. Zacharias.
Joseph said, "Remarkably, this was a same-day outpatient procedure! I am grateful to say that I am back to work and back to jogging. I cannot express enough gratitude to Dr. Zacharias and his team for their above and beyond efforts to truly uncover the problem and to stop at nothing to find a solution. All my appointments at Froedtert South were convenient to get to from I-94, and I highly recommend others seek orthopedic care there."
CUSTOMIZED HIP RECONSTRUCTION REMOVES PAIN, RESTORES HOPE
Nick Thein served twelve years in the U.S. Army and is now in the Army Reserves. He sustained injuries during his years in the military, and despite undergoing multiple hip surgeries at other facilities, Nick still lived with intense pain in his hip.
"I am a registered nurse and work for a neurosurgeon," said Nick. "I asked around, and Dr. Zacharias was highly recommended for my case. My mom came with me to my consultation with Dr. Zacharias. She had so many questions for him, and he explained everything in terms we could understand. When other places did not even want to try, Dr. Zacharias dove right in with finding solutions for me. I finally felt heard, and it was amazing!"
Dr. Zacharias said, "Nick did not need a hip replacement because he had no arthritis; however, we had to figure out why he was in pain. I discovered that Nick had deficiencies and instability around the hip causing his pain. We had to perform an open surgery instead of a minimally invasive arthroscopic procedure so that I could properly and fully reconstruct the entire labrum and hip capsule. This allowed the hip to stabilize. Nick had excess scar tissue from his previous surgeries, and we had to approach his whole case in unique ways. When we dislocate a hip and reconstruct an entire labrum and capsule, it is by no means a routine case. New Froedtert South Orthopedic Surgeon Dr. Ben-Zev assisted me with Nick's surgery. Our partnership allows for a big surgery like Nick's to be possible. We are so proud to be doing this highly advanced and specialized work right here at Froedtert South."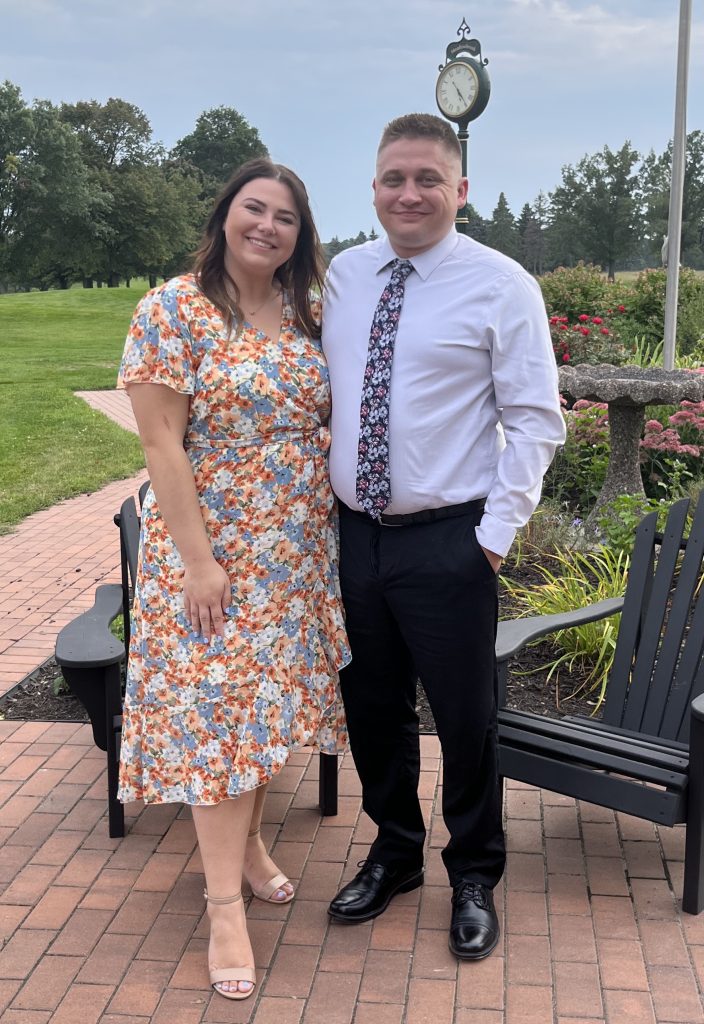 "Prior to my surgery with Dr. Zacharias I could barely walk without crutches. Now my joint pain is gone, and I have hope that I can be active again," said Nick. "Dr. Zacharias is phenomenal! It was so refreshing after almost a decade of pain and several surgeries to finally find a doctor that listened to me and proved that he cared. He came to see me before and after my procedure. He stopped in to see me during my physical therapy sessions. The convenience of PT and orthopedics being in the same building is really important for communication and monitoring progress, and I appreciated that level of care. The orthopedic clinic staff is excellent, too. They were helpful with getting all the necessary approvals for my military insurance. I wish I would have found this clinic so much sooner."
EXTRA TRAINING FOR EXTRAORDINARY CARE
Dr. Zacharias is from Green Bay, WI and is happy to be settled in Kenosha County with his wife and three children. He completed his Residency at the University of Kentucky and his Fellowship in Sports Medicine at the University of Wisconsin-Madison. He is currently the team physician for St. Joseph Catholic Academy, a reviewer for the American Journal of Sports Medicine, and an active editorial board member for Arthroscopy: The Journal of Arthroscopic and Related Surgery.
"During my education and training I have spent extensive time in the lab working on surgical techniques and developing my own techniques," said Dr. Zacharias. "This experience gives me the expertise to perform unique and challenging procedures. What drives me to keep learning and honing my skills are my patients. It is amazing to see how a person's personality changes from our first meeting to our follow-up appointment. Once their problems have been heard, identified, and addressed and they have been treated well, their happiness overtakes their former pain and frustration. It is such a joy to help restore patients to their full potential."
For more information or to schedule an appointment, contact the Prairie Ridge Orthopedic Clinic at (262) 656-3590.