Kenosha natives Melissa Merfeld-Westland and Frank Westland have a family that reads a little like a United Nations roll call.
The couple, which now resides just over the border with Racine County in Mount Pleasant, has a world map posted on their living room wall, with pins in each location to mark where their de facto sons and daughters reside.
With two more added this school year, that roll call now includes three in Spain, one in Thailand, one in Germany, one in France and one in Georgia (that's the country bordering the Black Sea, not the state north of Florida).
"We're their American family," Melissa says.
So, how did Melissa and Frank come to have such a worldly array of family members?
The answer lies in the wonderful CIEE (Council on International Educational Exchange) student exchange program, which brings students from around the world to live with host families in the U.S. – and vice versa – for months at a time, including full school years.
Melissa is a Local Coordinator for CIEE, helping to place exchange students with host families in Kenosha and Racine counties.
She and Frank have now hosted seven exchange students themselves, including two this school year, Martin Laspalas of Spain and Avtandil Tavberidze – who goes by the first name Atuka – of Georgia. Martin and Atuka are both seniors attending Racine Case High School this school year and will be living with their host family until June.
Last school year through the CIEE program, Melissa and Frank hosted a student from Germany and one from Thailand, who both attended Bradford High School. They've also hosted three students during the summer for shorter periods via a different program, Compass USA.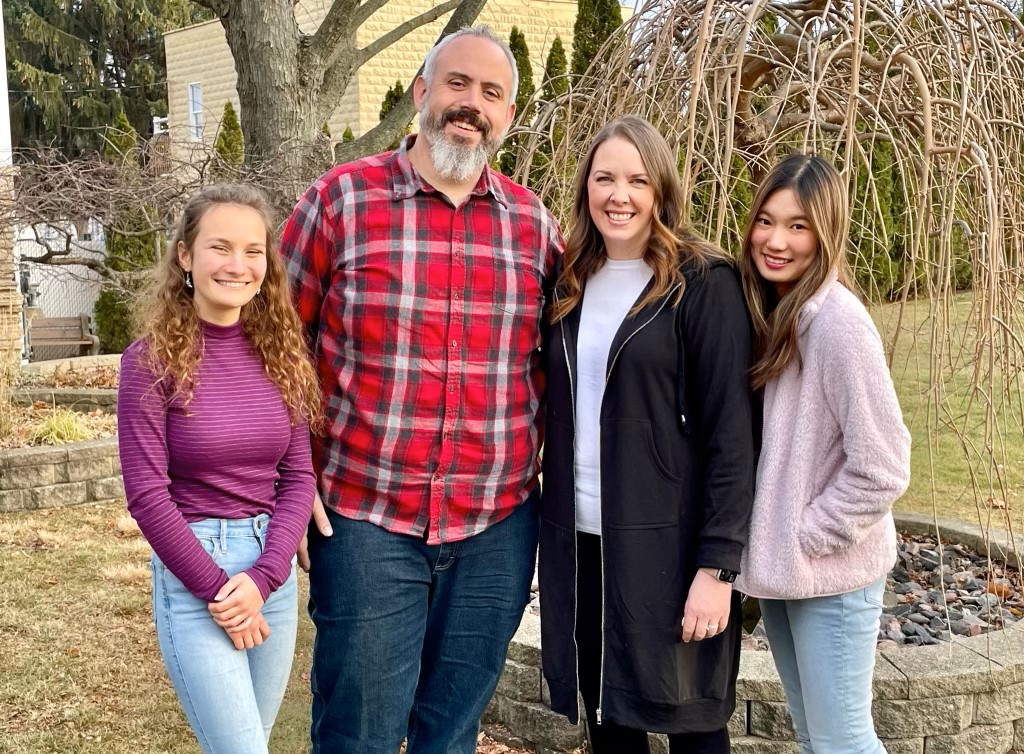 By hosting these students from all over the world, Melissa and Frank say they've gained a much more worldly perspective on life.
"That's the point of International Exchange, is just connecting cultures," Melissa said during a recent interview at their home. "I think, for me, it's kind of made me think on a more worldly (level).
"… You learn so much."
Adds Frank: "It allows you to maybe learn more about a culture or country. I don't know if I'll ever get a chance to go to Spain, Georgia or Germany. I hope so. But I don't know that I will. So you get a chance to learn."
And the relationship with the exchange students doesn't just end when they return home. For Melissa and Frank, their students have become lifelong family members.
"We all just kind of stay connected," Melissa said.
"… We talk every day. We're family."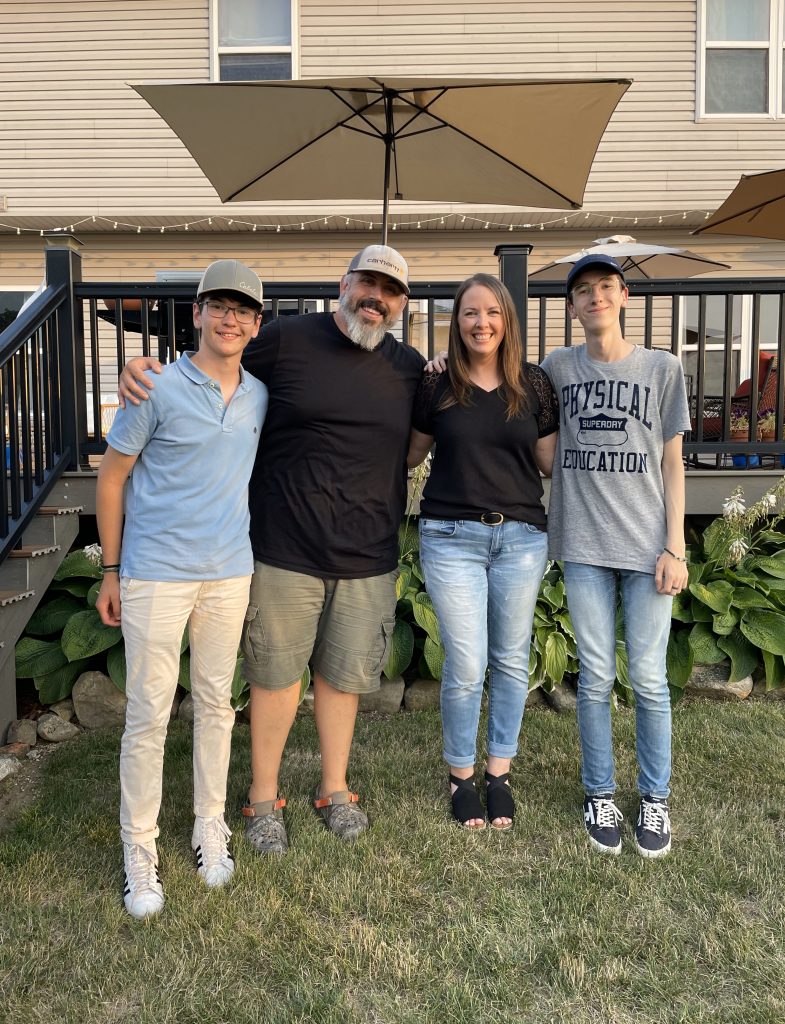 How it works
Of course, there are some specific ground rules and regulations for both students and host families in the CIEE program.
The students range in age from 15-18, have three or more years of English language study and receive medical insurance through CIEE.
A host, meanwhile, must be at least 25 years old and be able to provide a welcoming home, family support, a bedroom and a bed, an appropriate place to study, meals at home and school and assistance with coordinating and providing appropriate transportation.
In other words, as long as you can provide educational support and basic necessities, anyone can be a host family through CIEE.
"You have to provide your student with a bed, a place to sleep, a quiet place to study, and then three meals a day – breakfast, lunch and dinner. And that's it," Melissa said. "You're not required to take them on lavish adventures. Anybody, really, can do it.
"… It's a very diverse (program)."
Additionally, the CIEE program attempts to match up students with appropriate host families. As a Local Coordinator, Melissa helps to pair international students with host families based on factors such as personality traits and hobbies and conducts host family orientations, among other duties. If a student isn't comfortable with dogs, for instance, they wouldn't be matched with a host family that has dogs.
"If you're curious about your German ancestry, you can say, 'I'd really like to connect with a German student,' or whatever the case may be," Melissa said.
Additionally, Melissa works with Kenosha Unified School District and Racine Unified School District to get exchange students placed into the appropriate schools. She can also get students placed into county schools west of I-94 if that's the best fit.
"There are quite a few spots for exchange students in each school, five to 10 placements," Melissa said. "Whatever school is in your district, I can work with that school and get that set up."
The exchange students, meanwhile, must undergo a rigorous process that – depending on where they're from – includes testing and interviewing before they're accepted into the CIEE program. They also must obtain a visa and all proper documentation before being assigned to a host family.
Students can also be accepted into the CIEE program via grants or scholarships.
For example, Mara Tastan of Germany – who Melissa and Frank hosted last school year – received a scholarship called "PPP/CBYX." The "CBYX" acronym stands for the Congress-Bundestag Youth Exchange for Young Professionals, a fellowship funded by the German Bundestag and the U.S. Department of State. For each constituency in Germany, up to one student per year can receive the scholarship, for which Mara was chosen last year. That also extends to American students traveling to Germany on the same scholarship.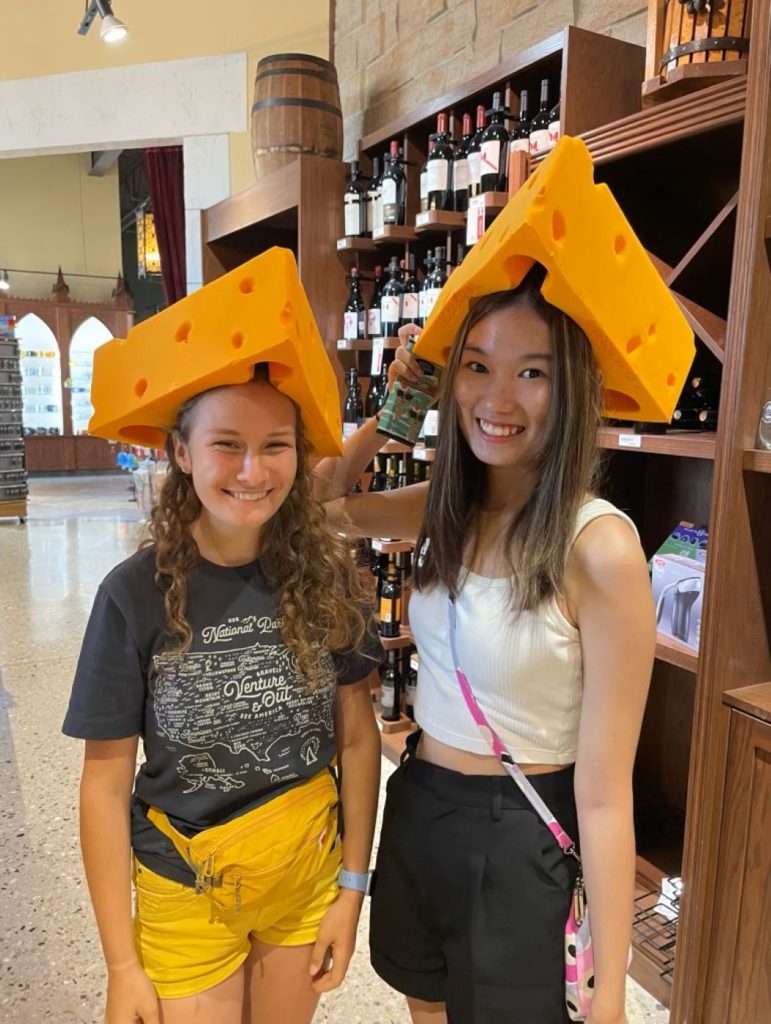 Melissa also wanted to underscore the importance of what's called "double placement" in the CIEE program. Under "double placement," two exchange students live with the same host family, something Melissa and Frank have done each of the last two school years.
This essentially gives each student a "sibling" to live with, though per CIEE rules, a family cannot host two students from the same country, or who speak the same native language, at one time.
"They're truly siblings," Melissa said of hosting two international students at once. "All of our kids have been sisters, brothers, at the end of their stay.
"It turns into a really cool thing."
They even wind up missing each other when one isn't around.
"I was in my room, like, 'Where's Martin, where's Martin?'" said Atuka, one of Melissa and Frank's exchange students this year, about a time his "brother," Martin, was away competing in a soccer match.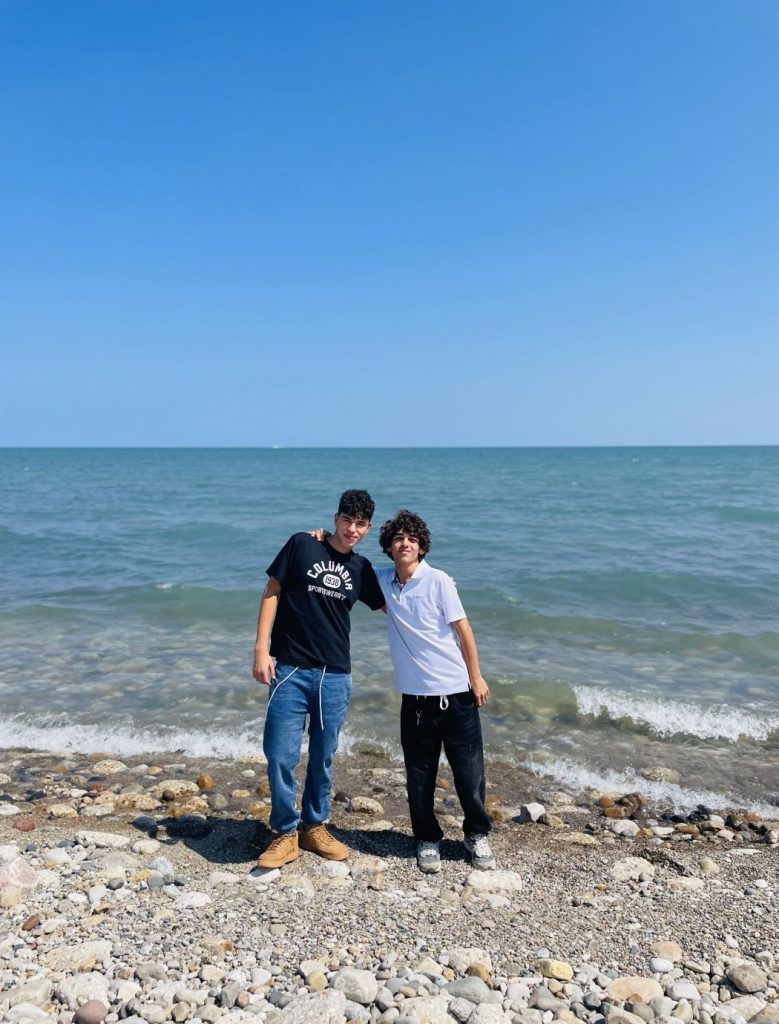 A strong bond
It's essential to have a strong and trusting bond between each host family and its exchange student or students.
Atuka and Martin arrived in the U.S. on Aug. 21, just before the school year started. But their transition was eased by conversations they and their families had with Melissa and Frank prior to coming over.
Those conversations are a must.
"We get to know them a few months before they come here," Melissa said. "We are in communication with them. We video call, we talk to their parents, messaging, talking. It truly is a partnership with their family and our family.
"… So we have open communication, we're honest, we create a safe space that's judgment free."
This communication helped Martin feel more comfortable before coming to the U.S. from Spain for this school year.
"Texting with the host family, you don't know everything, but you know before coming (here) some things that they do," he said.
For Atuka, getting to know his host family beforehand and just coming into the CIEE program with the mindset that it's a learning experience and an adventure helped him get over the anxiety of leaving his home for an entire school year to travel halfway across the world.
"We don't have to be scared," Atuka said. "We don't have to be like, 'Whoa, what have I done?' Before you make your decision, you realize you are going through a 10-month process of learning, a 10-month process of being with your host family.
"So before you apply, I think you kind of have a small idea of what you're doing."
Via email from back home in Germany this school year, Mara echoed the sentiments of both Atuka and Martin.
"The most challenging aspect definitely was being so far away from everything that I was used to," Mara wrote. "By that I don't only mean family and friends, but just living in a country and a culture that I have always known. I was coming to the U.S., expecting it to be very similar to Germany, but then I discovered that there are so many subtle, and some big, differences between Germany and America.
"It certainly helped talking about that with my host family. One of the main aspects that I learned about life was that through communication, you can figure out almost everything."
And it's through communication that host families and students overcome language barriers and cultural differences. Yes, the students are required to be proficient in English before coming to the U.S., but there are still many phrases, mannerisms and language idiosyncrasies that may have to be worked out.
So, for example, what can't be learned from a rousing game of Scattergories?
"We like to play games, like Scattergories," Melissa said. "That helps with the English. I think it's important. In the beginning, there is an adjustment.
"(Atuka and Martin) are both from very, very small villages, and so the (shopping) mall was very different."
Taking this "family time" is crucial for the exchange students to have a great experience in the U.S. through the CIEE program.
"Host families help a lot, because at night we like to sit at the table, at the dinner table or the sofa in the living room," Atuka said. "We love to tell people the stuff we do in Georgia, the stuff we don't do, the stuff that can be overwhelming here.
"… So we like to have conversations. You always have to be open with your host families. That's the first priority that you have to do. You don't have to feel shy or feel some boundaries with your host family. You have to ask questions, you have to get to know how they absorb your language, maybe the looks you give, the answers you give."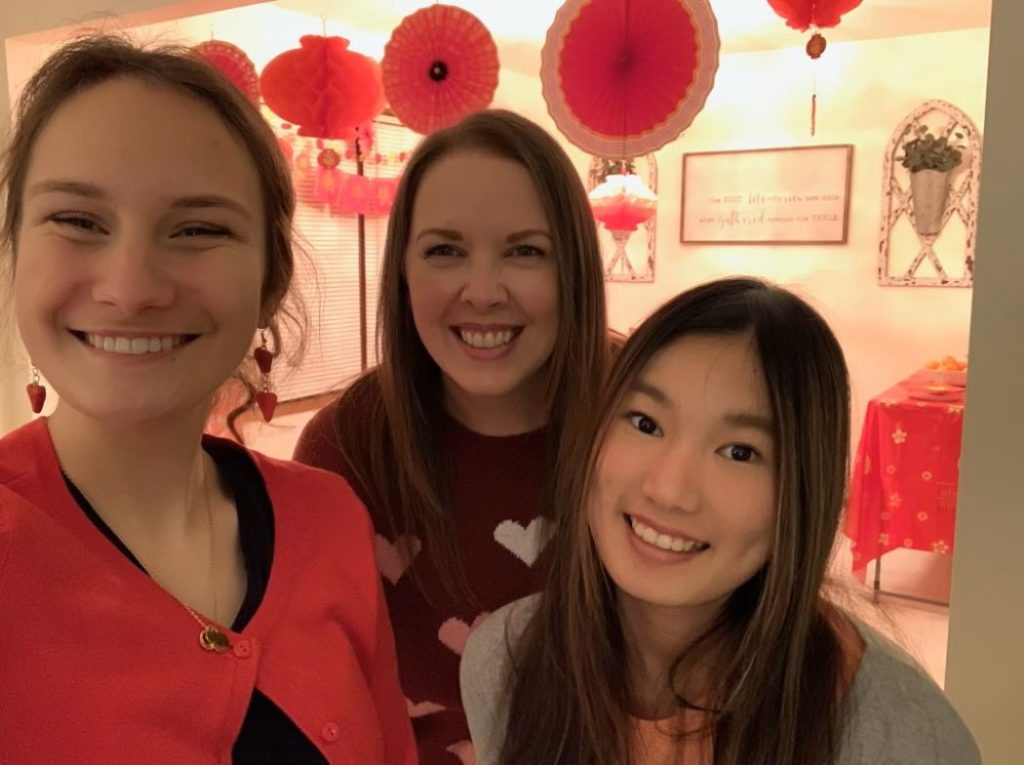 Additionally, host families regularly communicate with their students' families back home. After all, they are "on loan" to their host families, so it's important for host families to be on the same page as the students' "regular" families.
"We partner with their parents from the beginning," Melissa said. "I think there's an expectation from their parents: 'What does their normal day-to-day look like? How do you handle situations? How late are they able to stay out? What are your rules in your home?'
"We're their guardians here, so we set boundaries and rules based on our discretion, based on the age of the student. But these kids come here independent and so well-equipped with life skills, in general. They are very mature and have more life experiences, I think, than even some adults."
Typical teenagers
Now, it must be noted that teenagers from any country are still, well, teenagers.
So host families deal with typical teenage things. For example, Frank recently took Atuka and Martin over to Mike Bjorn's to rent formalwear for Case's Homecoming dance, which is this Saturday. And Atuka talked about the anxiety of asking a girl he liked to Homecoming (she said yes).
They also attended an American high school football game for the first time recently and are involved in activities at school, another essential ingredient in helping them to assimilate to a new country.
Martin plays soccer (it's just football to him, of course) for the Case boys soccer program. Since practices started in the summer, before the school year even began, Martin got a nice head start on meeting new classmates.
"You have practice or games there every day, so you know the people and you make friends there," he said. "It's quite easy."
Atuka, meanwhile, is heavily involved in theater and says joining extracurricular programs is essential for any exchange student in the CIEE program to have a great experience.
"For future exchange students, I would suggest (to) them to follow their heart and follow their path, follow their interests," Atuka said. "It's necessary to take after-school activities, because that's where you get involved with others. It's hard to make friends (between) class periods.
"… So after-school activities help you to communicate with others. And it's also necessary to feel like it's your home, the path you follow. For me, it was theater, and for (Martin), it was sports."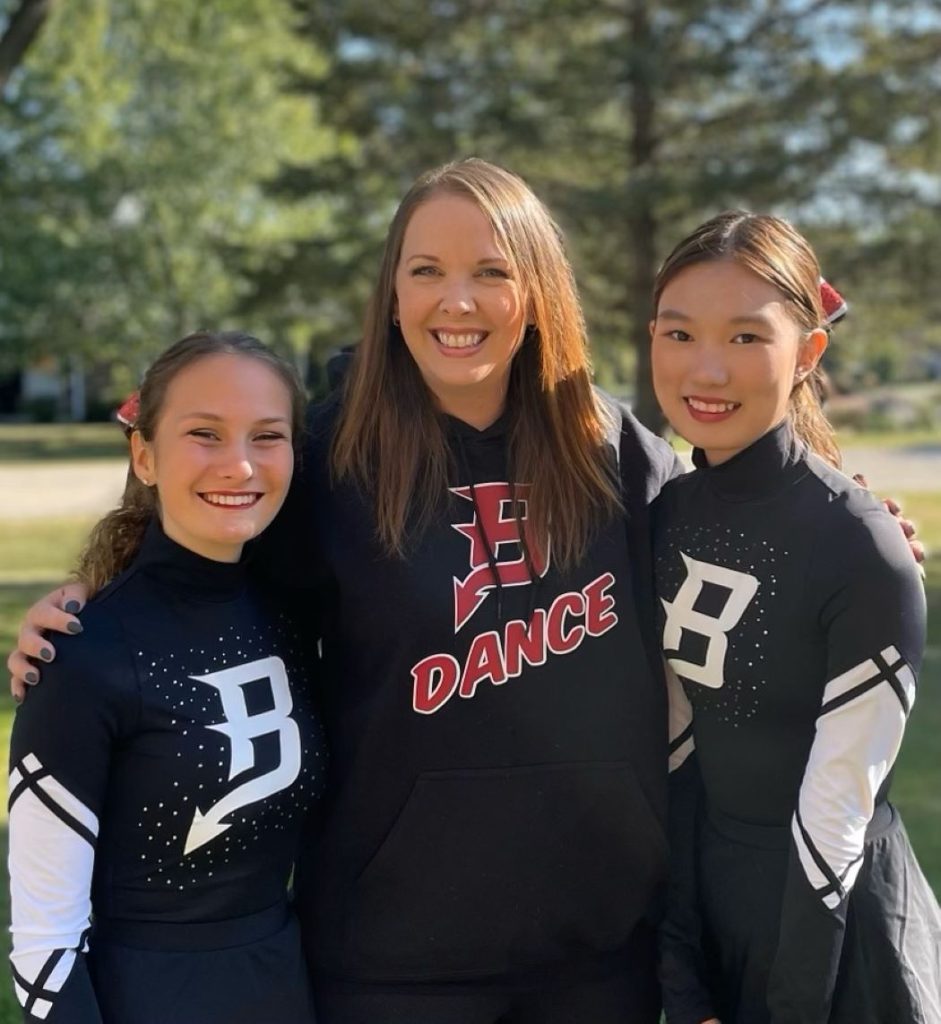 The host families, meanwhile, support their exchange students in their extracurricular endeavors, just as any parents would.
"We go to games, we go to performances," Melissa said. "We cheer each other on. They are our kids, so we support them and encourage them to do activities."
A 'bucket list'
Asked to name some of the things they want to do during their time in the U.S., both Atuka and Martin said they created a "bucket list" of things to do and see while abroad after being accepted into the CIEE program.
"We have a lot of stuff on our 'bucket list,'" Atuka said. "We want to, of course, see Chicago. We want to go to the prom, Homecoming. There's a lot of stuff we want to do, and our host families help a lot … (to) cross off the list."
From last school year, Mara recalled taking a spring break trip with Melissa and Frank to Tennessee and Gulf Shores, Ala. The exchange students also get a chance to celebrate American holidays.
"I loved experiencing all the holidays here, such as Christmas, Halloween or Thanksgiving," Mara recalled. "It was interesting to see how they are celebrated in the U.S., and I was able to celebrate Thanksgiving for the first time in my life."
In fact, Mara created a "1-Second Every Day" video of her experience as an exchange student, featuring one second of each day she was in the U.S. Check it out here:
On the flip side of that, the host families can celebrate holidays that aren't observed throughout the U.S. but may be of significance to their exchange student. For example, while hosting Grace – a student from Thailand – last year, Melissa and Frank celebrated the Lunar New Year.
"We absolutely respect and honor their culture and their holidays," Melissa said.
Added Frank: "The more, the better!"
Not everything, however, is a vacation or a holiday. Many of the "bucket list" items for exchange students include normal, everyday American teenager stuff.
"I also loved doing all the typical American high school things, like going to football games, prom or Homecoming," Mara wrote.
Food is also a big point of connection. Within their first several weeks in the area, Atuka and Martin said they'd already eaten at Iguana Wana, Texas Roadhouse, Chick-fil-A, Taco Bell, Culver's and Big Star, just sneaking in the latter before it closed for the season.
Homemade meals are also important, whether it's trying out a native recipe brought by one of the exchange students or going to an extended family member's house for a big Sunday meal.
"They do Sunday dinners at my dad's," Melissa said. "That's a favorite."
And, of course, if you're in this neck of the woods, you have to experience a Green Bay Packers gameday. For the Week 1 matchup against the Chicago Bears this season, Frank grilled the proverbial brats and sweet corn, and Atuka and Martin got their first big experience with American football.
"I like it. It's fun," Martin decided.
Added Atuka: "We watched the game. We cheered for the Packers. It was amazing. We won."
Perhaps the best part of the entire CIEE program experience, for both exchange students and host families, is the long-lasting bond that's developed, even after the students return home. Melissa says she and Frank still communicate with all the students they've hosted every day.
Sometimes, it may just be to obtain a classic American food item after a student has gone back home and can't find it anymore.
"You get some laughs," Frank said. "We're heading back to the bus to take the plane back to Spain, and we've got to stop at Walmart and get 10 boxes of macaroni-and-cheese.
"Like a month later, you get a text: 'I'm on my last box of macaroni-and-cheese.' So you're able to keep in touch."
Mara and her mother, Tamy, have already come back to the U.S. to visit Melissa and Frank since Mara went back home to Germany. And in addition to their host families, exchange students love to learn the culture of fellow exchange students from different countries.
"Mel, Frank, Grace and I really grew together as a family," Mara wrote. "I'm still in touch with all of them – through text, Snapchat and video calls – and I know that the bond, especially to Mel and Frank, is strong and will always be strong. 
"I'm going to visit them again next year, and hopefully they will visit me, too, someday in the future. Hopefully, I can also visit Grace in Thailand at some point, because I would love to see her again and experience her culture more closely."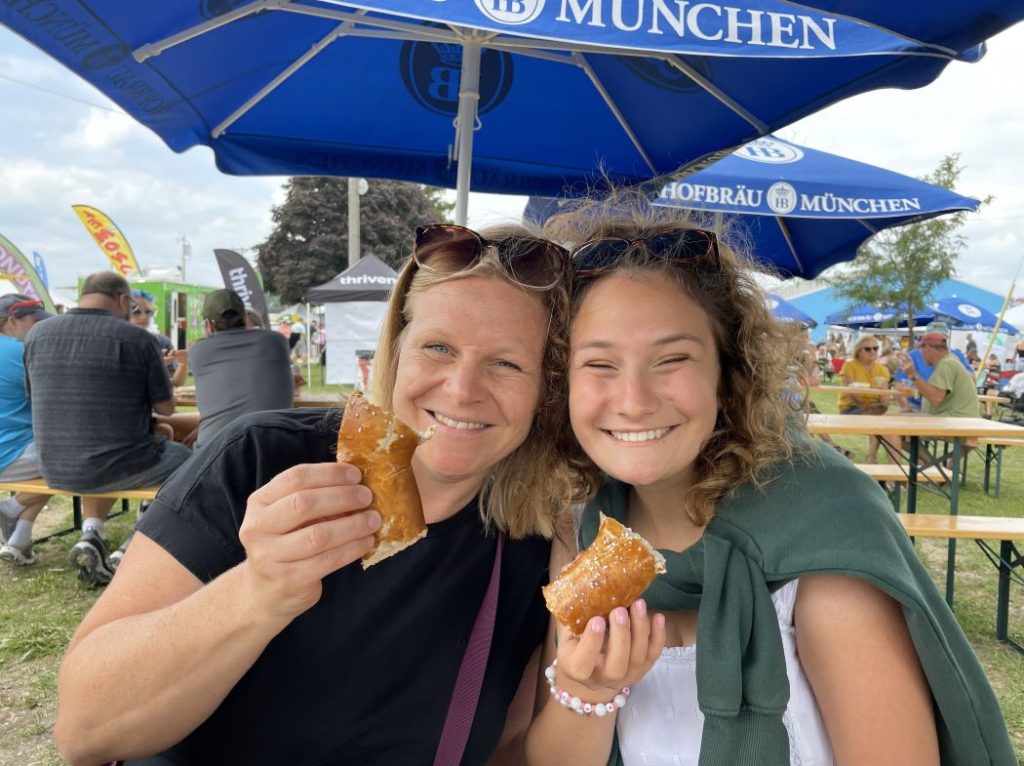 The CIEE program really is a two-way street that spreads love, cultural appreciation, family and friendship all around the globe.
"It is a partnership, and we are truly blending families from across the world, which is a beautiful thing," Melissa said.
To contact CIEE Local Coordinator Melissa Merfeld-Westland about the program, you can email mmerfeld.ciee@gmail.org.