The Restaurant:
La Fogata, 3300 Sheridan Road, has been voted Kenosha's favorite local Mexican restaurant for 10 straight years.
The Featured Dish:
Pollo Gordo — Panko-crusted chicken breast stuffed with chorizo and chihuahua cheese then smothered in poblano cream sauce and queso fresco. It is served with your choice of corn or flour tortillas as well as rice and beans.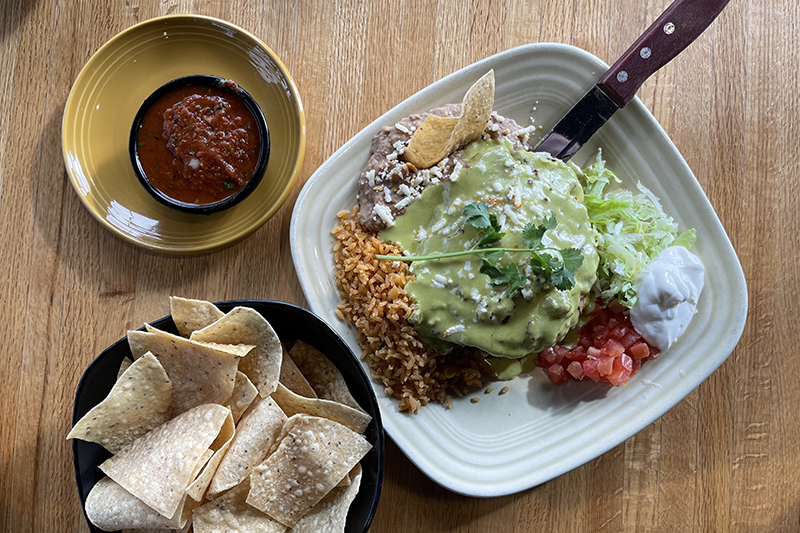 The Flavor and The Story:
Located just a short walk from the lakefront, La Fogata is a great destination for Mexican inspired flavor and exciting atmosphere. The "Soup of the Day" is always tequila and you can enjoy it on the enclosed patio all year round.
Pollo Gordo (fat chicken) starts with juicy, breaded chicken breast stuffed with a flavor-packed combination of chorizo and chihuahua cheese. The chicken and the cheesy chorizo mixture are layered twice so that every slice or bite contains a great balance. The stuffing is always sandwiched between pieces of chicken to keep the whole indulgent experience from falling apart.
The real star of the show is what comes next, the poblano cream sauce. If there was such a thing as a perfect flavor combination, it would be poblano pepper and cream. The fresh flavor and mild heat of poblano is drawn out and mellowed for easier appreciation with the addition of cream.

This heavenly sauce along with the light flavors of queso fresco adds depth and complexity to the rich protein combination. If you find yourself looking for just a bit of acidity to finish off this flavor profile, the dish is served with fresh diced tomatoes and sour cream on the side as well.
You can enjoy the Pollo Gordo as presented, with a fork and knife, or you can take it to a professional level by utilizing the included tortillas.
For the best experience, we recommend slicing off a few sections of Pollo Gordo and placing them into a warm, preferably corn, tortilla. Make sure you get plenty of poblano cream, and then add a bit of the complimentary house made salsa. You'll end up with a handful of flavor you'll want to come back for again and again.
Pollo Gordo is available every day and priced at $20.99
La Fogata is currently open for dine-in with socially distant seating and also accepts carryout/curbside orders. You can view this dish and the entire menu, as well as order online, at www.eatatlafogata.com.