Louis Stella – known to all as "Hondo" – is old-school. And that's exactly how he runs his business, Stella's Casa Capri, one of Kenosha's signature restaurants.
Here's an example:
When discussing the things that have changed most in the restaurant industry over the years, Hondo – that's the name we're using for the rest of this story, by the way – gets passionate and raises his voice a little.
"You asked about another change in the world?" he says. "Right here!"
With that, Hondo reaches into his pocket and slaps down a big wad of rubber-banded cash on the table as a visual demonstration of how people used to pay for things before the world went cashless.
"Nobody's got cash!"
Now that's old-school.
But it's exactly that old-school approach that's made Casa Capri a beloved Kenosha institution for almost seven decades now, a place that hearkens back to the days of big Italian family dinners, an important part of Kenosha's heritage.
Sure, the world today is different than it used to be, but when you walk into Casa Capri, it's like going back in time to a place where families and friends gathered for big dinners of delicious, homemade Italian food, conversation, great wine and cocktails. Like something right out of "Goodfellas."
Casa Capri still offers that environment. And if you go, Hondo will be there.
"If you get through that door, I'm here," he said on Thursday afternoon while preparing for the restaurant's customary 4 p.m. opening, plus a family dinner party in the banquet room.
"If I'm not making it in, the door doesn't open."
For operating Casa Capri, cooking so much delicious food and providing first-rate hospitality for Kenosha and the surrounding area all these years, Louis "Hondo" Stella, 52, has been named this week's Kenosha.com Kenoshan of the Week.
Family business
Hondo is a third-generation owner of Casa Capri. And it was his ubiquitous presence in the restaurant that earned him his patented nickname.
"I started as soon as I could walk," he said.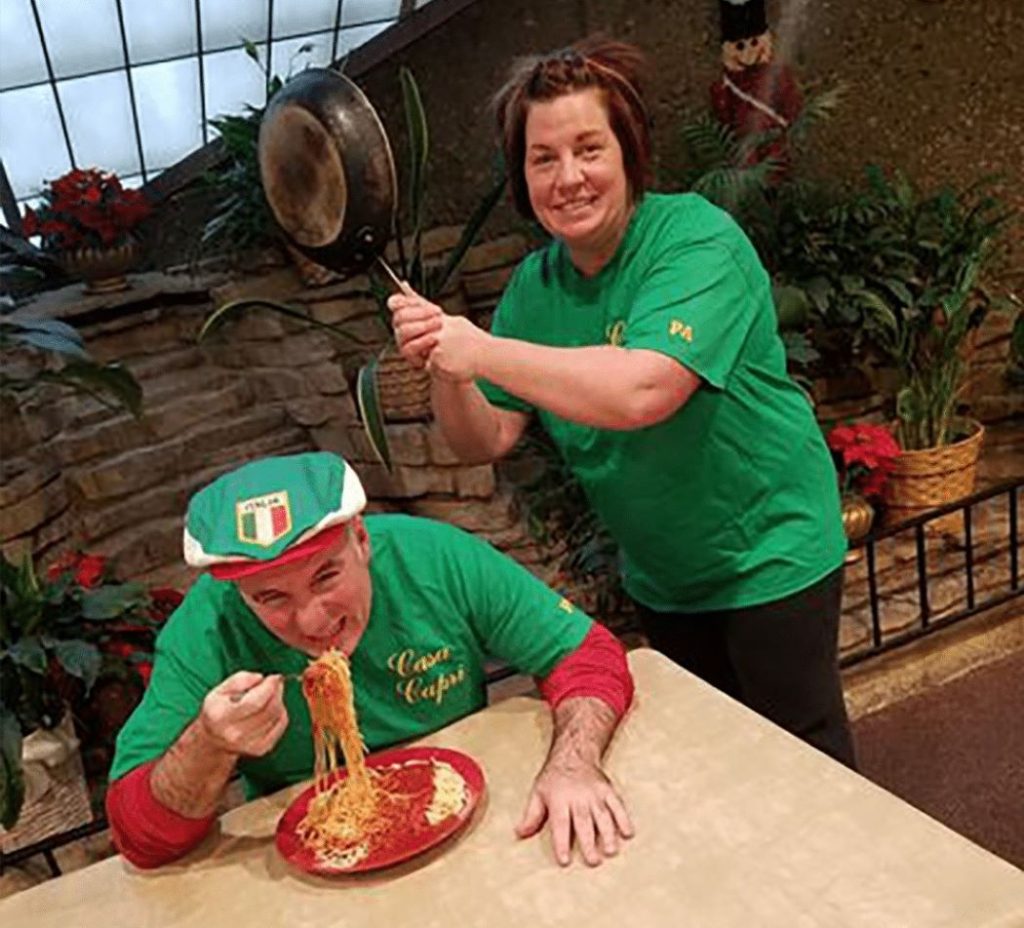 Hondo's paternal grandparents, Louis and Rosemary, first opened the business in 1954. Their grandson always wanted to be in the kitchen with them.
"My grandfather gave it to me," Hondo said of his nickname. "It means, like, 'Shadow' in Italian. And I always followed him around."
Hondo's parents, Lewis and Janet, then took over the business from his grandparents, eventually passing it down to Hondo as a third-generation owner.
Casa Capri will celebrate 70 years in business in 2024, but it hasn't always been in its current location on the north side of Kenosha, at 2129 Birch Road.
When Hondo's grandparents first opened, Casa Capri was located on the southeast part of the city, right off Sheridan Road. Eventually, they moved to a small location on the north side before building and moving into the current location in 1984.
So, 2024 will also mark 40 years in the new location, which gave Casa Capri enough space to do banquets, now a big part of Hondo's business.
"This room at times has two or three gatherings in the same day," he said. "You could be doing a sad moment at noon for a funeral luncheon, then at night having an anniversary or a rehearsal dinner. Whatever you want to do, as long as the room's big enough for you."
In addition to the dining room, the banquet hall and the bar, Casa Capri caters for events, in which people can order large amounts of food to come in and pick up.
Hondo stresses that Casa Capri's homemade Italian offerings are the product of family recipes. There isn't anything direct from culinary school.
"Nobody went to school here," Hondo says.
"… We all had something to go off of, what we ate at home. And Grandpa brought it to the business. And then my father took it to another level, expanded the menu, got into seafood and veal and chicken and that."
When it comes to complimenting his food, however, Hondo will gladly accept second place to just one person.
"If you told me that my meatballs are second to your Nana, that's a compliment," he said. "Your Nana should be first."
Over the years, Hondo said, Casa Capri has hosted its share of notable people and big-name politicians. He recalled when former Wisconsin Governor Tommy Thompson came to Kenosha for some area events while he was in office.
"He was going to be in town for three days, a couple ribbon-cutting ceremonies, new dorms at Parkside, a Snap-on facility," Hondo recalled. "So he made a public announcement to have a meet-and-greet at Casa Capri.
"And two days prior, the Secret Service comes in to do a check of the building. I'm like, 'What are you here for?' They're like, 'Well, we're here because the Governor's here.'"
As it turned out, Thompson enjoyed Casa Capri so much during his public meet-and-greet that he decided to bring his staff back there for a meal.
"He got done with his tour on Monday, and he called, and he goes, 'Hey, you got room for about 15 of us? We don't want to go anywhere else. We loved it the night before, what you did,'" Hondo said. "He goes, 'Can we just bring the staff in the next night?'
"I said, 'Governor, the place is yours.' It was a Monday night. I remember it like it was yesterday. … People were coming for an autograph."
Hondo also said his grandfather was a distant cousin of "Happy Days" star Al Molinaro, one of the most famous Kenosha natives ever, who would occasionally come in to eat at Casa Capri's older location.
Additionally, Hondo said famous movie director Ron Howard – also a "Happy Days" alum – once ate at Casa Capri while in Kenosha to research the auto-making industry for his 1986 movie, "Gung Ho," starring Michael Keaton.
Famous jazz clarinetist Pete Fountain also ate there, Hondo says, while visiting the musical instrument manufacturer Leblanc when it was headquartered in Kenosha. Hondo's grandfather was good friends with Vito Pascucci, who owned Leblanc, and Hondo said several notable musicians patronized Casa Capri during Leblanc's heyday.
Some famous professional athletes have also eaten there when in town for various events. Hondo recalled an appearance by Chicago Bears legend Steve McMichael, a Senior finalist for the Pro Football Hall of Fame's Class of 2024 who is now sadly suffering from ALS.
"Steve McMichael, I remember him walking out of here," Hondo recalled. "They came in, they wiped out the place in pizza, and each guy left with a case of beer under their arm to get back on the bus."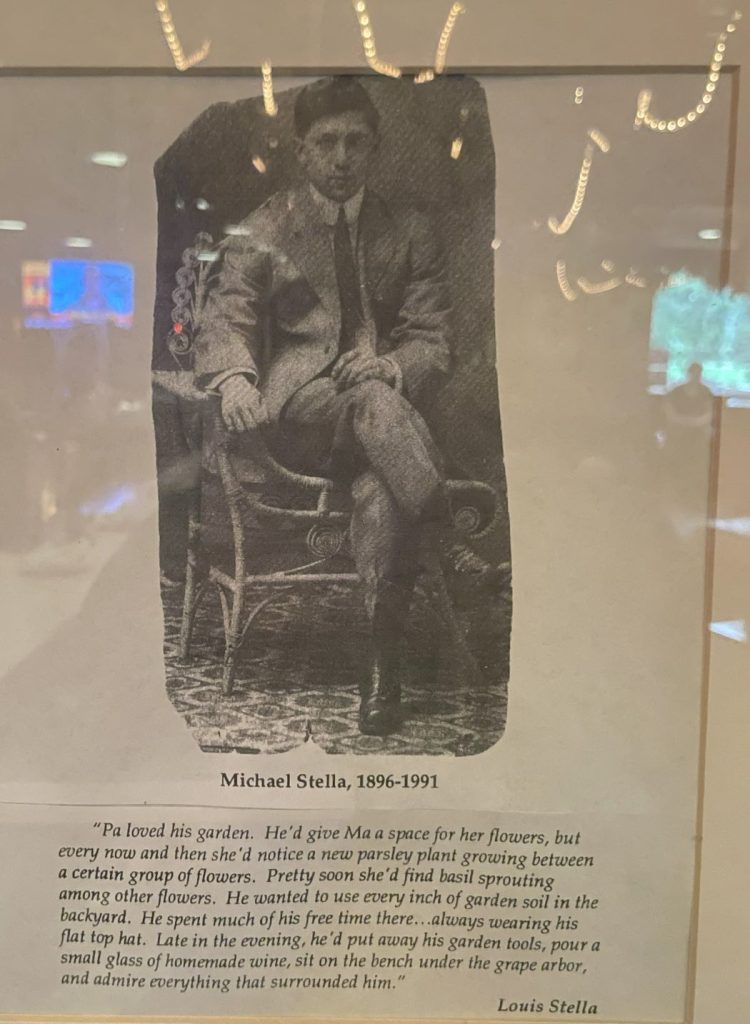 Hard work, long hours
Hondo himself attended Kenosha Catholic schools growing up, first going to Our Lady of Mt. Carmel and then graduating from St. Joseph Catholic Academy in 1989.
But Hondo didn't have any thoughts of attending college after that, because there was really only one place he wanted to be.
"This is all I wanted," Hondo said of running Casa Capri. "Sitting behind a desk wasn't my thing."
Of course, operating a restaurant requires working long hours. Hondo says he comes in at about 8 a.m. on a typical day, though the restaurant doesn't open until 4 p.m. (and is closed on Mondays and Tuesdays).
Hondo does not have a wife or children. He admits that Casa Capri is essentially "his family."
"I always say, this is my wife and kids," Hondo said.
"… The business is my life. Sixty- to an 80-hour week, easily. I don't know how those who don't spend that much time in their business stay in business. Because you've got to watch everything."
On the busiest days, Casa Capri will have as many as four cooks preparing food, including Hondo. He says most of his staff is either high school- or college-aged kids working part-time jobs, or adults who work two or three shifts a week at Casa Capri but have other full-time jobs.
"I've got good staff," Hondo said.
Still, there's a certain way he likes to do things, so Hondo doesn't really ever take his hands off the wheel.
"All your life, you want to be the king," he said. "But then when you become the king and have to take care of everything, it is what it is. But it's not just cooking, putting the food on the plates and making everybody happy. There's so much more.
"… Make sure you've got enough staff, make sure you've got enough food and supplies, make sure everything's running. AC's working today, OK. You almost wake up every day with, 'What's going to be the little curveball today?'"
Of course, Hondo acknowledges that Casa Capri has had to adapt to change. But the core menu of homemade, family-recipe food will always remain the same.
"We make our homemade meatballs," Hondo said. "We butcher our own pork to make our own homemade sausage, however it's used, in pasta or on our pizzas.
"I just made a batch of pizza dough. It takes about 90 minutes."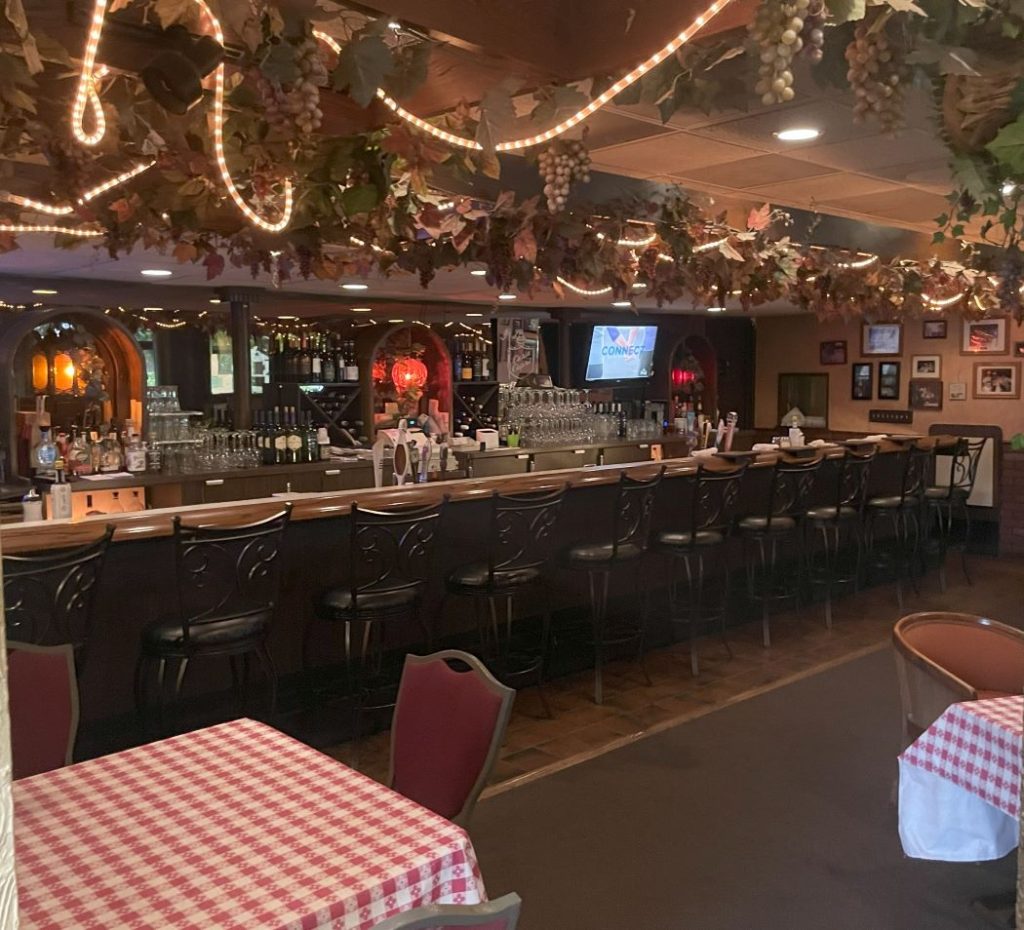 As for what's changed over almost 70 years, Hondo says it's mainly in what people want. They expect far more options than maybe they did a generation or two ago.
"When I was a kid, you didn't hear of vodka sauce," Hondo quipped. "I don't even remember alfredo sauce when I was a kid. Everything was red, or maybe olive and garlic. There were no pink sauces and white sauces. We hardly even used marinara. For me, marinara is a mozzarella stick dipping sauce.
"… Let me just say this: The bar, being 40 years old now, is not big enough for today's (varieties). You didn't have all them bourbons, you didn't have all the flavored vodkas, you didn't have 12 different hard seltzers. You had three or four beers on tap. Now you've got eight different craft beers."
Looking ahead
Whether it's serving customers for dinner or cooking food for a large banquet or pick-up order, Hondo always has something to prepare for at Casa Capri. He said he had a multitude of functions to cook for this weekend and early next week, which kept him busy over Labor Day weekend, even when Casa Capri was technically closed.
"I was here every day, six to 10 hours," Hondo said of Labor Day weekend. "Getting ahead, because I knew what this weekend was coming up."
Since Hondo doesn't have any kids, you may wonder if Casa Capri will be passed down to a fourth-generation owner. Well, Hondo's sister, Anna, does a lot of morning prep for the restaurant and has three teenage children who currently help with the business.
Hondo is not sure if his sister's children will want to take over the business, nor will he force them to. But whatever happens in the fourth generation of Casa Capri ownership, a fourth generation of customers is already eating there.
"You just see the people come back and come back and come back," Hondo said. "… I know, for sure, fourth-generation families now.
"I know of customers that are my dad's age who went to my grandpa's place on Sheridan Road when they were little kids being brought by their parents. Now their grandkids are in college, but yet they're still bringing them in for Sunday family dinner. Which, in Italian (families), is still tradition."
And that's what keeps Hondo working so hard, even at 52 years old. He says he has no immediate plans to retire or even step away at all.
However, if you're wondering, Hondo does have some hobbies he enjoys in his free time, like playing golf. He also owns a fishing cabin on the Mississippi River above La Crosse and takes an annual March Madness trip with friends to Las Vegas.
"Getting together with good friends outside of the business, a little wine and cigar and some golf, that's a good day," Hondo said. "I was fortunate, my father left me with a core of friends and adopted uncles.
"I knew them since I was this little."
If Hondo does take a vacation, he says, then he'll just close Casa Capri entirely until he returns.
"Otherwise I'm not going to relax on vacation," he said.
Hondo also acknowledges that with so much banquet and catering business now, he may be able to just close the bar and dining room entirely and still do just fine. But he knows people would complain about that and find a way to keep coming, anyway.
"I'm not going private, because too many people would (be upset)," Hondo said. "I could see where they'd start planning private things. … 'We've got 20 people.' … 'What are you celebrating?' … 'You cooking for us.'"
In the end, what makes all the hard work and long hours worth it for Hondo? When asked, he takes you into the kitchen and points to a door full of thank-you cards from his customers.
They come for the food. And the smells.
"Somebody comes in the backdoor, whether they're a delivery person – or sometimes a customer, knowing we don't open until 4, but they need to come in and talk to me – they walk in the back door of the kitchen, and they smell the pot of sauce," Hondo said.  "… It's almost like the cartoon where the guy starts drifting in the air."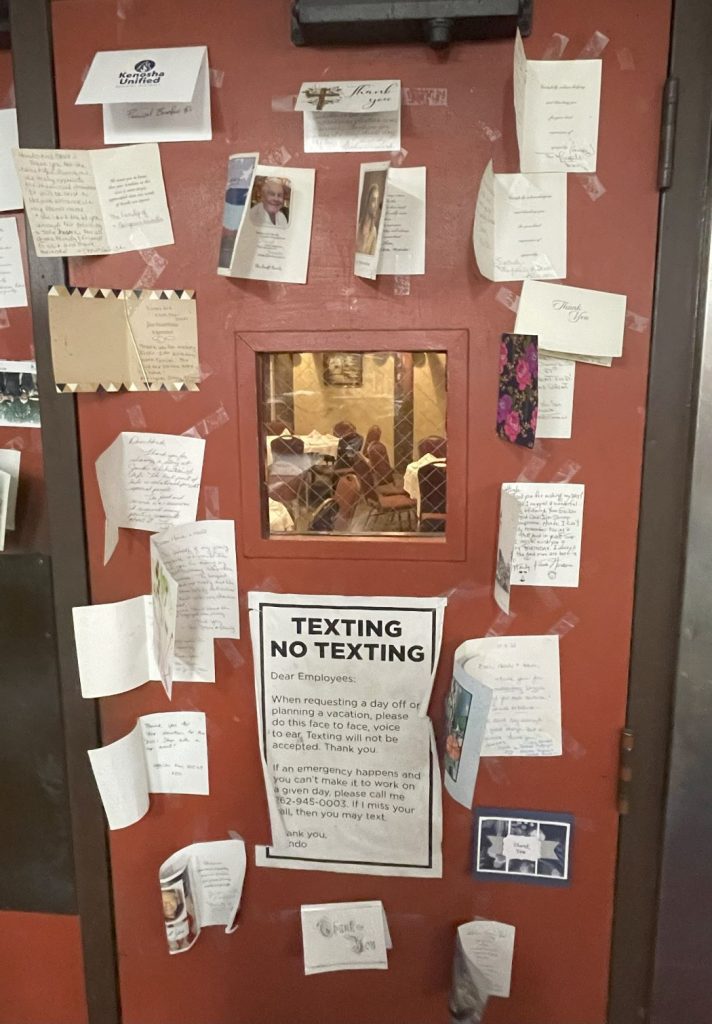 And despite that wad of cash he pulled out to demonstrate the old-school way of paying for things, that isn't what Hondo does it for.
"Just happy customers," he said. "It ain't the money."
Stella's Casa Capri is open from 4 to 8 p.m. on Wednesday, Thursday and Sunday and from 4 to 9 p.m. on Friday and Saturday. For questions, call 262-551-7171 or visit casacapri.com.