That could not have been LJ Dagen lying in a hospital bed, weak and sick, unable to walk or even sit up without assistance.
No, this type of thing doesn't just happen suddenly to a high school junior in peak physical condition like Dagen.
It was only days ago that Dagen, the starting quarterback for the Indian Trail football team and also a member of the school's varsity boys basketball team, was doing his thing on the gridiron in the Hawks' win over city rival Bradford.
One of the top dual-threat quarterbacks in the area, Dagen had burst onto the scene in his first game as a varsity starter on Aug. 20, 2021, when he was just a sophomore, rushing for 209 yards and four touchdowns in the Hawks' season-opening win at Madison La Follette. From that moment, it was obvious to anyone who didn't already know that Dagen was a special athlete.
But a little over a year after that eye-opening debut, in early October of 2022, Dagen was lying in a hospital bed, barely able to move.
It was almost impossible to believe this was LJ Dagen lying in that hospital bed, but that was the reality. When he went to visit, Indian Trail head football coach Paul Hoffman had a hard time believing himself.
"You take Superman, and then you go see him in the hospital," Hoffman recalled. "It takes two people to get him from sitting up in the bed to a chair.
"That's scary stuff."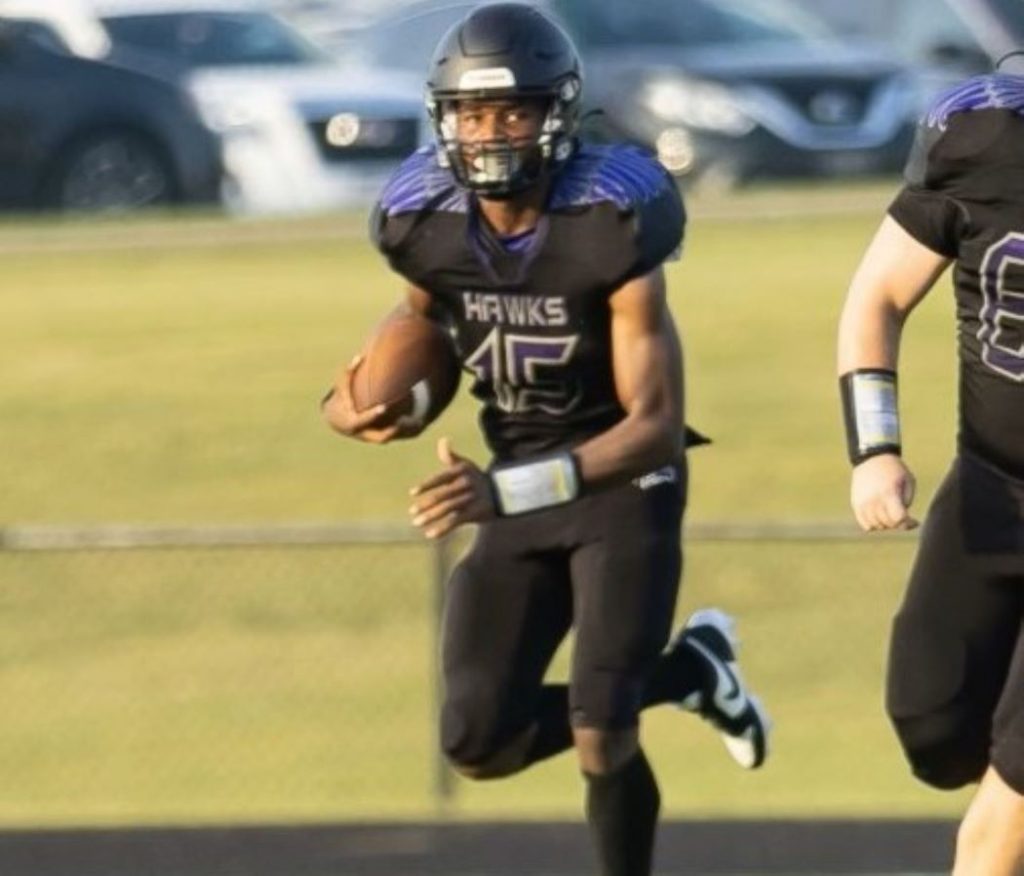 Now, you may be wondering if this was a nasty football injury that put Dagen in the hospital. Or if it was some undiagnosed heart-related matter, an occurrence that has always been a rare but tragic possibility for seemingly healthy young athletes.
Well, it was neither of those things. Apparently, it was something Dagen ate.
Dagen was in the hospital because of Salmonella poisoning. But it was not a regular case of Salmonella, which is often just called food poisoning and – while nasty – typically wouldn't put a sufferer in the hospital, unable to walk.
Rather, Dagen was suffering from a rare type of Salmonella. Though it took days and a seemingly endless battery of tests to diagnose, Dagen was found to be suffering from Salmonella enterica subspecies diarizonae.
Typically, that type of Salmonella is found in reptiles. Somehow, though, Dagen had gotten it. And it acted quickly, getting into Dagen's bloodstream and causing an abscess in his right hip.
While doctors tried to figure out what in the world was going on inside Dagen's body – at one point, he had fluid on his lungs and his oxygen level was dropping – LJ's parents, Lamont and Trenai, were standing by in the hospital and stuck with the absolute worst feeling any parent can ever have.
Helplessness.
"They're looking at his vitals, and they're like, 'His oxygen level's dropping.' And so we're sitting up here, and I'm the emotional one of the two," Lamont recalled, almost a year later choking up and becoming emotional just talking about it.
"So I'm going in the hall and trying to wrap my head around it, because it's not making sense. And I can't help him. I can't even give him advice. You're sitting there, and you're watching your kid suffer."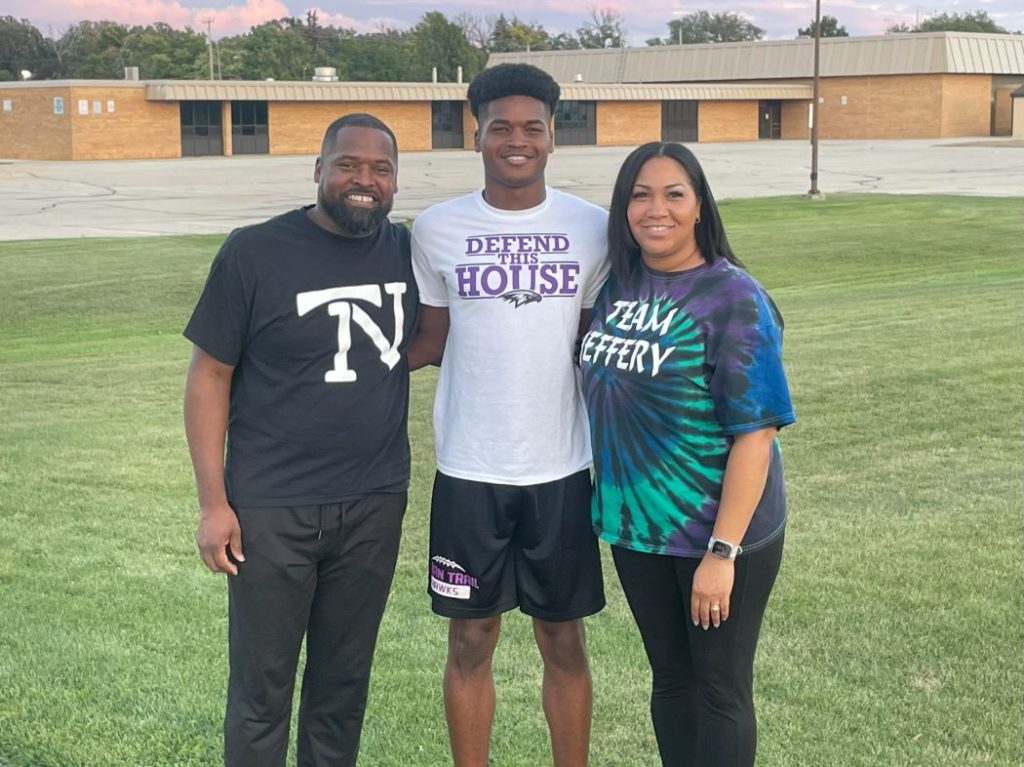 In a twist of irony, right while LJ – short for Lamont Jr. – was in the hospital, Princeton University reached out to the Dagen family about the possibility of LJ playing football there, the first college program to reach out. Of course, Princeton didn't know that, at that moment, LJ couldn't even walk.
A smart and multi-talented kid with a 3.7 grade-point average, LJ Dagen was a standout two-sport athlete with everything in the world in front of him. Now, he had an Ivy League program interested in recruiting him to go to school and play football there.
But as he lay in that hospital bed battling a rare case of Salmonella, LJ said it did cross his mind that he'd never be able to play sports again.
"Yeah, I would say so," he confirmed when asked if that thought occurred to him.
Thankfully, that fear didn't come true, because LJ is back under center again for Indian Trail this season.
Dynamic athlete
LJ Dagen certainly has good athletic genes.
His dad, Lamont, was a world-class triple jumper who competed in the U.S. Olympic Trials twice, in 2004 and 2008. Lamont is a dean at Washington Middle School but also runs an agency, Take Notice Sports Management, that specializes in representing track and field athletes.
LJ gravitated toward football and basketball, taking over the starting quarterback role for Indian Trail as a sophomore in 2021.
Beginning with that memorable debut against La Follette, Dagen had a stellar sophomore season, leading the Southeast Conference with 1,122 rushing yards – on an average of 6.9 per attempt – and ranking third in the conference with 12 rushing touchdowns.
Dagen also completed 57 percent of his passes for 537 yards, with six touchdowns and three interceptions, and received second-team All-SEC honors at quarterback as a sophomore in a conference that typically features some talented signal-callers.
Then, that winter, Dagen averaged 5.1 points, 3.0 rebounds and 1.6 assists per game for the Indian Trail varsity boys basketball team.
"Obviously, there's just some raw athletic ability there," said Rob VanDyke, the head varsity coach for the Indian Trail boys basketball program and also the football team's offensive coordinator/quarterbacks coach, when asked what makes Dagen such a special athlete.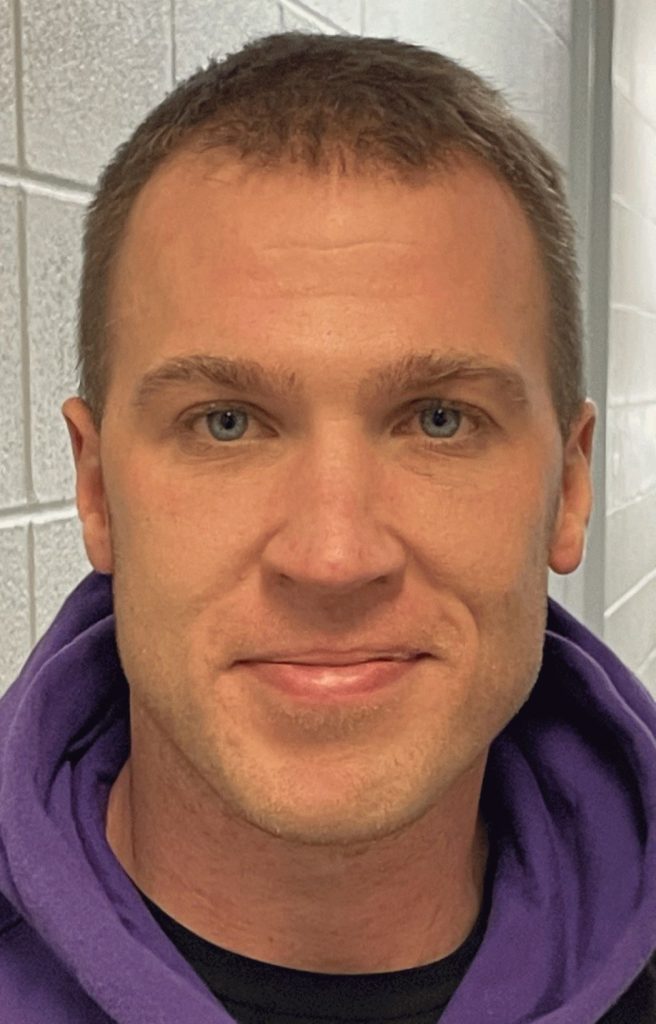 "I always use the (phrase), there's a different gear. You've got kids who are fast, kids who are quick, and then you've got kids who can kind of go into that different gear. I really didn't notice that gear probably until his sophomore year in football, when I got to coach him directly, and it trickled right over into the basketball season."
Dagen was well on his way, and he had another great junior season in football, finishing with 927 rushing yards and 10 touchdowns, on a per-carry average of 8.7 yards, and 586 passing yards, on 69.7 percent passing, for another six touchdowns.
Dagen earned another second-team All-SEC honor at quarterback.
But he attended the final game of his junior season using a walker.
Scary illness
Dagen was in his usual position under center for the Hawks on Sept. 30, 2022, grinding out 128 rushing yards and a touchdown and passing for another 106 yards in a hardfought 28-14 SEC win over Bradford at Bradford Stadium.
However, he didn't finish that game at full strength. Dagen injured his left hamstring in the second quarter and stayed in the game the rest of the way, but he was pretty banged-up.
"We took an MRI and found out that I had a slight tear in my hamstring," LJ said.
The Indian Trail coaches exercised caution in getting their star quarterback through that game.
"We were real, real soft with him at the end of that Bradford game," VanDyke said. "… We got out of Bradford. Over the weekend, it was, 'Hey, come in and see our trainer, Jess (Masrin).' He did all that."
With two regular-season games remaining, Indian Trail needed just one more win to secure an automatic berth in the Wisconsin Interscholastic Athletic Association Division 1 playoff field. The next game, Oct. 7, was an SEC showdown at Franklin, then the defending WIAA Division 1 state champion.
Even with that slight tear in his hamstring, it was unlikely that Dagen wouldn't be ready to take the field against the Sabers.
The night prior to that game, which was Thursday, Oct. 6, LJ and his younger sister, LaNai, ate dinner from a Kenosha restaurant (we are declining to reveal the name of the restaurant for this story), as Lamont and Trenai went out with some friends.
Early Friday morning, Lamont and Trenai were awakened by someone making noise in the bathroom.
"I'm thinking it's our daughter, because she's loud with everything," Lamont recalled with a chuckle. "It was (LJ), come to find out.
"So Friday morning, we get up, get ready to go to work as normal, and I'm downstairs taking a shower, and I hear (Trenai) say, 'LJ just threw up.' I'm like, 'What?'"
"Our kids are never sick," Trenai added.
But LJ was, indeed, sick. Both Lamont and Trenai, the head secretary at Jeffery Elementary, work in Kenosha Unified School District, so they're well-aware of the sick policies.
If you're throwing up, no school. And no school equals no sports. So, unfortunately, right then and there, LJ was ruled out for the big game against Franklin.
"We know, throwing up, can't send him to school," Lamont said. "So there goes the game, there goes going to school. He's running a slight fever at the time. It was like 99, maybe 100.
"So it's like, 'OK, yeah, he's going to stay home,' thinking he's got the flu or something."
LJ certainly didn't feel well that Friday morning.
"I woke up, and I couldn't move (or) get out of bed," he said. "Just sat in bed pretty much the whole day."
Of course, he wouldn't have been the first person bedridden for a day or two with a bad flu. And with COVID-19 still going around, that's always a possibility, too. Nobody figured, however, that he had contracted a rare type of Salmonella.
But the Dagens started to get concerned when LJ literally couldn't walk. Then, his fever shot back up.
"Saturday morning, afternoon (Oct. 8), we're thinking, 'All right, the fever's breaking. He'll be OK,'" Lamont said. "A couple hours later, it shoots up to 104. … So we're like, 'We've got to take him in (to the hospital).'
"… We were struggling to get him into the car, because he can't walk. We're carrying him, trying to get him in the car. And again, this is a kid who two days ago was mobile, getting ready to play in a football game. The week before, he's throwing for 100 yards, rushing for 100 yards. And now it's like, he can't move. He's trying, and he can't move."
Lamont and Trenai took LJ to Froedtert Pleasant Prairie, where he was given Tylenol and taken in for bloodwork. Then the Dagens waited. And waited. And waited.
"We're sitting there for hours," Lamont said. "They finally pull us back at about 3 o'clock in the morning (Sunday, Oct. 9), and they are looking very confused.
"So they're starting to ask us a bunch of weird questions, like, 'Do you guys have any pets?' And we're like, 'Pets? You know, we've got a bird and a dog. Bird's in the cage, never comes out. Dog hasn't been around anything or anybody, doesn't get in the beds or anything like that. That's all we've got.' They're like, 'You don't have any reptiles?' That was the first time we heard the word reptile. So it's like, 'No.' And they're like, 'OK.' And they go back. Four hours later, they finally admit him."
LJ was admitted to the hospital that Sunday morning, now having been severely sick for the entire weekend. Finally, one of the doctors on duty informed the Dagens that the bloodwork had confirmed Salmonella, but they still weren't sure about the type.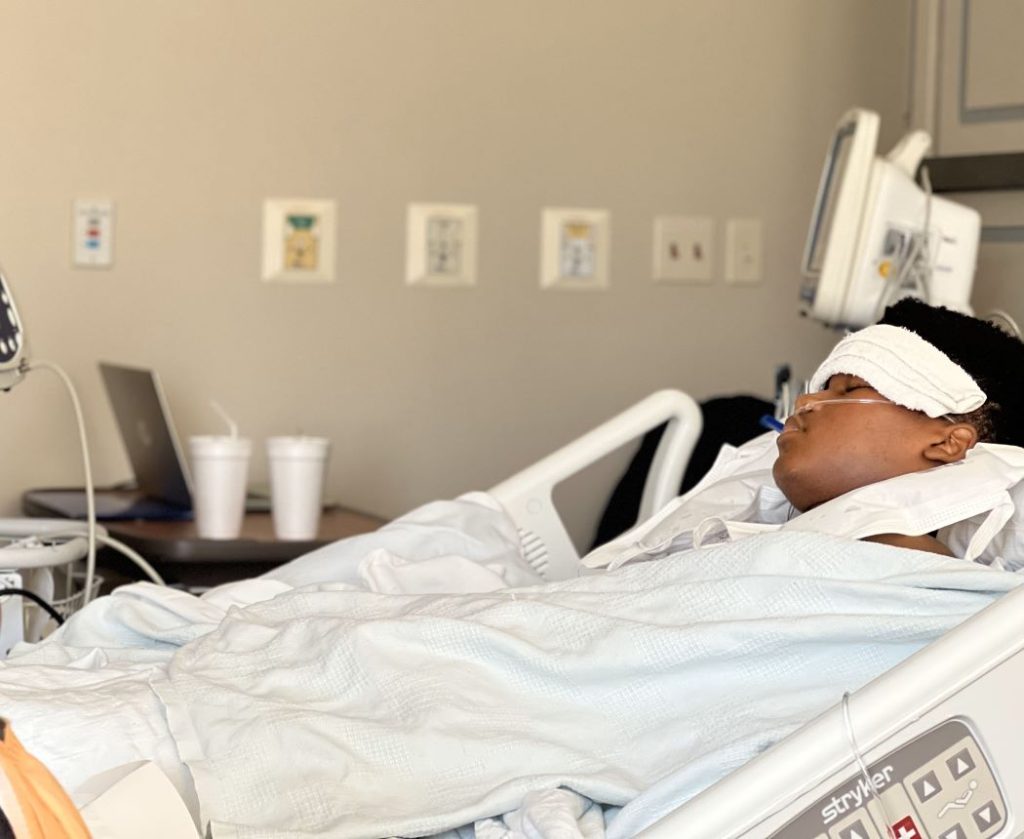 "I was like, 'Uh-huh, OK. I didn't think it would be THAT bad,'" Lamont said. "And they were like, 'It's a rare case of Salmonella.'"
So LJ kept undergoing test after test after test. In the meantime, he had developed that painful abscess on his right hip, had fluid on his lungs and was even put on oxygen for a couple days, Lamont said.
The Dagens said they weren't necessarily concerned about the absolutely worst-case scenario, that LJ's illness was life-threatening, but they were obviously scared and frustrated that there was so much mystery over his diagnosis.
"They're like, 'He's so healthy,' and they don't understand why this is happening so fast and so quickly," Trenai said. "I mean, I was more frustrated, I think. We started to get frustrated, because I think we were sitting in the hospital for so long, and we got tired.
"All these doctors were coming in. They had specialists, he had MRIs, he had X-rays. I mean, maybe like three X-rays, four MRIs. He had CAT scans, he had all this. He kept saying, 'I don't want to go back.' … The days are going by, and we don't have anything.
"Should we go to Children's (Hospital), should we not? They just kept saying, 'No, they're treating him. He's got an infection, but they're treating him with something.' We ended up finding out later that Children's stated that that was the best thing for them to do, was to act fast and treat him. Otherwise, he could've been in (the) ICU."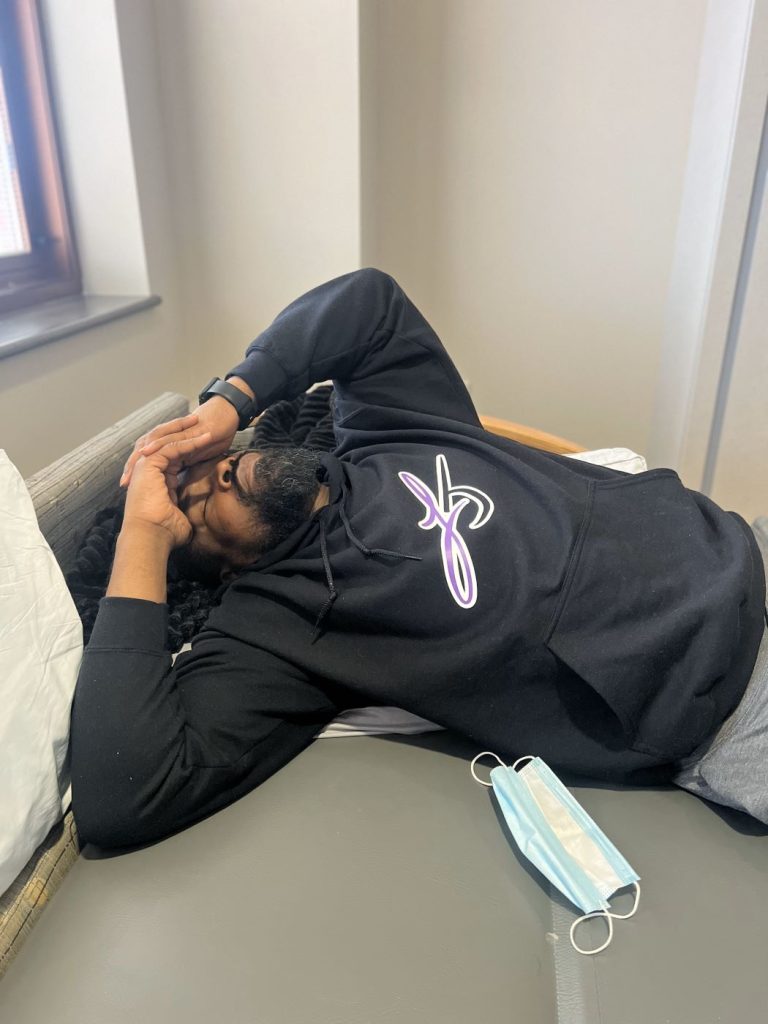 For LJ, the one actually undergoing all these tests, there was really just one thought in his mind.
"Really, I just wanted to go home," he said. "And that was really it, because I was in so much pain. All the treatment they were giving me and the testing, it was just really painful."
Finally, on Tuesday morning – LJ's fourth day in the hospital – Lamont said they were given the diagnosis of the rare type of Salmonella he had contracted.
The recovery
With the diagnosis, at least the Dagens could now start to become more reassured of LJ's recovery and rehabilitation process.
The first big relief was learning that he wouldn't need surgery.
"One of the things the ortho doctor said (was), 'No surgery,'" Trenai said. "Looking at all the X-rays, he assured us by like Wednesday or Thursday – it would've been Thursday – 'There's no surgery. It's just this infection.'"
Added Lamont: "This doctor was like, 'Look, I deal with kids, I deal with sports. He's not going to have to have surgery. It'll go away on its own. As he gets mobile and that joint starts to move, the fluid that's in there will come out, and he'll be fine.'
"And I think that was the first time both of us kind of said, 'Whew (breathes big sigh of relief).' Because you don't know. You're looking at a kid who – the future is bright. But now there's this dim light, and you just don't know."
In the meantime, the Indian Trail football team still had business to take care of on the field without its star quarterback. The Hawks nearly pulled off a big win at Franklin, before falling, 19-14, but they rebounded to shut out Racine Case, 21-0, at Jaskwhich Stadium in the regular-season finale to clinch an automatic playoff berth.
For the football team and its coaches, LJ's situation was shrouded in some mystery. Obviously, the specific details of any health situation for a high school kid are up to the family to share, and it wasn't like LJ had a "tangible" sports injury, like a torn ACL or a sprained ankle.
"Obviously, I had an idea of what the issues were to a point," VanDyke said. "We knew it was some health stuff, and then we knew they were trying to really pinpoint and figure out what was going on.
"Like I said to the family and said to Paul (Hoffman) – I've got a pretty close relationship with (LJ) – I said, 'Just let me know. Anything we can do, visits and things like that.' So all I really knew early was that he was getting some tests done, some health things, and there was some stuff up in the air."
Hoffman, meanwhile, had to navigate his team through the situation. Indian Trail's players were concerned about their quarterback, but more importantly, they were worried about their friend.
"You've got to support them and give them as much uplifting news as you can," Hoffman said. "… Keep him in your thoughts, but yet try to get them to ignore it as much as possible so they can focus.
"… You've always got to play for those who can't play anymore."
Back in the hospital, LJ was beginning to recover, but he was still extremely weak and had lost about 20 pounds. His hospital stay ultimately lasted nine days.
And in a textbook case of bad things happening in bunches, LJ's rare case of Salmonella and his recovery from it wasn't the only health malady the Dagens were hit with at the time.
"A couple of weeks later, my mom goes in the hospital," Lamont said. "He gets out, she goes in. And (we) find out she's diagnosed with lung cancer. Not even a month to the day that he gets out, she passes away. Those are the things that you're dealing with, blow after blow after blow.
"… And you're trying to be strong for everybody. Strong for him, strong for her at the time, strong for the family."
One way Lamont was able to do that, he said, was by sharing with LJ how he battled through his own bad sports injury when he was younger. At a point when LJ seemed to be getting frustrated with his recovery, Lamont shared a scar.
"I tore my quad in high school," Lamont said. "And I asked him, 'Had he ever seen my scar?' And he was like, 'No.' And I was like, 'Well, you know why and what happened?' and I explained that story to him.
"And I'm like, 'Look, we've been through tough situations. Our family's been through tough situations. Your DNA's different. You're going to get through this. But we've got to do it together.' And I think it's at that point where you could start seeing the turn."
Slowly but surely, LJ indeed began to recover. He literally had to learn to walk again, first using the assistance of a walker, then how to throw a ball, something that always came so easily to him. He also had a PICC line, which delivers IV fluids, inserted and had to return to the hospital for daily antibiotic infusions for a while.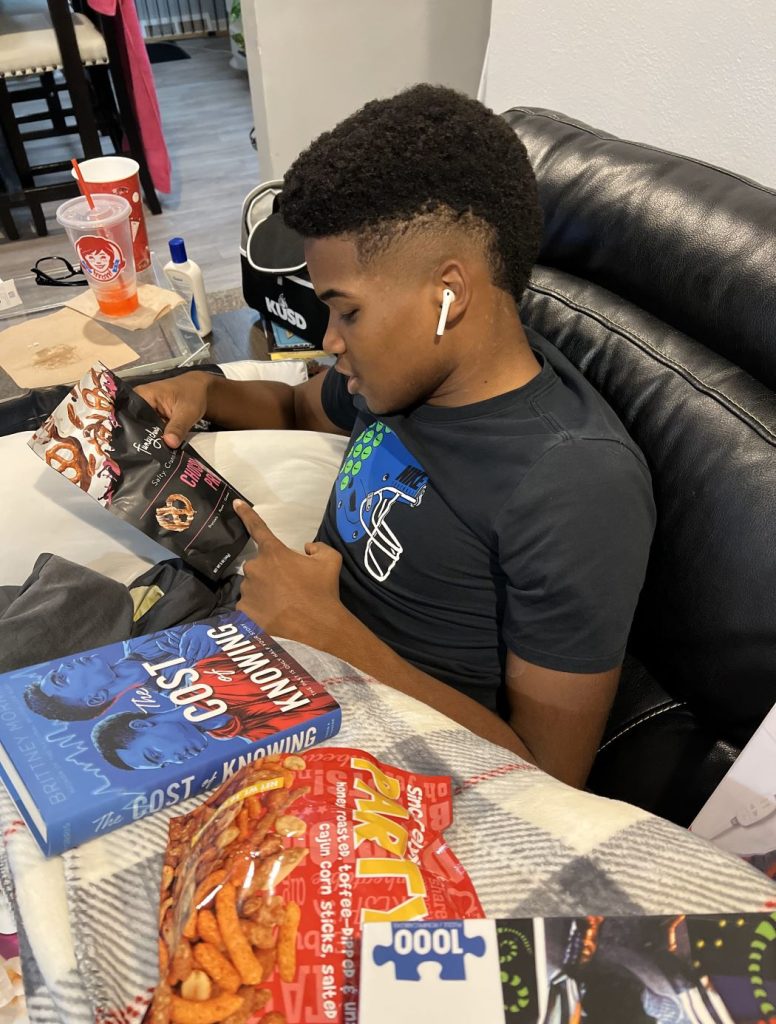 But being just 16 years old at the time, LJ was able to recover rather quickly.
"Every day, he did something different," Trenai said. "We had a little conversation, just saying, like, 'You're strong. Nothing's wrong with you. Just a little setback, you had a little infection. It's on you now, the rehab, what you can do.'
"So every day, you could see him taking steps, he's not using the walker, just trying to do some strengthening on his own."
LJ missed 19 days of school but finally returned to the halls of Indian Trail, soon ditching the walker. And he even returned to the Indian Trail sideline to watch the Hawks' playoff game at Muskego on Oct. 21, though he did need a walker at that point to stay upright.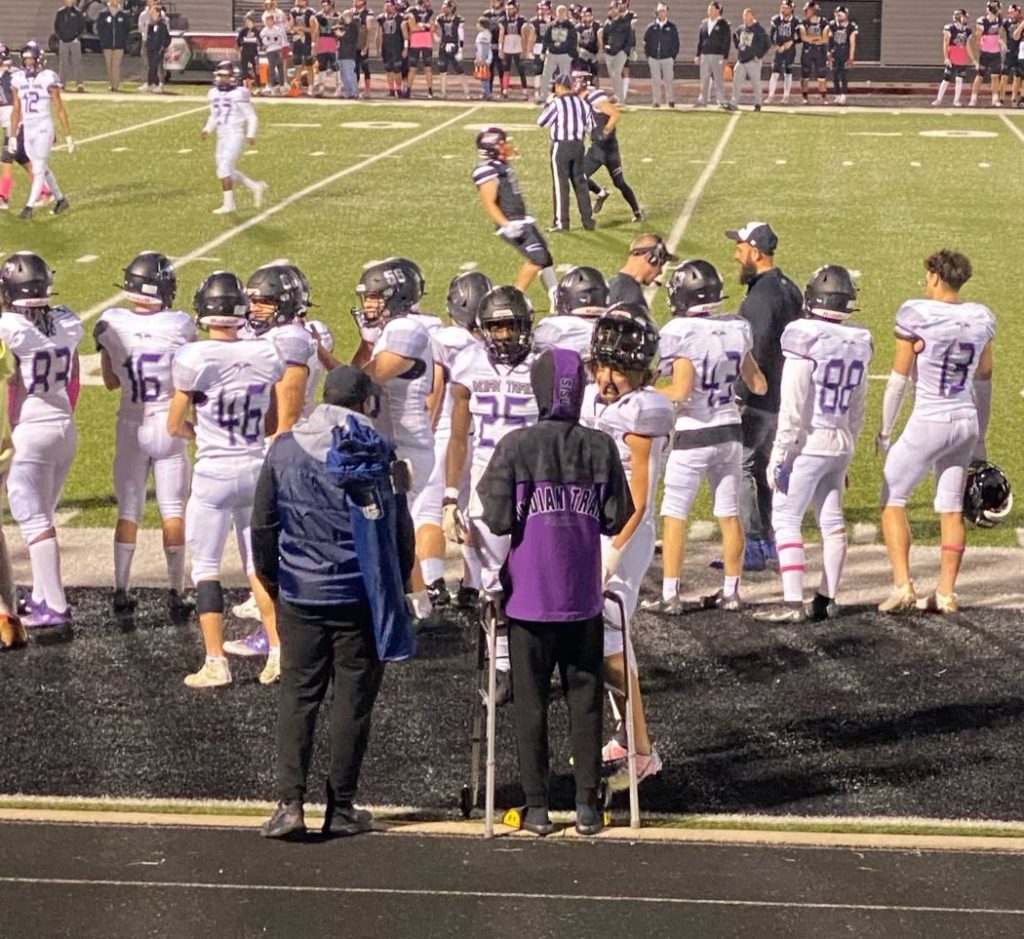 "It was awesome just to see him," Hoffman said. "He had his walker. … Just to have him there was good. I looked down the sideline. I signaled him the calls, so he knew what was coming at him. … He learned them as a sophomore.
"So to have him there was uplifting. It was the first time a lot of the players saw him."
Said Lamont about that Muskego game, choking up and becoming emotional: "That was his first time out and being back in a football environment. We walked in the stadium …
"Everybody is just like, 'LJ, LJ, LJ!'"
Back on the court
Though he couldn't finish his junior football season, basketball season was right around the corner, and LJ was determined to return for it.
Of course, VanDyke would be thrilled to get one of his key players back, but he was mostly just concerned about LJ getting back to full health.
"LJ's itching to get back," VanDyke said. "You've gone through all this stuff, so you want to have a good plan, and shoutout to the Dagens and Jessica (Masrin, the trainer).
"… My spot as a coach was, 'Hey, I'm going to listen to you guys. But when we put him in these game-play situations, we just have to know that he's going to be LJ. So we've got to make sure he's ready from that standpoint.'"
Remarkably, LJ returned for Indian Trail's second game of the season, scoring two points on a pair of free throws in a non-conference home win over Milwaukee Destiny on Nov. 30, less than two months after he was admitted to the hospital for the rare case of Salmonella.
"I was just glad to be out there," LJ said. "I wasn't 100 percent. I would say I was 100 percent toward the end of the season, like February, March. Throughout the season, I would be on the bike before the game started, and then I would go out there and play.
"Toward the end of the game, I would still feel pain in my right hip, and then I would just massage it and just keep on going."
Added VanDyke: "My whole thing was, 'Hey, if this kid's peaking at the end of the season, I'm thrilled.' Yes, the early stuff's important, but you want to be peaking in January, February.
"(Jessica Masrin) and the Dagens put together a plan and (did) a great job. That's reassuring as a coach: 'I understand there's going to be a timeline, and you tell me when you want me to integrate him in some drills.' … I remember being in the gym with Mr. Dagen and putting him through just agility stuff. You're around the kid enough, you can kind of see when he's letting up and letting it rip."
Ultimately, LJ averaged 5.0 points, 3.9 rebounds and 3.6 assists per game in helping lead the Hawks to 20 wins and a WIAA Division 1 regional title. He was even named honorable mention All-SEC for boys basketball last season.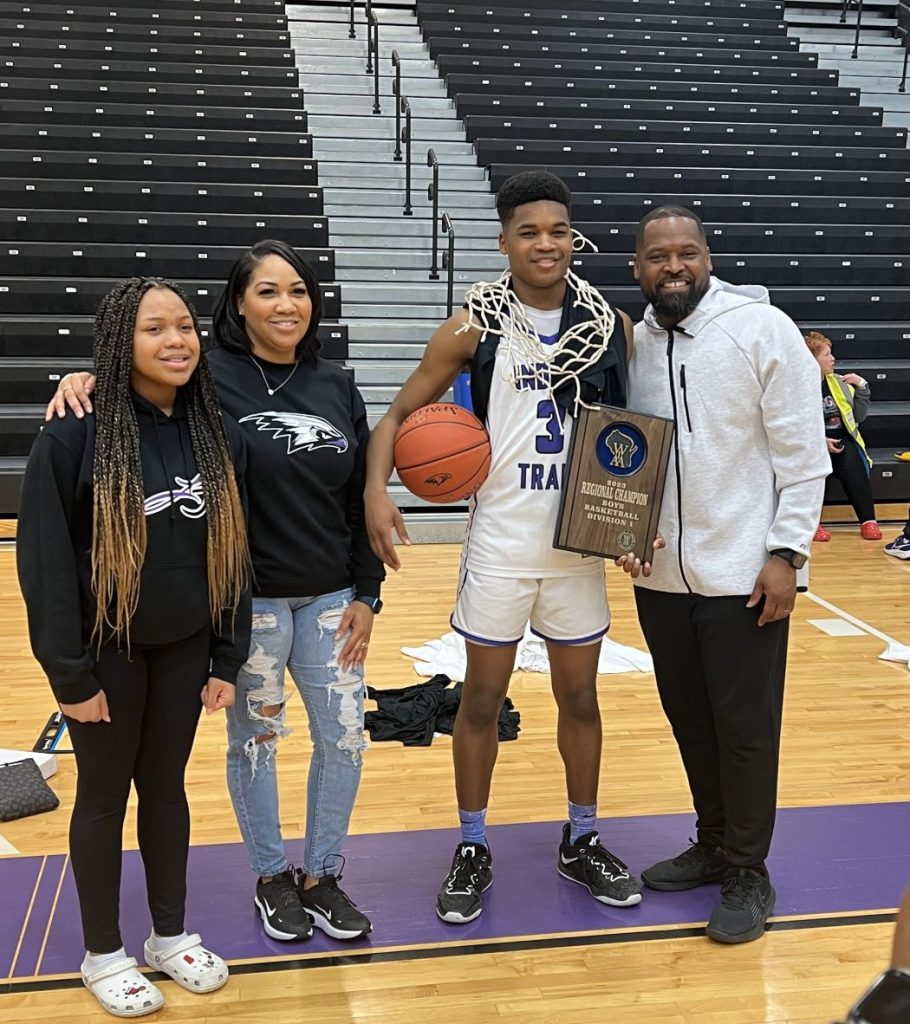 And this fall, he's back on the football field.
Announcing his triumphant return on Aug. 18 at La Follette – just like in his first varsity start two seasons ago – Dagen rushed for 192 yards and two touchdowns and went 8-of-10 passing for 121 yards and three more scores, kicking off his senior season by leading Indian Trail to a 42-0 victory.
In Week 2, last Friday at Jaskwhich Stadium, the Hawks jumped out to a 14-0 lead against a very good Verona team, but ultimately turnovers doomed the Hawks in a 42-14 non-conference defeat.
This Friday (Sept. 1), Indian Trail opens its seven-game SEC slate by hosting Racine Park at Jaskwhich Stadium. Kickoff is 5:30 p.m.
"I would just say living in the moment," Dagen said if he has a different appreciation for playing now after all he went through last year. "Because you never know what's going to happen next."
Into the future
In the aftermath of LJ's rare Salmonella diagnosis and his hospital stay, the Dagens were still trying to figure out exactly how it happened.
On the night he got sick, LJ ate some chicken that his sister – wisely, as it turned out – avoided because she didn't like the look of it. But LJ also ate some mini-hamburgers, so who knows exactly how he was poisoned with a rare type of Salmonella that typically comes from reptiles?
Because it was a Salmonella case, LJ's illness was reported to the Wisconsin Health Department. And Lamont said the Centers for Disease Control identified just 32 people in the U.S. from 20 states during the period of March 31 to Dec. 22, 2022, that contracted the type of Salmonella that LJ did, including, of course, LJ.
The Dagens have consulted with a lawyer about how it all could've happened.
"What the lawyer is thinking, too, is that maybe someone who had the infection but didn't show signs (was) potentially making food, they made the mini-hamburgers, they're touching the burgers, he eats the burger, he gets infected," Lamont said. "It's just one of those things."
In the end, the Dagens said they weren't really interested in pursuing a lawsuit or anything. They just wanted LJ to get healthy.
However, because of everything the family went through at the time, Trenai said they were advised to file a hardship case with the hospital to get the medical bills for LJ's treatment covered. Even with good insurance, of course, Trenai said it all cost "a pretty penny."
So she's happy to report that the Dagens were granted hardship coverage.
"We were blessed to receive 100 percent hardship from the hospital," Trenai said. "So we didn't have to pay anything."
Ultimately, of course, they're just happy LJ is back on the field and focused solely on his bright future. With both his athletic potential and his classroom work, LJ is a rare commodity.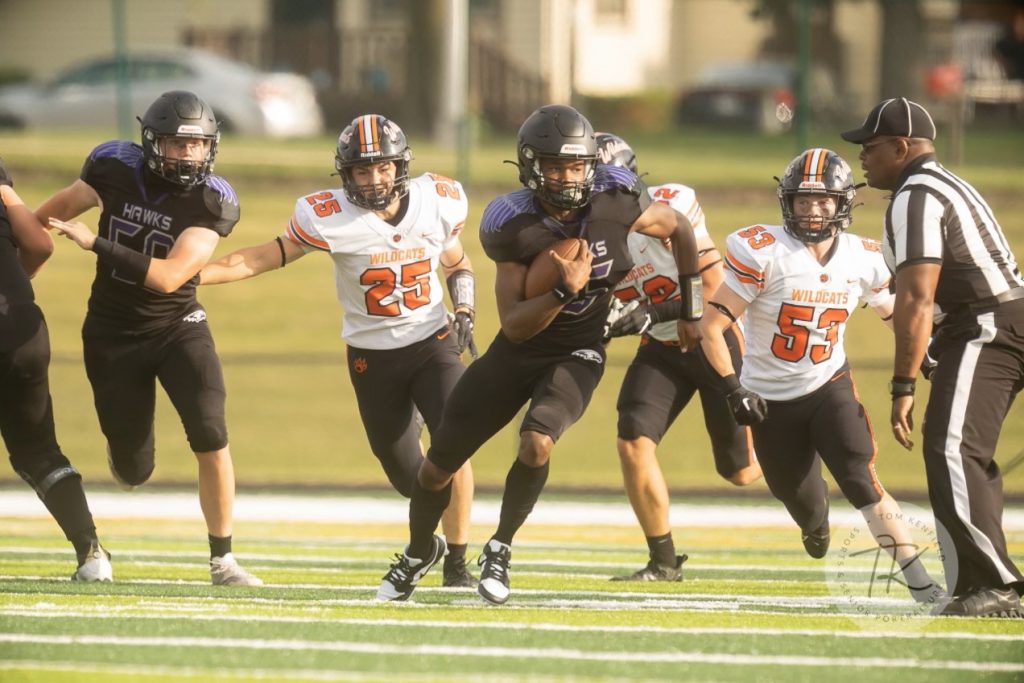 "The obvious answer is tools," Hoffman said when asked what makes Dagen so special as an athlete. "His explosiveness and his speed. Then past that, his attention to detail and learning the game.
"… We put a lot on him. I always said I'd never run option (offense) at the high school level. I'm not putting my job in a 16-year-old's hands. But he changed my mind on that. … Having him is a luxury."
LJ's mature demeanor also makes him an attractive choice to lead a college program. It's also probably what helped him get through his health scare.
"He's just even-keeled," Hoffman said. "We can be up by 40 or down by 40, and he's got the same look on his face. Not much is going to get to him.
"We've had one other one like that here at Indian Trail, where nothing's going to get to him. Those are the guys you want with the ball in their hands. … Just his even demeanor, not letting the emotions of the game get to him."
The college interest has continued to roll in for LJ as his senior season progresses. Lamont said multiple Ivy League schools have now reached out, and inquiries have come from NCAA programs at all levels. That includes the hometown school, Carthage College, an NCAA Division III program.
For now, LJ says he's just focused on his senior season.
"Anywhere, to be honest," he said with a shrug about what his college preferences may be. "I'm just trying to go out on the field and play."
Lamont certainly has plenty of experience advising high-level athletes, but he's letting his son have plenty of say in this process.
"He's open to everything," Lamont said. "It's not just, 'I've got to go here.' He's open to everything, and I think based on the visits that we've taken and the things that we've done, it shows that. We've been to D-Is, we've been to D-IIs, we've visited D-IIIs. So that mindset of having an open mind is clear.
"Of course, every boy's dream is to probably go D-I, go to their favorite school. But like he said, whatever's going to provide the best opportunity … for him to get an education and have the opportunity to play, we're all for."
And with his health scare behind him, the sky's the limit for LJ Dagen.
"I think wherever he goes, whatever he does, I think he's going to have some options, and I think some of those options will open up pretty quick," VanDyke said. "Wherever he goes … they're getting a really, really special athlete, but more importantly, a special person."
NOTE: The Dagen family would like to thank all of those who prayed, reached out, wrote letters and cards, donated monetary gifts, dropped off food or helped in any way. We appreciate each and every one during that time.