Since 1957, Dick's Roof Repair has been proudly serving the Kenosha community, providing top-notch roofing, siding, and window solutions. However, our commitment goes beyond just offering exceptional services. We firmly believe in giving back to the community that has supported us for decades. In this spirit of gratitude and appreciation, we initiated a program in 2020 to recognize outstanding individuals who have dedicated their lives to serving others. This year, we are thrilled to honor William "Bill" Roberts, a remarkable volunteer whose selfless contributions have touched countless lives in Kenosha.
For over three decades, Bill Roberts has been an integral part of various Kenosha-area organizations, with his journey beginning in the 1980s through his employer, Abbott, and the United Way of Kenosha County. His unwavering dedication to the community has manifested through his involvement in numerous capacities, from being an esteemed Board member to actively serving on the Community Investment Committee.
Bill's generosity knows no bounds, as he willingly takes part in volunteer initiatives such as the Day of Service and Day of Caring events. He has also lent his expertise as an IRS-certified Volunteer Income Tax Assistance volunteer, ensuring that individuals have access to the necessary resources during tax season. Moreover, his passion for education shines through his commitment as a reading tutor, empowering future generations with the gift of literacy.
As an organization that believes in the power of community and compassion, Dick's Roof Repair took notice of Bill's extraordinary contributions. His dedication and hard work did not go unnoticed, as the United Way of Kenosha County awarded him the coveted 2022 Volunteer of the Year title, a testament to his impact on the lives of many.
Despite his remarkable achievements, Bill Roberts remains incredibly humble. He never seeks recognition or accolades for his efforts; instead, his sole focus lies in serving others and ensuring that they have access to vital resources that can truly make a difference. Bill's heart is genuinely invested in the well-being of his community, and his selflessness has made a lasting impact on those around him.
At Dick's Roof Repair, we believe in celebrating individuals like Bill Roberts, whose unwavering commitment to the community has made Kenosha a better place for everyone. As a token of our appreciation, we are proud to present Bill with a free roof, ensuring that he is taken care of just as he has taken care of others throughout the years. It is our hope that this gesture will not only protect his home but also serve as a symbol of gratitude from the entire community for his tireless efforts.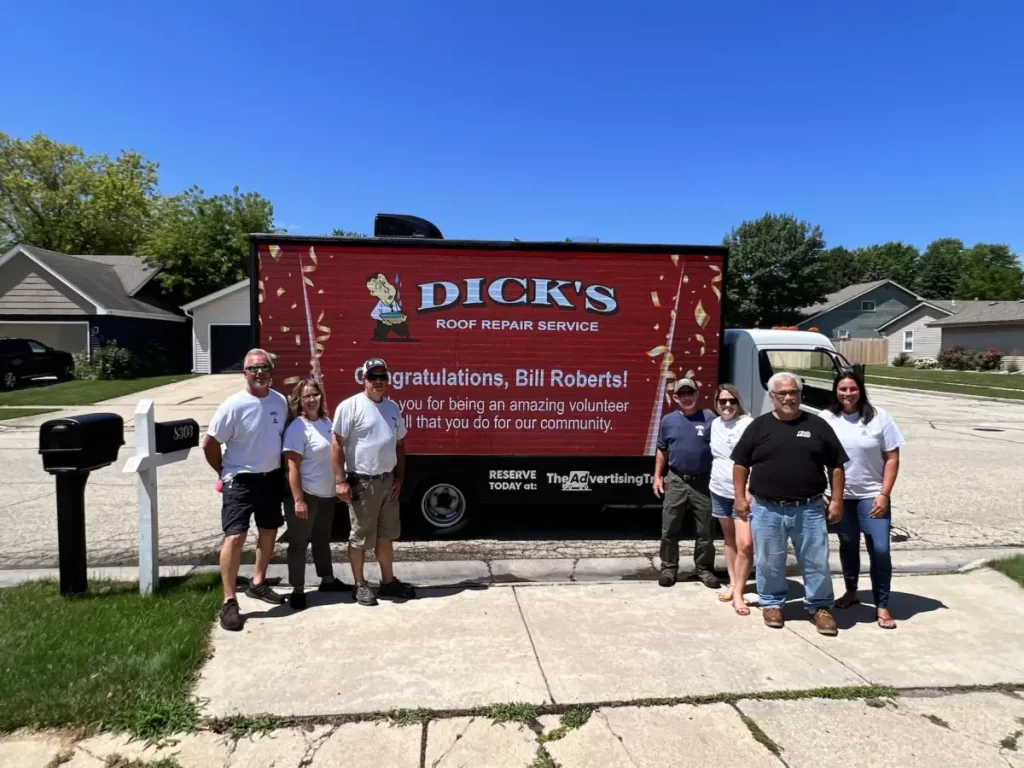 The story of Bill Roberts is a testament to the incredible power of community service and the profound impact that one individual can have on the lives of many. At Dick's Roof Repair, we are honored to play a part in recognizing and supporting such remarkable volunteers. As we continue to serve the Kenosha community, we are reminded of the importance of giving back, and we remain committed to uplifting those who have dedicated their lives to the betterment of others. Let us all be inspired by Bill's spirit of service and join hands in creating a more caring and compassionate world.