Racine WI July 24 2023 Whether you attend because you love being around beautiful art; because of the tradition a 58-year-old-event creates in your life; or because of the excellent food and ambiance, The Racine Art Guild's Starving Artist Fair should be on your agenda between 9am and 4pm Sunday August 6, 2023. In its third year at historic DeKoven Center (Wisconsin Avenue at 21st Street/Caron Butler Drive), the fair is able to expand to welcome more artists, food and beverage vendors and music.
The Fair is the largest juried art fair in the tri-county area with just over 120 booths, featuring a broad array of visual art: painting (acrylic, oil, digital, watercolor, and digital), mixed media, glass, ceramics, jewelry, printmaking, metal, yard art, fiber, photography, and wood.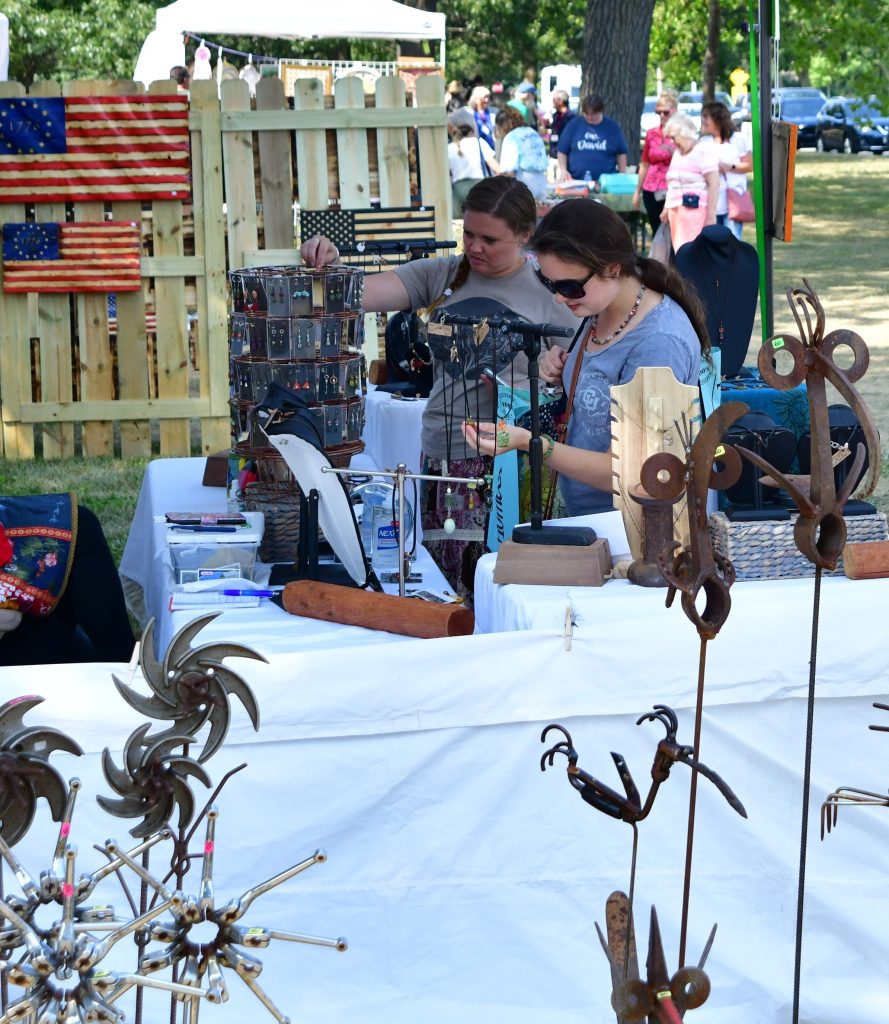 While many of our artists have participated in this Fair for years, each year we also welcome many new artists. Most are from the region with 42% coming from Racine county (a much larger percentage than the past two years), 57% from Wisconsin communities outside the county, and 1% from Illinois, giving our visitors a fresh look at today's art. Please also consider shopping at our Racine Art Guild Boutique featuring the art of extremely talented Guild member artists.
Parking and Shuttle Service: There is plenty of parking in the neighborhoods surrounding DeKoven. Bt for those who value gate service, two shuttles will be available taking visitors to and from their parking spots: A neighborhood shuttle will be making a loop in a radius of several blocks of DeKoven Center. Wave it down. A second option is to park in the SE corner of Gateway Technical College's lakefront lot (Pershing and 11th). This shuttle will be running every 15 minutes.
Please see the Starving Artist Fair Facebook page /racineSAF for event and shuttle information
Benefits Scholarships: Proceeds from the Starving Artist Fair go to support four significant scholarships to art students residing in Racine County and attending one of 4 regional colleges. In addition to the booth fees, the Guild raises money at the fair through raffle ticket sales featuring excellent yard art executed by Racine Art Guild members. This year's Raffle features Racine Art Guild Members' Best Work. The Silent Auction offers donated art by our Fair's participating artists and also contributes significantly to the scholarship fund. Please also consider shopping at our Racine Art Guild Boutique featuring the art of Guild members.
As visitors stroll the grounds, they can also enjoy Kids Korner free art activities, a great selection of food & beverages, and fine music.
KIDS KORNER
Those with children will want to stop by Kids Korner on the west side of the Fair for free art activities. Each year two of our Guild members bring out the fun! They design several quickly completed art projects to generate kids' creativity and make a great afternoon even better.
Nearby, families may want to visit Bere's Fun Face Art booth for a fancy face painting adventure.
FOOD & BEVERAGE:
There are two food courts–one on each side of the Fair (see below). Cowboy Kettle Corn will also be present at Booth R-5 along Wisconsin Avenue.
West Food Court
Pastry4U -sweet treats
Z's Table
Nutman – Packaged snacks Booth Y-35
Dekoven Center tent-wine, beer, specialty drinks
Southeast Food Court
Cut Stone Food – Pizza Fire Truck
DeKoven Center Tent-wine, beer
Immoxicated non-alcoholic mixed drinks
Dekoven Center tent-wine, beer, specialty drinks
MUSIC
Performances will be held on two sides of the DeKoven property:
East Side Music Tent
9:15am – 11:00 am: Brandgas String Quartet
11:30am – 12:30pm: Silver Bells Flute Choir
12:30 – 1:30pm: Todd Krewall
1:45 – 3:00 pm: Nolan Boerner – Cello
9am – 4pm: Vibhaus Kendzia-Booth B-33
West Side Music Tent
10:30 am – 12 pm: Prairie String Quartet
12 pm – 2pm: DGSmith – Guitarist
The Racine Art Guild is grateful to its sponsors:  VisitRacine, Mt. Pleasant Tourism Council, Johnson Financial, Educators Credit Union, Festival Foods, Uline, O&H Bakery, and Blick Art Supplies.