In the cooler near the front counter of the Lou Perrine's Gas & Grocery location at the corner of Sheridan Road and 52nd Street, the stock of highly sought-after Mama P's Ho Ho Cakes was dwindling to a precious few by late Tuesday afternoon.
Sadly, they would not be refilled.
The end of Tuesday's stock of Mama P's Ho Ho Cakes, probably Lou Perrine's signature item, was a stark reminder of the end of a longtime Kenosha institution.
In a recent Facebook announcement, Lou Perrine Jr. – whose father, Lou Perrine Sr., started the business in 1954 – announced that Lou Perrine's Gas & Grocery would be closing after a remarkable 68-year run. The two locations – the original one at 5145 Sheridan Road and the newer location at 8004 22nd Ave., which just opened in 2022 – were sold to an investment firm out of Indiana.
Tuesday (July 11) was the final day of operations at both locations, at least under the Lou Perrine's name. The business always remained in the family, as Perrine Jr. took it over from his father in 1985 and his oldest son, Anthony, took over operations in 2010. "Mama P," meanwhile, is Laurie Perrine, Lou Perrine Jr.'s wife and Anthony's mom, who created the famous Ho Ho Cake.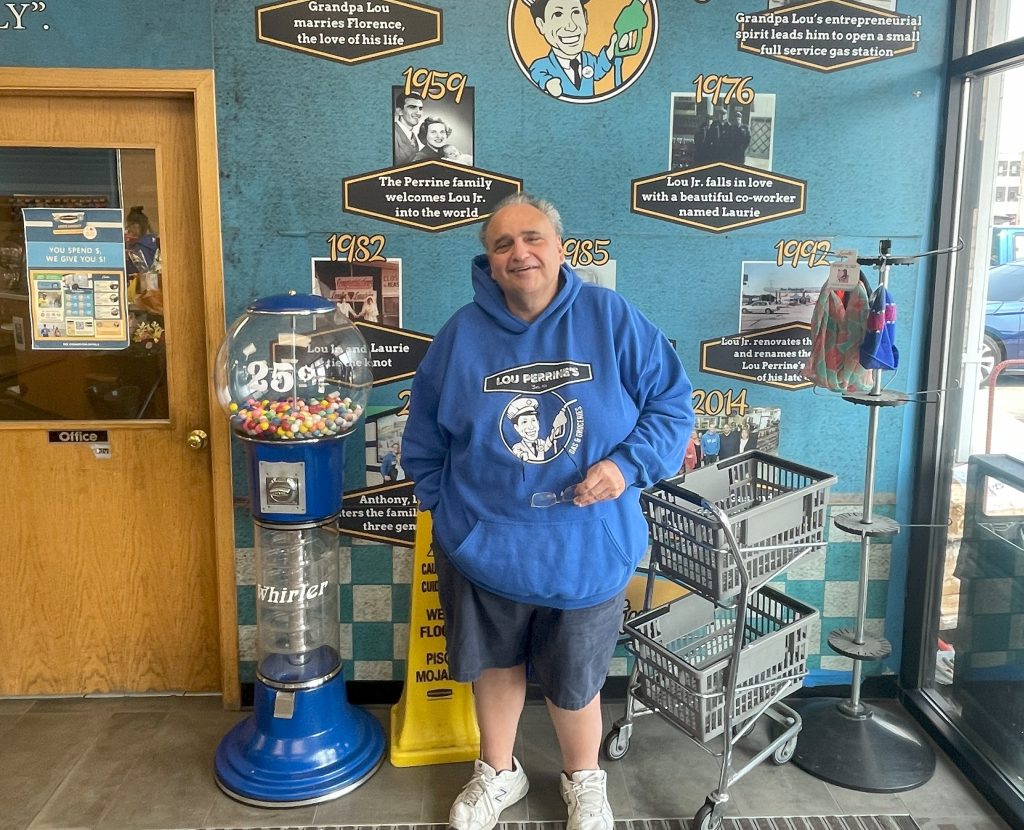 Even after Anthony took over as owner, Lou Perrine Jr. has stayed involved with the business. From the office at the original location on Tuesday, Perrine Jr. said it's just time to step away now and that the sale was not anything sudden.
"It's a bittersweet day," he said. "A lot of emotions. I've been here since I was 14, so there were a lot of emotions – good ones. But it's been a long time.
"… It's been in the works (for) a little bit. It's been something that we've been talking about in the last few years."
Perrine Jr. did confirm Tuesday that both locations will remain as gas stations/convenience stores, but they will operate under a major brand name.
"They'll be changing the name within 60 days," Perrine Jr. said. "They'll be changing the name to some kind of brand. It'll be a major brand, like a BP or an Amoco or a Citgo.
"… Most of the employees are staying with them. The customer won't really see a change, other than the name and maybe a little of that family orientation that we do now."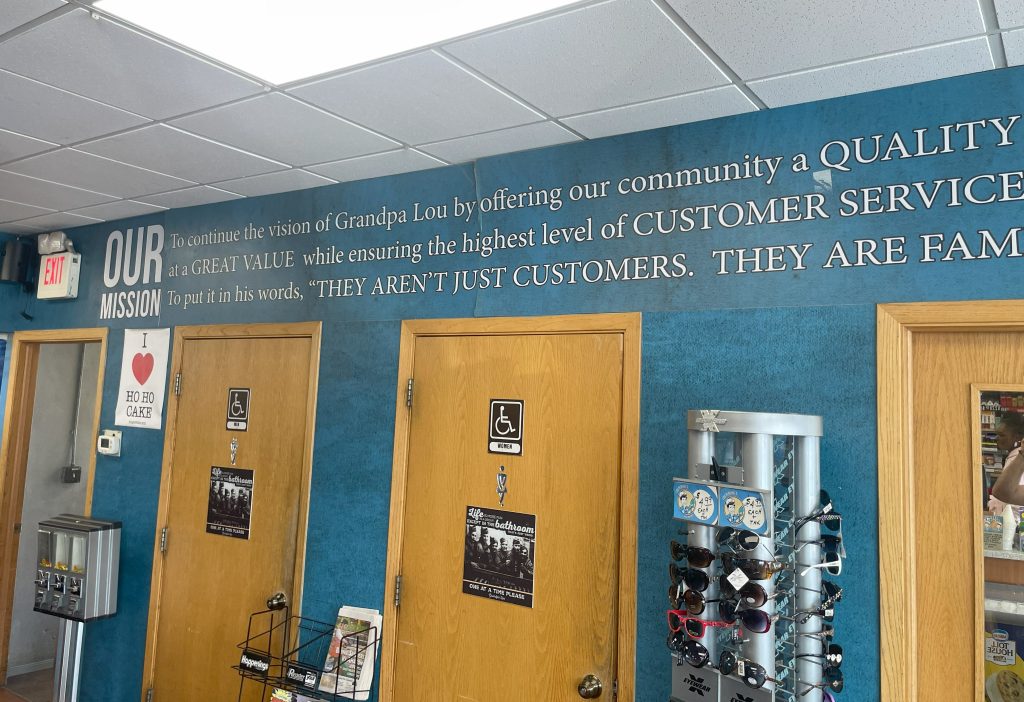 A family feel
And it's that family feel of Lou Perrine's that will be missed by those who have long stopped there for gas, coffee, Mama P's Ho Ho Cakes and other items.
Kenosha resident Quinn Smith came into the original location on Tuesday afternoon for a final stop to pick up some items. Smith quickly bantered with employees upon walking in, in the same manner regulars at a corner bar or restaurant might do.
Much like the famous TV show "Cheers," at Lou Perrine's, everyone knew your name.
"I come here every morning to get coffee, whatever, sometimes twice a day," Smith said. "I'm going to be very sad that this place is not going to be here.
"… It's a staple of Kenosha. I'm going to miss it on a personal level. The people coming in have big shoes to fill. Hopefully they'll be able to."
Even longtime Wisconsin Sen. Bob Wirch of Somers issued a statement on the closing of Lou Perrine's.
"What a bittersweet day," Wirch said. "Lou Perrine's isn't just a store in Kenosha. Lou Perrine's IS Kenosha. People from all over know about Lou Perrine's, and while I'm sad to hear that Lou, Anthony, Laurie and the entire crew won't be running the show anymore, I'm happy that they reached a deal that was good for the family and will provide Lou and Laurie with a well-earned retirement.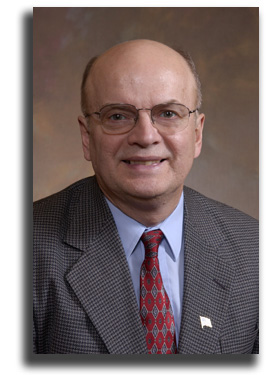 "I can't thank the Perrine family and everyone at Lou Perrine's enough for their contribution to our community. Lou Perrine's is an iconic Kenosha brand, in part because of the way they've run their business, but also because of their contributions to Kenosha and southeast Wisconsin."
Perrine Jr. said a lot of loyal customers came in and out of the original location on Tuesday to say goodbye and pay their respects.
"I'm going to miss the employees, I'm going to miss the customers," Perrine Jr. said.
Plans for the future
In that regard, Perrine Jr. said the Lou Perrine's brand name isn't going away forever, despite the sale of the two stores.
The Perrines will continue to own the rights to the name. Although they won't be involved with the two gas stations/convenience stores anymore, Perrine Jr. said he and Anthony have plans to keep the Lou Perrine's name going in some other venture at some point.
"We're going to take some time off and rethink," Perrine Jr. said. "We'll be back. It's just, I don't know if it'll be in the gas business. But we'll be doing something."
Perhaps the best news for area residents is that the Mama P's Ho Ho Cake, that delicious confection of chocolate cake with a smooth, creamy white filling and fudge frosting, will hopefully be reappearing soon elsewhere. It may be in more of a commercial, big-order format, rather than the individual-sale treats that were dwindling to such a precious few on Tuesday.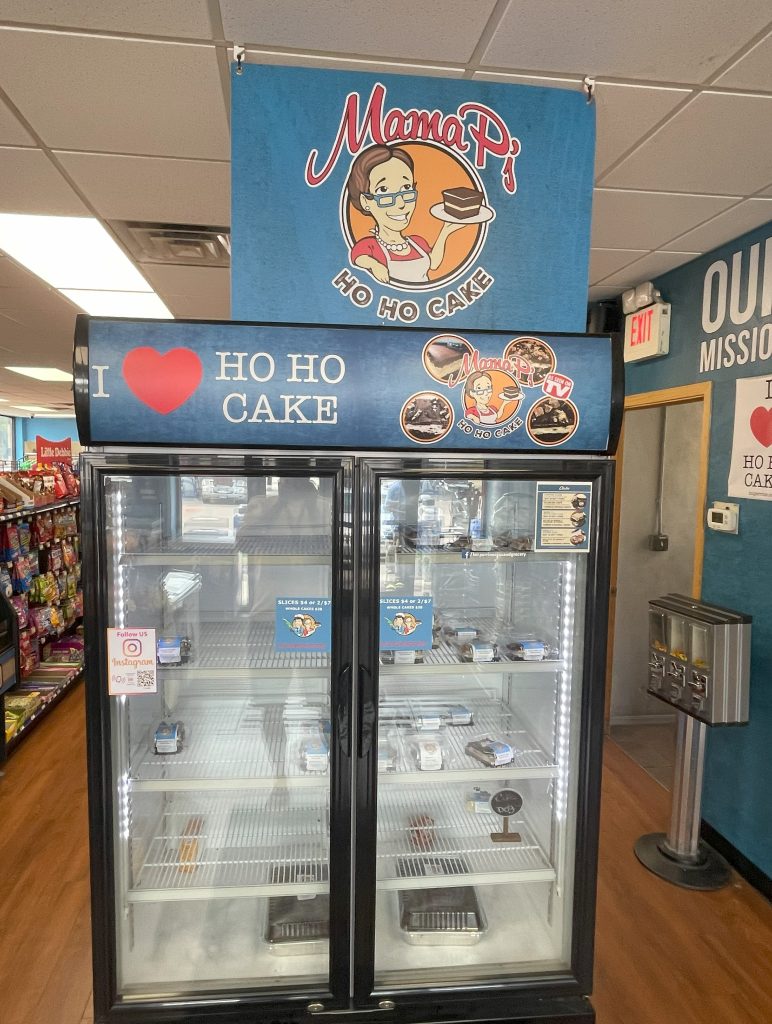 "Eventually, we'll go back to making it," Perrine Jr. confirmed. "We'll have to find another place to make it. We'll go after more accounts with that, instead of selling them individually to customers. 
"We'll go after more restaurants and sell it."