It can't be often that Indian Trail graduate and Los Angeles Dodgers infielder Gavin Lux, one of the most talented young players in all of Major League Baseball, isn't regarded as the best athlete in whatever company he keeps.
But when he's with his girlfriend, well, Lux at least gets a run for his money in the athleticism department.
Lux's girlfriend is Kenosha's Molly O'Boyle, a Tremper graduate who in her own right had one of the best high school athletic careers in recent Kenosha County history. In the 2016 Wisconsin Interscholastic Athletic Association Division 1 State Gymnastics Meet, O'Boyle won the all-around state championship, as well as state titles in the vault and the floor exercise, while competing for the Kenosha Co-op team.
Then, just months later, O'Boyle qualified for the WIAA Division 1 State Track and Field Meet for Tremper in multiple events.
So, when asked in a phone interview who the better athlete is on Wednesday evening, Lux was sure to give the best answer given the circumstances. Because O'Boyle was sitting right next to him outside Dodger Stadium.
"I'd say she is (the better athlete)," Lux said. "She went to state for track and won state in gymnastics, so I always say she's the better athlete. I just play baseball. It's more of a skill sport.
"… She's doing backflips and tucks and stuff."
With a chuckle, however, O'Boyle interjected with her own humble answer.
"No. Not even close," she said. "You saw my pitch. It wasn't even close to a strike. … I never did a sport with a ball or a bat or anything like that. So that's my excuse."
A memorable night
The "pitch" O'Boyle was referring to came this past Monday night (July 3) at Dodger Stadium during what had to be one of the more memorable nights in Kenosha sports history – in terms of its significance – but especially for the Lux and O'Boyle families.
Monday was Gavin Lux Bobblehead Night at Dodger Stadium, as the Dodgers hosted the Pittsburgh Pirates. To mark the occasion, O'Boyle threw out the ceremonial first pitch, with Lux on the receiving end.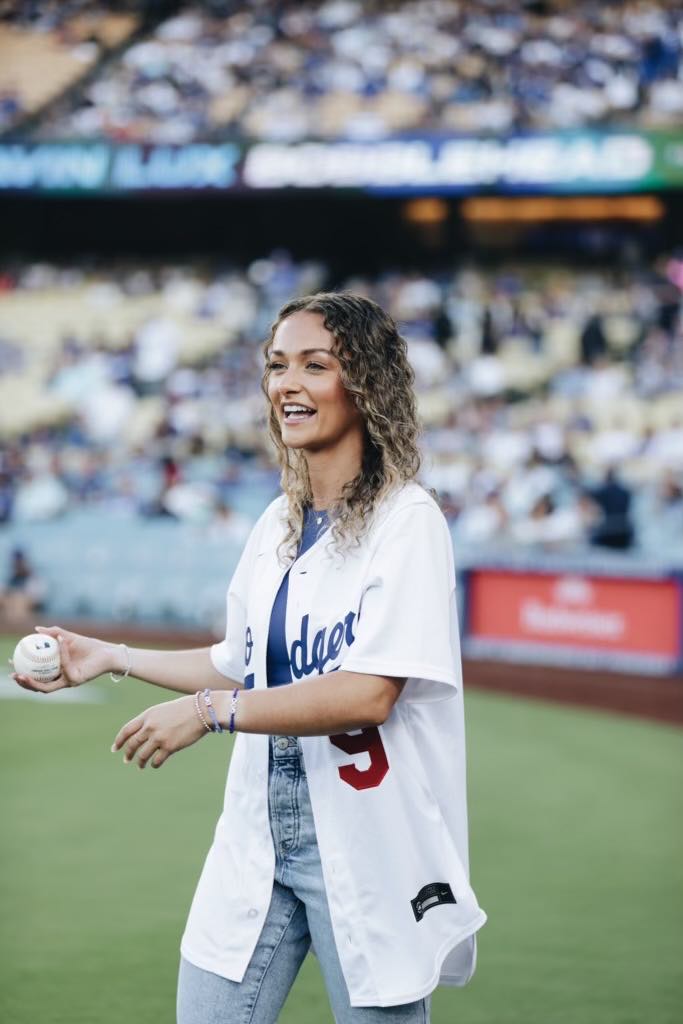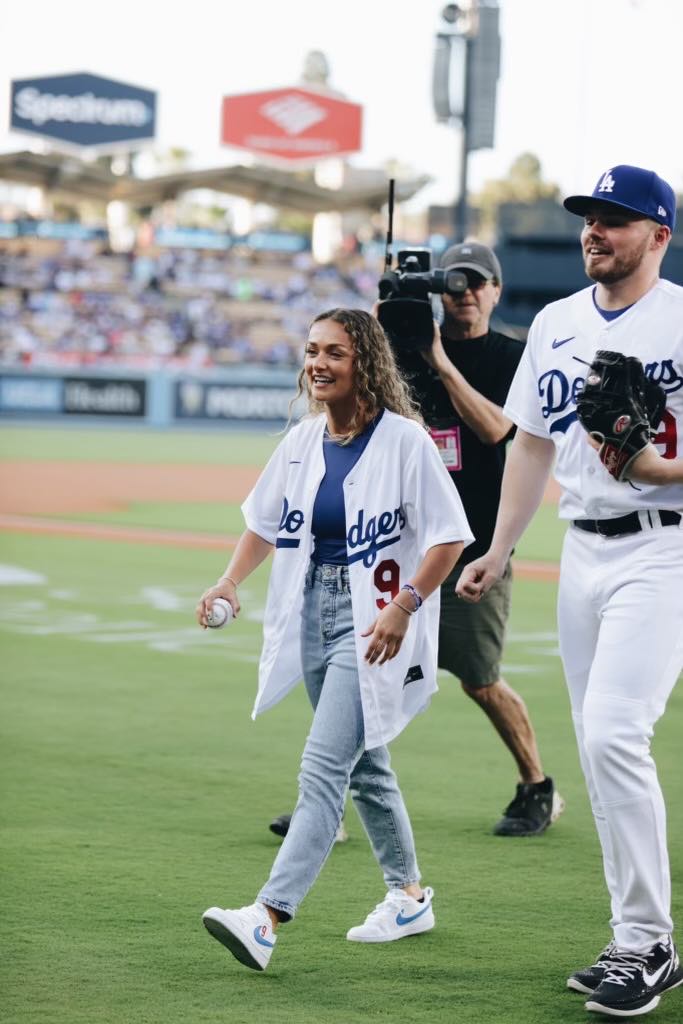 O'Boyle chose to move in a few steps from the customary big-league mound distance of 60 feet, 6 inches. After all, pitching was never included in her rigorous gymnastics curriculum.
"Oh my gosh, I was so nervous," O'Boyle said Wednesday. "And we practiced a few times. But I got out there, and I turned around, and I literally said out loud, 'Oh my gosh, this is far.' I walked a few more steps forward towards Gavin, because I was like, 'There's no way I'm even going to get the ball close to the plate if I don't move closer.'
"But it was fine. I didn't bounce it or throw it too crazy."
With O'Boyle's first pitch as the big moment, Monday's Gavin Lux Bobblehead Night was just a remarkably special occasion for the families of Lux and O'Boyle, as several members of both families were able to come to Dodger Stadium – one of the more iconic and beautiful venues in all of sports – for the big night.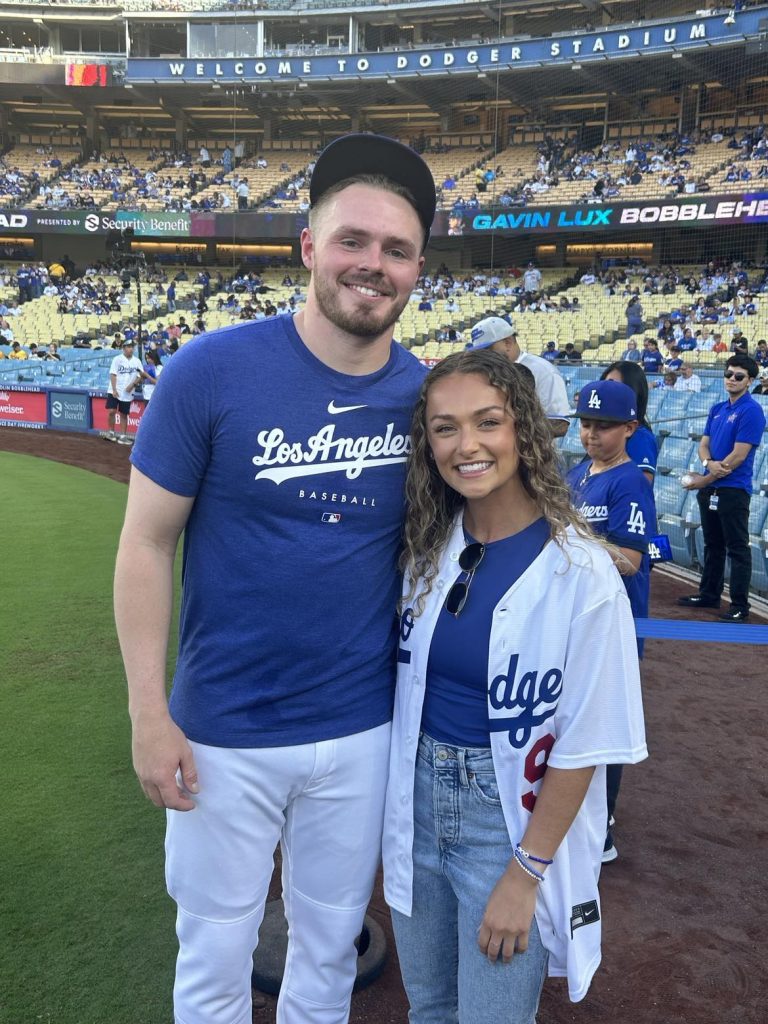 For Lux, that included his mom and dad, Heather and Tom, his sister, Meghan, and his uncle, Augie Schmidt, the long-time head coach of the Carthage College baseball team and like his nephew – who he has always mentored over the years – a one-time first-round pick in the MLB Draft.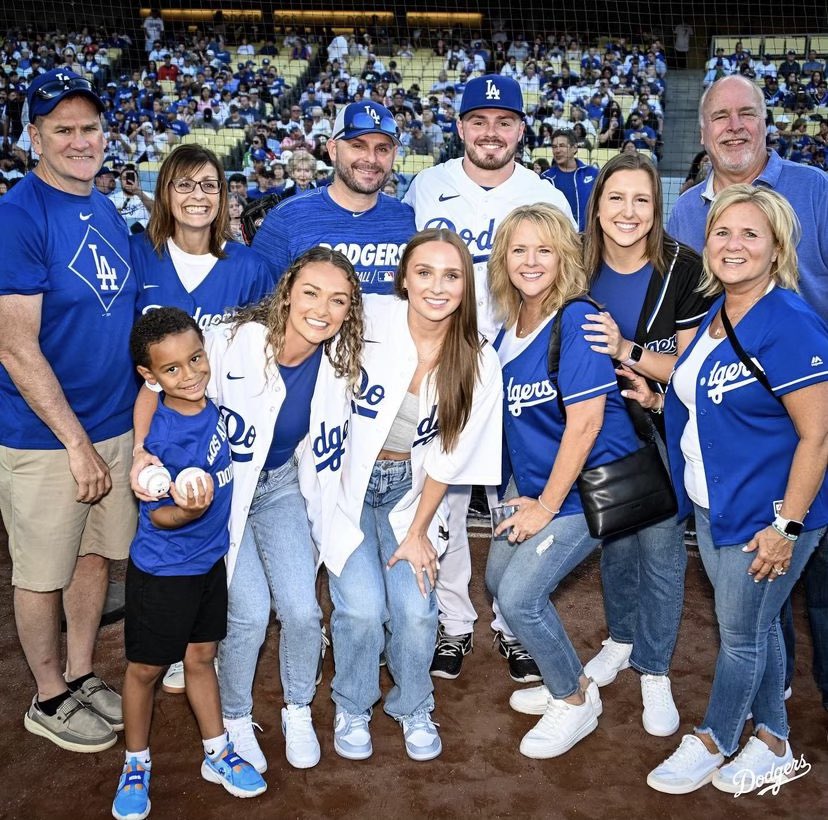 Having his own bobblehead night was a remarkable and unique experience for Lux. But he said it was really made special because his family and O'Boyle's family were able to be there.
"They've given up and sacrificed a lot, so for them just to be there and share that, I think that was kind of more special, I think, than the bobblehead," Lux said. "Just being able to be there with all of them and bringing them down on the field, and obviously having Molly throw out the first pitch and her crushing it.
"It was cool for me, but I think just spending it with them is what made it special."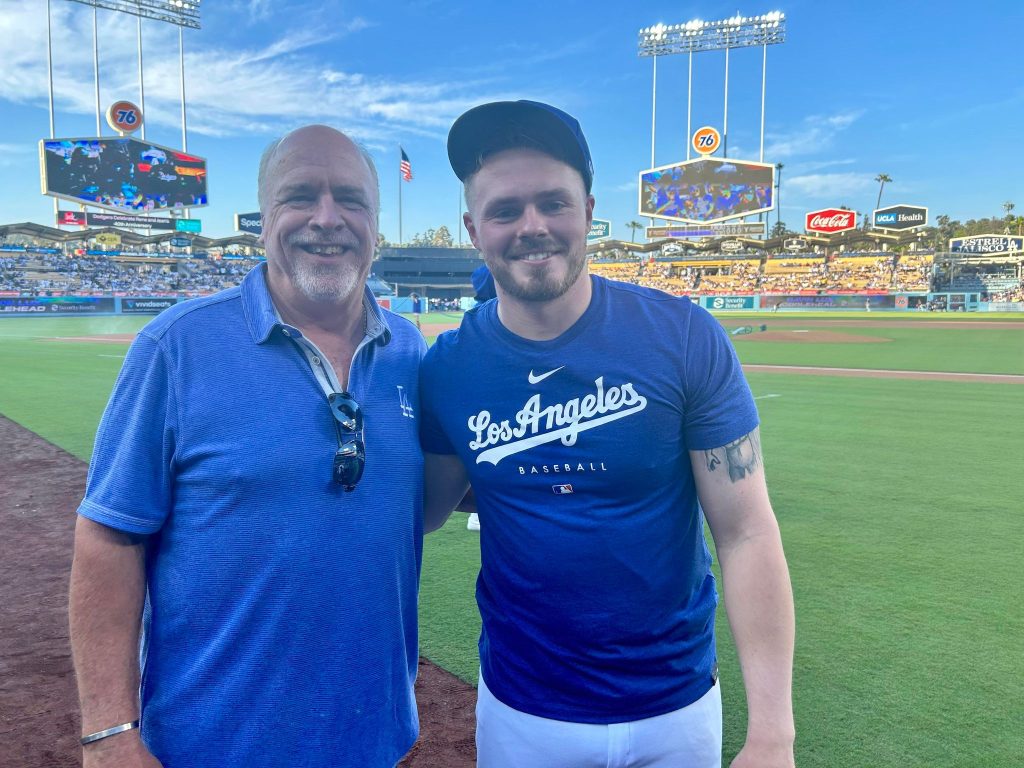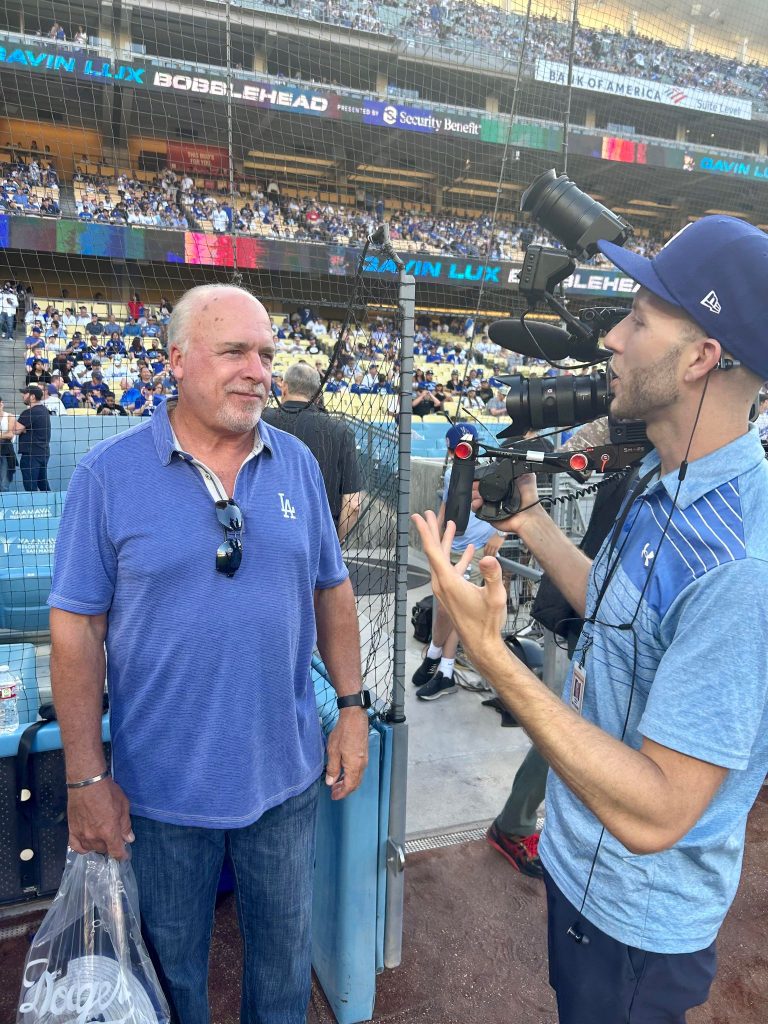 As for the bobblehead itself, Lux said that the miniature version of himself is pretty close to the real thing, though he joked that his bobblehead sported one feature stronger than his own.
"The beard game on the bobblehead is much stronger than mine in actual real life," Lux said with a laugh.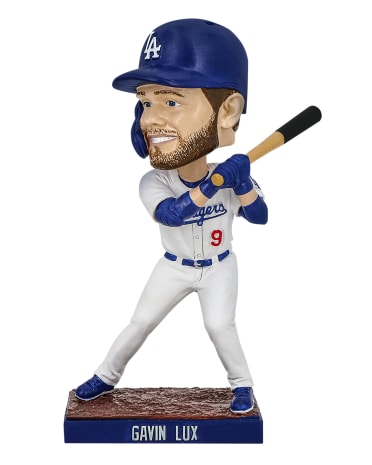 The bobblehead also came in a box that represented Lux's Wisconsin roots.
"The box they did it in was cool," Lux said. "The front of it was like a cow kind-of pattern, and then the back was like a Swiss cheese, kind of a Wisconsin-themed box. So it was cool. They did a good job on that, with the little details. It was cool to see, for sure."
With Lux being honored with a bobblehead and O'Boyle throwing out the first pitch, it was almost like Monday was "Kenosha Night" at Dodger Stadium.
"I think everyone was excited, all of Kenosha, pretty much," O'Boyle said. "His family was able to come out, my family was able to come out. We all were down on the field for that. So it was super special.
"We all wanted to take home like 10 bobbleheads, because we had so many friends and family asking for them."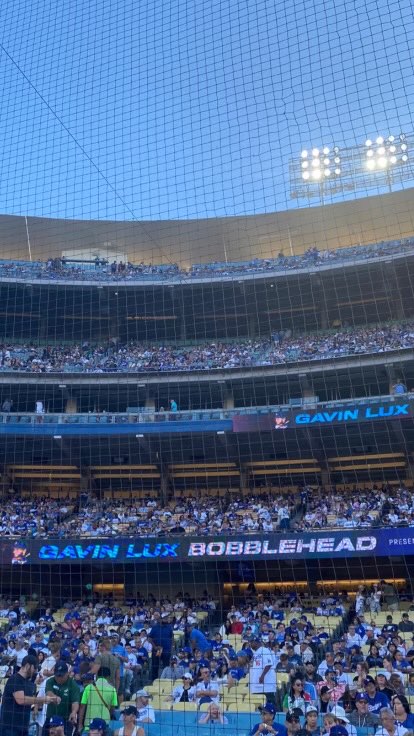 Rehabbing from injury
Of course, there was one big thing that would've made Gavin Lux Bobblehead Night even better, and that was if Lux had been able to play.
It has certainly been a trying summer for Lux in 2023, one that has tested his patience, resolve and work ethic. Not surprisingly, he's been up to that challenge.
After the Dodgers' primary shortstops from each of the last two seasons, Corey Seager and Trea Turner, had both left in free agency, Lux, still just 25 years old, was poised to be the Dodgers' everyday starting shortstop in 2023.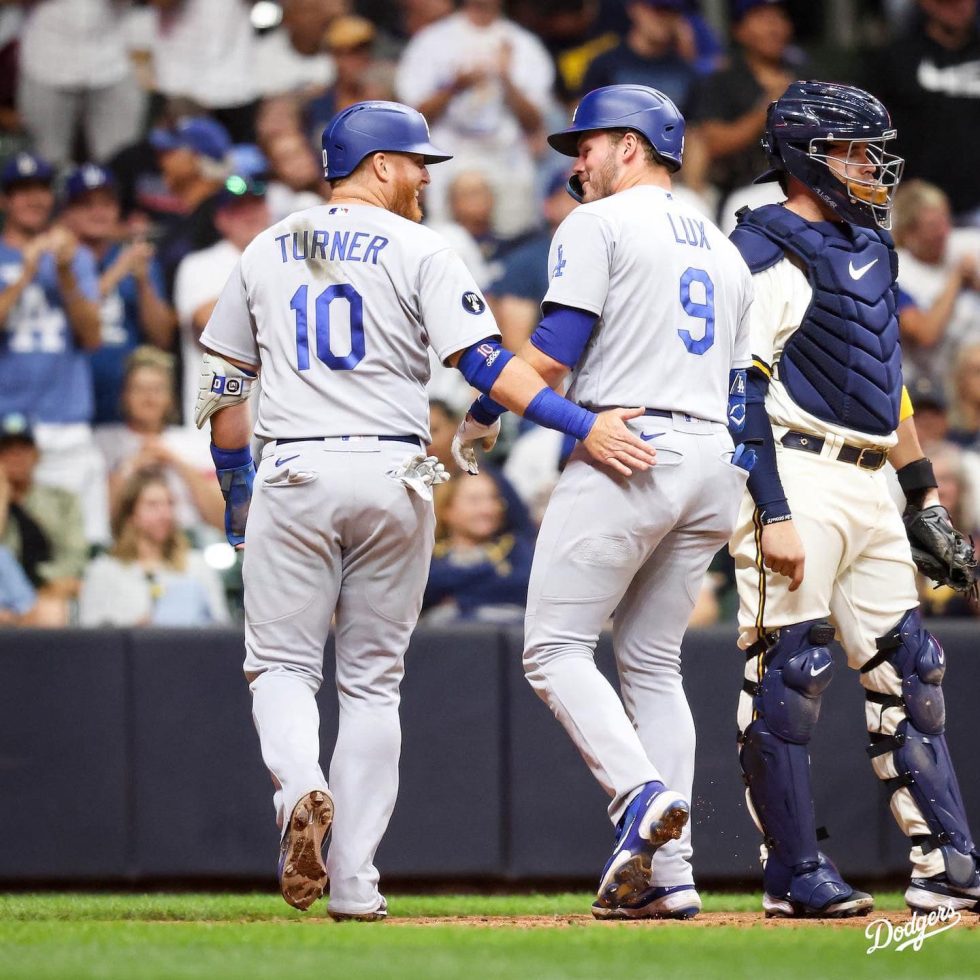 Given that the big-market Dodgers – never short of contract money for big-name players – had let Seager and Turner, both multiple-time All-Stars, leave in free agency following seasons in which they won 106 and 111 games, that shows just how much confidence the franchise has in Lux to take over one of the most important positions on the diamond full-time. Lux had played mostly at second base through his first four big-league campaigns – 2021 and 2022 were his first full seasons in the majors – but had also played third base, shortstop, designated hitter and outfield.
A slick-fielding infielder with big power potential in his left-handed-hitting bat, Lux had always projected to one day be a starting shortstop in the big leagues. And he was there, until one devastating moment in spring training altered all those plans for 2023.
While simply running from second to third base during a spring training game against the San Diego Padres on Feb. 27, Lux's right knee suddenly buckled in awful fashion. As Lux writhed on the ground in pain, he said Wednesday that at that moment, he was sure he had severely injured his right knee.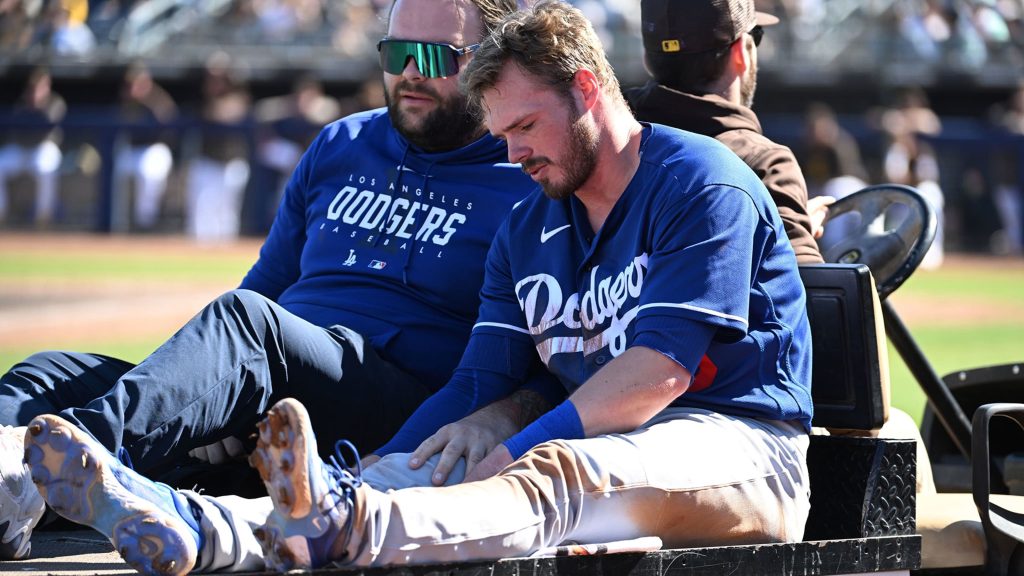 "I think I knew right away," Lux said. "It kind of felt like my knee popped, and then the outside of my leg kind of just went numb. So I knew right away that something was pretty seriously wrong. I think I texted Augie and my dad and mom.
"I was like, 'I'm probably done. I probably blew my knee out.'"
Indeed, the diagnosis was a torn ACL, along with damage to his LCL, and Lux soon after underwent surgery. The initial prognosis, of course, was that Lux's 2023 season was over before it had really started, all due to a non-contact injury in a spring training game.
"I mean, it's heartbreaking," Lux said Wednesday. "You work really hard all offseason to be able to have that opportunity to go out and play shortstop every day.
"To kind of get it taken away, it sucks, but at the same time, it kind of gives you a different perspective on stuff. I'd give anything right now to be tired as heck in July, playing a baseball game. But I think, in the long run, it gives you a different perspective on stuff."
It comes as no surprise that Lux has attacked his rehab with focus and intensity. He's making steady progress and said Wednesday that he's "definitely ahead of schedule."
"I'm starting my running program, so I'm like 80, 85 percent body weight on the AlterG (anti-gravity) treadmill, running for about 15 minutes every day," Lux said. "Doing a lot of exercise, playing catch still, doing stationary fielding stuff, but probably won't be able to hit until early August, probably the first or second week in August."
Lux said he's stayed in Los Angeles so far to rehab this season and either in late July or early August, once he finishes his running progression, will be splitting time in Arizona, where the Dodgers have a training facility at Camelback Ranch-Glendale.
Now, this all brings up the million-dollar question for Dodgers fans, because that's a franchise with yearly expectations to win the World Series: Will Lux be able to actually return late this season or for a postseason push?
Lux is not ruling that out. But he's also not committing to anything, either. For him, the process is just day-by-day.
"It's not necessarily like a 100 percent thing, by any means," Lux said Wednesday of returning in 2023. "But I think that's my goal, is to still try to play this year, and I think that's how you should approach it anyway, approach every day like you're going to try to play this year. … As long as there's no setbacks, I think there's a chance, maybe.
"But is that the right choice to play, yes or no? I mean, you don't really know until you know. When that time comes, I think we'll know more. But until then, I think it's just kind of grinding out day-by-day and winning every day."
Lux said he's certainly champing at the bit to get back in the batting cage. His fielding ability has really never been in question, but for any young player, it's being consistent offensively that gets you in the lineup every single day.
Lux has made great strides in adjusting to big-league pitching, and that really started to show more and more last season, when he batted .276 with an impressive .346 on-base percentage, collecting 116 hits and 47 walks in 471 plate appearances.
The next offensive development for Lux is probably flashing more consistent power, something that usually comes with time as young players collect more experience and at-bats. He's certainly displayed power so far in his big-league career, hitting six homers and driving in 42 runs with a slugging percentage of .399 in 2022. For his young big-league career, Lux has 18 homers, 105 RBI and 68 total extra-base hits.
"Yeah, for sure," Lux said Wednesday when asked if he was eager to get back in the batting cage. "I think I had the itch after the first few weeks of not being able to hit. Now that we're like four months in, I'm dry-repping in the mirror, just trying to do something."
Ultimately, Lux hopes all this hard work pays off with the ultimate prize for himself and for the Dodgers, which would be winning the franchise's eighth World Series title. Lux has already collected one World Series ring, the first-ever for a Kenosha native, after appearing in 19 regular-season games and one postseason game for the Dodgers in 2020 when they won it all.
All about timing
In addition to having access to some of the best doctors and athletic trainers in the world with the Dodgers, Lux also has another important resource in his corner in terms of rehabbing from a major injury.
After receiving her undergraduate degree from the University of Wisconsin and her graduate degree just months ago from the University of Florida, O'Boyle is now an athletic trainer.
"Everybody says, 'Wow, you just do his rehab!'" O'Boyle said Wednesday. "I'm like, 'Yeah, if only it were that easy, right?' He has the professionals. I'm just trying to play the supportive (role)."
While you may assume that Lux and O'Boyle were high school sweethearts, being both from Kenosha, that's not the case. Lux graduated from Indian Trail in 2016, right as he was selected by the Dodgers with the 20th overall pick in that year's MLB Draft to begin his professional baseball career, while O'Boyle graduated from Tremper in 2017.
They did know each other a little in high school, but they mostly just kind of passed through each other's lives for a time.
"She was always gone, I was always gone," Lux said Wednesday. "We knew each other in high school, but not very well. We didn't really meet until post-graduation of high school. Whenever she would come home and I would come home in the offseason, and she would come home for the holidays from school, we'd always try to hang out or see each other, or we'd see each other out. There was always something there, but it was really just two different spots in our life.
"… It was really hard at the time, so I don't think the timing was right until the last couple years. I think we've figured it out."
At that point, O'Boyle must have given Lux a look.
"She's giving me the stink-eye right now, like, 'You finally figured it out!'" Lux said with a laugh.
Added O'Boyle about their relationship: "(It's) all about timing, for sure."
And even though he wasn't able to play, that timing all came together to make for a memorable night at Dodger Stadium on Monday. Some time in the future, perhaps, the Lux and O'Boyle families will be celebrating Gavin winning another World Series ring as the Dodgers' starting shortstop.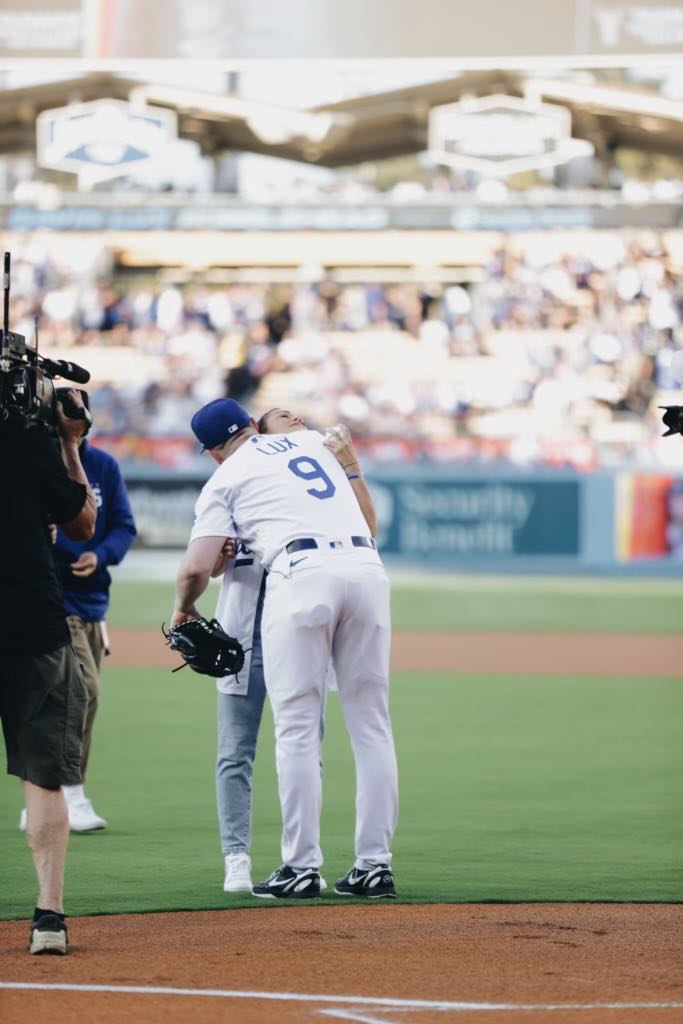 You never know what the future holds. You just have to appreciate the ride.
"It was super exciting for us and, I think, special for Gavin, too," O'Boyle said of Monday. "… To be able to have everyone there with him to celebrate, that was awesome."