KENOSHA, Wis. — The University of Wisconsin – Parkside and Parkside Athletics are pleased to announce the hiring of Adam Schemm, a 2008 Parkside graduate, as the next Director of Athletics. Schemm was formally introduced at a press conference in DeSimone Arena on Thursday in front of faculty, staff, students, and community members. You can view his first remarks as the Parkside Director of Athletics here. 
"I would like to first express my gratitude to Interim Chancellor Scott Menke and Interim AD John Skalbeck for this incredible opportunity," said Schemm. "I am grateful to lead Parkside's athletic programs and look forward to building upon the tremendous foundation that has been laid in recent years. Returning to serve my alma mater is a true honor, I am excited to get to work in partnering with the Parkside community, and serving the Ranger coaches, staff, and student-athletes."
Schemm succeeds Andrew Gavin, who departed Parkside to become the Director of Athletics at the University of Southern Illinois Edwardsville in April.
"We are excited to have Adam officially join the UW-Parkside team," said Interim Chancellor Scott Menke. "He has had a strong passion for Parkside since his days as a student here on campus. Parkside Athletics is poised to move to the next level under his leadership.
Schemm comes to Parkside after spending the last five years as the Senior Associate Athletic Director for External Relations at the University of Wisconsin – Milwaukee. In his role with the Panthers, Schemm led the efforts of the marketing, ticket sales, communications, creative content, and event operations teams, while also overseeing campus and community engagement opportunities. Schemm also served as the primary sport administrator for baseball and women's tennis.
"A national search was conducted by a committee comprised of athletic department coaches and administrative leaders, student-athletes, faculty athletic representatives, human resources leadership, and a corporate sponsor. The search attracted a deep pool of talented candidates interested in the Director of Athletics position at UW-Parkside," said Interim Director of Athletics and Search Committee Co-Chair John Skalbeck. "Adam demonstrated that he is well suited to lead the Ranger Athletics department based on his varied experience in collegiate athletics, his deliberate management style, and his passion for his alma mater."
Schemm left a lasting impression on UW-Milwaukee through his work to help develop of a five-year strategic plan for athletics. The plan emphasized the growth of many areas, including revenue generation, student-athlete success, diversity and inclusion, employee relations, facilities, branding, community and campus engagement, and department excellence.
Schemm achieved significant success in the Panther Athletic Department, including:
Implementing a new strategic plan that increased men's basketball season ticket sales by 134% and group ticket sales by 162%.
Leading the charge in creating the department's first-ever social content unit, which resulted in a 543% increase in engagement on Facebook, a 78% increase in impressions on Twitter, and a 331% increase in growth on Instagram.
Helping to initiate the first online giving campaign, which raised over $63,000.
Leading the coordination efforts and operations for the opening of Franklin Field, the new home of Panther Baseball, in 2021.
Prior to his time in Milwaukee, Schemm served as the Assistant Athletic Director for Marketing at the University of South Florida from 2014-18. Along with being USF's day-to-day marketing and digital media team leader, Schemm's primary responsibilities included overseeing in-game entertainment, the fan experience, advertising, digital efforts, creative services, and promotional strategies. He was also a liaison to the Aspire Ticket Sales group and Tampa Bay Entertainment Properties who manage the Bulls' multi-media rights.
Prior to that stop, Schemm served as the Assistant Athletic Director for Marketing at the University of Rhode Island for four years (2010-2014). A versatile member of Rhode Island's athletic department, Schemm worked to overhaul URI's in-game entertainment strategies for men's basketball, developed department branding standards, and was the sport administrator for the Rams Softball program. He also helped URI set a program record for revenue in men's basketball after he instituted the department's first-ever proactive ticket sales campaign. In addition, he negotiated a multi-year agreement with Nelligan Sports Marketing to outsource URI's multimedia and sponsorship rights.
A native of Appleton Wis., he also has previous experience as a member of the Panther Athletics marketing team (2009-10), Marquette Athletics (2008-09), and the Milwaukee Brewers (2008).
Schemm received a Bachelor of Science degree in Sports Management from Parkside in 2008. He then went on to earn his Master of Sports Administration from Ohio University in 2014.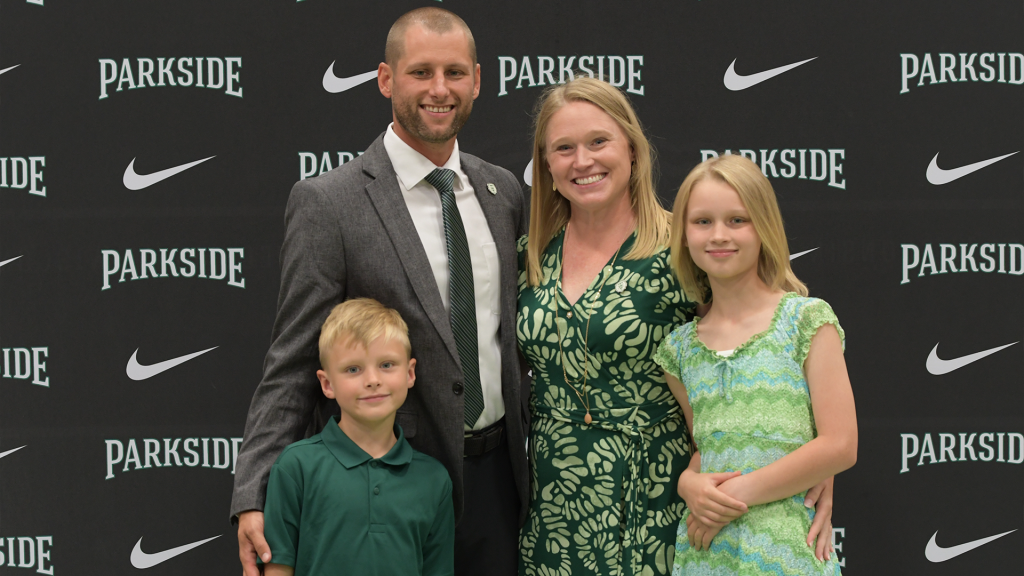 Schemm and his wife, Ellie, have a daughter, Scarlett, and a son, Louie.
A special thanks to Dr. Kurt Patburg of Mammoth Sports Consulting for assistance throughout the search process.