When Anna Pitts was approached about owning her own business – in food service, nonetheless – at first she was understandably a bit apprehensive.
Pitts just graduated from Harborside Academy in 2016 and the University of Wisconsin-Parkside in 2020, majoring in chemistry and art. So when she had the opportunity to take over the prime downtown location that had been occupied by Common Grounds when the popular coffee shop closed after a 22-year run in August 2022, Pitts was a bit unsure how that might work out.
"It definitely happened very quickly," Pitts said Monday afternoon. "When it did come about, it was kind of like, 'I don't know if I'm ready for that. I don't have enough work experience for that.'"
Well, those anxieties aside, it turns out that Pitts was more than ready for the job. That's evident by the early success of Anna's on the Lake, located in the former Common Grounds building at 5159 6th Ave., which opened on Nov. 17, 2022, and has not only followed up on the success of Common Grounds, but has massively expanded on it.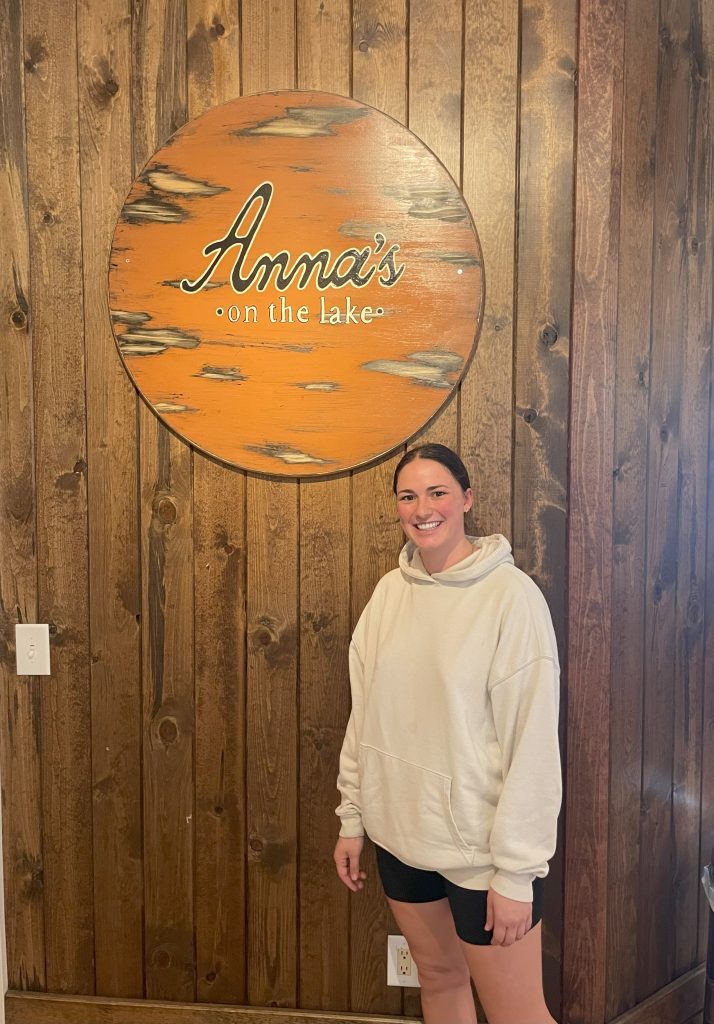 Anna's on the Lake serves fresh coffee and a variety of high-quality fresh-food items for breakfast and lunch at its indoor location, which is open daily from 7 a.m. to 4 p.m. But there is a whole lot more to the business than the indoor coffee shop.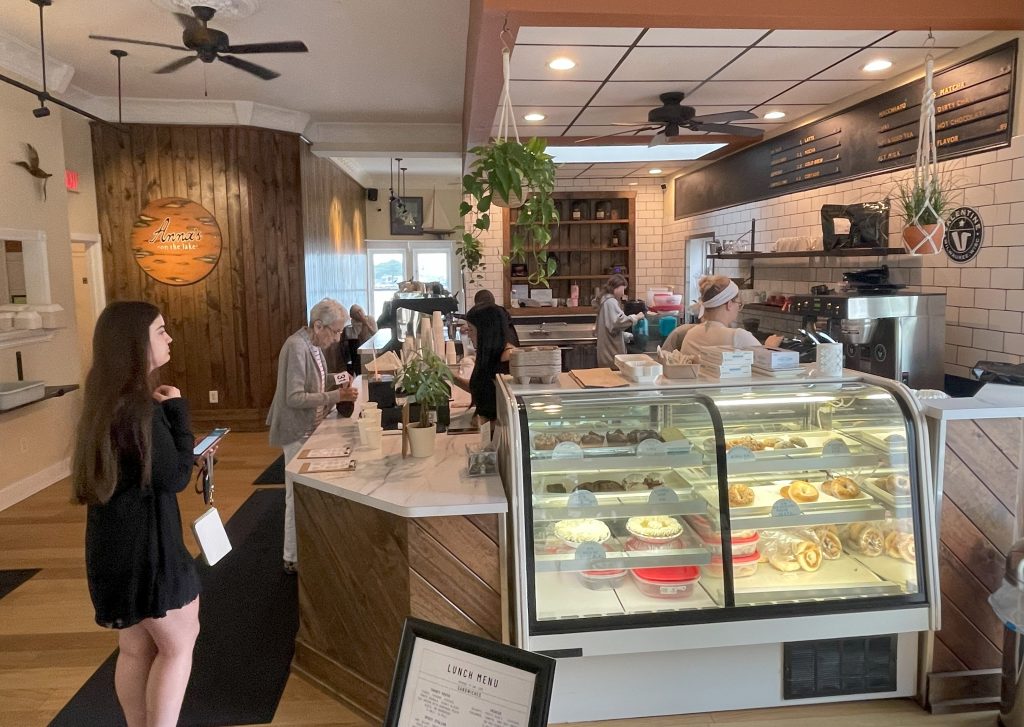 On the outside deck, which wasn't fully utilized by Common Grounds, Anna's on the Lake has opened a sparkling new outdoor bar-and-grill, appropriately called Anna's on the Rocks. Open on Thursdays and Fridays from 4 p.m. to close – which is approximately 7 p.m., depending on how many people are enjoying the deck – and Saturdays and Sundays from 11 a.m. to close, Anna's on the Rocks offers patrons a beachy-themed atmosphere with specialty cocktails and a fantastic view of the Lake Michigan harbor.
Additionally, Anna's on the Rocks serves Wisconsin-staple grill items like fresh Italian sausage and bratwurst from 11 a.m. to 6 p.m. on Fridays through Sundays.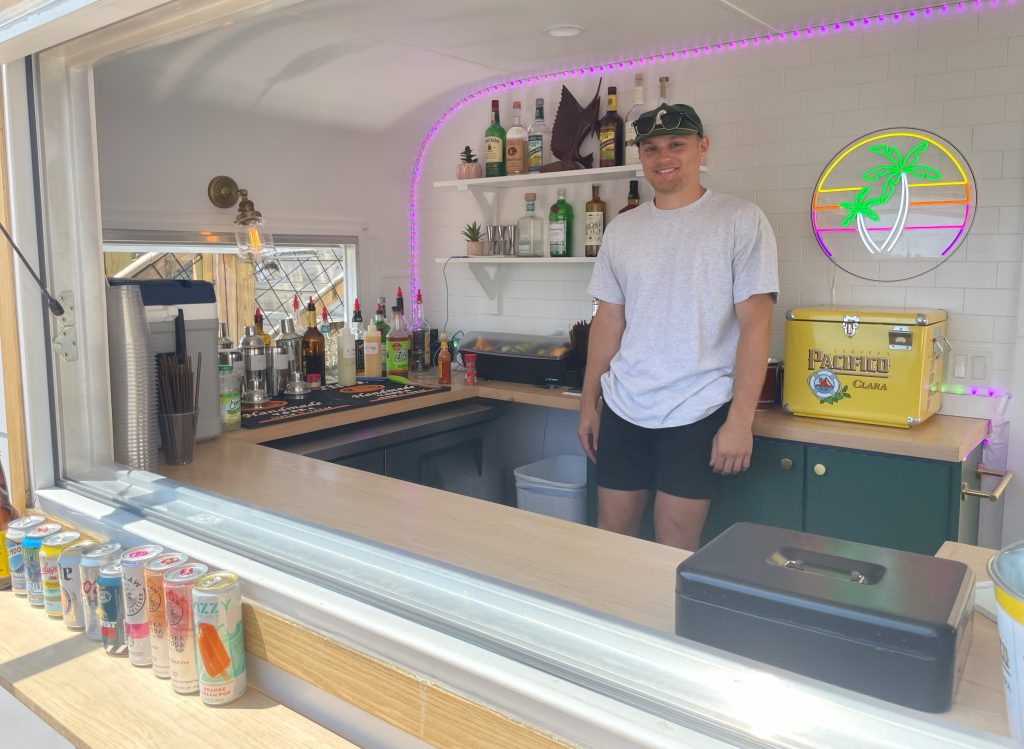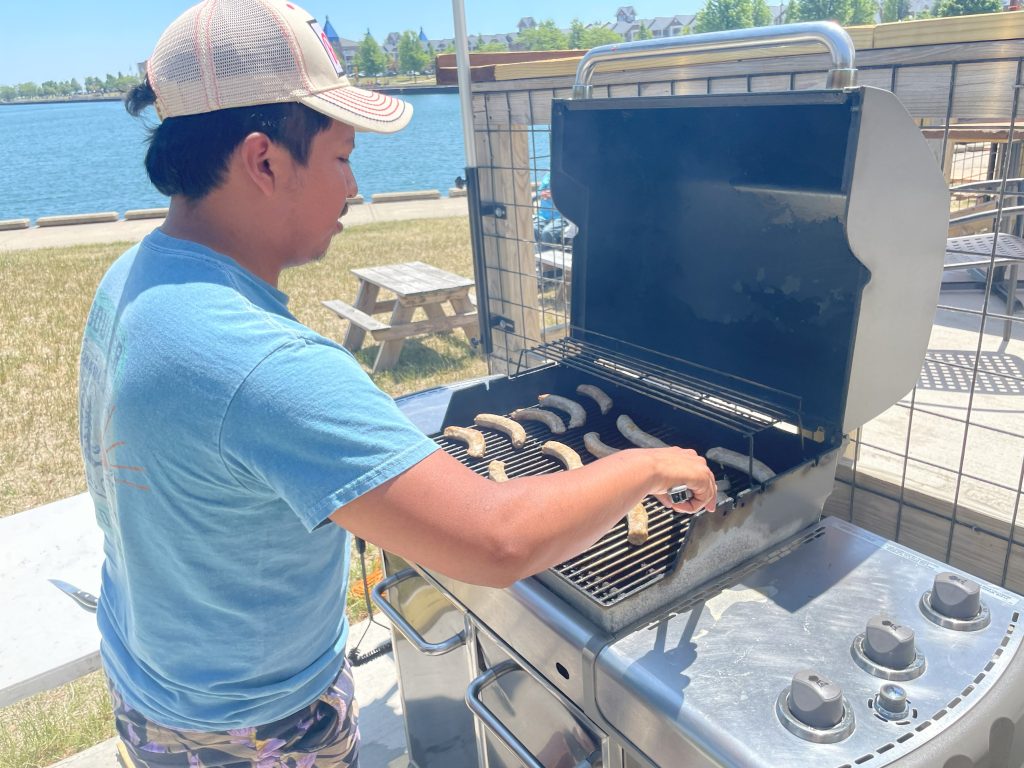 And as if the indoor and outdoor restaurant/coffee shop/bar-and-grill combo wasn't enough for one business, Anna's on the Lake is now open for Airbnb reservations for Kenosha visitors seeking an on-the-lake experience.
There are two units available for booking via Airbnb above the coffee shop. The south unit opened for rentals right after Memorial Day – the first occupants came all the way from San Diego – while the north unit should be open for rentals in about three weeks.
Essentially, Anna's on the Lake is like three businesses now. Which is a lot to handle, especially during this busy summer season.
"It's definitely like three businesses into one this time of year," Pitts said.
Help from the family
While it's her name on the building, Anna Pitts has tons of help in operating the many facets of Anna's on the Lake, especially from her extensive family.
First off, her father, Marty Pitts, is a partner in the business and especially took the lead with building renovations – mainly with the Airbnb – and getting the deck all set up for Anna's on the Rocks.
Anna's fraternal twin sister, Natalie, has also come on board and is listed on the business' website as "public relations." But Natalie has many roles in the business, including hiring, scheduling and social media.
"She's really played an integral role," Marty Pitts said of Natalie.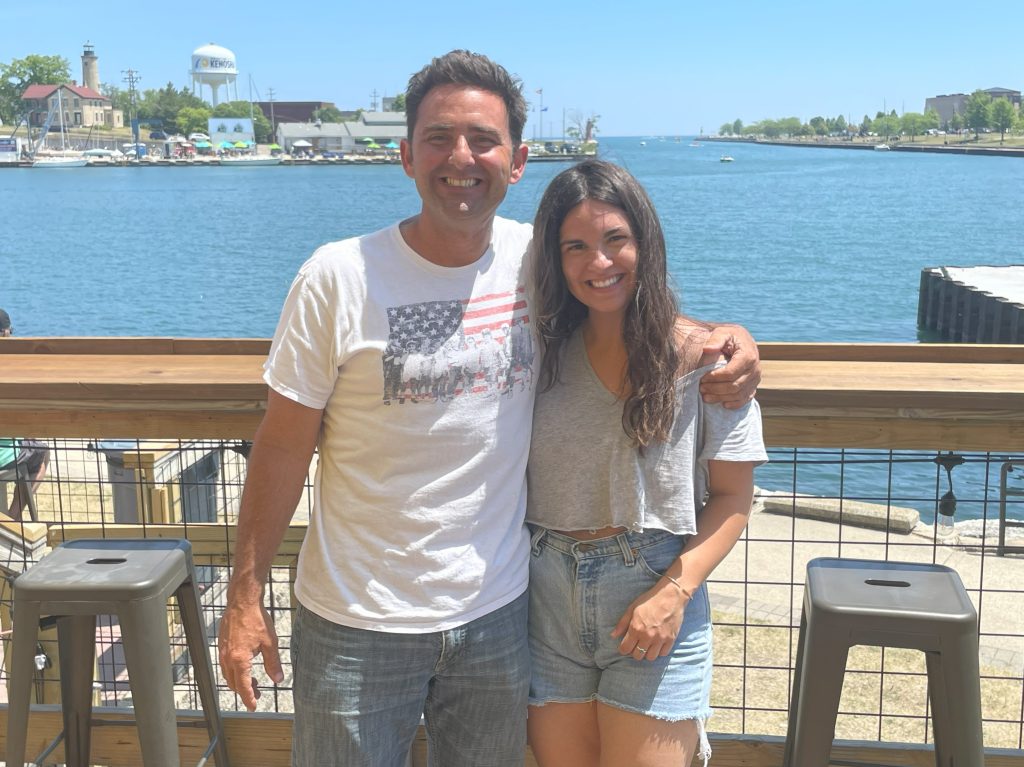 Additionally, the Pitts are receiving a lot of help from their relatives in the Olson family, who own and operate the nearby bar Swede's, which opened in 2017 and is a partner in Anna's on the Lake. Swede's co-owner Jon Olson Jr., Anna and Natalie Pitts' cousin, has played a big role in setting up the outdoor decor at Anna's on the Rocks, as well as in hiring and training bartenders and coming up with a specialty cocktail menu.
"As soon as (the) Swede's team came on board … that for me was like, 'OK, we can definitely do this,'" Anna Pitts said.
"… My name's on it, but I'm just one piece of the puzzle."

Anna Pitts
Anna's twin sister, Natalie, is another big piece of that puzzle, of course.
Like Anna, Natalie graduated from Harborside Academy in 2016 and then Carthage College in 2020 with a teaching degree, with designs on becoming a music teacher. Prior to coming back to Kenosha to work with her sister, Natalie had spent a year in Los Angeles with another of the Pitts' cousins, Luke Olson, who lives out in California as the vocalist for a band, The Walters.
After spending time out in Los Angeles, Natalie finds herself suddenly back home, helping to run a business. For her, it's been a whirlwind.
"This time last year, this was not even in the conversation of what we would be doing," Natalie said from the deck at Anna's on the Rocks during a sparkling, blue-sky Saturday afternoon. "And so it kind of all came about pretty fast, but things kind of aligned. It was kind of like it was meant to be, in a way.
"I have to be home to do this. There's no way I couldn't support my sister and my family in this venture. So I came home, and within the summer, within a month – I don't know, it all happened so fast – we were up and open. It was kind of crazy. A whole 180 of where my life was going. Which is great!"
Anna Pitts also spent some time with her sister in California, and the sisters' travel experiences have helped inspire the menu for the coffee shop at Anna's on the Lake.
"(We're) kind of trying to bring some of that back here for our community to enjoy," Anna said.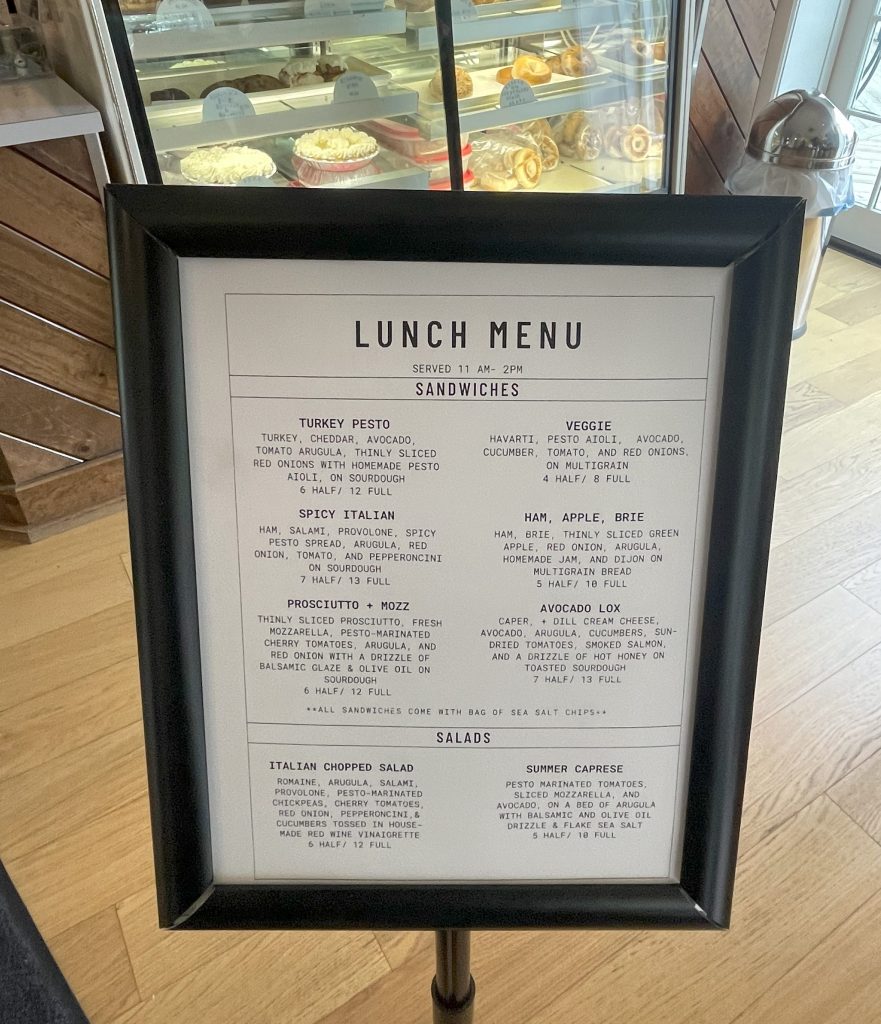 Anna and Natalie have also developed a nice division of labor. While Natalie is more the "front-of-the-house" face for the business, Anna is more like the operational manager, working in the kitchen and taking charge of things in the back of the house.
That set-up works well for the sisters.
"Me in the kitchen, for sure, it's worked out and it's played on our strengths," Anna said.
"… We're in our first year, and we're still kind of figuring out what's here and what's mine. … It's hard, but it's just figuring out, 'OK, what's her responsibilities, what's my responsibilities, and what do we need to come together on?'"
While both sisters joked that they occasionally have "sisterly" arguments, they're on the same page when it comes to the business. And for Natalie, having Anna's name on the building is just fine by her.
"Basically, I'm my sister's right-hand woman," Natalie said. "Whenever she needs me to go to the store or something, I have to run out and go do that.
"… Everybody always asks me, 'Why isn't your name on the building?' There's a certain amount of pressure, I feel like, that goes along with having your name on the building, especially right in the middle of the harbor, which pretty much stands alone. … We get into arguments, but I think that's any sisters. But as far as, like, 'Who's the boss?' No, we really don't. We really do work well together."
Added Anna with a laugh: "We've spent some time together."
Small menu, fresh food
When it comes to the menu in the coffee shop at Anna's on the Lake, simple is better.
Rather than trying to do too much, Anna's on the Lake offers a small menu of fresh, high-quality items, as well as high-quality coffee under the lead of head barista Rennie Crucianelli.
"Everything's fresh, made-to-order," Anna Pitts said. "For me, my food experience, I was working for the Fresh Bar, which is a food truck. I was at Jack Andrea's for about a year, also.
"What goes well with coffee? Breakfast and lunch, for sure."
According to Marty Pitts, right off the bat, Anna's on the Lake was only going to be opened and operated under high-quality standards and under the idea that it would feature other components, hence Anna's on the Rocks and the Airbnb upstairs.
"When Anna first decided that she wanted to take on this venture, it was under the pretense that it would be more than a coffee shop," Marty Pitts said. "We wanted to offer some quality, fresh food, not just food that was frozen that was heated up in a microwave. We wanted to offer fresh food that people would really enjoy, a limited menu to make sure that everything was fresh.
"And we wanted to do more outside here with the deck. So the idea of securing a liquor license was important. And then, finally, we wanted to do more with the upstairs by way of making it a two-unit Airbnb. So there was a lot of work involved in that, but we felt that once all three components were in place, it would be going further to maximize the potential of this site."
Speaking of maximizing that potential, Anna's on the Rocks is a perfect example of a Wisconsin establishment set up to enjoy the precious days of summer. The deck was designed so that the pathway along the harbor connects directly to it. The bar reminds you of something from the Caribbean, while the customary brats and Italian sausages sizzle on the grill.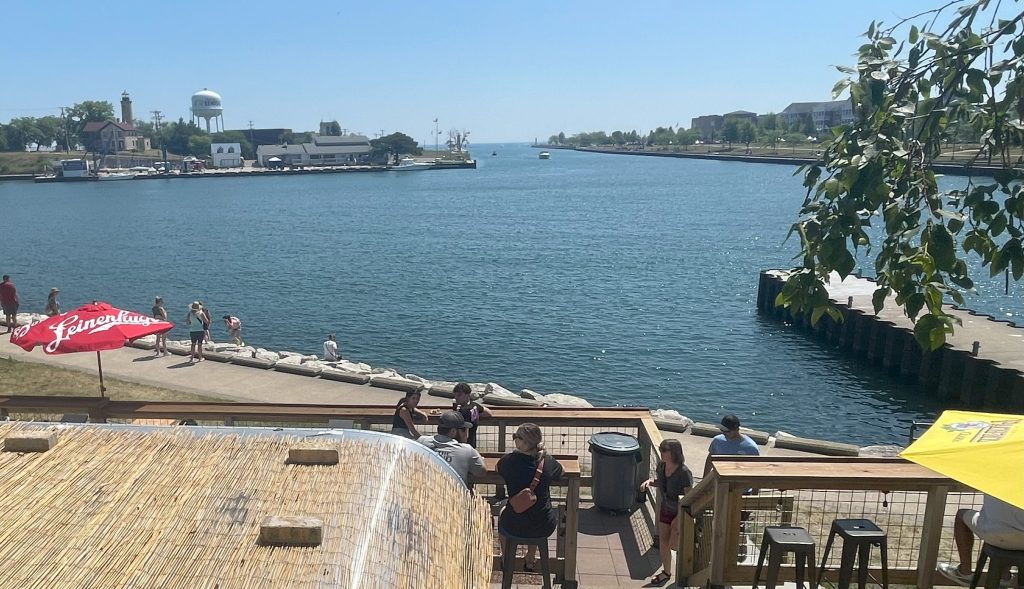 The Italian sausages, in fact, are made fresh by a family friend based out of Melrose Park, Ill. They're a bit spicy, but not too spicy, and you can't find them anywhere else.
"Obviously, we saw the spot, and we were like, 'What better place to enjoy a nice cocktail. Great view. And what goes well with a cocktail? A brat. A brat or an Italian sausage,'" Anna Pitts said of expanding the business outside to include Anna's on the Rocks.
"It wasn't like a hard sell at all."
And to complete the outdoor setting, of course, Anna's on the Rocks features live music on most Saturday afternoons.
Airbnb ready to book
The two Airbnb units above Anna's on the Lake, which are available to book year-round, bring a whole new component to the business.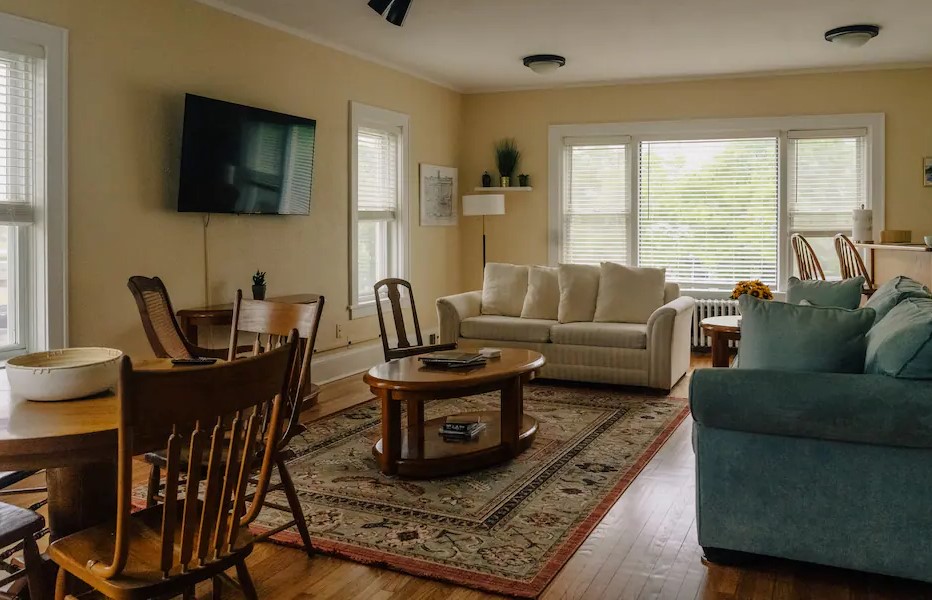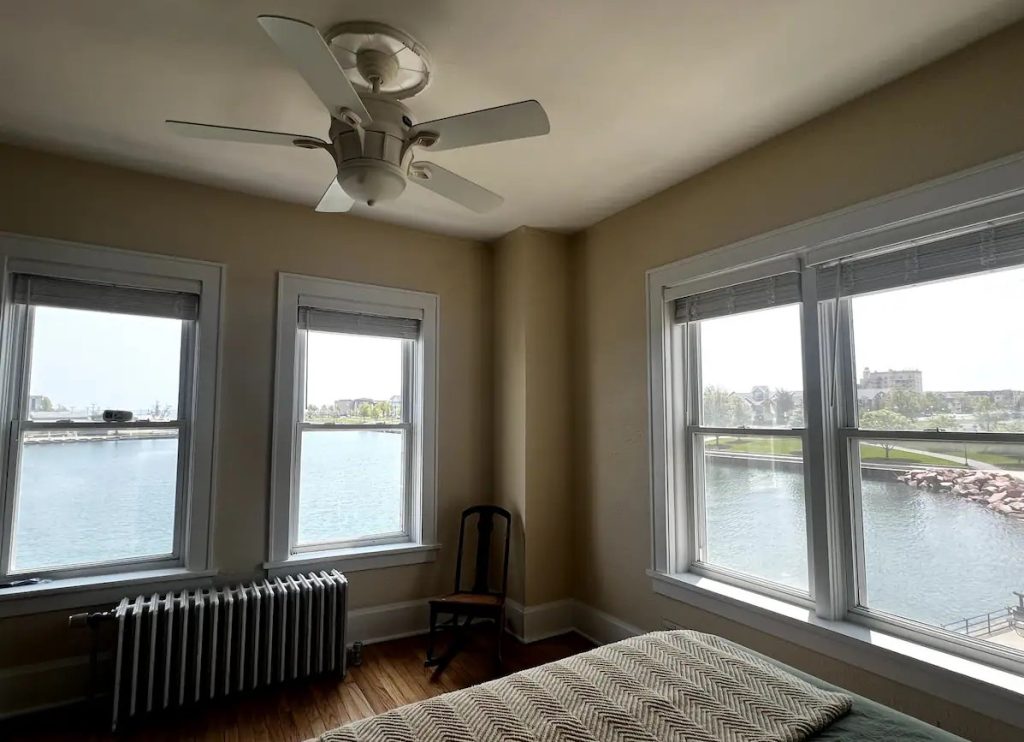 According to Marty Pitts, the units above then-Common Grounds had not been lived in permanently in well over a decade, so a lot of work was required to get them ready to rent.
"We re-did all the floors, had them sanded, and it really turned out nice," Marty said. "Fixed the walls, replaced some of the ceilings, thoroughly painted everything and updated things, and then refurnished it. It wasn't really set up to be two separate units, because at one time it was an office building."
The south unit features two queen-size beds in the lakeside bedroom and a pullout queen-size sofa in the living room. Marty Pitts said that unit can "comfortably" fit six people. There is no kitchen in the south unit, but it does have a microwave, toaster, coffee maker and refrigerator.
The south unit is available for rent and has already hosted people from San Diego, New Hampshire and Eau Claire, Marty Pitts said. He also said the unit is already booked for the Fourth of July, which of course features a ton of activities around the lake and downtown Kenosha.
The north unit, meanwhile, is smaller than the south unit, featuring one queen-size bed and two futons that convert into full-size beds. It can fit up to four people, though generally that would mean two adults and two children. However, the north unit does have a full kitchen that includes a stove and sink.
The north unit will be available to book soon, and Marty Pitts said that ideally, one group of guests would book both units to accommodate a large gathering of family or friends with everything they would need to enjoy a stay along the lakefront.
Also, the Pitts emphasized that booking for the two units goes strictly through Airbnb, just so there's no double-booking or confusion. A link to booking via Airbnb is available HERE at the Anna's on the Lake website.
"Everything is going through that," Marty Pitts said. "… I do believe that it's filling up fast."
Yes, all together, Anna's on the Lake is obviously an ambitious operation, but things appear to be running pretty smoothly thus far.
"So far, so good," Anna Pitts said. "I've had really good feedback from the community. Yeah, we've been busy."
Anna also emphasized that she was a frequent customer of Common Grounds during that business' successful tenure of more than two decades at the location. Anna's on the Lake just expands the possibilities of this prime downtown real estate while continuing to be a place where locals can go just to chat and have a cup of coffee.
It could have been turned into, for example, a fancy restaurant, but Anna Pitts and her family did not want to mess with something that had been successful for so long.
"Just seeing this still being used as a base where people can come every day and enjoy the views every day," Anna said.
"… We tried to keep what we loved about it."