The next generation of Daniels dairy farmers is just about ready to get to work in the family business.
Just ask Dale Daniels, whose son, Jordan, is a third-generation owner of Daniels Dairy Farm II in Kansasville. That fourth generation is already champing at the bit to get dirty.
"The fourth generation is running around and playing in the mud already," Dale said with a laugh in a phone interview earlier this week.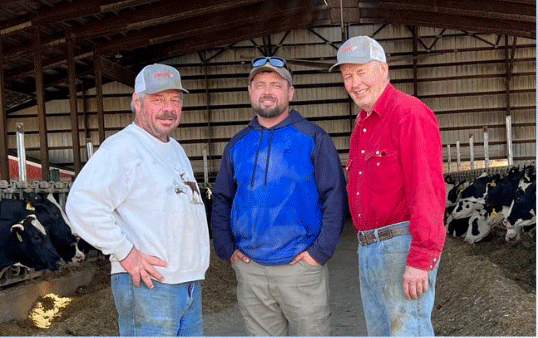 And Daniels Dairy Farm II will once again get the chance to showcase life on a dairy farm when it hosts the annual Kenosha County Dairy Breakfast for the fourth time this Saturday (June 17) from 6:30 to 10:30 a.m.
Owned by three Daniels — Dale, Jordan and Dale's brother, Tom — Daniels Dairy Farm II was founded in 1979. The first Daniels Dairy Farm was founded when Dale and Tom's father, Robert Daniels, formed a partnership in 1974, then the brothers joined their father a few years later for the second incarnation of the family dairy farm. According to Dale, farming in the Daniels family goes back to the 1840s.
Daniels Dairy Farm II is located at 1077 248th Ave. in Kansasville. If you're unfamiliar with the location, look for golf balls, because the farm is located right across Highway 75 from the 45-hole Brighton Dale Links.
"Get your belly full with breakfast so you can go right across the road and play an 18-hole round of golf," Tom Daniels said with a laugh.
Tickets for the Dairy Breakfast are $10, with children ages 6 and under admitted free. There will be general and handicap parking available on-site at Daniels Dairy Farm II, with the main entrance off Highway 75. Additionally, off-site parking with busing will be available at Brighton Grade School, the Kenosha County Center in Bristol and St. Francis Xavier Catholic Church in Kansasville.
Additionally, the Dairy Air Free Community Bike Ride will once again allow residents to bike their way to the Dairy Breakfast. The 20-mile round trip will begin at 7 a.m. on Saturday at Silver Lake Beach Park, 27000 85th St. in Silver Lake, and wind its way to Daniels Dairy Farm II.
For more information on the Dairy Air Bike Ride, call 262-857-1869 or email kenoshacountyparks@kenoshacounty.org.
Big breakfast
Fortunately, the weather for Saturday morning looks to be fantastic, obviously a key element for the annual Dairy Breakfast. According to weather.gov as of Thursday morning, the forecast calls for plenty of sunshine, with comfortable temperatures ranging into the mid- to high-70s.
And a couple rainy days this past week, of course, were a godsend for dairy farmers.
Dale Daniels said the farm is expecting about 2,500 to 3,500 people at the Dairy Breakfast on Saturday morning, and there will be plenty of food.
Literally, tons of it.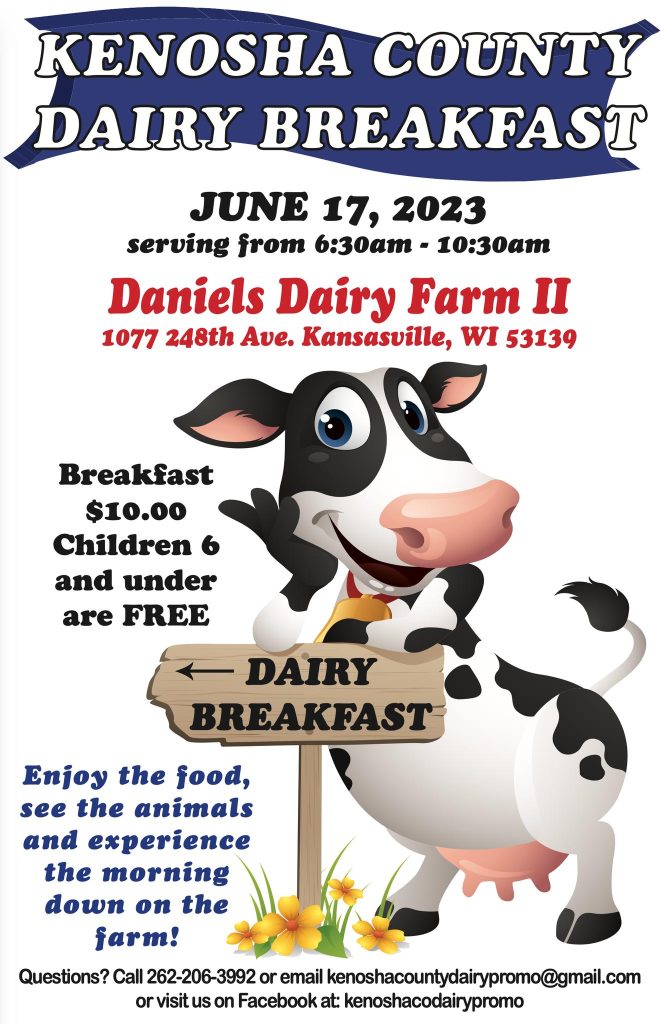 According to Dale, roughly 7,000 pancakes will be flipped on Saturday. They will be cooked on stainless-steel griddles of about 4 feet in diameter that rotate in a circle. Dale said he's usually responsible for the pancakes, and he can make about 40-45 pancakes at a time on each griddle.
As for the scrambled eggs, Dale said those come in 5-gallon pails, of which they will go through about 20. That adds up to about 120 gallons of eggs served on Saturday. There will then be about 10 pounds of ham, five to 10 pounds of cheese and a pound of butter that go into every batch of eggs, which will be prepared in a 4-foot aluminum frying pan, with six people stirring.
Additionally, the Dairy Breakfast includes yogurt, string cheese, milk, orange juice and Culver's ice cream.
Life on the farm
In addition to the food, the other element of the annual Dairy Breakfast is to give county residents a little slice of what life is like on a dairy farm.
On Saturday, Daniels Dairy Farm II will have milking demonstrations, an Agriculture-in-Action tent, children's games, farm toys for sale, farm machinery and more.
And, of course, cows.
"It's a good thing for the younger generation to come out and see where the milk actually comes from, the smells and sounds of the farm, stuff like that, and promoting our product," Dale Daniels said.
"… The best part is probably meeting people that you've never met before, new faces and everything else. Get some smiles on the kids' faces when they get to touch calves and cows. Our farm is pretty up-close. They can walk right up and touch the cows. They're eating right in an open manger. The calves are all in little individual pens. It's all hands-on. Little kids are going to love that aspect of it."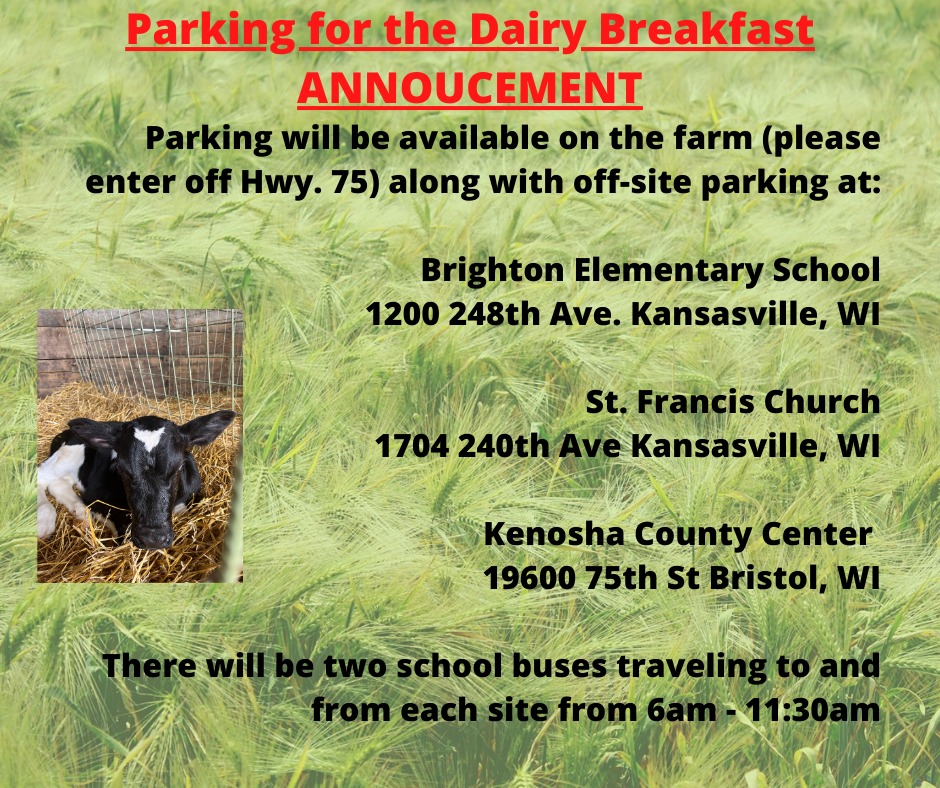 The annual Dairy Breakfast is also a great reminder of the importance of dairy farming to the local community and economy.
According to Dale Daniels, there are only about 15 or so dairy farms remaining in Kenosha County. But they contribute a lot to the local economy.
"It's important to the local economy big-time, (equipment) dealerships and hardware stores and gravel companies, cement plants," Dale Daniels said. "Farmers pour a lot of concrete.
"… It just adds an economic boost, and we employ a lot of high school kids to milk and stuff like that. It's just a lot of open country. People like that, keep the open farmland out here."
Not surprisingly, life on a dairy farm requires constant hard work. Especially this time of year, a workday is sun-up to sundown.
Tom Daniels said a typical day begins at about 4 a.m. with milking the cows for the first time each day. They're done with that around 7:30 a.m., then it's time for chores — like taking care of the baby calves — until around 9:30 or 10. The chores continue with tasks like fixing and repairing machinery and fieldwork. At 2:30 p.m., it's time to milk the cows again, which takes until about 5:30 or 6.
Daniels Dairy Farm II milks 350 Holstein cows, raises all of its own young stock and operates 600 acres for alfalfa, grass, corn and rye.
The farm sends its milk to Foremost Farms, a cooperative based in Middleton, and from there it's distributed to locations like Oberweis in Chicago, a yogurt plant in Waukesha, New Holstein or Richland Center. Many products in area grocery stores contain dairy farmed at Daniels Dairy Farm II, including milk, cheese on frozen pizzas, yogurt and cheese spreads.
Saturday's Dairy Breakfast gives Kenosha County residents the opportunity to see where this process all starts, along with a fantastic meal. And plenty of fresh air.
"Very peaceful living out here," Dale Daniels said.