In celebration of the 30th anniversary of the Boys & Girls Club of Kenosha, the community is invited to the burial of three time capsules 11 a.m. Friday, June 30, in the BGCK front parking lot.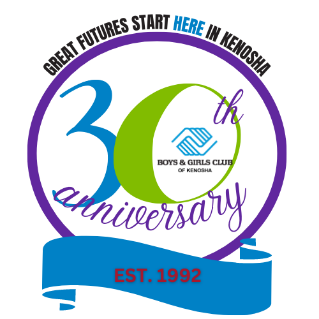 The time capsules, which will be unearthed and opened in 2033, contain items from our Youth Center, Teen Center, and Scamps members, along with some pictures of members and staff.
One will also contain a USB flash drive of the Club's 30th anniversary video produced with the help of the Kenosha Public Library.
"It's just a testament to the longevity of the Club here in Kenosha and our commitment to the sustainability of the Club," Boys & Girls Club of Kenosha CEO Tara Panasewicz said. "The Club's 30th anniversary time capsule burial is a way to acknowledge our organizations impact on the lives of many Kenosha residents and a great opportunity to raise awareness of the support and programming available here."
The Boys & Girls Club of Kenosha was founded in 1992 for the main purpose of offering programs and activities for the youth of the Wilson Heights Neighborhood in Kenosha. For 30 years, the Club has enriched the lives of young people in the community, enabling them to reach their full potential as productive, caring, healthy and responsible citizens and has provided a safe and positive environment for youth and teens to learn and grow.
The Club offers caring adult mentors, fun and friendship, and high-impact youth development programs on a daily basis during critical non-school hours. The Boys & Girls Club of Kenosha programming promotes academic success, good character and citizenship, and healthy lifestyles. Generations of Kenosha youth and families have relied on the Boys & Girls Club of Kenosha for outstanding programming that supports youth development, healthy living, and
education.
The Boys & Girls Club of Kenosha is a youth guidance organization dedicated to promoting health, social, educational, vocational, cultural, character and leadership development. The Club helps youth improve their lives by building skills, values, and self-esteem. When you support the Boys & Girls Club of Kenosha, you support the kids who need us the most, and their great futures ahead. Visit https://bit.ly/BGCK30th to donate today.