Throughout the Kenosha Fire Department Basic Recruit Training graduation ceremony on Friday afternoon (June 9), you could occasionally hear the scanner crackle to life.
Fortunately, there didn't appear to be any major emergencies come up during the ceremony, but the ever-present sounds of the scanner served as an important reminder.
Firefighters, in the City of Kenosha and everywhere else, are always on the job of serving their community.
Even when they're celebrating the addition of new recruits to a department — as KFD did on Friday with a beautiful ceremony honoring 18 new additions to the department at the Snap-on IdeaForge Conference Center — firefighters can be called into action at a moment's notice.
Rick Gallo, who last month completed a five-year term on Kenosha's Police & Fire Commission, delivered the keynote speech during Friday's ceremony and reminded the 18 new additions to KFD how important their job is.
"You have stepped forward to serve others, and you will have rewards," Gallo said. "You will save lives. You will have people come up to you later and thank you for saving their lives, thank you for touching them, and caring.
"You are going to be the first to respond. You are going to be on the front line. You are going to be the first responder to violence, to tragedy, to so many different situations that affect all human beings, and how you deal with it will make a mark on that person that will be felt for the rest of his or her life. You have such an extraordinary challenge, because so many people look up to you."
Largest recruiting class
In addition to its usual significance, Friday's graduation ceremony was especially notable because the 18 graduates are believed to comprise the largest BRT (Basic Recruit Training) class in KFD history.
This year's class was comprised of Nolan Radke, Alexandra Miller, Justin Long, Tyler Dahl, John Franckowiak, Keegan Koprovic, Fernando Arreola, Michael Yule, Teofanez Lopez, Santino Ruffolo, Tyler Huckstorf, David Strouf, Tyler Cannon, Brian Flitcroft, Dominick Wojciechowski, Paul Haas, Jacob Davellis and Jacob Young.
KFD is 172 years old, though it didn't always hold a BRT graduation ceremony. Nevertheless, KFD Battalion Chief Ryan McNeely said before Friday's ceremony that this year's class was the largest "in the last 23 years."
And that's a great sign for the department.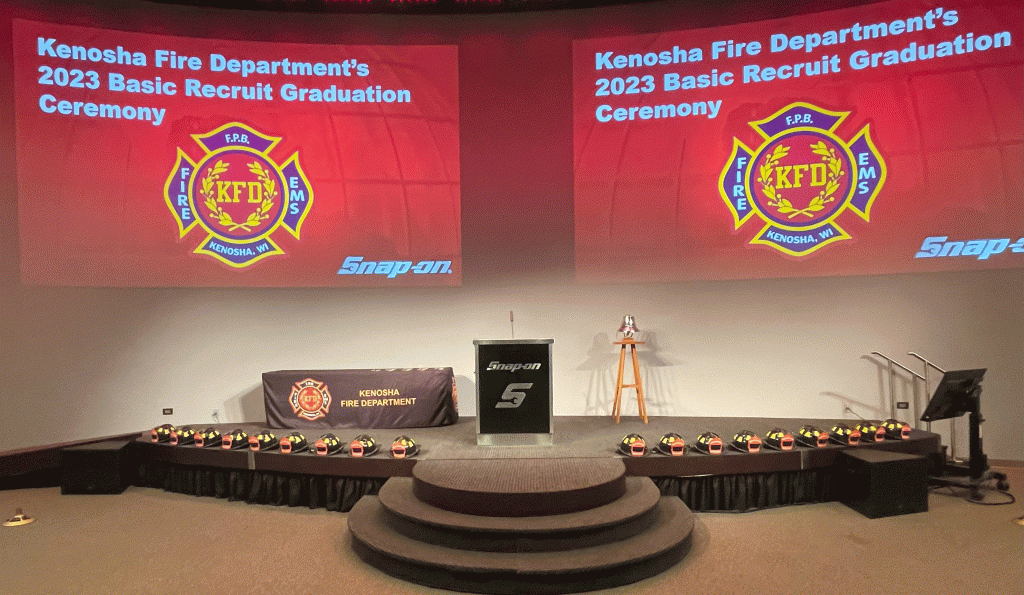 "To have a class this big, really for us, we've had a lot of people that have been able to retire healthy, which increases vacancies," said McNeely, who's been with KFD for 19 years. "We're trying to add to our department, as well, numbers-wise, for a community that continues to grow.
"So the interest is there, and we have work for people. We'd love to have a bigger class next year."
Also of note, after their graduation ceremony on Friday, the 18 newest members of KFD will go right to work. There is no "grace period" or additional training required. McNeely said the 18 graduates were to begin work on Monday (June 12).
"They'll get the weekend off," McNeely said Friday. "They start Monday. What's unique to Kenosha is, when they go, they don't have field-training time. They are expected to hit the road running. They are good to go.
"… That's a huge expectation for them, but they're all ready to meet it. That's why they're here. If they couldn't have done it, they wouldn't have been here (Friday)."
Thirteen grueling weeks
McNeely said the hiring process for KFD takes about a year for potential hires to go through the process. Once hired, they have to go through BRT, a rigorous process that entails 13 weeks of training, five days per week, which includes about 40 hours of homework.
"It was long, tiring, you were exhausted," McNeely said, recalling his own BRT experience "Physically, mentally, you're sore. But you learned. You get through that, and that's what you need when you're doing this job out in the street, just getting past the 'I can'ts' to the 'I can.'
"… I completely understand and can respect everything that these 18 graduates have done."
That's why honoring families was so significant at Friday's graduation ceremony. During his remarks, Gallo asked KFD's newest firefighters to give their families an ovation for their support.
"I know this journey has been extremely difficult," Gallo said. "Your loved ones have come home physically and mentally exhausted, sore, bruised, sick, angry, sad, and sometimes happy. Well, your support is a big part of what brings us here (Friday)."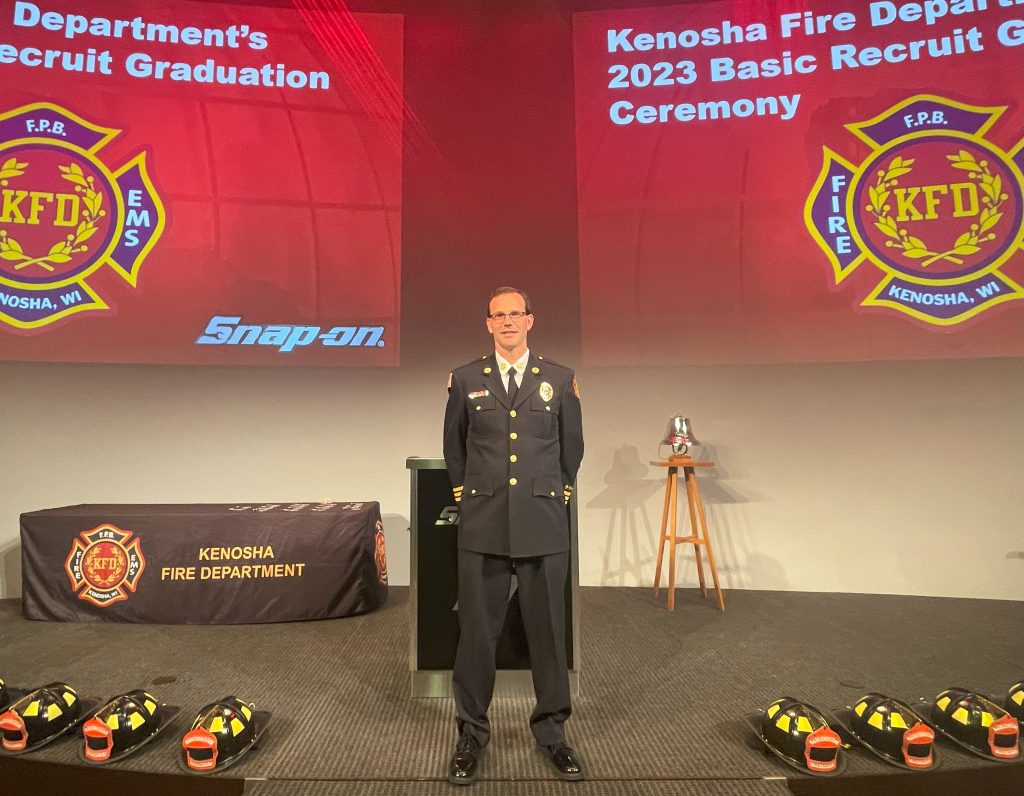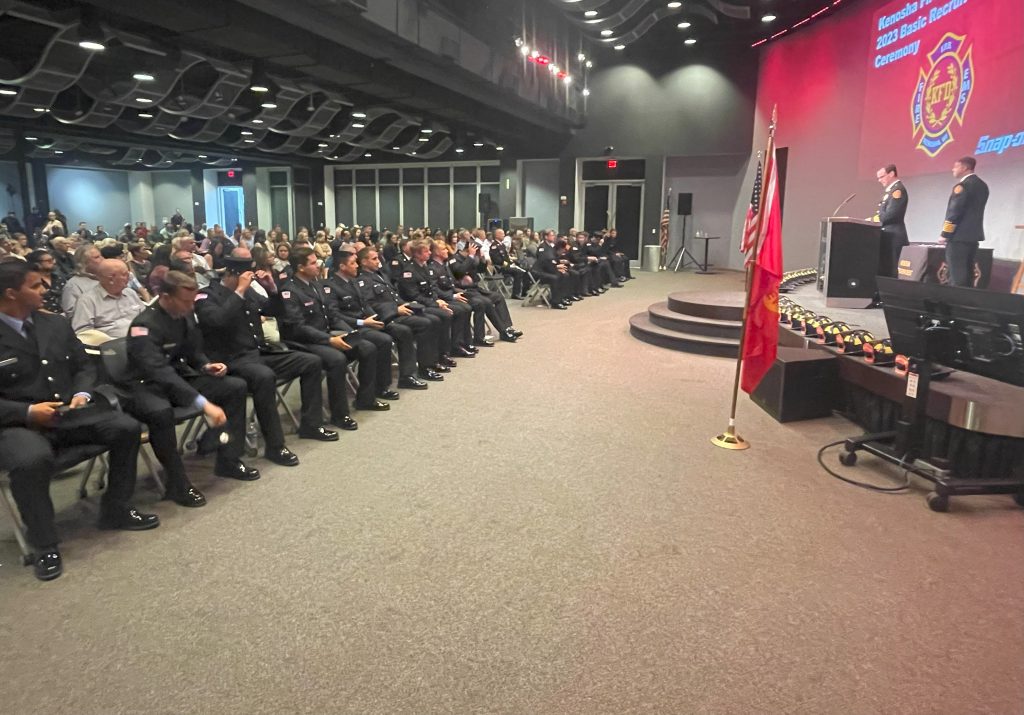 During his remarks Friday, Captain Dale Howser reviewed the BRT program and made special mention of the KFD instructors who spent 13 weeks getting the recruits ready for the rigors of the job.
"Kenosha BRT is widely respected as one of the best and toughest fire academies in all of Wisconsin and Illinois," Howser noted. "You are what makes it successful as instructors, and I want to personally say thank you for the job all instructors have done."
Friday's graduation ceremony was also a significant one for KFD Chief Christopher Bigley, because it was his last while a member of the department. Bigley said he'll be retiring in April 2024, before the next BRT class graduates.
"By wearing the badge that you will soon receive, you also receive many gifts," Bigley said in his remarks Friday. "You will be held to a higher standard. You will be trusted as no other. You will be called upon when others do not know the answer to the problem. Even when you are not wearing a badge, it is always with you. … Take pride in your profession and honor the trust bestowed upon you."
"… As you serve this community, always do so with pride, dedication and courage. These words are written on all of our apparatus to remind us of how to conduct ourselves."
Then, Bigley recalled what he first told this class of 18 recruits when he addressed them at the start of BRT.
"You just won the lottery becoming a Kenosha firefighter," Bigley said.
Into the community
At the end of Friday's ceremony, Bigley administered the Oath of Office to the BRT graduates, then he presented them with their badges. Each recruit was called up and had his or her badge pinned on by a chosen family member.
Alexandra Miller, who already had a family background in KFD, then delivered a speech representing the reflections of all the recruits. She noted that while it's often said that the two most important moments of a firefighter's career are their graduation ceremony and their retirement, it's important to remember all the "in-between moments."
"Thirteen weeks ago, we were 18 strangers that had no idea what we were walking into," Miller said.  "… I can honestly say that the past 13 weeks have been the most humbling and rewarding experience of my life.
"… Our instructors are the epitome of what it means to be true leaders. Their unwavering dedication to and support of our historically large class has not gone unnoticed.
"… What we do is way bigger than us."
And with that, Kenosha's newest firefighters are ready to serve the community.
As Howser noted of the job, with the crackling of the scanner always reminding, "Saying it can't be done is never an option. Quitting is never an option in our line of work."
And it was Lieutenant Tim Lewis who delivered the closing remarks of Friday's graduation ceremony. He reminded KFD's newest firefighters to go out and be active in the community they're serving, something the department gives ample opportunity to do.
"Mahatma Gandhi once said, 'The best way to find yourself is to lose yourself in the service of others,'" Lewis said in Friday's final remarks. "Go out there and find yourselves."