Froedtert South recently announced its 2022-23 scholarship winners.
Here is a closer look at the recipients:
Kayla Hove
Scholarship: Riley McDavid Scholarship
Amount: $5,000
Career aspiration: Nurse educator
University/College: Chamberlain University of Nursing
Kayla is currently attending Chamberlain University of Nursing to pursue her Master of Science in nursing, with a focus in nursing education. Kayla has worked at Froedtert South in the Emergency Department, on the Heart Team, in the IS Department as a Clinical Informatics Specialist, and most recently found her passion in Clinical Education with the Education Team. Kayla also presently works part-time at Gateway Technical College's school of health working with nursing students.
Lauren McLelland
Scholarship: Peter Ploskee Continuing Education
Amount: $1,000
Career aspiration: Advanced practice nurse practitioner
University/College: Herzing University
Lauren is currently attending Herzing University to obtain her master's in nursing. Her goal is to become an APNP. Lauren started at Froedtert South right before the COVID-19 pandemic, in the ICU, in February 2020. Lauren has been in the U.S. Navy, functioning in roles such as Electronics Tech and Work Center Supervisor. She is currently in the Navy Reserves and has experience as a Lead Administrative Petty Officer, Medical Liaison, and Logistics Specialist. She had previously worked at Jandali Surgical Associates as a Medical Assistant for four years before coming to Froedtert South. She volunteers at Herzing events in the medical tent and Kenosha Public Museum events.
Grace Melichar
Scholarship: Peter Ploskee Sr.
Amount: $8,000
Career aspiration: Nurse practitioner
University/College: Marquette University
Grace is obtaining her degree to become a registered nurse and wants to ultimately pursue becoming a nurse practitioner. Grace is currently attending Marquette University, with plans to graduate in May 2026. She has been heavily involved in RUSH Soccer and Tremper High School varsity soccer. She participated in student government, Link Crew, and National Honor Society. Grace has worked at the Wisconsin Country Club, Sweet Corner Ice Cream Shop, and most recently Ono Sushi Bar. In her free time, Grace has volunteered at the annual Shop with a Cop event, Tremper's annual blood drive, at the Milwaukee Justice Center, and the annual Police and Firemen's Ball held in Kenosha.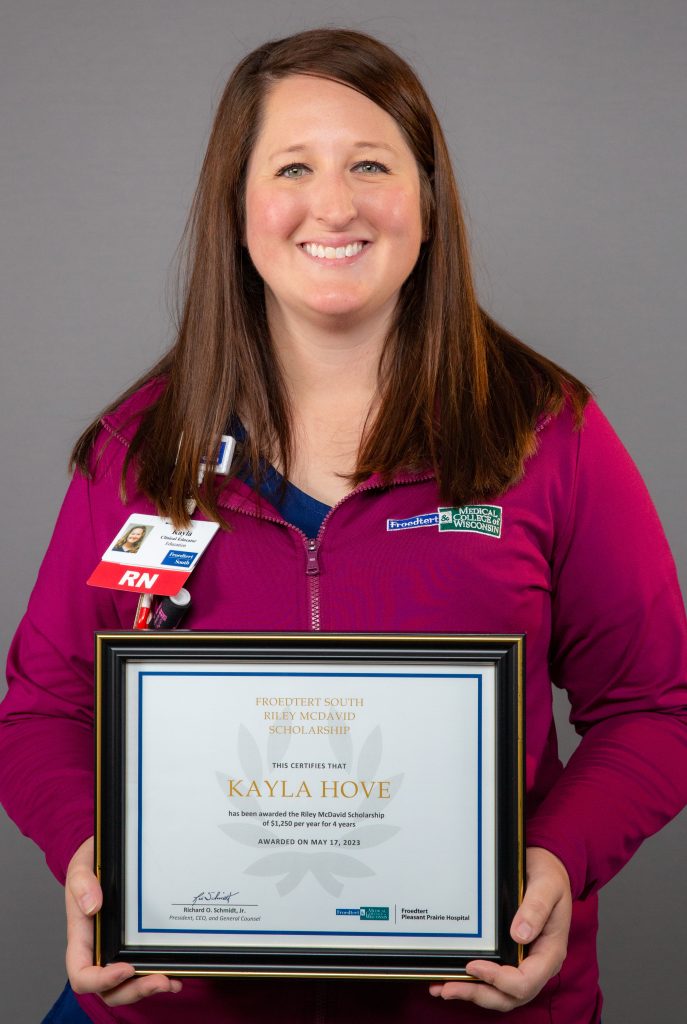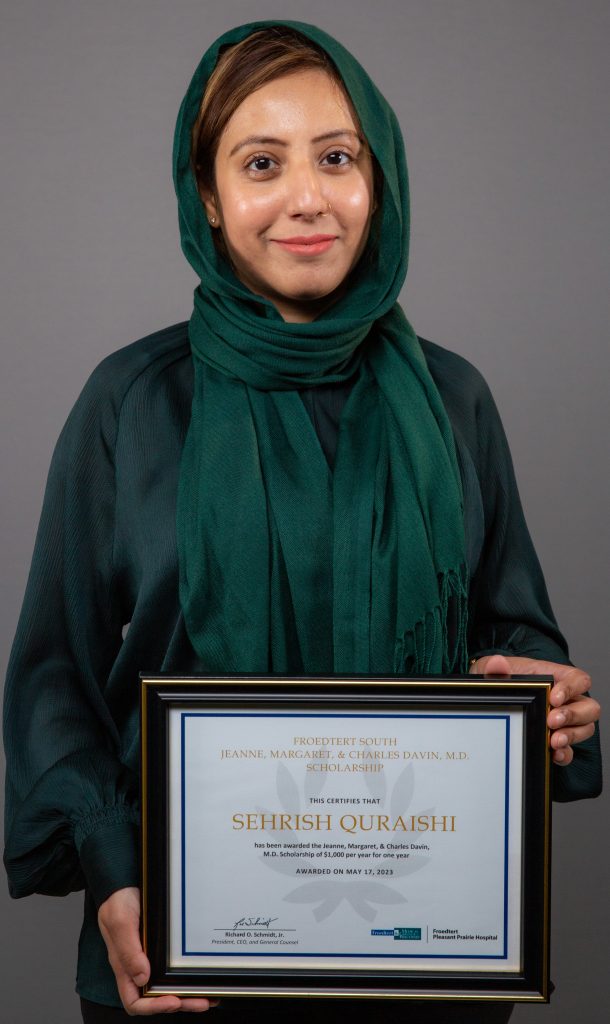 Sehrish Quraishi
Scholarship: Jeanne, Margaret & Charles Davin, M.D.
Amount: $1,000
Career aspiration: Dietitian
University/College: Kansas State University
Sehrish is currently a part time student at Kansas State University, pursuing her Bachelor of Science in dietetics. Sehrish has worked at Froedtert South in Nutrition Services since September 2021. She has worked as a health coach and coordinated/managed health and wellness challenges for large groups of people. She currently manages a website and blog about health and wellness. Sehrish has volunteered for Girl Scouts, and volunteers to bring awareness to young kids about health and wellness. For two years she has conducted an online health and wellness group in her community.
Jovana Radulovic
Scholarship: Hannah Stocker Scholarship
Amount: $1,000
Career aspiration: Registered nurse
University/College: UW-Parkside
Jovana is attending UW-Parkside and will graduate with her BSN in May 2025. Jovana is part of the Student Nurses at Parkside Club, functioning as the Resource Manager for the past two years. She currently works at Polo Ralph Lauren as a sales associate. In her free time, she volunteers at her church and the Shalom Center. Jovana's goal is to pursue her master's degree in nursing following her bachelor's degree.
Manda Weber
Scholarship: Froedtert South Ambassador Scholarship
Amount: $2,000
Career aspiration: Physician
University/College: UW-Madison
Manda is currently attending the University of Wisconsin-Madison in pursuit of a biology major. Manda's career goal is to become a physician. Manda has worked at Mars Cheese Castle as a crew lead for three years, and at the Kenosha Country Club as a server. Manda has volunteered at the American Legion, and previously as an organic chemistry tutor. She has participated in varsity cheerleading, National Honor Society, a Link Crew Leader, and has been a part of the Women's Reproductive Health Awareness Club.