Bryce Martin is at it again.
This time, he'll have some help.
Just under a year after his original attempt at setting a Guinness World Record for building the largest word with LEGO bricks, Martin will be part of a trio attempting to re-establish that record this Friday through Sunday (June 9-11) at the Froedtert South Schmidt Surgery Center, 9555 76th St. in Pleasant Prairie.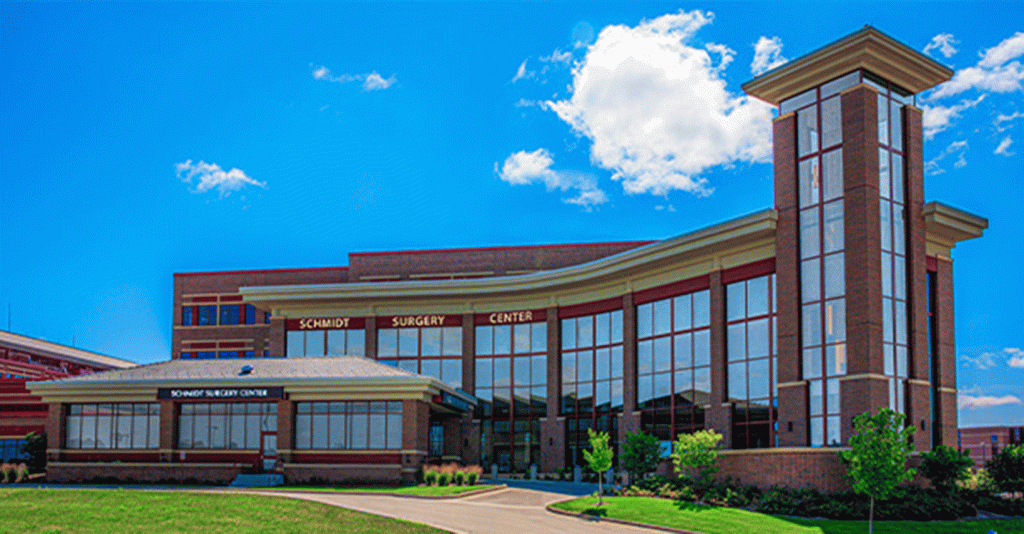 Martin, who works at Froedtert South as business director of perioperative services, will join up with Dr. Mustafa Badrudduja, a Froedtert South general surgeon, and Matt Neyens, the husband of Froedtert South pharmacist Lisa Neyens, to spell the word "PERSEVERE" using a whopping 100,101 LEGO bricks.
The record attempt will begin on Friday at 7 a.m. and will continue through Sunday. Public viewing in the Schmidt Surgery Center will be available each day from 10 a.m. to 3 p.m.
Another attempt
Martin is a Delafield native who graduated from Carthage College in 2010 with a double major in business and marketing. He has been working at Froedtert South for almost 12 years after starting his employment there on Nov. 1, 2011.
Last June, Martin used 23,621 LEGO bricks to spell out the word "TOGETHER" at Carthage's Hedberg Library, an undertaking that took just under 18 hours to set a then-Guinness World Record for the largest word spelled with LEGO bricks.
However, the record now stands at 44,029 LEGO bricks, so Martin and company will be looking to more than double the current record this weekend. For this attempt, Martin will be joined by Badrudduja and Neyens in the record-breaking endeavor.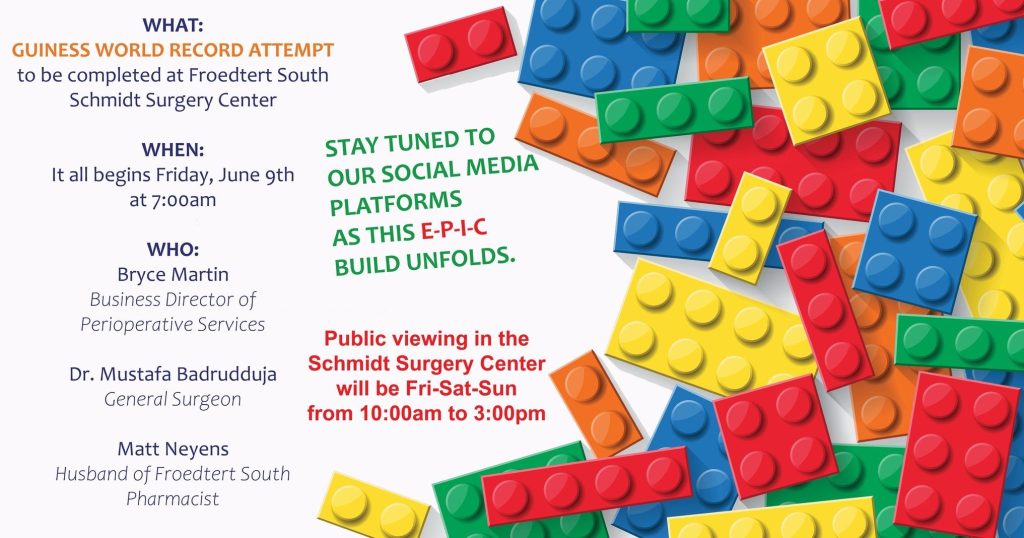 Martin has worked with Badrudduja in the Froedtert South Surgery Department either directly or indirectly for the last 12 years. In a press release for this weekend's record attempt, Martin noted that Badrudduja attended his record-breaking attempt at Carthage last year, and their mutual interest in LEGOs grew from there.
"Recognizing that this feat would likely be too much for an individual attempt, he was the obvious (and smart) choice for a build partner," Martin said.
Neyens, meanwhile, got connected with Martin via Neyens' wife, who also works at Froedtert South. Matt Neyens, according to the press release, has multiple interests, including LEGOs and wood-working, so he was also an ideal candidate to assist Martin and Badrudduja.
"When Lisa (Neyens) learned of my interest in LEGOs, she thought my friendship with Matt would be inevitable, and she was right," Martin said.
Persevering
According to Martin, the word "PERSEVERE" was chosen for this record-breaking attempt because of its definition, to "continue in course-of-action in the face of difficulty."
With the COVID-19 pandemic and its aftermath, the last several years have obviously challenged the perseverance of healthcare professionals immensely.
"I think that this attempt is a great way to show our appreciation to everyone at Froedtert South," Martin said. "In light of the Biden Administration's announcement of the end of the COVID-19 public health emergency (effective May 11), I thought that this event might be a good celebration of the efforts that have been made over the last three years."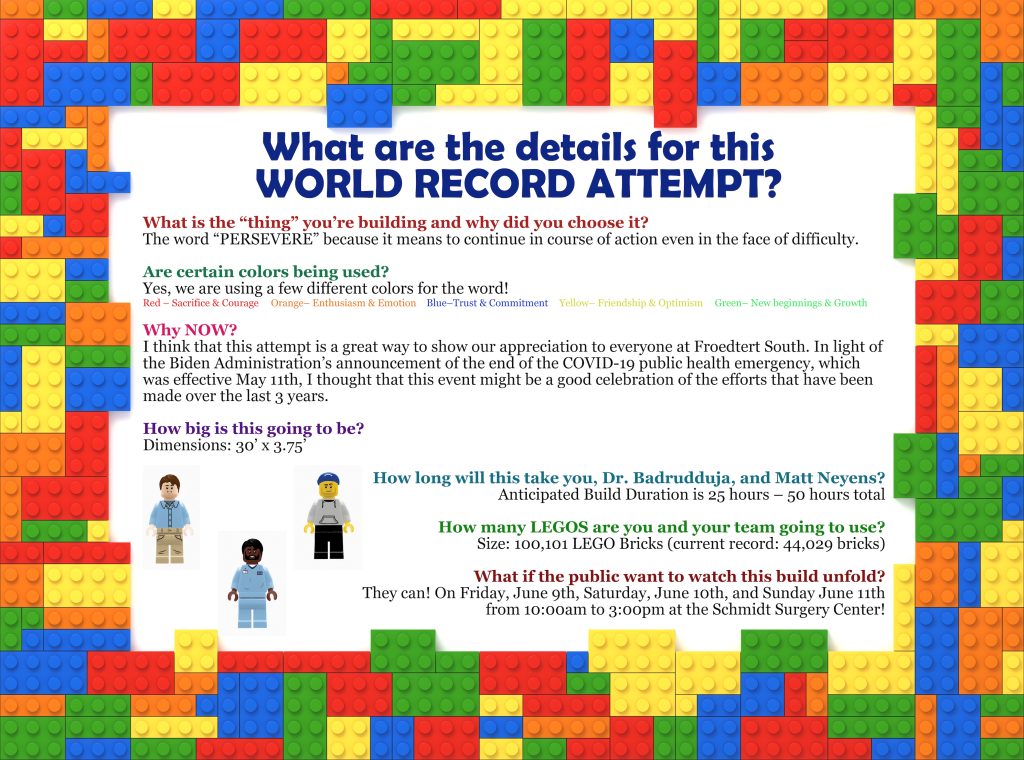 The anticipated build duration of "PERSEVERE" in LEGO bricks this weekend is 25 to 50 hours total. The dimensions of the word will be 30-feet-by-3.75-feet.
For the colors, Martin and his team have chosen red (for sacrifice and courage), orange (for enthusiasm and emotion), blue (for trust and commitment), yellow (for friendship and optimism) and green (for new beginnings and growth).
Froedtert South will provide updates on its social media platforms as the massive LEGO build unfolds this weekend, brick by brick.