The ribbon was cut Friday evening (June 2) on the newly established network of multiuse and mountain bike trails at Kenosha County's Petrifying Springs Park and the University of Wisconsin-Parkside.
Totaling roughly 15 miles, this trail system is the result of a multiyear effort to restore and reconfigure an unofficial network of trails that had been established over the years, crossing the border of the county park and the university campus.
"The goals were to make these trails user friendly, community friendly, and certainly environmentally friendly," said Scott Menke, UW-Parkside's vice chancellor of finance and administration.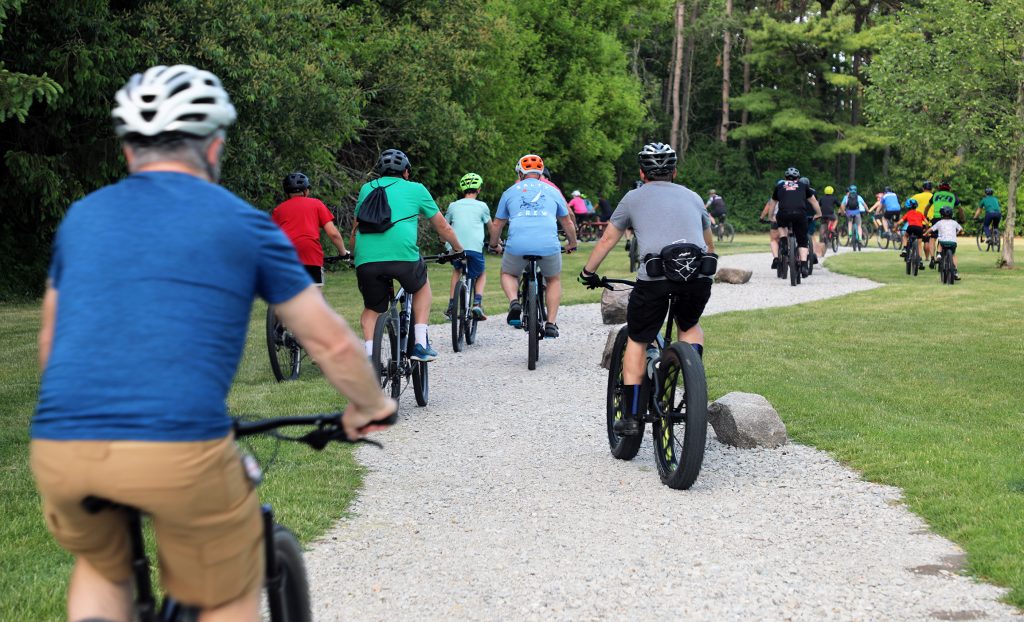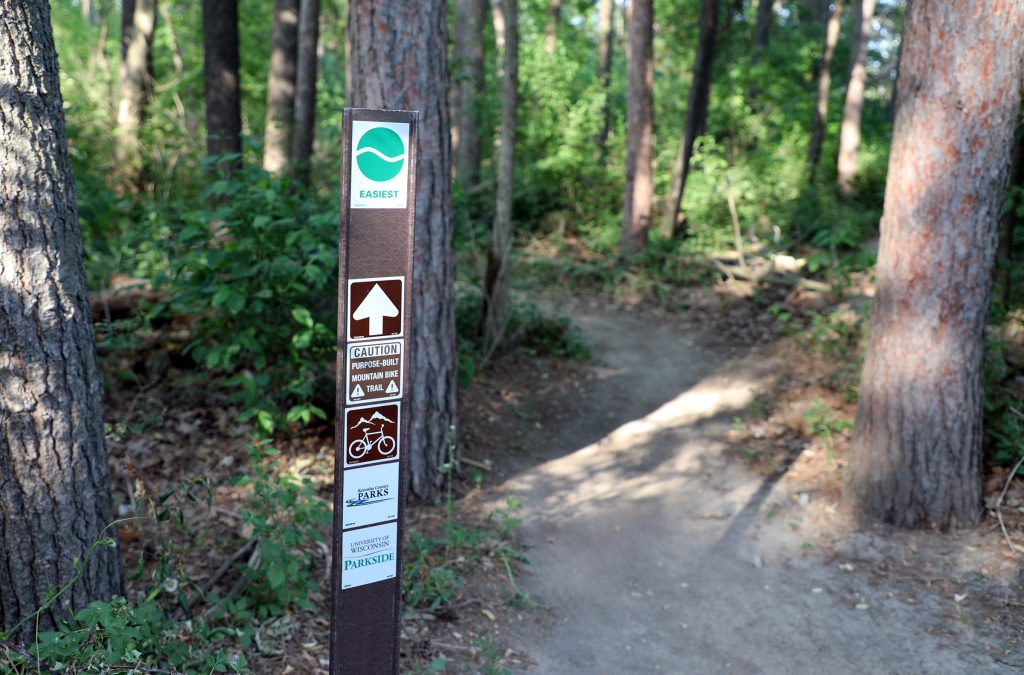 All of that was allowed to occur under a 50-year agreement that the county and UW-Parkside reached in 2019, in which the county is aiding in the management of 139 acres of university-owned land that borders Petrifying Springs Park.
As part of the agreement, the county is to work with community partners to develop public access to sustainable mountain bike and multiuse recreational trails, which led to the development of the new trail network.
Volunteers from the Kenosha Area Mountain Bike Association worked with county parks staff to improve the mountain bike trails, while the Kenosha Running Club offered its input to the process, said county Parks Director Matthew Collins.
"What we have here would not be possible without those partnerships," Collins said.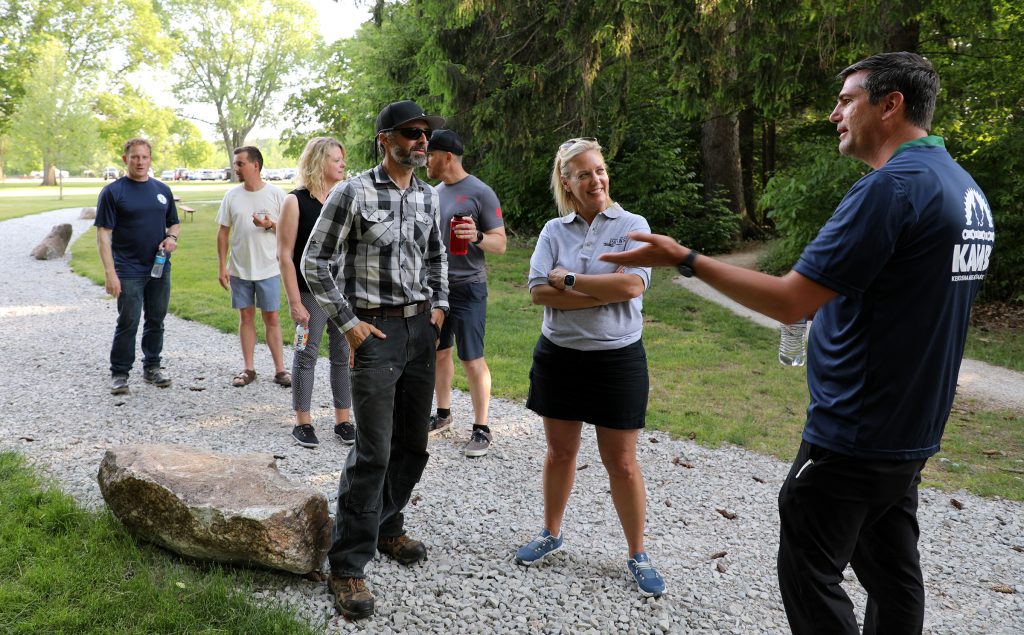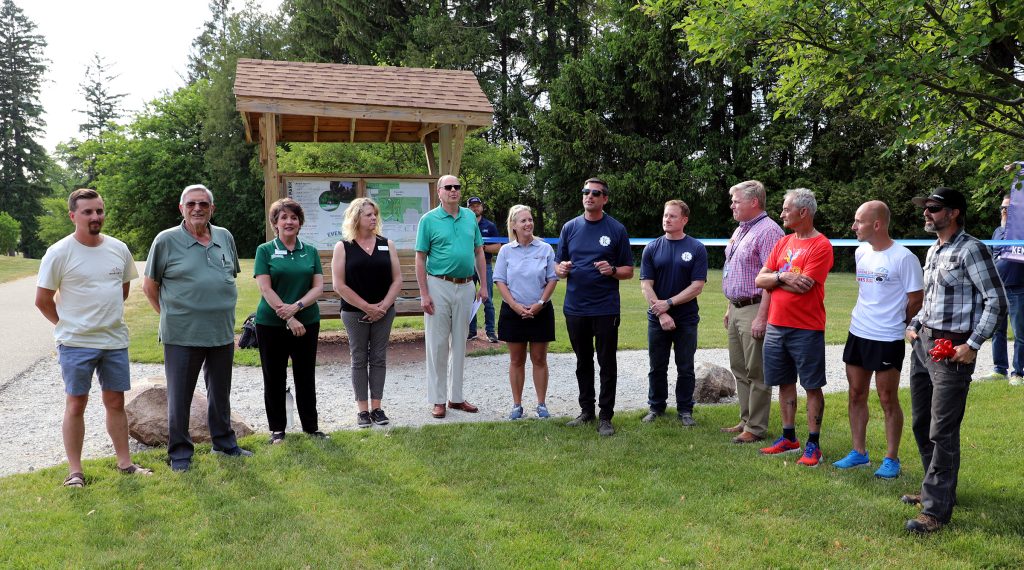 The trails are accessible from various points on the Parkside campus and on east side of Petrifying Springs Park. A map of the entire system is available at https://bit.ly/PetsTrails.
Friday's event was something of a send-off for UW-Parkside Chancellor Deborah Ford, who is leaving the university at the end of next week for a new post as chancellor of Indiana University Southeast in New Albany, Ind.
Kenosha County Executive Samantha Kerkman praised Ford for her contributions to the community during her 14 years at Parkside.
"It's been a wonderful ride with you, and your leadership at here at Parkside has been unmatched," Kerkman said.
Ford, reflecting on the history of the university, said the trail system partnership with Kenosha County is in keeping with original Parkside Chancellor Irvin G. Wyllie's vision when the campus was established in the 1960s.
"UW-Parkside is named 'Parkside' because of this beautiful park," Ford said. "Chancellor Wyllie stood on our property 58 years ago and looked at this park and said, 'Our name will be UW-Parkside.' And the other thing that he set in motion as our first chancellor is the power of partnerships. And to me this is an example of that."
Kenosha County Parks debuts trail information resource
A new website resource offers comprehensive information about Kenosha County Parks' network of trails, Kerkman announced Saturday — on National Trails Day.
The landing page at https://www.kenoshacounty.org/trails includes links to information about the county's various multiuse and hiking trails, paved pathways, bicycle routes, purpose-built mountain bike trails, and snowmobile routes. One of the new pages breaks down the county's trails by difficulty level, as it relates to terrain, elevation change, and trail surfaces.
"Just in time for National Trails Day, our Parks staff has packaged all of this information in one place, to make it easier for people to find a route that works for them," Kerkman said. "I encourage people to check out this helpful resource."
The posting of the difficulty level ratings came at the suggestion of Supervisor Brian Bashaw, a member of the County Board's Public Works and Facilities Committee, with an eye toward bringing even more people out to the county's parks and trails.
"Kenosha County Parks are exceptional, and I'm very excited that we are able to invite everyone to come out and enjoy our parks together," Bashaw said. "This is about everyone getting outdoors and enjoying everything that Kenosha County has to offer."
Supervisor Mark Nordigian, chairman of the committee, said he is pleased the county is providing this enhanced trail information to county residents and visitors.
"The Kenosha County Parks trail system offers something for everyone," Nordigian said, "and this new web content makes it easier for people to find what they're looking for."