Jeffrey Hines needed an idea for his Eagle Scout project. The Shalom Center, meanwhile, was looking for a way to distribute a few emergency food items for those in need when its food pantry is after hours.
Hines and the Shalom Center turned out to be a perfect match.
Hines, a Tremper High School senior who graduates this weekend, completed his Eagle Scout project by designing and building a box with two doors that looks like a little house. Standing just outside the Shalom Center food pantry, Hines' creation looks exactly like the Little Free Libraries found around Kenosha, except this one contains non-perishable food items instead of books.
It's called the "Hope Box."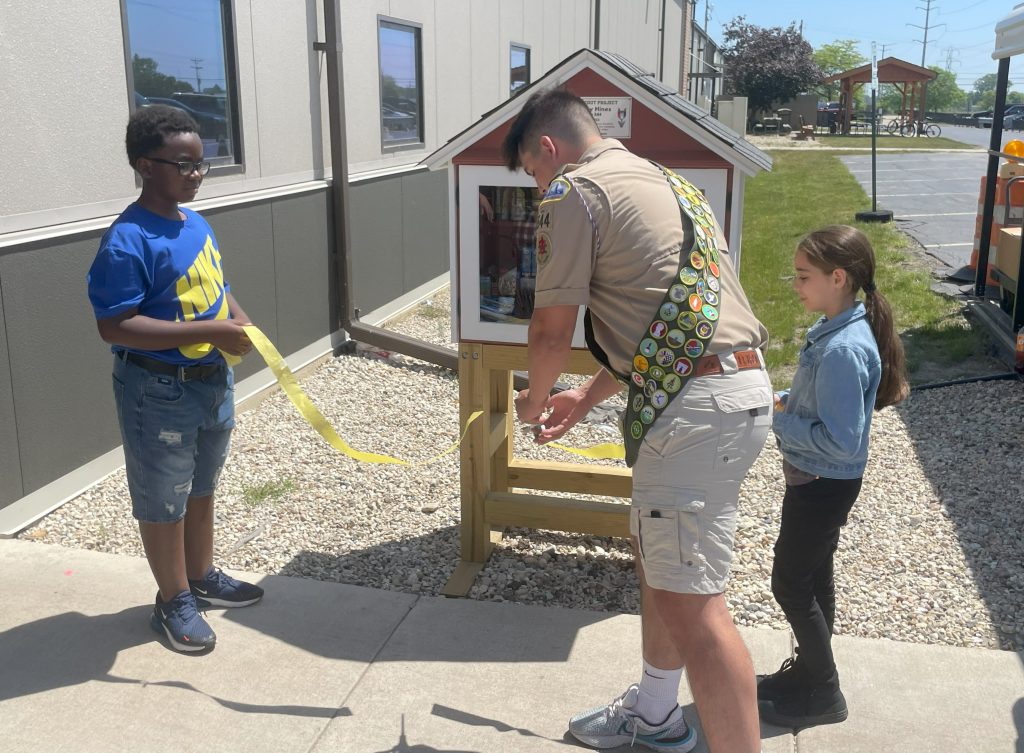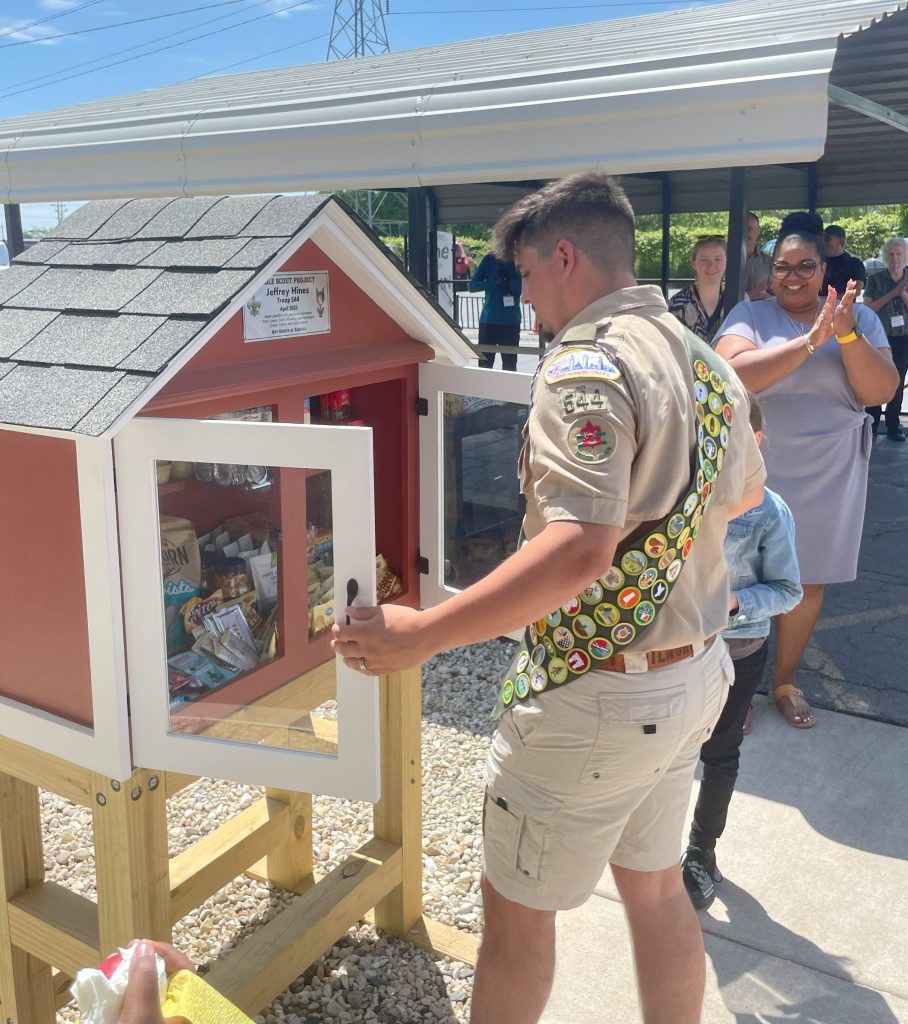 On a warm, sunny Wednesday, right after the Shalom Center food pantry wrapped up its regular distribution, Hines did a special ribbon-cutting ceremony for the "Hope Box."
In addition to Shalom Center Executive Director Tamarra Coleman and Director of Food Programs Abby Markuson, the "Hope Box" was unveiled in front of a crowd that included nine students from McKinley Elementary School and a number of Shalom Center staff and volunteers.
"We met Jeffrey a couple months ago," Coleman said in a brief speech about how the "Hope Box" came to be. "He came into our office. He was finishing his Eagle Scout project, and he was wanting to do a project for us.
"… We came up with this amazing opportunity where people that come to our pantry after hours can still get something, just even to get through the night, and be able to then come the next day and work with Abby on getting more food. But at least they can get service that evening, so no one is going hungry in our community. That's our goal, is to provide services to those who need our help, when they need our help, and not when it's convenient for us."
The Shalom Center pantry distributes food every Wednesday and Friday from 8:30 to 11:30 a.m. That serves a huge number of Kenosha County residents in need, but many people still need food outside of the Shalom Center's pantry hours.
So Hines' "Hope Box" will be stocked with small food items for those who need them immediately. It's just a solution to get people through a few hours or a night, then they can work with Markuson to get more food during pantry hours.
"It's just supposed to be very supplemental, more (for an) emergency, because we do have people that are calling us at 6, 7 p.m., 8 p.m. at night, because maybe they were finishing up work," Markuson said. "And so it's just nice to have even a few things for them to have."
Markuson said she got the idea for the "Hope Box" from a similar Little Free Library-style box located at the Grace Welcome Center pantry.
That idea developed into Hines' Eagle Scout project.
"He had just mentioned that he wanted to do a project for us, kind of asked about our needs," Markuson said. "He had offered a few ideas, and we mentioned a 'little food pantry' library.
"I had actually heard about it because the Grace Welcome Center food pantry does one, so I thought that was an awesome idea, offered it to him, and he ran with it."
Joining his dad
Hines first joined the Cub Scouts in first grade and has progressed through the various levels of scouting. He officially became an Eagle Scout on May 24.
Hines' father, Jeff, became an Eagle Scout when he was 16, so joining his dad as an Eagle Scout was definitely a goal for Jeffrey as he got older. As you may expect, father and son worked together on building Jeffrey's "Hope Box" for the Shalom Center.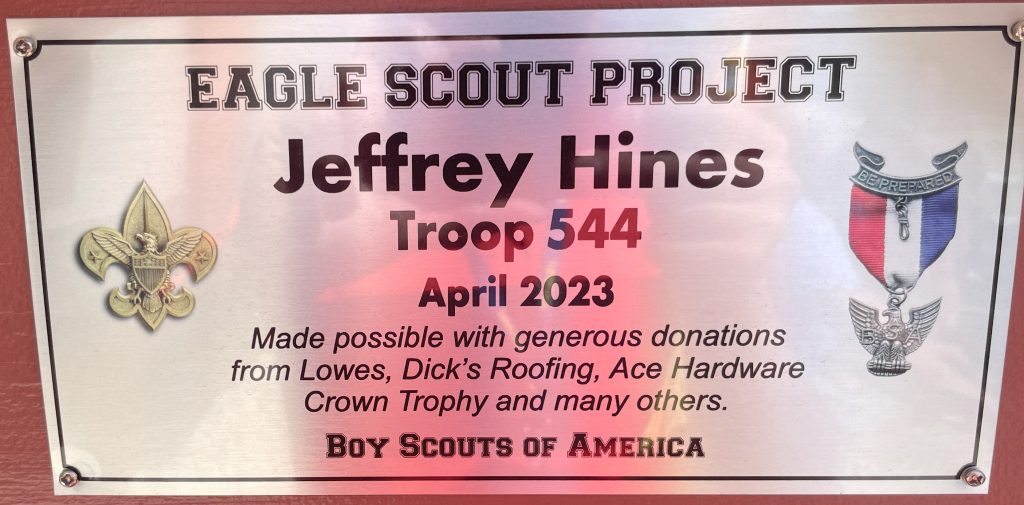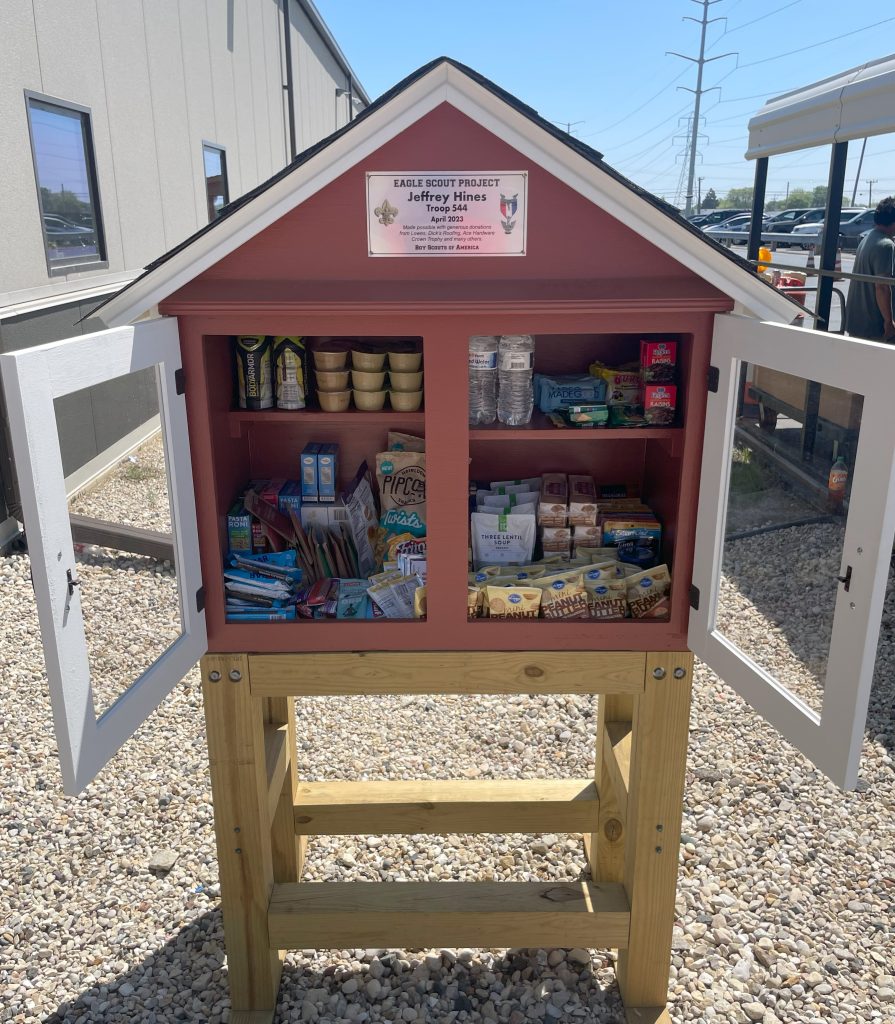 "It all sprouted from my dad, really," the younger Hines said of becoming an Eagle Scout. "My dad was an Eagle Scout. My dad had gotten his Eagle Scout (badge) when he was 16, and that had been a goal, to kind of 'beat' him.
"… My dad had been kind of pushing me (to) strive to get my Eagle Scout (badge) and be like (him)."
A native Kenoshan, the younger Hines attended elementary school at Jeffery and Roosevelt, middle school at Lance and high school at Tremper. After high school, Hines will be off to the University of Wisconsin-Stevens Point, where he plans to pursue a degree — and later earn his Master's — in athletic training.
Additionally, Hines has committed to play football at UW-Stevens Point as a middle linebacker. An All-Southeast Conference honorable mention selection at linebacker this past fall for the Trojans, Hines said he will move into UW-Stevens Point on Aug. 8 to begin practicing for football season.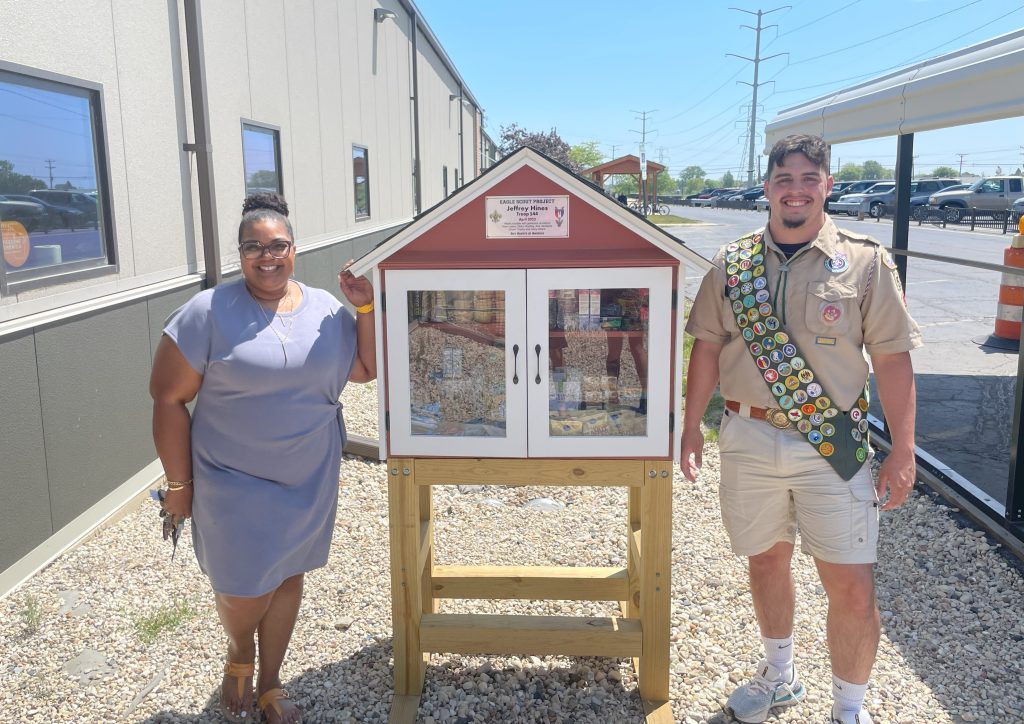 As an Eagle Scout, Hines also plans to enlist in the Army National Guard.
"That's going to help me further my Eagle Scout experience and put those skills to use," he said. "So I'm really glad I got it done."
And the Shalom Center is also glad that Hines got his Eagle Scout project done. In its effort to assist those in need in our community, the Shalom Center puts a premium on collaborating with many local organizations, especially students like Hines.
"Collaboration is really cool, especially with students," Markuson said. "We had probably two students here (volunteering on Wednesday) from Parkside, another student from another high school.
"So we always have collaboration, especially with students. It's probably my favorite thing."