On April 26, the University of Wisconsin-Parkside celebrated its fifth annual Parkside Day, a day of giving and activities in support of the university, with presenting sponsor HARIBO of America.
This year, 1,946 individuals across the nation participated in the day through donating, volunteering, and attending events. Parkside Day generated $220,046 in donations to scholarships, athletics, and programs of the university from 1,139 donors.
The number of donors and dollars raised — 1,139 individuals and businesses making financial contributions — is significant to UW-Parkside, as the highest dollar amount and number of donors to date for the annual Parkside Day.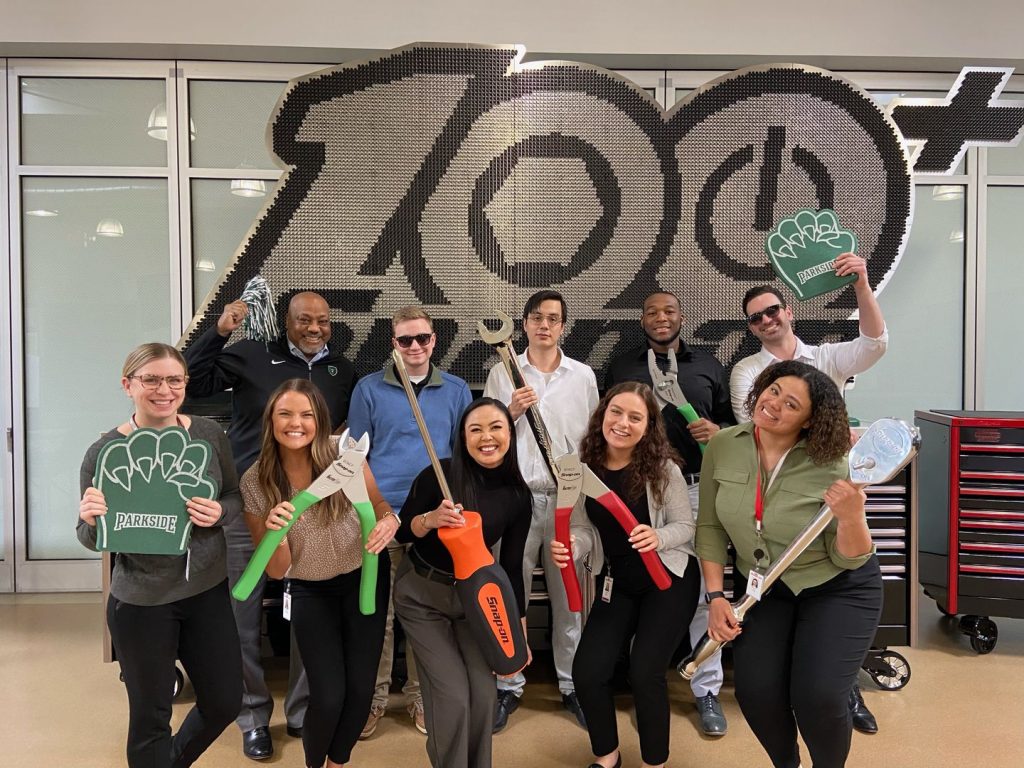 "From our alumni to our corporate partners, faculty and staff members, and hundreds of supporters throughout the region, our community showed incredible support for UW-Parkside on Parkside Day," said Chancellor Debbie Ford. "The funds raised for student success are important, and the highlight was seeing such strong engagement and pride in our university."
A highlighted giving area was the Future Focus Fund, the UW-Parkside Foundation's need-based student aid fund which helps students facing financial hardship stay on track to earning their degrees. Parkside Day recognized this year's Future Focus corporate supporters: HARIBO of America, Snap-on Incorporated, and CNH Industrial.
HARIBO's generous presenting sponsorship encouraged donors to participate in giving, with additional support to the Future Focus Fund through special challenges for recent alumni giving and "power hour" fundraising challenges, as well as challenges in support of Parkside Athletics teams.
The impact of Parkside Day extended beyond the dollars raised through the Rangers Give Back initiative powered by Goodwill Industries of Southeastern Wisconsin and Metropolitan Chicago. The Rangers Give Back initiative provides opportunities for UW-Parkside students, staff, and community members to volunteer locally and in other communities. In 24 hours, 317 individuals volunteered, contributing 403 hours of service. On-campus Rangers Give Back activities included a blood drive sponsored by Versiti Blood Center of Wisconsin, outdoor campus clean-up opportunities, and Clean the World hygiene kit packing. Volunteers packed 1,000 hygiene kits, and the majority were given to the Shalom Center.
Nearly 700 members of the UW-Parkside community attended Parkside Day events on-campus including 110 alumni who returned to campus. In addition to Rangers Give Back, UW-Parkside hosted the Parkside Day Launch Party sponsored by Rustic Road Brewing Company, the Parkside Day Picnic, the Ranger Reunion presented by the UW-Parkside Alumni Association, and more.
Toni Hansen, director of human resources for HARIBO of America, was energized by the generosity and engagement that Parkside Day inspired.
"HARIBO is committed to giving back to the vibrant community in southeastern Wisconsin, and our partnership with UW-Parkside is an important part of that commitment," Hansen explained. "On Parkside Day, we support and encourage others to support programs like the Future Focus Fund that provides critical support to students paving the way for tomorrow's workforce. As a UW-Parkside alumna, it made me proud to see how many alumni were motivated by the HARIBO giving challenges, and how many people came out to celebrate and give back. That's what Parkside Day is all about."
Additional information about Parkside Day and 2023 results is available at www.uwp.edu/parkside-day.